Steel City Raceway
Delmont

,

PA
Steel City
Lucas Oil AMA Pro Motocross Championship
Interviews by Jason Weigandt and Steve Matthes, with transcription help from Haley Whisennand
Ryan Dungey, Red Bull KTM, 1-1 for first overall in 450 Class

How was the track today?
The base of the track today was pretty hard. I could tell in practice, and last year it was like that, too. But they did a good job prepping it. Second moto it got greasy when that rain came down. I made some mistakes, but we were able to pull through.

You made a pretty big mistake in moto two with that one kicker bump, and you got bounced up like you were riding a bucking bronco.
Yeah, I changed my lines a bit. That corner, if you came in real tight because it was getting pretty slippery with the rain. So I tried to open the corner up a little bit, I went all the way to the outside, and it bucked me pretty hard. I was able to brace for it, luckily.

You've never actually won here on a 450.
Yeah it means a lot. In 2010 we managed to clinch the championship the race before this one, then we had some problems in the first moto here and bent a brake rotor. Last year it was a little rough, as well. But this place has been good to me in the past, I won the overall in the 250s in 2008, and I clinched the championship in the 250s in '09. So it's nice to get that first 450 win here.

Ken Roczen, Red Bull KTM, 3-2 for second overall in 250 Class
It's been going good, especially lately. I'm still hoping for that overall win, but it hasn't happened. I was really happy with the last race at Unadilla, then we made a bike change for here and actually made the bike a little shorter. I actually didn't like it as much, it was a little harsher and wasn't what I was looking for. We changed it back for the second moto and I felt a lot better. I've taken my training down a little bit the last few races, I've been just having fun and not just thinking about training and riding so much all the time. I feel a lot better.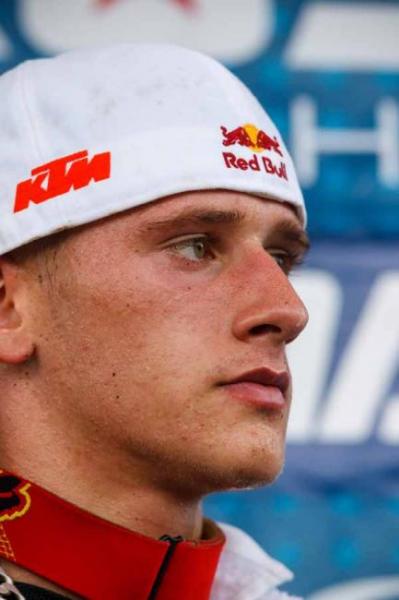 "It's been going good, especially lately. I'm still hoping for that overall win, but it hasn't happened." - Ken Roczen
Simon Cudby photo
Justin Barcia, GEICO Honda, 2-3 for third overall in 250 Class
The track is tough, it gets slick, and with my riding style I definitely struggled a little bit. But I've gotten better and better over the years. I felt like I rode pretty well today, but the other two guys rode well and had the track dialed in, and I couldn't quite get there.

You've obviously stepped up your program big-time this year, you've been much more consistent outdoors. But what do you work on when you're not happy like on a weekend like this one. Training? Bike stuff? Do you just do turn drills all week and work on technique stuff?
For sure I feel like my fitness has been good this year, and better than it's ever been. And it's kind of hard to work on bike set up with just one race left, although I do feel like I've struggled a bit with bike set up this year. The bike is good, I just  haven't been able to hit the nail on the head. But what do you do? Go to California and change everything with just one race left? What do you do? There are no miracles in this sport, so all I can do is go home, train hard, and make it happen.

Have you been putting in time on the 450, also?
Yeah the whole Honda crew came down to my house for two days, we did a lot of testing for des Nations. I got that thing in my garage right now and I want to ride it every day! One more race on the 250 first, though.


Mike Alessi, MotoConcepts, 3-2 for second overall in 450 Class
I was really pushing hard to get that Oakley Bomb (fast qualifier), and it was weird, I felt like I was in a zone, I was really apexing my corners and hitting all of my lines. It felt good.

Second moto you had a lead on Dungey, he would make a mistake, close back in and make a mistake again. Then it almost looked like you let him go by you!
I just started making mistakes, and he was riding a little better. I wanted to see his lines, but about half a lap before he passed me, I kind of twisted my ankle in a turn. I decided to just let him go by to see if I was okay, I wasn't sure if I was hurt or not. Once I got in behind him I was able to see his lines and stuff, and I was able to charge back on him. I gave it a good effort. It was a good day, I was able to secure second in the championship for the year, which was great.

Dungey keeps winning the races, but do you feel like you're getting closer to him, compared to where you were five or six races ago?
I definitely think so. I'm riding good and my bike is getting better and better. We're not going to ride over our head and and crash and break bones just to try to get a win. We're going to be smart and try to go into the off-season healthy so we can keep building for next year. I'd like to get some good testing in and try to make my motorcycle better.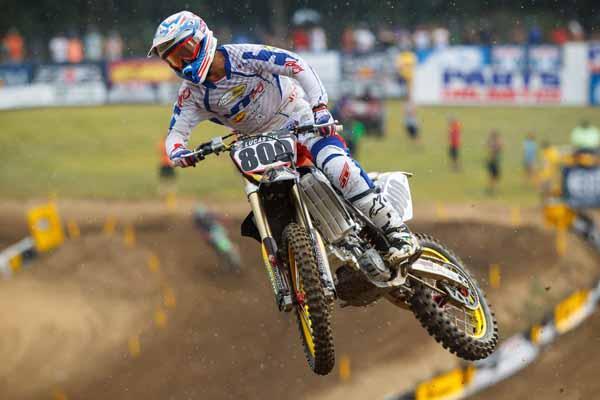 "We're not going to ride over our head and and crash and break bones just to try to get a win." - Mike Alessi
Simon Cudby photo
You're the only guy to do all the races this year, and you did some overseas races last year. You going to do more off-season events this year?
I will. We'll be doing Monster Energy Cup, and I have a contract to do three off-season races in Europe. Bercy should be fun, it's always good over there. These are fun races and I look forward to them, and I also look forward to the progression of making my bike better and better.

Ever ridden the Elsinore track?
I haven't ridden there since I was 10 years old. So I have no idea, hopefully they do a good job and we can put on a good show.


Jake Weimer, Monster Energy Kawasaki, 7-3 for fourth overall in 450 Class

Racer X: After five bad motos in a row, you came through here in the second moto at Steel City. You've at least got to feel good about that. You're going out on a high note.
Jake Weimer: Yeah, it was a few rough motos there for a little bit, just crashing and bad starts and just making little mistakes. It was nice today that I got a bad start in the first moto and then was able to turn it around in the second moto and figure it out because that kind of seems tough to do sometimes. You start the day off with a bad day, it's kind of hard to switch gears and get it figured out. So I'm glad that I was able to turn that around and get a good start.
This track, how bad was it in that second moto with that rain coming down. It's not easy to ride when it's dry, so I'd imagine it's pretty gnarly?
Yeah, it was slick as could be. All the jumps were super sketchy. Just wheel spin the whole time. It made it tricky, for sure.


Mitch Payton, Team Owner for Monster Energy Pro Circuit Kawasaki [Blake Baggett and Broc Tickle]

Racer X: A bad day? You had a DNF, Blake lost some points. What's your outlook on it. I'm sure you've had better Steel Cities.
Mitch Payton: Little bit. I felt bad for Broc first moto. The only thing when they plugged in the computer to it, it was low on voltage, so we assume it's a stator. It still ran, but it acted kind of weird. So we swapped everything, it was okay for the second moto. For Blake, first moto, he got a holeshot and I thought everything would be alright. He kind of tightened up a little bit and rode kind of tight and got a fourth. Then second moto, he got a really bad start and I thought he would come out twentieth and he came out about tenth, made some good passes, got up to like eighth, then got up to sixth and then worked his way up. I thought he rode a lot better second moto than he did in the first moto. He was just pretty far back. If he could have kept the good laps going, I was hoping that maybe he could have caught [Justin] Barcia, but he ran into some lappers and they would go up and down or whatever, so it wasn't happening. It's okay. We've still got 14 points. I've been telling Blake, I remember being here for the last race with Ryno [Ryan Hughes] and Lamson and it was decided by three points. It was whoever won the last moto. He would have died for 14 points.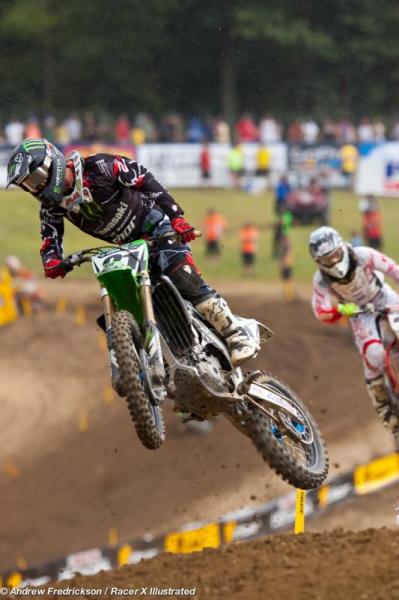 "It was nice today that I got a bad start in the first moto and then was able to turn it around in the second moto and figure it out because that kind of seems tough to do sometimes." - Jake Weimer
Andrew Fredrickson photo
Jake Canada, MotoConcepts, 11-10 for 10th overall in 250 Class

Racer X: A nice rebound from the last couple of bad races. Good second moto. You came from the back a little bit.
Jake Canada: Yeah, it was good. I was pumped. I ended up tenth overall, so I was happy about that.  It feels like these last couple of rounds, the field has gotten deeper with these guys. I haven't had too many good rounds in the last couple of rounds. I've just had bike problems weekend after weekend and then last weekend, two crashes at the beginning of the races. I was fast but couldn't put it in the top ten, so just to put it in the top ten, I'm happy to be able to do that.
This track is a little difficult. We saw some rain in that second 450 moto. So how was it in the second moto?
It wasn't too greasy. But it was like hard packed, so it was slippery. There's a lot of rocks out here. I don't remember there being so many rocks out here. But other than that, it was technical, so that was good.


Kyle Chisholm, Jeff Ward Racing Kawasaki, 10-16 for 13th overall in 450 Class

Racer X: First moto, pretty good. Moving up through the pack. Second moto, too, was looking good. You were the fifth fastest guy, I think, for a couple of laps in a row, but then, big crash with Andrew Short.
Kyle Chisholm: Yeah, it was a tough day. I like this track. I usually race pretty well here. I came here on like 60s on amateur day back when I was little. I like this place. First moto I didn't get the greatest start, fifteenth or twentieth, something like that. Got up to tenth. I felt like I rode okay. I caught up to a little pack of guys right at the end. Top ten is okay. Second moto I didn't start too bad, I was working my way up. I was by Brayton, who I'm trying to catch in points, and Millsaps then I was working my way up to Short. Making a pass on him and I'm not sure what happened. He didn't decide to turn, I guess, and we came together and both went down pretty hard.

That's funny, because I was over there and they said that Chisholm hit him.
I was on the outside of him, coming in. It was raining a little bit, the track was slick. I was trying to make a quick pass, trying to come around the outside of him going down into the turn and, like I said, I couldn't really see him because I was on the outside of him. All of a sudden I just got clobbered on the right side and we both went down pretty hard.