Steel City Raceway
Delmont

,

PA
Steel City
Lucas Oil AMA Pro Motocross Championship
Delmont, PA's Steel City Raceway has hosted plenty of championship drama in the past, and this year, as round 11 of the 2012 Lucas Oil Pro Motocross Championship, the FMF National, it helped set the scene for next weekend's championship showdown in California.
Well, not in the 450 class, where Ryan Dungey already had the title locked up on his Red Bull KTM. And Dungey just continued his domination run with a 1-1 performance in Pennsylvania, giving him nine-straight overall wins. MotoConcepts' Mike Alessi put in another strong weekend to go 3-1 for second overall, leading much of moto two, with Josh Grant making a long-awaited return to the motocross podium with 4-4 scores on his Jeff Ward Racing Kawasaki.
Okay, Dungey's win was expected. But the 250 class tightened up considerably thanks to the surging GEICO Honda rider Eli Tomac, who has appeared to be the fastest rider in his class at the last three races, and then finally capitalized on that speed with a 1-1 at Steel City. Coupled with solid days for Red Bull KTM's Ken Roczen (3-2) and GEICO Honda's Justin Barcia (2-3), which pushed 250 points leader Blake Baggett back to fourth, and Tomac now sits 14 points behind Baggett with one race to go. He made up exactly 14 points on Baggett today at Steel City.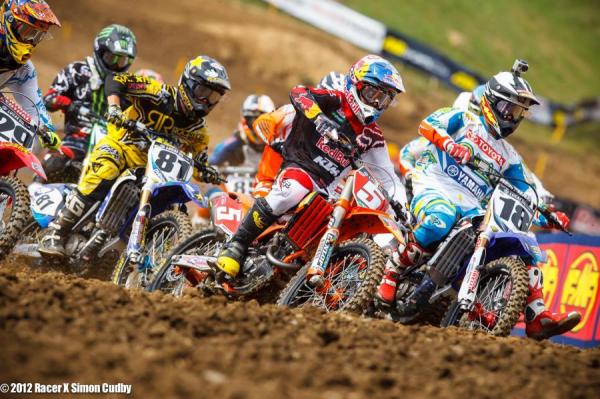 Dungey and Millsaps battle for the 450 Moto 1 holeshot.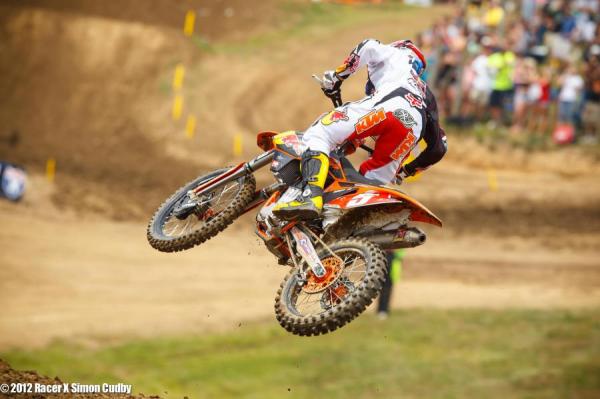 Once Dungey had the lead, it was over.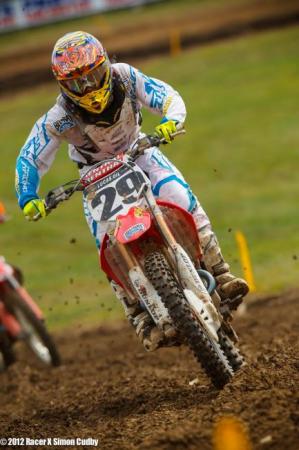 Andrew Short rode strong in the first moto for second.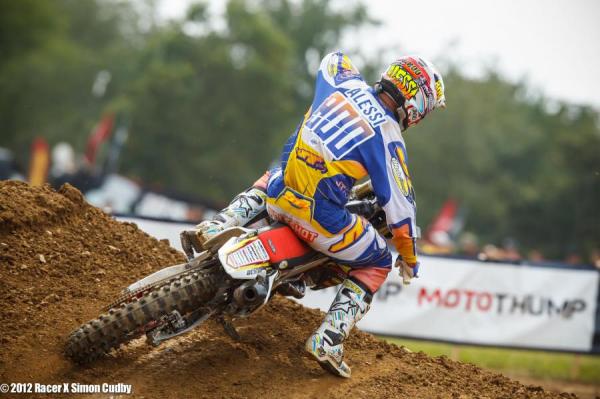 Mike Alessi worked his way up to third.
Cudby Photos
Not like anyone expected Dungey to back it down after he won the title, but he did actually struggle a bit in practice and only posted the ninth-fastest time. MotoConcept's Mike Alessi collected the Oakley Bomb award as the fast qualifier, but then Dungey righted his wrongs by grabbing the first moto holeshot. Go ahead and guess what happened from there. We'll answer it at the end of the next paragraph--no cheating!
Chaparral Honda's Andrew Short started about fifth in moto one but quickly went past Yamaha riders Bob Kiniry and Davi Millsaps. Short even gave Dungey a run early before settling into a solid second. Alessi made up ground, too, and climbed to third, but had no chance of catching Short and race winner Dungey. Did you guess right?
A revitalized Nico Izzi worked his way into fourth before crashing in the uphill triple triple section after the finish line. The early crash cost Izzi as he had to settle for eighth. Grant took over fourth and held it for a finish that would loom large for the overall podium. Millsaps, Tyla Rattray, Jake Weimer, Izzi, Christian Craig and Kyle Chisholm rounded out the top-10. Broc Tickle, on fire as of late on his 450, had to retire from the race with bike problems.
In Moto two, the grey clouds that hovered over Steel City opened up and berated the hillsides for the start of the second 450 moto. Alessi grabbed another one of his patented holeshots with Josh Grant and a surprising Zach Freeberg in tow. Dungey was buried in sixth after a ghastly start. Freeberg wasn't able to hold on long as he was swarmed by Jake Weimer and Dungey, who had quickly worked his way inside the top three after quickly cutting down Weimer's lead. After disposing of Weimer, Dungey went to work on Josh Grant for second. Grant would surrender second and shortly after lost a moto podium position to Weimer. But with Andrew Short struggling in the second moto (he would crash and finish 32nd), Grant was still in the line for an overall podium.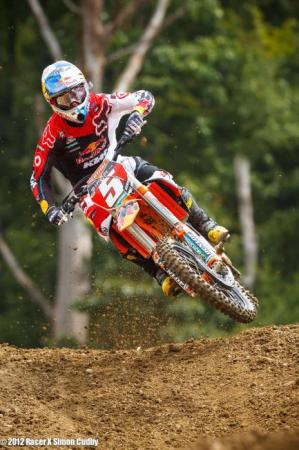 A bad start and uncharacteristic mistakes made the second moto a bigger struggle for Dungey.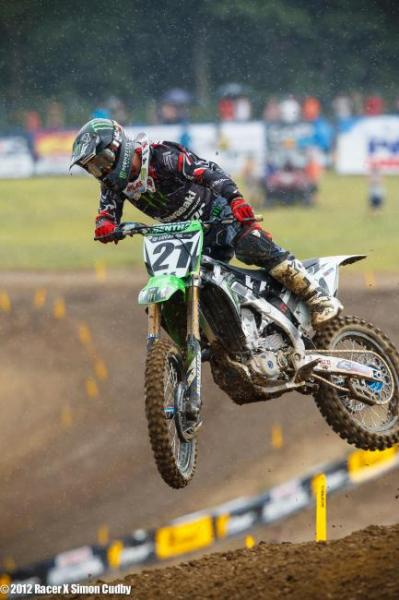 It rained pretty hard in moto two. Weimer pulled through for third.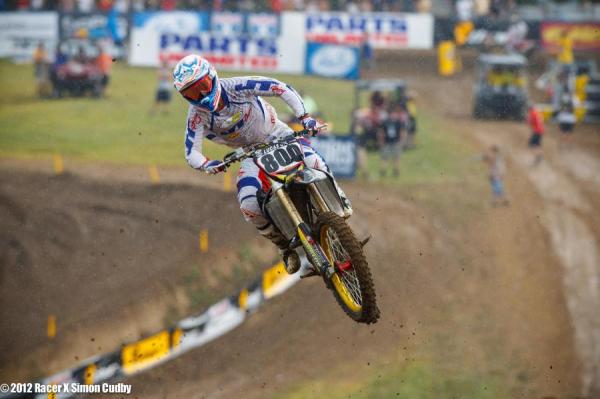 Alessi led most of the way, but Dungey caught him, and then Alessi twisted his ankle and decided to let Dungey past. He adjusted his lines and kept Dungey honest down the stretch.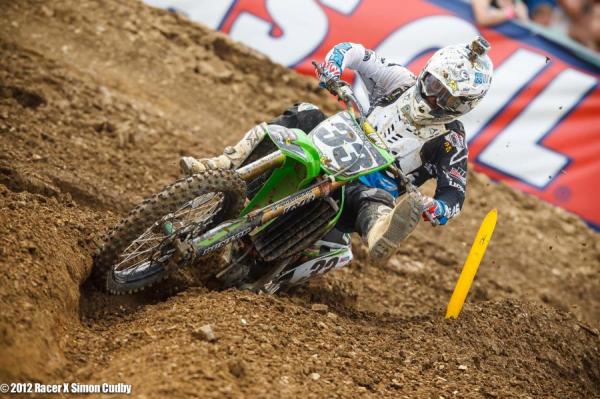 Josg
With heavy rain sinking into the Pennsylvania soil, Dungey began to close the gap on Alessi. Dungey made a couple of small mistakes, which would allow Alessi to stave off a hard charge from the KTM rider. As the laps began ticking away, Dungey began chopping away at Alessi's lead. Then Alessi bobbled slightly and twisted his ankle in a rut, and he elected to move wide and let Dungey pass. Alessi realized the ankle was okay, and when he hooked on to Dungey's lines he picked up his pace and was able to stay close, but Dungey held on for the win. Alessi took second with Weimer rebounding from a sub-par first moto to round out the moto podium.
"It was nice to come out of here with a win today, this place has been good to me in the past (in the 250 Class)," said Dungey, who won for the first time at Steel City Raceway in the premier division and also moves into sole possession of third on the 450 Class all-time wins list with 23 victories. "There were some good line choices. The second moto got a little slippery when that rain came, but I put in good laps and limited the mistakes. Luckily, I just went off the track a bit (with the bobble) and didn't lose too much ground. I want to continue (winning) with these last two races. They mean just as much as the 10 before."

In 250 Moto 1, Baggett shot out to a rare holeshot, but once again he didn't know what to do with his good fortune and was quickly zapped by Barcia, Roczen and Tomac. After back-to-back sub-par performances, Barcia desperately needed a win at Steel City, and it looked like he might get it.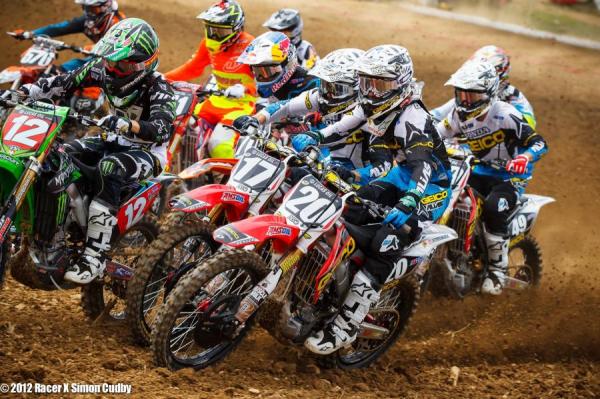 The 250 pack battles off the line in moto one.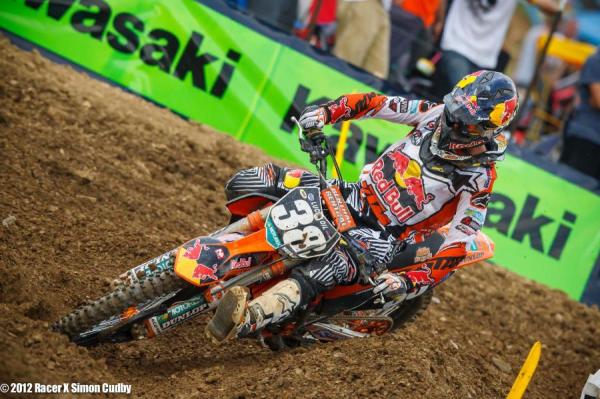 Last week's winner, Marvin Musquin, was under and the weather and struggled to fifth.
Barcia led most of the way until Tomac launched a late-race charge.
Tomac would work his way past Roczen into second and then set out after Barcia. Meanwhile, Baggett's expected charge never came. He hung in fourth behind Roczen, and ahead of Roczen's teammate Marvin Musquin--who said he felt a little sick during the weekend. Baggett finished up fourth, with Musquin fifth. JDR KTM's Malcolm Stewart logged one of his best rides of the year, making solid passes and advancing up to sixth.
Barcia looked ready to hold off his teammate Tomac, until late in the race when Tomac launched an attack on Barcia and then struck, pulling alongside over a set of jumps, and then running an outside line to steal the lead. He logged three more perfect laps to seal the moto win over Barcia and Roczen.
As the rain that plagued the second 450 moto subsided, the second 250 moto began under ideal conditions. Heralded Star-Valli Rockstar Yamaha rookie Jeremy Martin busted out of the gate grabbing the early lead. But it was short-lived as Tomac, riding a wave of momentum after his first moto win, swallowed him up quickly. Baggett was buried early behind a barrage of riders that included Roczen, Barcia and local product Mike McDade.
Tomac quickly stretched his lead to over four seconds on Roczen, with Barcia hot on the heels of the German. Roczen would eventually pull away from Barcia, just as Tomac continued to put time on Roczen. Meanwhile Baggett had to make some passes. First, he battled Tomac and Barcia's teammate Justin Bogle, who did a good job holding Baggett behind him for two laps. Baggett took over fifth and then got Musquin to take over fourth, but that's as far as he would get.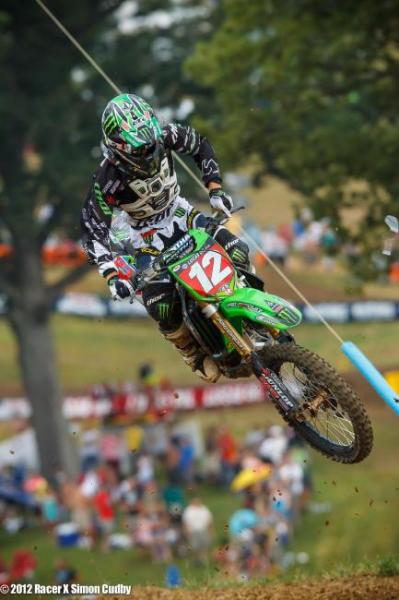 Baggett's expected charge never came, but if the goal was to stay safe, he accomplished it with a solid fourth.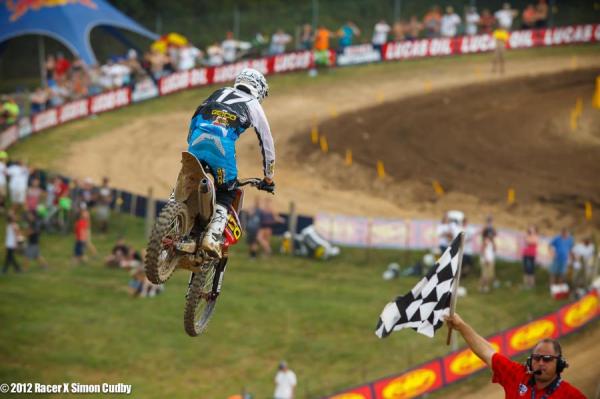 Tomac took the win after outdueling Barcia.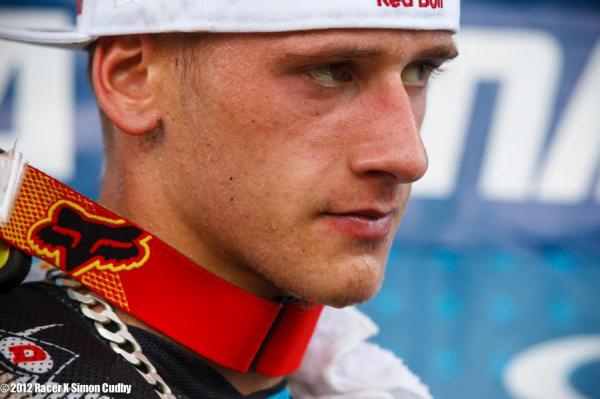 Roczen finished up in third.
Cudby photos
Tomac crushed the field en route to the moto two win and the overall. He passed Barcia in the standings for second and made up 14 points on Baggett for the day--cutting his 28-point defect to, you guessed it, 14 points.
"I'm super pumped right now," said Tomac. "To cut (Blake) Baggett's lead in half in one day is pretty encouraging. If we can go to Lake Elsinore and do the same thing, we'll be tied. It's going to be very interesting. I wish we were racing tomorrow.

"He [Baggett] was really fast earlier this summer but he's kind of come back to us a little here towards the end," Tomac said. "He still has a decent lead but we're going to push as hard as we can to pull this thing off."
With plenty of 250 riders ready to play spoiler, the stage is set for what could be a dramatic day of racing next weekend at Lake Elsinore.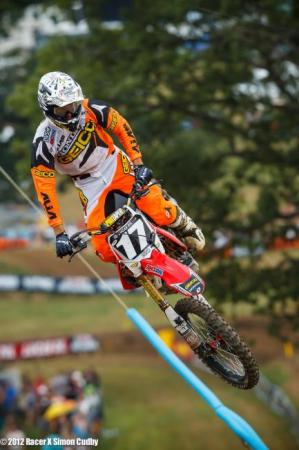 Tomac crushed 'em in moto two.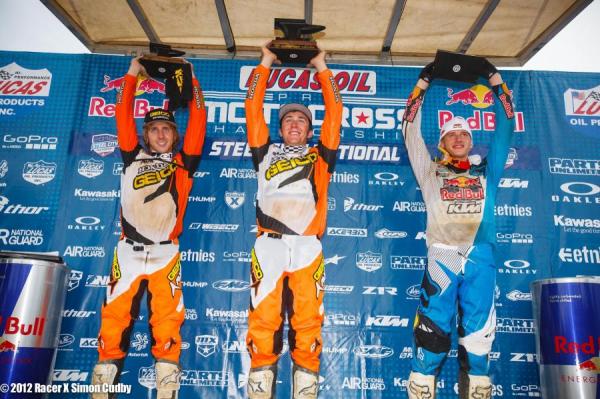 The 250 overall podium.
Cudby photos
450 Overall
Ryan Dungey 1-1
Mike Alessi 3-2
Josh Grant 4-4
Jake Weimer 7-3
Tyla Rattray 6-9
Nico Izzi 8-8
Davi Millsaps 5-11
Phil Nicoletti 11-6
Andrew Short 2-32
Justin Brayton 12-10
Ben LaMay 13-12
Broc Tickle 32-5
Kyle Chisholm 10-16
Bobby Kiniry 33-7
PJ Larsen 14-14
Christian Craig 9-4
Austin Howell 18-15
Vince Friese 15-18
Fredrik Noren 31-13
Jimmy Albertson 16-20
Evgeny Mikhaylov 20-17
Robby Marshall 17-33
Shane Durham 29-19
Jason Thomas 19-22
Ronnie Stewart 23-21
Frantisek Smola 25-25
Tucker Hibbert 26-27
Dalton Carlson 24-31
Derek Anderson 21-34
Michael Stryker 27-30
Michael Giese 35-23
Ricky Renner 22-36
Jake Loberg 30-29
Dakota Kessler 34-28
Kyle Regal 39-26
Kevin Rookstool 28-28
Robert Lind 38-35
Zack Freeberg 37-37
Chris Blose 36-39
Jerry Lorenz 40-40
450 Class Championship Standings
Ryan Dungey, Belle Plaine, Minn., KTM, 530
Mike Alessi, Victorville, Calif., Suzuki, 409
Andrew Short, Smithville, Texas, Honda, 333
Jake Weimer, Rupert, Idaho, Kawasaki, 327
Broc Tickle, Holly, Mich., Kawasaki, 309
Josh Grant, Riverside, Calif., Kawasaki, 262
Justin Brayton, Ft. Dodge, Iowa, Honda, 222
Kyle Chisholm, Valrico, Fla., Kawasaki, 198
Davi Millsaps, Cairo, Ga., Yamaha, 176
James Stewart, Haines City, Fla., Suzuki, 163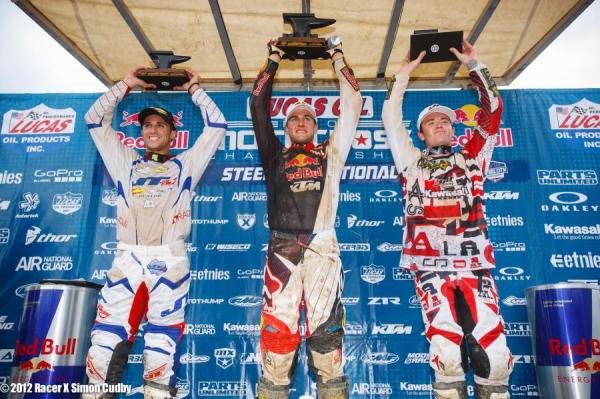 The 450 overall podium.
Cudby photos
250 Overall
1.  Eli Tomac 1-1
2. Ken Roczen 3-2
3. Justin Barcia 2-3
4. Blake Baggett 4-4
5. Marvin Musquin 5-5
6. Wil Hahn 9-6
7. Alex Martin 8-9
8. Blake Wharton 7-11
9. Malcolm Stewart 6-12
10. Jake Canada 11-10
11. Jeremy Martin 14-8
12. Kyle Cunningham 10-15
13. Jason Anderson 13-13
14. Jessy Nelson 12-14
15. Justin Bogle 25-7
16. Cole Thompson 17-16
17. Travis Baker 15-18
18. Kyle Peters 20-17
19. Martin Davalos 16-37
20. Ryan Sipes 18-39
21. Jackson Richardson 21-19
22. Michael McDade 19-28
23. AJ Catanzaro 32-20
24. Gannon Audette 26-22
25. Vann Martin 29-21
26. Kaven Benoit 28-24
27. Chris Canning 30-23
28. Dakota Tedder 22-33
29. Tevin Tapia 23-35
30. Joseph Dalzell 34-25
31. Joey Peters 27-32
32. Ryan Zimmer 31-29
33. Broc Schmelyun 24-36
34. Luke Vonlinger 35-26
35. Theodore Pauli 33-30
36. Daniel Herrlein 40-27
37. Steve Roman 39-31
38. Justin Starling 38-34
39. Sean Hackley 36-38
40. Jacob Hayes 37-40
250 Class Championship Standings
Blake Baggett, Grand Terrace, Calif., Kawasaki, 472
Eli Tomac, Cortez, Colo., Honda, 458
Justin Barcia, Monroe, N.Y., Honda, 454
Ken Roczen, Apolda, Germany, KTM, 427
Marvin Musquin, La Reole, France, KTM, 368
Wil Hahn, Decatur, Texas, Honda, 282
Blake Wharton, Pilot Point, Texas, Suzuki, 239
Jason Anderson, Edgewood, N.M, Suzuki, 222
Jessy Nelson, Paso Robles, Calif., Honda, 205
Travis Baker, Temecula, Calif., Honda, 177