There are very few slow builds in motocross. Trainers, teams and coaches will tell you success doesn't come overnight, but in this sport, the seemingly impossible task of winning immediately is actually much more common than a rider slowly moving to the top. It's romantic to think about the underdog grinding away each day, getting better in a slow, incremental process before finally reaching the top, but most highlights in motocross start with a big flash, not a slow burn.
Okay, even the biggest overnight successes at the pro level logged plenty of improvement time as kids and amateurs, but by the time they get to the top level, you either have it or you don't, and if you don't have it quickly, it's really, really hard to get it.
And now, we have the most improbable overnight success we've seen in quite some time. A year ago at Unadilla, I saw Roger DeCoster near the press tent after the race and decided to ask if he had really gotten Dungey for 2012. Most team managers would hedge or lie or deny, but DeCoster usually pulls no punches, so he said, "Yes, it has happened but please do not print or say anything yet."
At the time, KTM was still racing the 350 SX-F with Andrew Short, so I asked DeCoster if they were going to grab a version of the next-generation EFI 450 Enduro bike and develop a new 450SX for Dungey around that. "Yes, it will be something like that but please don't say or write anything," he said.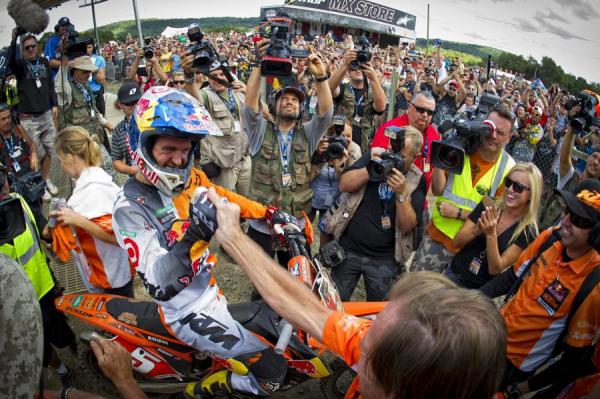 It didn't take long for Dungey and KTM to reach the top.
Garth Milan photo
I didn't, but I appreciated the candor. But I, and many, many others, were left to wonder how in the heck the deal could work. Not only had KTM had basically zero success in the U.S. in the big bike class, but now they were faced with developing an all-new bike in record time. Combining KTM's track record with that time frame seemed like a recipe for disaster.
I couldn't find anyone who thought the move would work. Jeremy McGrath had gone down that road with KTM once, and he told me that money was a huge factor in his decision—but that was okay since he was toward the end of his career anyway. But he couldn't understand why Dungey would take such a risk in his prime. Nor could anyone else besides the mega-die hard KTM guys who live for single track trails (of course, the gang at the KTM shop near my house thought Dungey was about to kill it. Those were the only people who said this. On the moto end, this seemed like a dead end).
When the deal became official, Dungey immediately covered his bet by explaining this was a multi-year deal, and that 2012 would be a learning year for 2013. Yeah, right. This sport doesn't work that way. A rider of Dungey's caliber needs to be up front, and if he struggled this season, it could only be a sign that KTM's program was way, way off and a year of learning wasn't going to fix it. In this game, you don't finish a distant fifth one year and then win races the next—you have to be up front immediately.
And Dungey and his new team were up front immediately. He finished second at the Monster Energy Cup, finished on the podium at Anaheim 1 and won Phoenix. That's overnight success. Now Dungey and KTM have the 2012 Lucas Oil Pro Motocross Championship. Of course, the riders who could have stopped this title run were all out with injury, but that's not the point. Dungey didn't need to win the championship this year, but he needed to at least show the potential to contend. Remember, even the ultimate underdog, Rocky Balboa, managed to go the distance the first time he had a shot at the champ.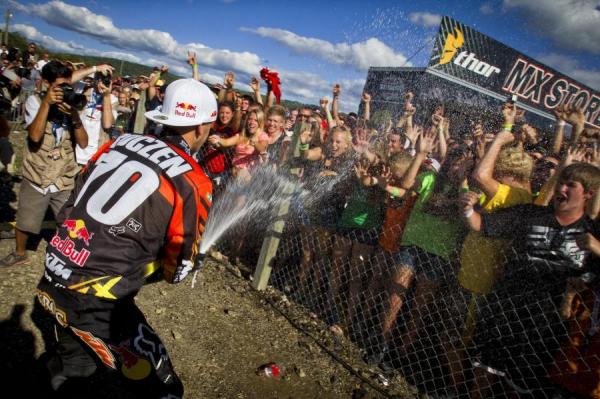 Ken Roczen also won his first moto in the U.S. for KTM at Unadilla.
Garth Milan photo
Think of the top riders in the game today. Chad Reed came to the U.S. in 2002 and ran in second for most of his first 250 SX race at A1. He crashed back, but the potential was obvious. A few weeks later he made his 125 East debut in Indy, won it, and then dominated the championship. A year later, he was in the thick of the 250 points hunt and won a ton of races.
James Stewart was the fastest rider on the track the night of his first U.S. Supercross, and he won his second race. He also won the first National he ever raced, at Glen Helen later that year.
Dungey was a huge question mark when Suzuki signed him for the 2007 season, but he won the first AMA SX race he ever competed in, the Lites East main in Atlanta. A year later, Trey Canard did the exact same thing in Atlanta.
Ryan Villopoto showed the potential even quicker. Most amateurs get in a few races at the end of the pro season, and by RV's third pro race, the '05 Lites finale at Glen Helen, he went 2-2 for second overall behind his teammate Grant Langston. By the end of the next season, he was the champion of the class.
That's good news for the next generation. It's becoming almost required for the latest sensation out of the amateur ranks to light it up in his first shot (especially if he rides a GEICO Honda). Barcia led a ton of laps in his debut, Tomac outright won the race, and Bogle and Bell were right up front in their first races, also. It might take time to put all the pieces together, but as long as the potential is there, you've got a realistic shot.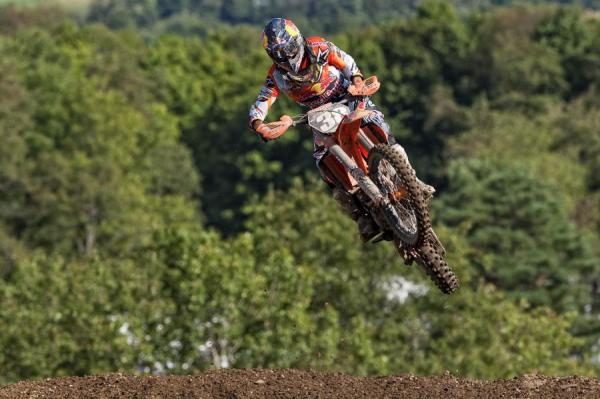 Marvin Musquin would cap things off with his first career overall.
Garth Milan photo
When you get into the super elite level, the premiere 450 Class, with the best of the best, only the finest talents can succeed. And that level of talent usually shows through pretty early. Did you know Reed, Stewart, Villopoto, Dungey and Canard all won 450 SX races in their first year in that class?
So, for KTM's new program, immediate success wasn't a bonus, it was a necessity. Had the program stumbled out of the blocks, it would have been a sign that their entire operation didn't have what it takes. Be it 250s or 450s, riders or bikes, very few success stories didn't include some sort of success very quickly. So now, we are looking at KTM standing atop the U.S. motocross pack. It happened very quickly—and that's about the only thing that isn't surprising about the entire development.