The Wick 338
Southwick

,

MA
Southwick
Lucas Oil AMA Pro Motocross Championship
If you want to show the unitiated fan what motocross is all about, show 'em the 2012 Southwick National. The race will make them think this sport is the craziest thing around.
It's our little secret that the racing is actually not that crazy. We're living in a world where in baseball, a .333 batting average is superb, and in basketball a 50 percent shooting percentage is the goal. In motocross, we have perfect seasons, massive win streaks, and this year, the possibility that both the 250 and 450 titles could be wrapped up early.
To a new fan, that wouldn't seem possible. How can you build totally different tracks with hills and jumps and ruts mixed with changing soil conditions and weather, and still see the same basic stuff happen each week? How can you have athletes fighting through injuries and fatigue, building a combination of both skill and stamina through the million variables of the human body and mind, and yet come out the same each week? How can you mix in mechanical elements of bikes that are getting tested and tuned to the hilt, pushing the envelope on performance while trying to maintain reliability, and not see things change each week? Not sure, but the sport has always been that way, and after awhile, you begin to expect the expected.
Then a race like Southwick shows up and gets all crazy.
Of course, it starts with Ryan Dungey inexplicably crashing out while leading the second 450 moto. You watch enough of these races and you just know that Dungey never, ever, ever throws away big leads. Yeah, he got passed late in a Steel City moto last year by Villopoto, but straight crashing? Rare. Kind of reminds me of Chad Reed throwing Southwick away while leading in 2009, which, by the way, happened about one jump further down the track than Dungey. Reed is also as steady as it gets, so much so that we basically expect him to never crash while cruising with a big lead. But he did, which opened up the door to an all-time upset win by Matt Goerke. It was a Cinderella story, as Goerke was merely a replacement rider for Yamaha, and his win would mark the last-ever for the factory Yamaha team. That race also featured John Dowd's incredible run for the podium at age 44. It was inspiring and awesome, but none of that would have happened if Chad Reed hadn't crashed in shocking fashion. Motocross fans know that guys like Reed and Dungey don't crash away big leads often.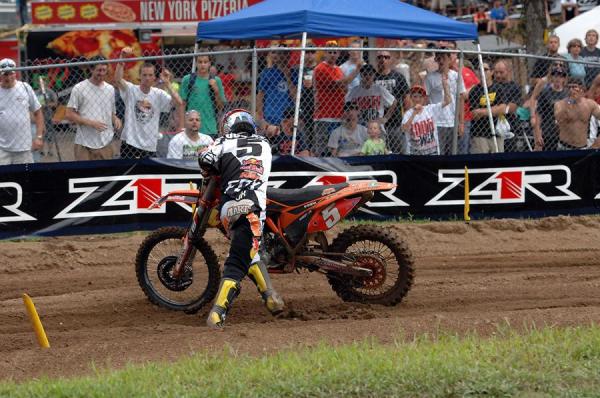 You don't see Ryan Dungey making mistakes often, but Southwick wasn't your typical race.
Carl Stone photo
Dungey landed hard. Imagine if that singular, random crash put him on the sidelines, and Mike Alessi, as close to mathematically eliminated as can be, suddenly found himself needing a six-moto blitz through the end of the season to reel in the points lead. That seems almost impossible and yet, in the blink of an eye, it was very nearly reality. But even that crazy scenario is more likely that Dungey's gas cap busting open!
Yeah, so tell the uninitiated fan that a guy like Dungey could crash at any moment, and if he does crash, it could cause a bizarre bike problem. Then, it's up to Dungey and his team to figure out what to do next. Pit? Pray?
Then you have Tyla Rattray, sucking it up to 15th at Washougal, bouncing back to win moto two at Southwick. But, he was 20th in moto one after a bunch of crashes. Then look at Mike Alessi. What happened there? If the same Mike Alessi from moto one raced in moto two, he would have had his long-awaited overall win—but for some reason, in this moto, Mike in his own words, "just didn't execute."
You also have a home track guy (Robbie Marshall) get fourth in a moto, and Tommy Hahn get third and just about start crying because it meant so much to do so. Phil Nicoletti switched from the Eleven10 Mods privateer team to his own deal on a 450, and jumped right up front before his bike broke. Then in one last hint of drama, John Dowd went down not once, but twice in the second moto, and barely, just barely, dug himself out enough to score the points he needed to keep his number again at age 47. In a sport where we get so used to the same old stuff, we saw the points leader crash and pit, a guy go 20-1 in the score sheets, Alessi ride differently in each moto, a local boy nearly get a podium, a 47-year-old score a top ten….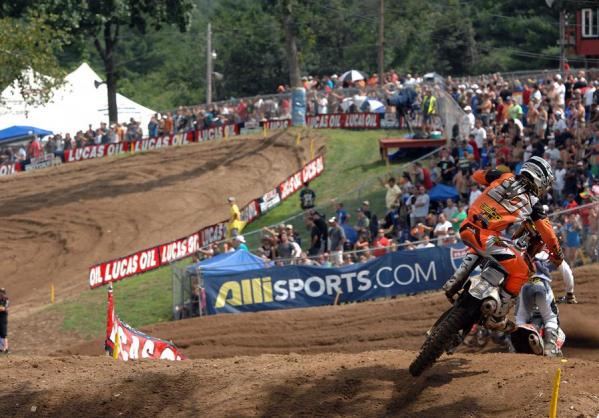 Justin Barcia, expected to dominate at the 'Wick, surprisingly struggled at one of his best tracks.
Carl Stone photo
Then the 250s. A rookie kid in his first pro race ever scores the holeshot and leads a few laps, only to get passed by the only rider to have ever actually won his first pro race, Eli Tomac. Tomac then proceeds to demolish the track and the field. The rookie kid (Zach Bell) crashes out. Justin Barcia, who everyone seemed to be counting on to just rail at Southwick, goes down in turn two and has to dig, scratch and claw his way to seventh. Most predictions had Barcia killing it at Southwick, but this was not a predictable day. Whereas Barcia has had great success at Southwick previously, his teammate Eli Tomac had never been a factor for the win there, until this weekend when the roles completely reversed. And Barcia's early crash was nothing compared to the super-bizarre Mike McDade/Wil Hahn incident, when McDade dropped his own bike to rescue Hahn from his. This stuff doesn't happen!
The second moto was nuttier. Barcia hit a tree. Tomac crashed at the beginning and then launched an incredible charge, one that flies against all known knowledge of how races play out—dudes just don't make up 20 seconds on the leaders, but Tomac did exactly that and then blew right past Blake Baggett, a rider who has been blowing past the rest of the 250 field all season long. We are used to seeing the same thing happen week after week, but this time the roles changed, as Baggett was tiring down the stretch and Tomac was the on ripping off ridiculous lap times.
But, moments later, Tomac hit the darned tree!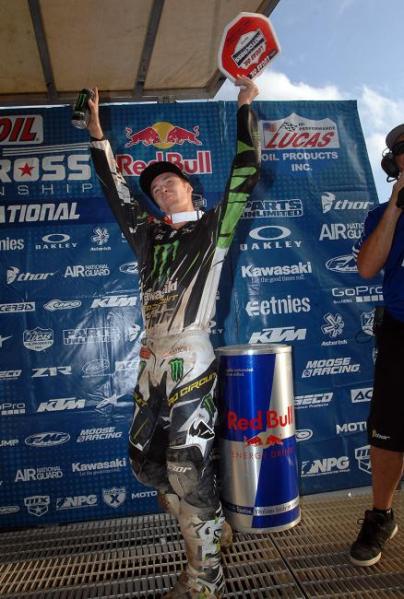 Blake Baggett won the overall at Southwick.
Carl Stone photo
Baggett and Roczen dueled to the death for the win. Now, you could say it was predictable to see Roczen get passed late after leading most of the way, since it's happened several times this year. But it was impressive to see him fight back this time, and regain the lead. Then it was just a battle of wills down the stretch, and Baggett won, but he was admitting he was smoked when it was over. Good! This is supposed to be an endurance sport, but the fitness angle rarely gets mentioned because every rider will claim they can run the 30+ 2 hard and not get tired—even when it's obvious. In this case, Baggett, as strong and fit as possible, simply got wore down by the rugged track and battle to the end with Roczen.
To the unitiated, Southwick had all the elements. Bikes had problems, riders did things they weren't expected to do, and the day featured a staggering number of highs and lows. It was great drama and fun to watch. But you know what? Despite all that, the guys who have led the series for most of the year still came out with the wins. Darn predictability!