MXSponsor.com 3.0 Launches
MXSponsor.com is pleased to announce the recent launch of their new online sponsorship platform, making sponsorship easier than ever for today's racer and company.  As a web based software platform, MXSponsor.com allows riders to build personal rider profiles to solicit and attract motocross companies for sponsorships.
Since its founding in 2005, MXSponsor.com has grown to be the largest motocross specific sponsorship website in the industry helping establish over 1.6 Million Sponsorship deals. The 3.0 version is the latest and greatest sponsorship technology addressing the changes in online technology and sponsorship trends.
The 3.0 version is a ground up redesign of the popular service and has taken over 7 months to build. Eric Knopf, VP of Technology explains, "In the wake of the recession, the demand for sponsorship is greater than ever. Social media giants like Facebook have increased online participation making sharing images and videos more popular than ever. Our new version gives racers the tools to influence the sponsorship process with the power of social media."
MXSponsor.com allows riders and companies to instantly share profiles, images and videos directly to sites like Facebook and Twitter while utilizing the power of Facebook to allow anyone to like, comment or share a video with their Facebook account.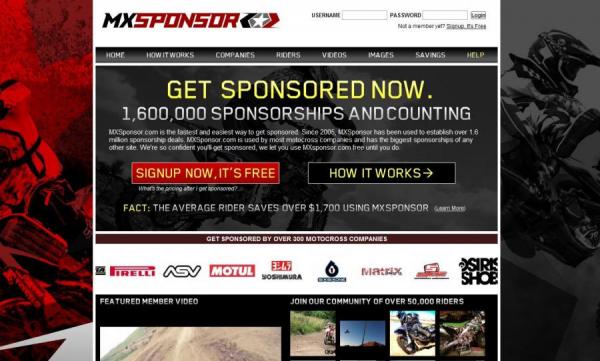 "While MXSponsor.com is not a social network itself, we leverage the power of other social networks to enhance the sponsorship process" explains Founder and CEO Rich Maychrich. "Today's companies consider a rider's online reach when considering appropriate sponsorship levels. Our new version allows companies to measure and consider these factors."
Companies will also enjoy a powerful redesign of the sponsorship management process allowing companies to manage several thousands of sponsorship requests in little time.
Maychrich explains the redesign has helped exponentially increase the productivity of sponsorship management. "We spent significant time working with several of the industry's top companies until we perfected the sorting, filtering and accepting process. Today, companies can not only maintain their rider support programs but can easily expand them to include tens of thousands of riders."
Also new is the ability for companies to offer targeted sponsorships based on the specific machine that a rider rides.  Knopf explains how this is changing the scope of sponsorships, "For the first time ever, a company can build a sponsorship program tailored for a rider anywhere in the world who rides a particular year, make and model of dirt bike. This is a dream for emerging companies, new product launches and inventory specific sponsorships."
The debut of MXSponsor.com 3.0 comes right as the 2012 sponsorship season begins. Riders can signup at www.mxsponsor.com and use the service absolutely free. Riders only pay a one-time yearly fee after a successful sponsorship relationship has been established.
Companies wishing to utilize MXSponsor.com for the 2012 sponsorship season should contact Rich Maychrich by calling 888-9-SPONSOR or emailing rich@mxsponsor.com.