The Wick 338
Southwick

,

MA
Southwick
Lucas Oil AMA Pro Motocross Championship
James Stewart – Hurt Wrist
Comment: Stewart injured his hand/wrist in a first-moto crash at Thunder Valley. He attempted to race at High Point, but experienced numbness in his wrist several laps into the first moto. Stewart returned at RedBud, finishing third via 6-3 moto scores, but pulled back out of the series, believing that he hadn't made enough progress with his injury for it to make sense to race. According to the following Tweet from Stewart, he's out for Southwick. "No wick for me this weekend, Hoping Dilla. They want me to wait a bit longer which i understand but we'll see. Be back sometime this year."
Davi Millsaps – Ankle Injury
Comment: Millsaps will return to racing at Southwick after sustaining an ankle injury at RedBud.
Nico Izzi – Back Pain
Comment: Izzi crashed hard in the first moto at RedBud and sat the second moto out after experiencing pain in his back. Izzi missed Washougal, but will be back at Southwick.
Hunter Hewitt – Staph Infection
Comment: Hewitt has been fighting fatigue and after learning he had a staph infection, sat Washougal out. Hewitt will miss Southwick, but hopes to return at Unadilla.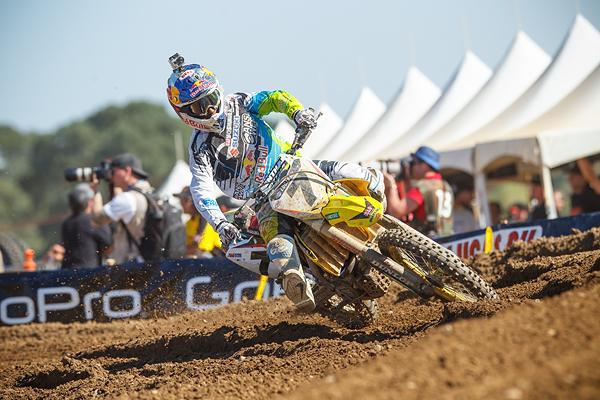 Stewart will miss Southwick with a hand/wrist injury.
Simon Cudby photo
Ryan Villopoto - Knee Injury
Comment: Villopoto is back riding after suffering a torn ACL at the Seattle Supercross. No word yet on a possible return date, but there has been some talk of Villopoto racing as a member of Team USA at the MXoN.
Jarred Browne – Nerve Damage in Right Elbow
Comment: Nerve damage in Browne's elbow is affecting his right hand. Browne is out for the rest of the season.
Jimmy Albertson – Broken Nose
Comment: Albertson crashed hard at Washougal, but will be racing at Southwick.
Nick Wey – Three Fractured Vertebrae, Dislocated Hip and Broken Ribs
Comment: Wey had a terrible crash at Spring Creek that sent his bike tumbling into the creek and him to the hospital. Wey's fractured vertebrae have been fused, and he will not be racing for the rest of the year.
Tommy Weeck -  Broken Tibia and Fibula
Comment: Star-Valli Rockstar Yamaha fill-in rider Tommy Weeck broke his tibia and fibula practicing at Glen Helen and is out for the year.
Drew Yenerich – Concussion
Comment: Yenerich will miss the remainder of the season.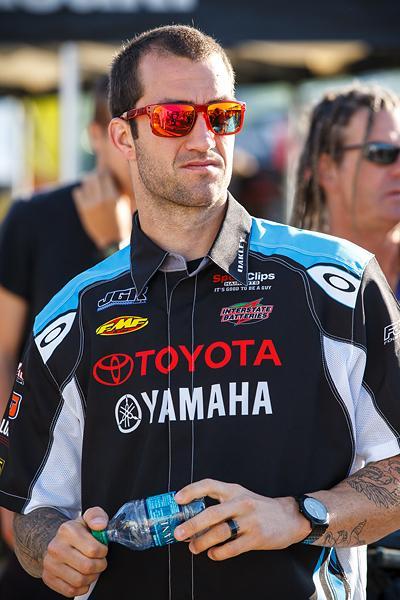 Davi Millsaps makes his return from an ankle injury.
Simon Cudby photo
Gareth Swanepoel – Broken Leg
Comment: Swanepoel broke his tibia and fibula at Spring Creek. He will undergo surgery and sit the rest of the season out.
Kyle Peters – Dislocated Shoulder
Comment: Peters injured his shoulder in a mountain bike crash before RedBud. He raced through the pain at RedBud and Spring Creek, but missed Washougal and is likely to miss Southwick. Peters hopes to be back racing at Unadilla.
Ivan Tedesco – Hurt Knee
Comment: After taking some time off to heal up after a sustaining a lacerated kidney and broken rib in a big crash at Budds Creek, Tedesco hurt his knee at Washougal and will not be racing at Southwick.
Ryan Sipes - Cracked Hand
Comment: Sipes rebroke his hand in SLC when Jason Anderson ran into the back of him on the start of the parade lap. Sipes now has a plate and screws in his hand and will be racing a 250 this weekend at Southwick.
Shane Sewell – Broken Left Humerus and Torn Left Meniscus
Comment: Sewell will not return to racing until 2013.
Jessica Patterson – Broken Hand
Comment: Patterson broke her hand while practicing for RedBud, but still lined up to salvage a few points. Patterson underwent surgery for her injury, and will be racing the rest of the series.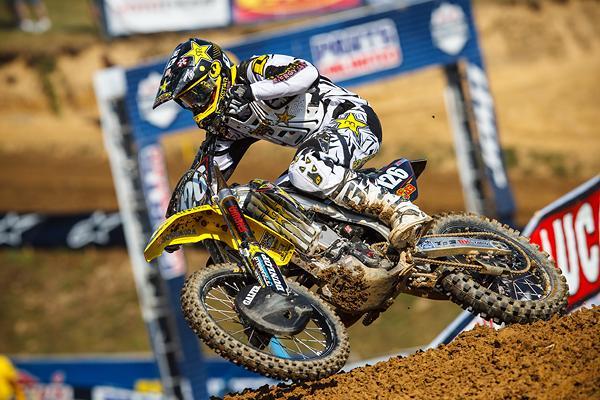 Rockstar Energy Suzuki's Hunter Hewitt will miss Southwick after after learning he had a staph infection before Washougal.
Simon Cudby photo
Matt Moss – Illness
Comment: Moss missed RedBud and Spring Creek due to severe illness. He will not be lining up at Southwick.
Brett Metcalfe – Broken Tibia and Dislocated Wrist
Comment: Metcalfe went over the bars when his bike ran out of gas in a rhythm section at Glen Helen Raceway in Southern California. Metcalfe underwent surgery for his injuries and is out for the season.
Kyle Cunningham – Injured Ankle
Comment: Cunningham did further damage to an already injured ankle when he hooked a rut with his boot at Budds Creek. Cunningham will not be racing at Southwick.
Dillon Huddleston – Broken Scapula
Comment: Huddleston is undergoing physical therapy and hopes to be racing at The
Lake Elsinore
National.
Sayaka Kaneshiro - Injured Wrists and Ankle
Comment: Kaneshiro sustained injury while practicing for RedBud and is out for the season.
Myles Tedder – Broken Foot and Labral Tear in Shoulder
Comment: Tedder crashed at Budds Creek on the last lap of the first 250 moto, breaking a bone in his right foot and tearing the labrum in his left shoulder. Tedder was looking at a three week recovery, but opted to take some additional time off to have surgery to repair a nagging problem with his shoulder. Tedder may be back for the final race at Lake Elsinore.
Jarett Pesci – Injured Knee and Calf
Comment: Pesci hopes to return to racing at some point in August.
Amanda Maheu - Torn Labrum
Comment: Maheu's injuries will keep her out of competition for the rest of the year.
Darryn Durham - Dislocated Shoulder and Torn Labrum
Comment: Durham injured his shoulder practicing before the start of the outdoor season and is out for roughly three months.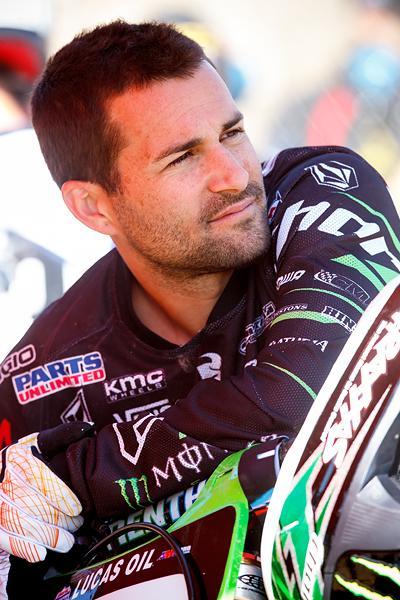 Tedesco is back on the sidelines after injuring his knee at Washougal.
Simon Cudby photo
Dean Wilson - Injured Shoulder
Comment: Wilson attempted to race Hangtown with a shoulder injury sustained in supercross, but it didn't work out. Wilson underwent surgery, and is likely to miss the rest of the outdoor season.
Cole Seely - Ruptured Kidney, Lacerated Liver and Whiplash
Comment: Seely crashed hard in SLC and while there is not an exact timetable on his return, he is expected to miss most of the outdoor season. Seely recently tweeted the following: "Well everything with my injury is good except my kidney. Having surgery on it soon then I should be able to ride shortly after that."
Bryce Vallee - Lacerated Liver and Kidney, Two Broken Femurs, Three Pelvic Fractures, Shattered Left Elbow with Radial Nerve Damage, Fractured Collarbone and Multiple Fractures in Lower Spine
Comment: Vallee suffered a horrible crash while leading a race at Pala Raceway. After being landed on  multiple times, he was airlifted to Palomar Hospital and underwent two surgeries, with rods inserted in both femurs and three plates and 33 screws used to repair the left elbow. After multiple surgeries, a month in the hospital and much hard work and therapy, Bryce is now walking again much to the surprise of his doctors. With the help of Eddie Casillas of Asterisk Medical and Charles Dao of ICON Sports, here is a video of Bryce walking for the first time on May 30th at the ICON facility in Murietta, less than 2 months after the crash. Donations for medical expenses can be made at www.brycevalleemx.com.
PJ Larsen - Foot and Knee Injury
Comment: In Toronto, Larsen went down hard during practice in a rhythm section, sustaining injuries to his knee and foot. It is unlikely that Larsen will return to racing in 2012.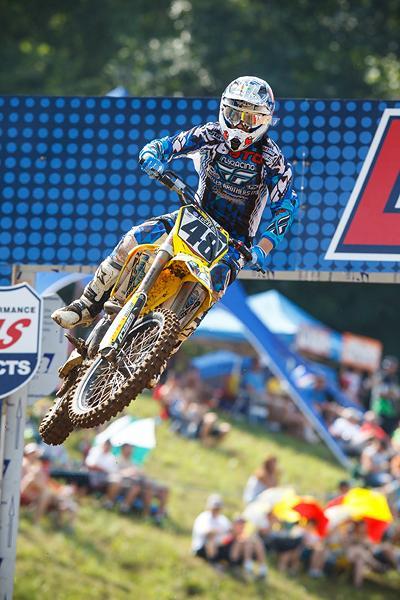 After suffering a big crash at Washougal, which resulted in a broken nose, Top Jimmy will be racing Southwick.
Simon Cudby photo
Jimmy Decotis - Torn ACL
Comment: Decotis crashed while practicing and tore his ACL. The injury effectively takes Decotis out of action for the rest of the year.
Chad Reed - Broken Tibia and Fibula, Broken Ribs, Broken T6 Vertebrae and a Torn ACL
Comment: Reed is back on the bike, but it is unlikely that he'll enter any of the remaining Nationals.
Trey Canard - Injured Back
Comment: After a terrible crash in Los Angeles, Canard was released from the hospital on January 29 and was able to return home. Canard plans on making his return to racing in 2013.
Know of an injury we've missed? Email our man Aaron Hansel, aaron@racerxonline.com, and he'll handle it.