Southwick, MA
Southwick
Lucas Oil AMA Pro Motocross Championship
After making it through a rookie season riddled with injuries, including two broken ankles in three months, Ryan Zimmer is beginning to make strides in his sophomore campaign. A career-high twentieth overall at Spring Creek, which was proceeded by scoring his first career points in the Lucas Oil Pro Motocross Championship at High Point Raceway, has Zimmer on a euphoric high that even his thick southern drawl can't hide. Taking the road less traveled to the professional ranks--Zimmer attended public school until tenth grade and only raced a select few amateur nationals per season--the North Carolina native is knocking on the door of becoming a consistent top-twenty threat. We caught up with Zimmer earlier this week as he was finishing a training session with 1997 125 Eastern Regional Supercross Champion Tim Ferry.
Racer X: This is your sophomore season and you've made some really big strides from your rookie year. How much can you attribute that to being more comfortable with the tracks and the professional atmosphere in general?
Ryan Zimmer: Well, it's not as overwhelming, I guess, since I've been riding for a while and stuff like that. But I'm starting to get the hang of it. My lap times in practice are starting to get better and better each weekend. This time we make goals for each weekend.
I want to go back a couple months to High Point. You scored your first career points in professional motocross. How much of an accomplishment was that?
It was awesome. Last year I raced and I was fast enough to score points, I just wasn't in shape from getting hurt and stuff like that. I broke my ankle twice at the end of the season last year. I just tried to come in too early and I didn't give my stuff enough time to get in shape. I just didn't have a good program like I do this year. This year's going a lot better for me.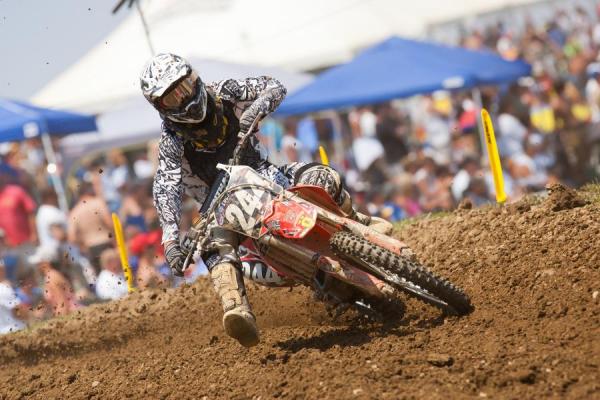 Zimmer currently sits 32nd in the 250 Class point standings.
Andrew Fredrickson photo
What were you feeling at that time? Was it overwhelming?
It was just a relief off my shoulders. It's like 'Ah, I did it. Now it's time to get some more of them.'
You have dealt with a lot of injuries. Can you elaborate on exactly what's happened and exactly how much time you've missed? Did you miss all of the 2011 supercross season?
No, I actually raced a couple of them. I broke it [ankle] on January 4 [2011], then I went back. My first race was Atlanta and I didn't make the night show. Then I ended up breaking it at St. Louis and was out for an even longer time. So I came back too early the first time, then I broke it the second time. Then, just recently in this last supercross [2012], I broke my wrist. So I'm just kind of getting set back and set back. But now I've got some confidence and we got the ball rolling again this season.
You've been injured a lot during your first two professional seasons. How hard has it been to keep coming back from injury and to know that you're missing a lot of opportunities by not being out on the track and showing everybody what you're capable of?
Exactly. Then it's just like being out for the season and being out for all the races and stuff. I came back, but I didn't take the time before to get set up with the right people behind me, or even to get my body in shape or anything. So when I broke it this supercross season, I could have come back for the last couple, but I decided not to and just focus on my outdoor stuff. I got my body in shape. I've got good people behind me now.
You're currently training with Tim Ferry. How long have you been training with him and how much of an effect has he had on your success this year?
Well, I've been training for probably two to three months now. He's been awesome. He's just a really cool guy once you get to know him. He's kind of quiet at first. He helps me more out with my mental side too, so it's not just the riding side, it's the mental side too.
How much do you think he's affected you positively since you've been training with him? You said you've been training with him for a couple of months and you've actually had some of your career-best results since then.
He's the type of person where if I'm not feeling it or I'm bad or something, I always leave his house with a smile, and that's always a good thing. He's just a great guy to work with and he knows what he's talking about.
I want to go back to your amateur career. You came up with the likes of Eli Tomac, Justin Bogle, Jacob Hayes and Kyle Peters. How much did racing against those guys prepare you for the professional ranks?
It's good. When I was racing amateur, my dad didn't really have all the money to take me to all the [amateur] nationals and stuff like that. I couldn't really get out of school either. So I would only go to one or two nationals a year and when I did, I would put so much pressure on myself that I'd blow it. But if you look back at some results from me just racing around my house, I grew up with Ian Trettel, Kyle Peters and Jacob Hayes, and I would race those kids every weekend and I would win a lot of them. But definitely just racing those fast kids locally prepared me for that.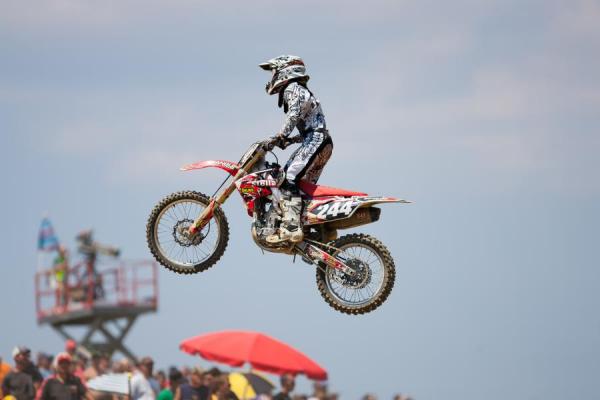 Zimmer looks to top his career-high 20th as the season hits the home stretch.
Andrew Fredrickson photo
You mentioned you stayed in public school for longer than most amateurs. Did you go all the way through high school?
No, I went all the way to tenth grade, and then I got homeschooled after tenth grade. That's when I started hanging out with Taylor Futrell a lot and I started training with him.
A lot of kids feel a pressure too soon to dedicate their lives to riding dirt bikes. Do you think it was a good thing that you held back a little bit and waited until you were a little older to make your push?
Oh yeah, definitely. I was still a kid and I wasn't mature enough yet to take the responsibility. I'm still a pretty immature kid, but I've started becoming more of a man and more mature, knowing what needs to be done and stuff. In the past year, I've figured a lot out. I think it was good that my dad kept me in school and stuff like that.
The series is on the tail-end of a two-week break. Before the break you had been riding really well. Do you feel the break can be a detriment, or do you feel that having the time off to rest and work out some kinks can be beneficial?
Well, half is good and half is bad. You don't want to take the time off, but also you need that time off to let your body rest up, and just do some testing and stuff like that. Over the past couple of weeks, I've done a lot of suspension testing and found out stuff that really made me a lot more comfortable on the bike. So it has its up and it has its downs, but a majority of the time I think it's good.
You are receiving some help from the Langston-Witt team. Can you elaborate on how they are helping you, seeing as you're not actually a member of the team?
Well, I actually date the owner's daughter. His name is Scott Witt and he's helped me out tremendously. I went to Southwick last year and I met him the week before and he told me to come down and train at his gym. I was like 'Yeah, that's cool.' I ended up not making the National at Southwick last year. I actually ran up to him after I raced and I was like, 'Hey man, you still up for me coming down and training?' He said, "Yep, pack your stuff up the day after the last National." So that's what I did and I've been down here ever since. He's just helped me out tremendously. He's gotten me the bike and the parts that I've needed and is pretty much paying my way through the Nationals, just helping me out a lot. I've gotten a lot of stronger just staying down here and it's made me more mentally tough, too.
This year has definitely marked a career best. You've stayed healthy, you've qualified for every National but Hangtown and scored points in three of them. Where do your expectations go from here and how much have your expectations changed?
Well, I've always wanted to get top-twenty at a National and I ended up getting twentieth overall at Millville. That was pretty good. First moto was terrible. I had a little bit of bike issues. But I came around second moto, started from the back and ended up eighteenth and ended up getting twentieth overall. That was a big goal I had set. So now I'm just trying to make little goals at a time, baby steps, and just see if I can get better and better. Staying healthy is one of my main goals, and having fun with it, too. I've just got to try and leave every track with a smile on my face.
Who would you like to thank for helping you out this season?
I would like my dad, Scott and Kelly Witt, Langston-Witt Racing, VPE Racing, Novik Gloves, FLY, SPY, Merge Racing, Triangle Cycles, Cycra, ICW, South of the Border, Liquid Performance, MGX Unlimited, Ryan Zimmer Racing, Tim Ferry, my mechanic Nick Burns and Dave, who drives the van to the races.