The 2012 Grand Prix of Czech Republic was notable for several things but chief among the news headlines was MX1 World Champion Tony Cairoli's seventh win from twelve on the factory Red Bull KTM which also converted into the Sicilian's 50th career success. It was back in 2004 at the Citadelle of Namur – the unlikeliest of places – that '222' first opened his FIM Motocross World Championship account and he posted the half century achievement on a track that aspires to the same level of distinction on the GP calendar as Belgium's charismatic, but scary run through the woods.
Cairoli was a class apart around Loket. The Czech layout sprawled over the hillside just outside the historic town deep in the west of the country and has undergone very little adjustments in the twelve years I have been covering races there and the same stony, slick and slippery terrain is still firmly in place. The many off-cambers favor a sensitive throttle hand and a degree of bravado in over-taking. "This is not one of my preferred tracks because it doesn't suit my style. I like to be aggressive and hit ruts but this requires something different," said Cairoli on Saturday.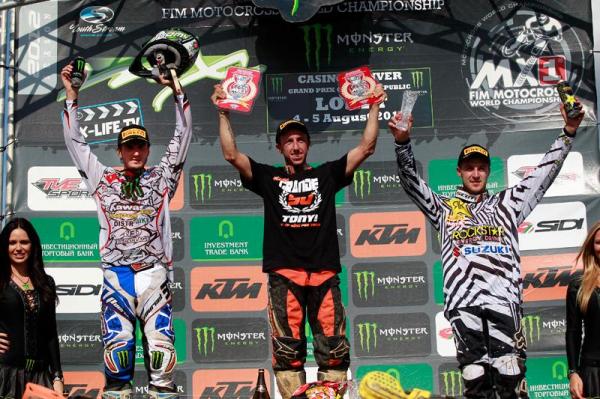 Tony Cairoli (center) won his 50th GP in the Czech Republic on Sunday.
Ray Archer photo
The Czech GP was again attended by a decent crowd figure and the spectators would never have noticed the KTM rider's aversion. Cairoli went 1-1 (for the fifth time) in perhaps one of his most impressive displays of control and dominance this season. This was a powerful reminder that with four races remaining until the culmination of the series, and the Motocross of Nations, there is nobody yet still able to match the five times number one.
In the first moto Cairoli led from start to finish keeping a small but flexible cushion over CP377 Monster Energy Pro Circuit Kawasaki Christophe Pourcel. Pourcel was in good form at the venue where he registered his first GP moto victory back in MX2 in 2005. In the second Cairoli was even better in a far more entertaining affair. His KTM teammate Max Nagl made an emphatic first Grand Prix appearance of 2012 and led a quartet of challengers including the champion, Pourcel and Rockstar Energy Suzuki's Clement Desalle. Cairoli toyed in fourth and followed Pourcel for the opening third of the moto but when he dropped the hammer the outcome was inevitable. "This is really special," he said. "When I was a kid starting GPs I could never have dreamed of reaching fifty wins. I was never someone who put too much importance on numbers; I just like to win and take titles. Namur was the first and most memorable I think because it is a special place and it is not something many people have done."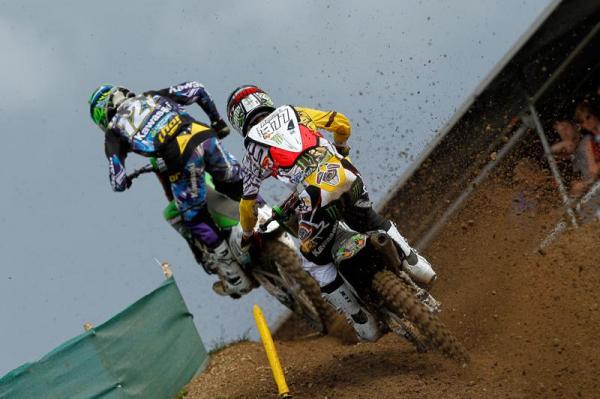 Pourcel (377) would finish second behind Cairoli.
Ray Archer photo
Nagl finished fourth overall with Pourcel on the box for the seventh time in second and Desalle in third and just about keeping distance with Cairoli in the title chase but the difference is now 30 points and on this evidence the Belgian will need a hefty increase of confidence and speed to hoist the red plate once again. Nagl surprised everyone through his fitness and race pace to be able to lead the second moto. One of his trademark 'Alessi-holeshots' helped his cause immensely but there was a fire burning inside the German in an effort to secure one of the two remaining factory rides available for 2013 and also show KTM that they may have been too hasty in excluding the amiable, but injury prone, 24 year old from their ranks for next season.
As for Pourcel, he chatted about his options for 2013 and the rumors of another appearance in the Lucas Oil Pro Motocross Championship. "I'm 50-50 on staying here or going back to the U.S," he said. "There is stuff I like there such as the preparation of the tracks and no green fencing but there are things about Europe that would make me stay also. I'm free at the moment."
Dipping into MX2 and Jeffrey Herlings' seventh triumph and thirteenth and fourteenth moto victories (the Red Bull KTM rider's tally is now double that of Floride Monster Enery Pro Circuit Kawasaki's Tommy Searle, his nearest and only title rival) carried as much impact as Cairoli's work. Herlings sported an 'Invisible man' appearance with his big sunglasses, mopped hair and bandaged head, and talked sensitively about his post Russian-GP car crash that left him with a concussion, cuts, a broken rib and 'something with the shoulder blade'. Herlings had been a back seat passenger and the driver and co-driver of the vehicle were not in such good shape.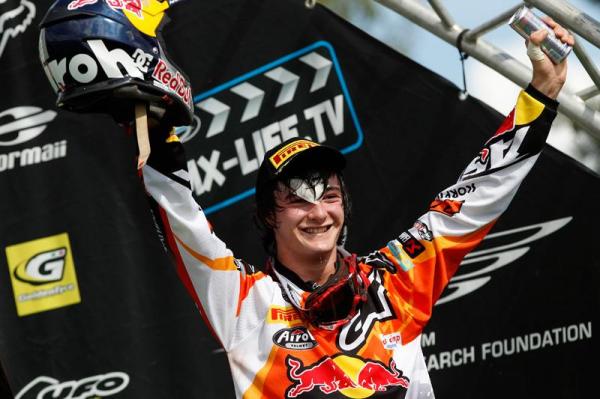 Jeffery Herlings would go 1-1 for the MX2 crown in the Czech Republic.
Ray Archer photo
The teenager acknowledged what a lucky escape he'd had and said on Saturday evening – after setting pole position in the heat race – that he was chewing his way through painkillers in order to compete.
A hectic first corner for Searle and a mechanical DNF that devastated Jeremy Van Horebeek (the Belgian was leading his own charge to dislodge Searle from second in the standings) helped Herlings to the finish line with an advantage of almost thirty seconds in the first moto. In the second outing Searle and Herlings shadowed, played and ultimately made two hard moves on each other in a battle for second. Searle was drawing on his reserves and after putting Herlings on the floor with a tough dive up the inside of the first corner, felt the Dutchman's wrath as the red mist helped the series leader shut down a five second gap, demote the Brit and then fly off to pass Van Horebeek and go 1-1. "I'm really happy and my riding was really good. It was a shame Tommy had to do that to try and win. I respect him a lot as a rider and a person but it was just a shame that happened," said '84' who has a 57-point lead with 200 left to win and would need fate to conspire against him enormously to lose this year's championship.
In other - positive - news for the U.S., Monster Energy Yamaha's Zach Osborne delivered America's second podium trophy of the season and the first for the GEICO Honda-bound racer this year after missing half of the campaign with a shoulder injury. Osborne went 4-4 for the bottom step behind Herlings and Searle and pipped Nestaan KTM's Jake Nicholls who has made a habit of fourth positions in 2012 but is well placed to be a leading contender on the same team in '13 when the MX2 Class evolves. Credit also to yet another young French talent in the shape of Romain Febvre, taking a personal best of fifth in his maiden season.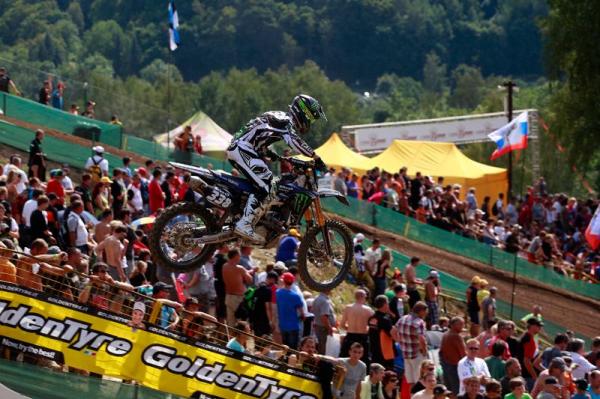 Zach Osborne would capture his first podium of the season.
Ray Archer photo
"It is great to be on the podium on what is such a special track. Today was a good result," Osborne commented. "I didn't set the world on fire but two fourth positions was a solid day. I didn't have the speed to run with Jeffrey and Tommy but I was the next best guy. It is hard to come back mid-season from an injury because a lot of guys have good race pace and have done a lot more motos. It doesn't matter how much training you do, you can't really beat riding GPs week-in week-out. To be on the podium with two decent results and to get the ball rolling is really positive."
The MX2 dispute will intensify in the coming weeks with both Searle and Herlings enjoying home events and fired-up local support for rounds thirteen and fourteen. Searle was booed by a noisy group of Dutch fans during the rostrum ceremony while Herlings in the press conference interestingly pleaded for sanity in the UK on August 19th and hoped the crowd would not throw anything!
Mel Pocock went four from four in the GP-feeder class, the European MX2 series, and the Brit is fully prepared to soak up the patriotic Olympic fever sweeping his country at the moment for what is surely going to be one of the busiest and most atmospheric races on the calendar at Matterley Basin in two weeks.
MX1 Moto1
1. Antonio Cairoli (ITA, KTM), 39:21.567;
2. Christophe Pourcel (FRA, Kawasaki), +0:08.471;
3. Maximilian Nagl (GER, KTM), +0:10.299;
4. Clement Desalle (BEL, Suzuki), +0:18.171;
5. Gautier Paulin (FRA, Kawasaki), +0:25.624;
6. Xavier Boog (FRA, Kawasaki), +0:34.700;
7. Ken de Dycker (BEL, KTM), +0:40.059;
8. Shaun Simpson (GBR, Yamaha), +0:41.563;
9. Evgeny Bobryshev (RUS, Honda), +0:43.649;
10. Gregory Aranda (FRA, Yamaha), +0:45.759;
11. Rui Goncalves (POR, Honda), +0:50.195;
12. Tanel Leok (EST, Suzuki), +0:50.872;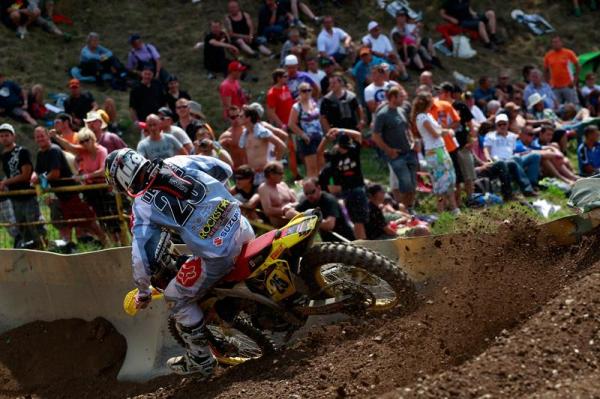 Clement Desalle would round out the MX1 podium.
Ray Archer photo
MX1 Moto2
1. Antonio Cairoli (ITA, KTM), 39:46.055;
2. Clement Desalle (BEL, Suzuki), +0:04.170;
3. Christophe Pourcel (FRA, Kawasaki), +0:05.967;
4. Maximilian Nagl (GER, KTM), +0:07.078;
5. Rui Goncalves (POR, Honda), +0:10.275;
6. Tanel Leok (EST, Suzuki), +0:11.501;
7. Xavier Boog (FRA, Kawasaki), +0:22.578;
8. Ken de Dycker (BEL, KTM), +0:27.650;
9. Gregory Aranda (FRA, Yamaha), +0:29.445;
10. Evgeny Bobryshev (RUS, Honda), +0:38.935;
MX1 Overall

1. Antonio Cairoli (ITA, KTM), 50 points;
2. Christophe Pourcel (FRA, Kawasaki), 42 p.;
3. Clement Desalle (BEL, Suzuki), 40 p.;
4. Maximilian Nagl (GER, KTM), 38 p.;
5. Xavier Boog (FRA, Kawasaki), 29 p.;
6. Ken de Dycker (BEL, KTM), 27 p.;
7. Rui Goncalves (POR, Honda), 26 p.;
8. Gautier Paulin (FRA, Kawasaki), 26 p.;
9. Tanel Leok (EST, Suzuki), 24 p.;
10. Gregory Aranda (FRA, Yamaha), 23 p.;
MX1 World Championship standings after 12 of 16 rounds
1. Antonio Cairoli (ITA, KTM), 492 points;
2. Clement Desalle (BEL, Suzuki), 462 p.;
3. Christophe Pourcel (FRA, Kawasaki), 435 p.;
4. Gautier Paulin (FRA, Kawasaki), 402 p.;
5. Ken de Dycker (BEL, KTM), 368 p.;
6. Kevin Strijbos (BEL, KTM), 319 p.;
7. Xavier Boog (FRA, Kawasaki), 306 p.;
8. Tanel Leok (EST, Suzuki), 277 p.;
9. Rui Goncalves (POR, Honda), 273 p.;
10. Shaun Simpson (GBR, Yamaha), 223 p.;
MX2 Moto1
1. Jeffrey Herlings (NED, KTM), 39:33.459;
2. Tommy Searle (GBR, Kawasaki), +0:28.297;
3. Jake Nicholls (GBR, KTM), +0:31.149;
4. Zachary Osborne (USA, Yamaha), +0:39.948;
5. Max Anstie (GBR, Honda), +0:42.330;
6. Jose Butron (ESP, KTM), +0:43.810;
7. Alessandro Lupino (ITA, Husqvarna), +0:44.440;
8. Romain Febvre (FRA, KTM), +0:45.999;
9. Valentin Teillet (FRA, Kawasaki), +0:46.572;
10. Joel Roelants (BEL, Kawasaki), +0:47.547;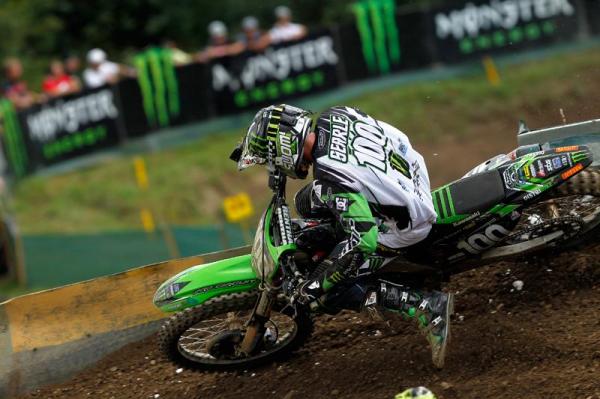 Tommy Searle lost ground on Herlings in the championship race.
Ray Archer photo
MX2 Moto2
1. Jeffrey Herlings (NED, KTM), 39:47.099;
2. Jeremy van Horebeek (BEL, KTM), +0:01.994;
3. Tommy Searle (GBR, Kawasaki), +0:18.482;
4. Zachary Osborne (USA, Yamaha), +0:43.023;
5. Jake Nicholls (GBR, KTM), +0:47.109;
6. Romain Febvre (FRA, KTM), +0:53.373;
7. Valentin Teillet (FRA, Kawasaki), +0:56.091;
8. Dylan Ferrandis (FRA, Kawasaki), +1:02.366;
9. Joel Roelants (BEL, Kawasaki), +1:22.094;
10. Alexander Tonkov (RUS, Honda), +1:23.211;
MX2 Overall
1. Jeffrey Herlings (NED, KTM), 50 points;
2. Tommy Searle (GBR, Kawasaki), 42 p.;
3. Zachary Osborne (USA, Yamaha), 36 p.;
4. Jake Nicholls (GBR, KTM), 36 p.;
5. Romain Febvre (FRA, KTM), 28 p.;
6. Valentin Teillet (FRA, Kawasaki), 26 p.;
7. Max Anstie (GBR, Honda), 25 p.;
8. Joel Roelants (BEL, Kawasaki), 23 p.;
9. Jose Butron (ESP, KTM), 23 p.;
10. Jeremy van Horebeek (BEL, KTM), 22 p.;
MX2 World Championship standings after 12 of 16 rounds
1. Jeffrey Herlings (NED, KTM), 528 points;
2. Tommy Searle (GBR, Kawasaki), 471 p.;
3. Jeremy van Horebeek (BEL, KTM), 439 p.;
4. Joel Roelants (BEL, Kawasaki), 367 p.;
5. Jake Nicholls (GBR, KTM), 325 p.;
6. Jordi Tixier (FRA, KTM), 319 p.;
7. Max Anstie (GBR, Honda), 263 p.;
8. Jose Butron (ESP, KTM), 241 p.;
9. Dylan Ferrandis (FRA, Kawasaki), 233 p.;
10. Alessandro Lupino (ITA, Husqvarna), 214 p.;