Loretta Lynn Ranch
Hurricane Mills

,

TN
RedBull AMA Amateur National Motocross Championship (Loretta Lynn's)
Amateur National Motocross Championship
1. McElrath on the Map: With likes of Cooper Webb, Dakota Alix, Daniel Baker, Jace Owen and more in 250 B Stock, the class was already stacked, but then Shane McElrath put his name on the map by beating them all! Shane grabbed a monster holeshot and pulled nearly a five second gap in the first lap. "I looked over my shoulder and was like, Where are those guys?" said McElrath. He credits spending the last year training at Club MX in South Carolina. "Up until then, I wasn't able to ride much," he said. "I expected to be better this year, expected to be up front, but I don't think I expected this!"
2. Kicking it Off: In the first moto of the week, at 7:30 sharp on Tuesday morning, #59 Tallon Lafountaine led from start to finish to take the win in the 250 C Class. That's how you get it started!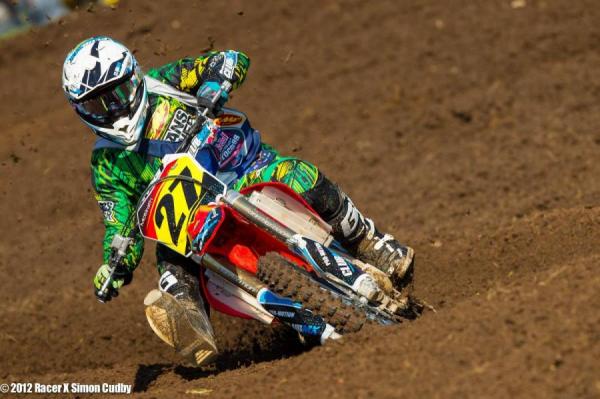 Shane McElrath shocked the industry with his moto win in 250 B Stock
Simon Cudby photo
3. Martin Goes Out: Perhaps the most talked about rider heading into this year's National was Star-Valli Rockstar Yamaha's Jeremy Martin. Alex's brother was expected to do big things in the A class and then make a splash in his pro debut at Southwick. But he crashed 10 days before the race and tweaked his shoulder. That puts him out for Loretta's. Southwick? Star Team Owner Bobby Reagan says the shoulder isn't bad, but his status for that race is still uncertain.
4. Bell Rings In: After a year filled with injuries, Factory Connection Honda's Zach Bell bounced back to dominate the 250 A Class. Like, dominate it. He had a huge lead. But in his second moto of the day, he also took off with the lead, only to crash twice. He salvaged a third.
5. Here for Jesse: There are many racers here honoring the late Jesse Masterpool, including his own family. His brother Jake rode in the 85 (12-14) Class and his other brother Ty collected a podium today (Wednesday) on a 65. Also, Matt Bisceglia is running the #95 in honor of Jesse, who ran that number at the Ranch.
6. The GOAT Show: Ricky Carmichael showed he's still got it—and everyone was watching. The fences were packed, and the new Red Bull Oasis section on the infield was jammed with fans wanting watch the GOAT's return to racing in the 25 Plus Class. He got bumped wide in turn one and was about 8th. Then he moved from 8th to 1st on the first lap! His speed was ridiculous in spots, but he never needed to push completely once he had the lead. "It's been a good time," said Carmichael. "My kids are always asking me why everyone is always coming up to me, and why so many people seem to know my name. They just don't understand! It's been fun to come out here and hang out with my family and race in front of them. And also the fans, too. They've followed me throughout my career, pro and amateur, and even now. They're the lifeblood and they keep the sport going."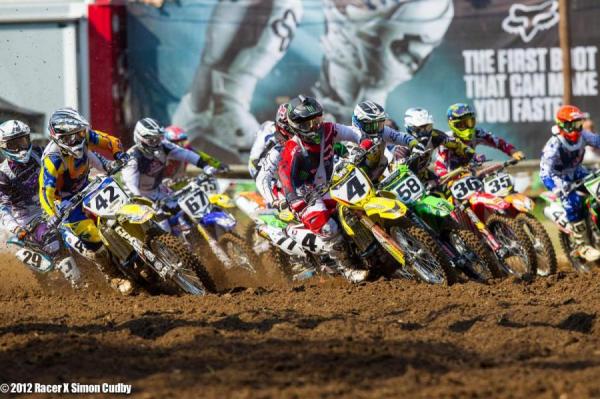 The GOAT made his return to Loretta's on Tuesday.
Simon Cudby photo
7. An Emotional Return: Second to Carmichael came Andrew Matusek. The Georgia rider won the 51cc (4-6) Stock Class here in 1994, but then a big crash and head injury seemingly ended his career. He later returned to racing in the GNCC Series and won some amateur titles there, and raced Loretta's a few times over the last few years. This race, though, marked his first podium interview since his championship 18 years ago.  Matusek broke down in tears on the podium. "It was 14 years ago at Ponca, I knocked myself out and they said I would never race again," said Matusek, who then paused, overcome with emotion. "To come back here and be on this podium again. It's just unreal for me."
8. Cianciarulo, Believe The Hype: AC92 is on his game this week, ripping the holeshot and then crushing the field in his Super Mini 1 first moto. His lap times, on a Kawasaki 105 super mini, were close to Zach Bell's ridiculously fast times on a 250F!
9. Gary Semics is the Master: Gary Semics, one of the first stars of U.S. motocross, returned to the Ranch in style, winning the Masters 50 Plus Class over Matt Tedder, father of pro racers Dakota and Myles.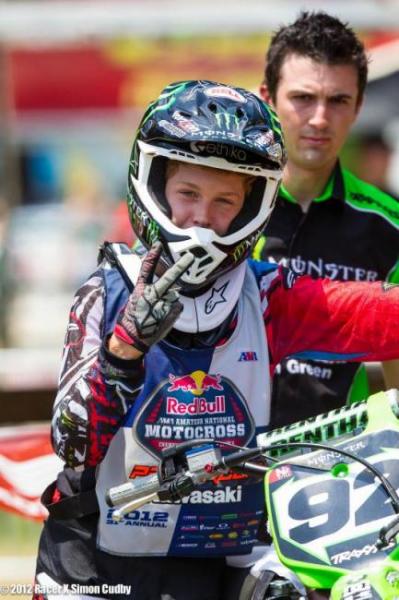 AC92 dominated the Super Mini Class on Tuesday.
Simon Cudby photo
10. A-Rod Hits a Home Run: 250 B Mod might be the most stacked class of the week, and the first moto delivered on the hype. Max Tannenbaum went down while battling for the lead early, and Matt Bisceglia went down trying to avoid him. Hector Rodriguez sliced his way into the lead, while Bisceglia climbed back into second and made a run at him. He got the lead down to one second, but Rodriguez stepped up and held on for the moto win. Rodriguez rides a JGR-built Yamaha, and the full crew was on hand to watch, including Coach Joe Gibbs and his sons Coy and JD. Bisceglia took second and Cooper Webb, overcoming the 37th gate pick in the moto (gate picks at Loretta's are drawn at random) took third to keep himself in championship contention.