Moto-X 338
Southwick

,

MA
Southwick
Lucas Oil AMA Pro Motocross Championship
Josh Greco hails from Southern California and competes in the 450 Class in Lucas Oil Pro Motocross. There's a catch though; he's doing it on a stock bike with very limited support and mostly on used tires! The shocking part is that he's qualified for all but one round this year. For the last leg of the Nationals, Greco is hoping to find some support from the locals, shops or anyone that can help him compete on better equipment. We caught up with him earlier this week to talk about his program.
Racer X: How has your season been so far leading up to the Nationals?
Josh Greco: Well, supercross I didn't do as well as I planned. I didn't get much practice before the season and I pretty much rode by myself the whole time, so I wasn't as prepared as I wanted to be. I was a little overwhelmed with how good the riders were this year. I started out slow, missing the first two rounds, but progressed and qualified for the night show at all the rest of the rounds. By the end at Vegas I qualified 18th and had my best race of the year. It was a good learning experience and next year I think I will do a lot better now that I know what to expect.
Did you have a deal lined up with the Gus bus (Team Gus, for privateers) for the Nationals or were you just going to take it one race at a time and see what happened?
Actually, I talked to Gus during supercross about getting on the bus and planned on doing it in the 250 Class, but realized at the last second that I wouldn't be able to afford it riding a 250 and decided to go the cheaper route in the 450 Class. So I started out on my Kawasaki practice bike 450 and after three rounds I was able to get a new Honda 450, but it's completely stock except for the suspension! I've only had two new tires for the whole series, that's how tight my budget is.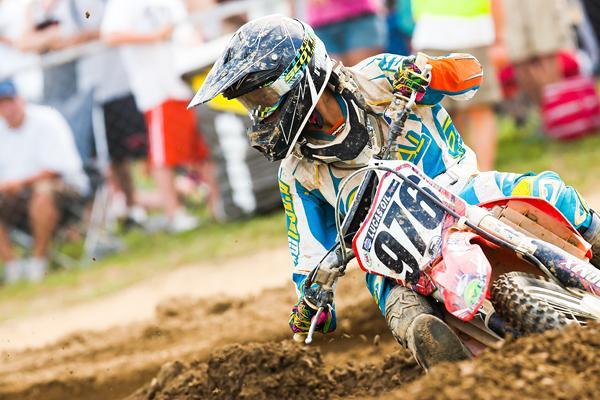 Greco has qualified for every round, expcept one, in 2012.
Andrew Fredrickson photo
How do you feel you have done at the Nationals so far?
I feel I'm doing good for being in the 450 Class, on a stock bike with little preparation. And I'm qualifying, so that's not too bad. But going into Hangtown there were 90 something entries and I didn't even know if I was going to be able to qualify! I did, and from then on I expected to qualify for every round and just work on getting better results every weekend. My equipment isn't nearly on the same level as the other riders but I'm doing the best with what I have and I'm not going to complain because I'm just so happy to be racing and progressing!
You mentioned before that you're a better 250 rider than 450, is that because you're smaller?
I'm definitely a better 250 rider and I'm only 130 pounds, and being on the road makes it hard to train and last the whole moto strong on a 450. I'm not ready to finish a full moto at 100 percent on the 450 but the 250 I can go 100 percent from start to finish and the 250 just overall suits me much better. I'm trying hard right now to find a 250 for the last four Nationals that I can borrow. It doesn't matter what kind, I'm not picky, I just really want to try the 250 Class before the season is over.
What's the deal with the Gus bus and traveling to all the races packed in together? Do you drive a lot? How does that work?
Well, we paid to ride with him and there are actually 14 bikes in the rig right now and the huge canopy, plus seven of us in the motor home! Sleeping on the dash, on the floor, sharing double on the bed, and making it work however we can. I only had to drive once and that was following in a truck to Texas with more supplies. Gus does most of the driving and we are always on the road!
Do you guys get to train or ride during the week at all? How does that work if you're on the road the whole time?
When we have time and whatever he has planned we sometimes get to ride, but there are times when we don't get to ride at all between races. It certainly makes it much harder to compete at this level, but the way I look at it, you have to start somewhere and work your way up. I'm a hard worker and just really love being at the races. It was be awesome to be able to fly to the races and train during the week, but I'm not at that point yet. Hopefully I will earn it soon. During Budds Creek there was a break and we stayed in Delaware to train and that helped a lot. I was able to get more time on the bike and work on my fitness. But most of the time we drive from National to National and my practice is during qualifying or if I can get in on press day. It's tough but I'm just happy to be racing the whole National series this year.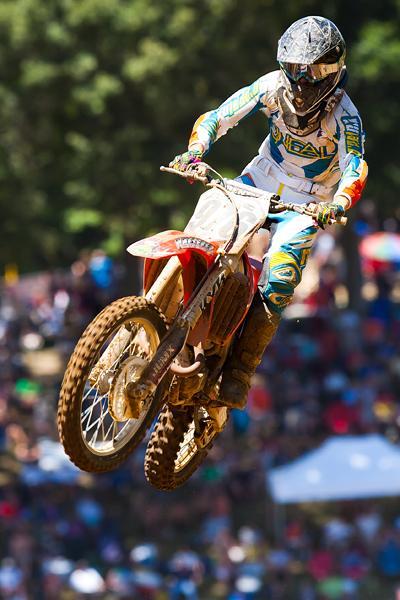 Greco has yet to finish inside the top 20, but has been knocking on the door as of late.
Andrew Fredrickson photo
Tell me about your bike. Are you even allowed to race a stock bike in Pro Nationals? [Laughs]
Everything on it besides the suspension is completely stock. I don't even have an exhaust on it but hopefully will be getting one soon! I just deal with what I have and make it work. I feel that, of course, I'd get better results on a better bike but it's not possible right now so I will make do with what I have! It's better than sitting at home and I don't like to make excuses so I do the best with what I have and stay positive.
I've got two new tires this whole season! I bought one and Gus bought one so it's been kind of crazy running beat tires at a National but like I said, I deal with it and it's better than sitting on the couch!
In between Southwick and Unadilla are you guys sticking around and training?
I'm hoping to find someone to bring me riding while we are out there so I can get some training in. But it's hard because I don't have a vehicle and only can go where the bus goes unless someone brings me. It's pretty complicated because wherever the bus goes I have to be back to it and don't have a vehicle to go wherever I want on the road. Hopefully someone will help me on the East and I can get some training in between Southwick, Unadilla and Steel City.
So basically, you're looking for tracks to ride, somewhere to train for the week and a ride around?
Yeah, pretty much! [Laughs] I know it's a lot but I think there are people out there that want to help struggling riders and I'm a good straight edge kid, so no messing around. I just want to train and ride. Other than that, if I don't get any help, I will be stuck in the motor home and continue to do it the way I have all year.
Once you started racing the Nationals, were you surprised on how fast the riders are? Is this your first year?
I've done a couple Nationals, but I've never gone to the whole series and put all my focus into it. Also, I've always raced a 250 and this is the first time I've been on a 450. It's so hard and every single guy is so fast! You can't rest for even one second out there or it will cost you especially during qualifying! I consider this my learning year and I'm gaining a ton of experience and getting better every single round. Now every week I expect to qualify and push all the way to the end of the moto.
So what are you expecting for the last couple rounds if you have to ride the 450?
I'm going to break the top 20 here soon and have been very close the last couple Nationals until my bike broke on the last lap. But my goal is to score points to earn a two-digit number! I feel like I can achieve that and looking forward to the last four races.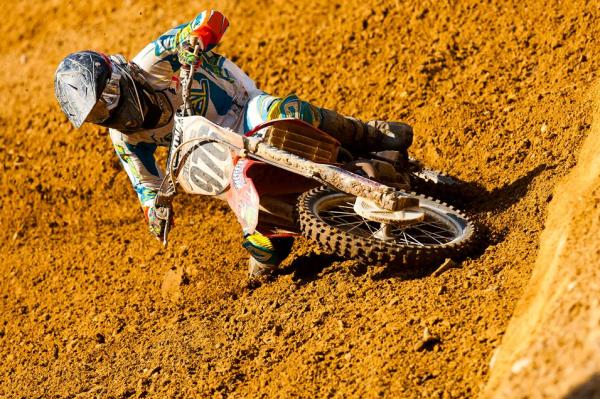 Greco hopes to score enough points at the last four rounds to secure a two-digit number for next season.
Andrew Fredrickson photo
I've heard a lot of good things about you being a good kid that doesn't mess around with partying and that non-sense. Can you elaborate on that?
Yeah, I went to normal school my whole life and graduated high school last year.  Pretty much since then all I focus on is racing. I had a lot of pressure from kids in school to drink and smoke but that's just not my thing and all I want to do is race and ride. No way would I throw it all away over something like partying. I'm 100 percent focused on riding and that's it.
That's great to hear sounds like you have your head in the right place! Good luck Josh, I hope you find some help at the next couple rounds! Are there any last words you'd like to throw out there?
I would like to thank Mark Cook at RPS Motorsports, for helping me out since I was a little kid! He was my first sponsor and probably one of the main reasons I was able to stay in racing. Also Slaton Racing for all their support this year, they've been so much help. Also, O'Neal with the gear they have sent me, Passions are limitless out of Elk Grove, CA for all my shirts and stickers. www.MotoXTones.com for hooking my iPhone up with MotoTones ringtones! Gus for taking me to every round. My family and friends that support me, and anyone that has helped me throughout the series. If anyone else could please help out the next couple rounds, I can be reached at joshgreco176@yahoo.com and any help would be much appreciated, Thanks!