RedBud MX
Buchanan

,

MI
RedBud
Lucas Oil AMA Pro Motocross Championship
You can separate Jeff Emig's AMA Hall of Fame career distinctly into two parts—before and after RedBud in 1992. Up until that race, Emig was just another of many top prospects. He had won a few 125 supercross races, but he'd only captured one 125 National MX moto (grabbed, of course, at RedBud in 1991). But in 1992, he stomped the field in moto one on his YZ125. In moto two, he led again until series' points leader Mike LaRocco mounted one of his classic come-from-behind charges. Emig had LaRocco on him late in the race, and then a rock lodged into his rear brake pedal, forcing him to stop and kick it out. LaRocco went past to win the moto, but Emig still took the overall with 1-2 scores.
It was the first overall win of his career, and after it, everything changed. Emig went on a tear, winning the next two races, as well. He finished the season on fire, taking six of the last seven overalls and closing suddenly on LaRocco in the standings as LaRocco experienced an all-time death spiral of bad luck. By the end of the season, Emig was the 125 National Champion.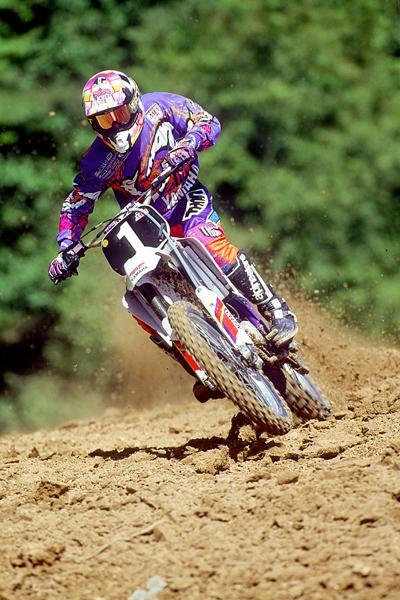 Jeff Emig in 1993.
Fran Kuhn photo
"I gained that confidence," says Emig of his breakthrough RedBud win which launched him to another level. "And we had the bike working. The production 1992 YZ125 was down on power, but the team worked really hard, and by RedBud it was super fast. Me and my mechanic Steve Butler had a really good program going, he'd wake me up early on Saturday before practice so I'd adjust to Eastern time, and we'd go somewhere and jet the bike. Then we would go to the track for practice. I'd be asleep early Saturday night and felt good for Sunday."
But there's something special about RedBud for Emig, who would also win the 125 race on his YZ there in 1993 and 1994.
"RedBud will always be a special place for me," says Emig. "The dirt, the layout, the track just works for me. And there's a real special vibe there—a lot of times I would walk down to the amateur track on Saturday just to see the fans and soak it up. It's a place that's still special to me to this day."