RedBud MX
Buchanan

,

MI
RedBud
Lucas Oil AMA Pro Motocross Championship
The 2012 season hasn't been what Tommy Weeck expected it to be. Signed by MotoConcepts at the end of 2011, Weeck, for the first time in his career, would have support entering a full season. But it was a season cut short, in more ways than one.
A hard crash at the East Region season opener at Dallas left Weeck sidelined for the first three rounds with a concussion. Weeck would return at Daytona and scored a top ten in his first race back. But only one more top-ten finish would follow (Toronto).
MotoConcepts and Weeck parted ways after just half a season, once again leaving Weeck searching for a ride. Never one to let himself sink into the "what if's" of life, the determined Washington native began training for a chance--any chance--to get back to the races. When it was revealed that Kyle Cunningham may miss the remainder of the season, Star-Valli went searching for a replacement rider. Weeck was one of just several riders to try out for the spot, but in the end, he got the call.
Racer X: You're now officially a member of Star-Valli Yamaha. Can you take us through the deal?
Tommy Weeck: It came about when Kyle Cunningham had an unfortunate event and got hurt. Todd Brown (Star-Valli suspension) phoned me and asked me if I wanted to come race for them for the summer. They brought me and a couple different people out to Glen Helen for a tryout and they called me later that day and said I was the one they wanted to take racing. So I started riding with them the following week and it has been incredible so far—the team and the bike are awesome. It's definitely a blessing in disguise to be able to go racing again.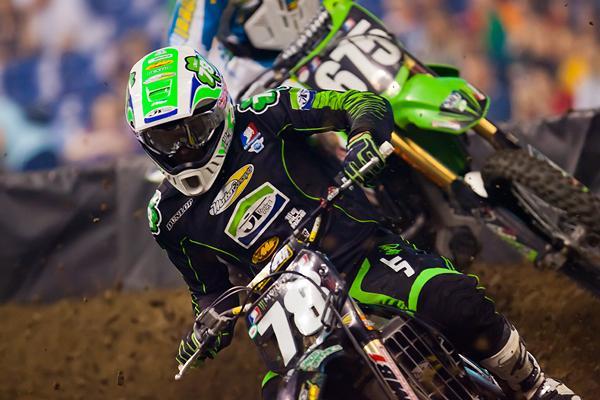 MotoConcepts and Weeck would part ways after supercross.
Andrew Fredrickson photo
Are you signed for the remainder of the Lucas Oil Pro Motocross Championship or is it a race-by-race contract?
As of right now we are signed through Washougal. The plan is for the rest of outdoors if everything is going smooth and I'm getting good results. At the end of the day that [results] is what everyone in this sport wants.
This is arguably the best support you have received thus far in your career. Do you feel a sense of urgency to produce solid results early, not only for this season but also going forward into contract talks for 2013?
Always! I always want to do the best I can. I didn't have the best supercross experience this year with getting knocked out and not having the greatest results. To get this chance, it definitely makes me want to come out swinging at RedBud. But the team is 100 percent behind me and aren't expecting me to go out and win the first race or anything. They want me to do the best I can and to keep progressing. As long as we are making progress each week they are going to be happy with that.
You are a very competitive and determined rider and person. How hard was it for you to have to watch the first five rounds from afar?
To be honest I didn't even watch the first couple because I was so bummed out and just not happy with the way everything was going. It's definitely not the way I wanted it to go and was definitely not the way it should have gone, but it's life. You know, life moves on and you just have to keep moving forward. At the end of the da,y you have to remember that life keeps rolling on and that's what I keep trying to tell myself. I have been watching and studying the last few races and it has really gotten me excited to be able to come back racing.
Where are you in regards to fitness? Are you prepared for 30-plus two or do you think it will take you a couple of races to get back up to speed?
I think it will take a couple of races. It's a hard to come into a season were they are already five rounds in and I haven't raced an outdoor race yet. So to expect to be able to go out and do two 35-minute motos at 100 percent and be consistent the entire way through is kind of mission impossible to expect yourself to do that. So I definitely think it will take a couple of races to get up to where these guys are at the moment. But I'm definitely in the best possible condition I can be in coming in with the lack of preparation and not being able to ride the last couple of months.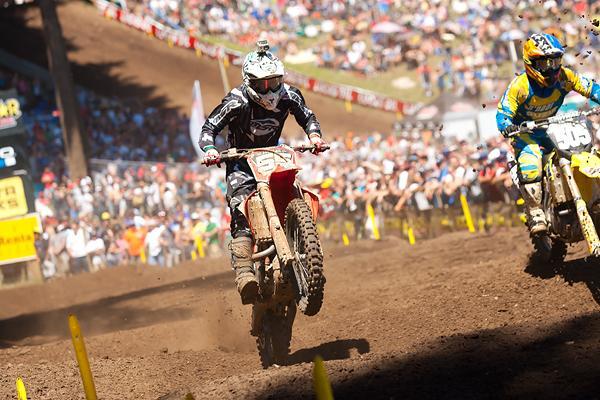 Weeck shined at Washougal last year, opening the eyes of the industry in the process.
Andrew Fredrickson photo
There have been some critics of the Yamaha. How has the transition been for you? Do you feel the bike suits your style?
I do [feel like the bike suits me]. I was one of the critics of the Yamaha, but I was criticizing something that I have never ridden before. As far as the 250F goes I was really surprised how well the bike handled. It is still a carbureted bike, which coming from the fuel injection is different. But at the end of the day it's a dirt bike. It has two wheels, a shock and two forks. To me it doesn't really matter what color bike I'm on I'm just happy to go racing.
There have been some other openings this year. Are you surprised it took this long for the phone to ring considering your past success outdoors, and also in the amateur ranks?
You know, I really was, honestly. I was hoping for something sooner but I didn't have a bike, so I wasn't in front of people's faces which I think is part of why I didn't get called sooner. But I got a call and I'm ready to go racing.
What are you expectations going into to your first National of the season at RedBud?
As far of the first race, the first thing is to finish. I'm hoping to get inside the top fifteen and from there just keep building, and building. My goal is to get a top five this season and I know Washougal is coming around and that's one of my best tracks, and to be honest I want to win that race. It's something I can believe I can do and something that is not to far off from reality.