The Grand Prix of Sweden again found journalists struggling to extend their vocabulary range to describe wet and rainy conditions. The world's weather system has not been too kind to the FIM Motocross World Championship fixtures this season and the clouds emptied again in Scandinavia. Uddevalla was more watery than the quicksand of Brazil and - although there were a few potential headline grabbers from this solid and efficiently organised ninth round of sixteen - the ooze that swallowed all of Tony Cairoli's work thus far in 2012 was quite startling in it effectiveness.

The World Champion walked into the facility in Sweden with a 47-point lead, the red plate (or gold in the defending number one's case) and a record of seven podiums in eight events. After a stone wedged between the sprocket and chain and locked the back wheel of his Red Bull KTM in the first moto (he spent two laps kicking the rear end, even lifting the bike up and throwing it in an effort to loosen the offending article) and then in moto two, he wandered off line into thick mud scraped off the track and became stuck-fast. '222' was in disbelief as much as all the onlookers at his spectacular reversal of fortune. His 0-0 points tally for the day, contrasting 25-25 haul via a two-moto sweep for Rockstar Energy Suzuki's Clement Desalle meant that Cairoli dipped away from the top spot in the championship for the first time in 2012, and trails the Belgian by three points as the second half of the season began in spectacular fashion. It was a disastrous strike for Cairoli but for the neutrals it dragged the MX1 championship dispute firmly into line with the unpredictable and enjoyable nature of the action seen each weekend. The campaign could stay this tight into the final stages and with Christophe Pourcel (second overall, although feeling under the weather) only 12 points adrift, this one is shaping into something entirely memorable.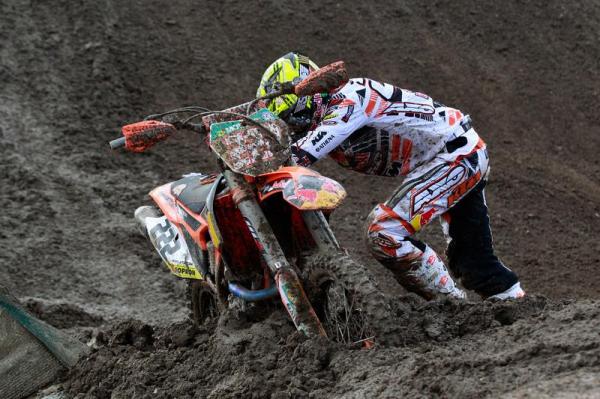 It was a disastrous day for Tony Cairoli in Sweden.
Ray Archer photo
Sweden was a milestone for the likes of Monster Energy Yamaha's Shaun Simpson, who steered the absent Steven Frossard's factory bike to fifth position and at one stage threatened to give Great Britain their first MX1 podium since 2007 but for a small slip in the second moto. HM Plant KTM UK's Kevin Strijbos again showed his forte in the mud and proved once more the former double world championship runner-up is far from a spent force. In MX2, eighteen year old Dylan Ferrandis finally celebrated a maiden podium that his speed has been threatening since the start of the season. Two holeshots helped his cause immensely.

Elsewhere the Scandinavian soil was home to nightmares. David Philippaerts faces a hefty question mark over his future after a crash in the first moto saw the Italian suffer fractures around the plates of both wrists he broke last summer. The injury was upsetting, and just as fraught was the blow to the head and compressed vertebrae of STR racing's Matiss Karro, who was stable in intensive care after being landed on during the Saturday programme. Honda World Motocross team's Evgeny Bobryshev signed a new two year contract to remain the manufacturing giant's focal point in MX1, but a crash four laps into the first moto and open gash to his right arm was another injury frustration in the '12 catalogue to blight the factory team. Kawasaki Racing Team's Gautier Paulin couldn't find a comfortable rhythm across the bumps where he had previously taken three podiums in MX2 and was mindful of the extra respect needed for the 450.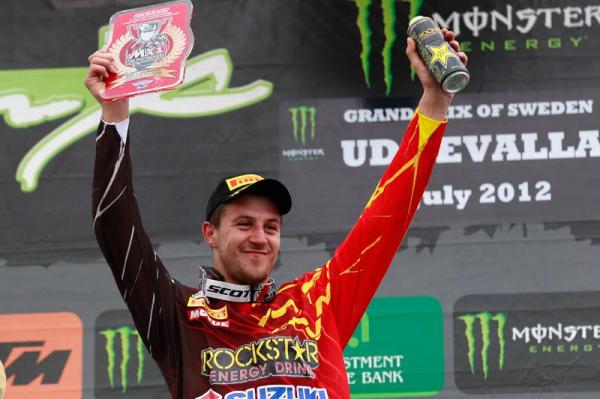 After a pair of 1-1 finishes Clement Desalle is the new MX1 points leader.
Ray Archer photo
Tommy Searle – MX2 king of Brazil and muddy trails – again was masterful where others tread carefully, although he mistimed his entry into the pit for more goggles late into a first moto he already had under control. One more lap of chasing to regain ground and he would have overtaken Jeffrey Herlings, but simply ran out of time and his frustration was palpable. There was no such risk taking in the drier second affair and two crashes by Herlings gave the Brit a few extra points. The gap in the standings between the two rivals and foes has gone from 45 to 13 and, like MX1, demonstrates no sign of cooling as Searle posted what was his second overall triumph and fourth of the year.  

It was a positive sight to see the '338' of Zach Osborne back on his Grand Prix YZ250F for the first time in almost one year (his previous GP appearance coming in Latvia last July) and gave the series a much-needed American presence. Osborne looked sprightly from 'the off' and his rise from fifteenth to fifth in Saturday's qualification heat hinted that the Virginian could pull the same speed as Herlings, Searle and co but the question would remain 'for how long?' He answered in fine style with two charges to fifth position and perhaps might have had a shot at Ferrandis' trophy if it weren't for a tangle with Christophe Charlier in the second moto that cost time and positions.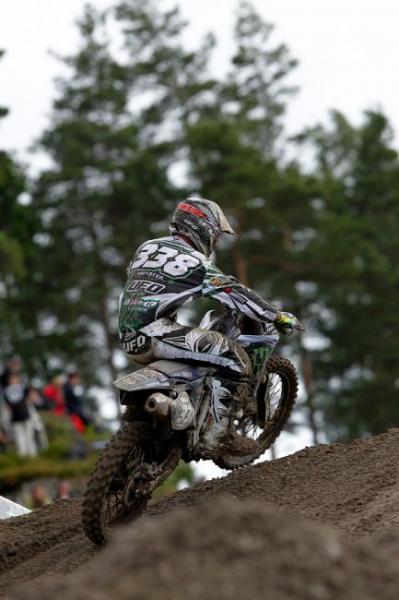 Zach Osborne made his long awaited 2012 debut in Sweden.
Ray Archer photo
"To come out and do two 35 minutes plus 2 lap motos for the first time since almost this time last year was really positive," he said. "Two fifth positions and two pretty solid rides – I had a little crash with Charlier in the second moto, otherwise I might have been able to go for the podium – but it's all good. We've got two weeks until Latvia so hopefully I can go back and work on my fitness some more and keep building up. I thought I wouldn't be able to last as long as I did because I couldn't do anything for the first six weeks after my operation but I was able to go really deep in the second moto. I was trying to catch Jake [Nicholls] but I reached a point where I was toast. Anyway, it's been a pretty good day."

After a weekend off, a double-header eastern European trip awaits with Latvia and Russia up next in mid-July.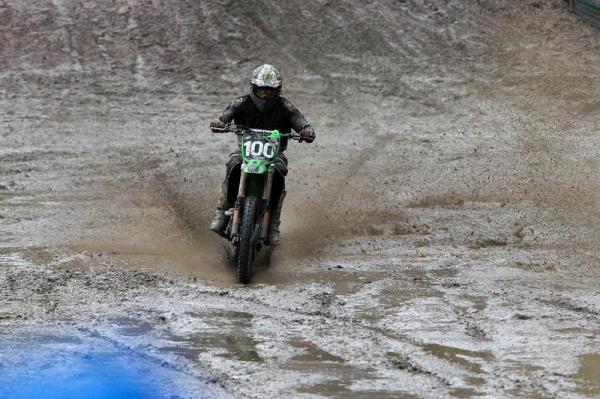 Tommy Searle cut into Jeffery Herlings points lead with the overall win in Sweden.
Ray Archer photo
MX1 Moto1
1. Clement Desalle (BEL, Suzuki), 40:52.302; ;
2. Christophe Pourcel (FRA, Kawasaki), +0:20.870;
3. Sebastien Pourcel (FRA, Kawasaki), +0:28.388;
4. Shaun Simpson (GBR, Yamaha), +0:31.762;
5. Kevin Strijbos (BEL, KTM), +0:38.980;
6. Tanel Leok (EST, Suzuki), +1:13.721;
7. Gautier Paulin (FRA, Kawasaki), +1:17.195;
8. Cedric Soubeyras (FRA, Honda), +1:22.736;
9. Xavier Boog (FRA, Kawasaki), +1:24.085;
10. Mark de Reuver (NED, Kawasaki), +1:35.661;
MX1 Moto2
1. Clement Desalle (BEL, Suzuki), 39:05.450; ;
2. Christophe Pourcel (FRA, Kawasaki), +0:04.445;
3. Kevin Strijbos (BEL, KTM), +0:07.064;
4. Tanel Leok (EST, Suzuki), +0:23.936;
5. Shaun Simpson (GBR, Yamaha), +0:37.011;
6. Sebastien Pourcel (FRA, Kawasaki), +0:40.893;
7. Rui Goncalves (POR, Honda), +0:52.511;
8. Xavier Boog (FRA, Kawasaki), +0:53.034;
9. Gautier Paulin (FRA, Kawasaki), +1:16.098;
10. Davide Guarneri (ITA, KTM), +1:21.824;
MX1 Overall
1. Clement Desalle (BEL, Suzuki), 50 points;
2. Christophe Pourcel (FRA, Kawasaki), 44 p.;
3. Kevin Strijbos (BEL, KTM), 36 p.;
4. Sebastien Pourcel (FRA, Kawasaki), 35 p.;
5. Shaun Simpson (GBR, Yamaha), 34 p.;
6. Tanel Leok (EST, Suzuki), 33 p.;
7. Gautier Paulin (FRA, Kawasaki), 26 p.;
8. Xavier Boog (FRA, Kawasaki), 25 p.;
9. Ken de Dycker (BEL, KTM), 20 p.;
10. Mark de Reuver (NED, Kawasaki), 20 p.;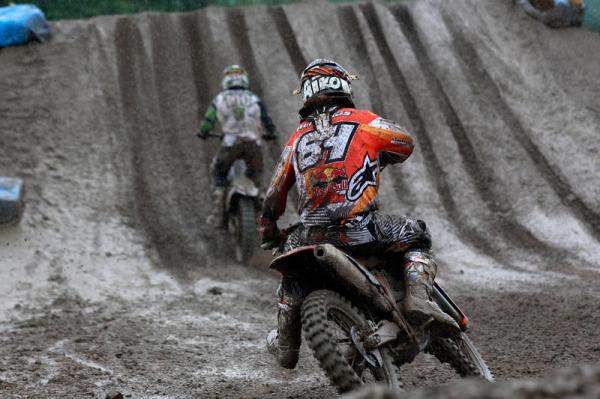 A seventh in the second moto would cost Herlings a chance for the overall.
Ray Archer photo
MX1 World Championship standings after 9 of 16 rounds
1. Clement Desalle (BEL, Suzuki), 348 points;
2. Antonio Cairoli (ITA, KTM), 345 p.;
3. Christophe Pourcel (FRA, Kawasaki), 336 p.;
4. Gautier Paulin (FRA, Kawasaki), 315 p.;
5. Ken de Dycker (BEL, KTM), 257 p.;
6. Kevin Strijbos (BEL, KTM), 243 p.;
7. Xavier Boog (FRA, Kawasaki), 236 p.;
8. David Philippaerts (ITA, Yamaha), 212 p.;
9. Tanel Leok (EST, Suzuki), 201 p.;
10. Rui Goncalves (POR, Honda), 183 p.;
MX2 Moto1
1. Jeffrey Herlings (NED, KTM), 39:51.669; ;
2. Tommy Searle (GBR, Kawasaki), +0:03.017;
3. Joel Roelants (BEL, Kawasaki), +0:53.378;
4. Dylan Ferrandis (FRA, Kawasaki), +1:05.289;
5. Zachary Osborne (USA, Yamaha), +1:17.557;
6. Jake Nicholls (GBR, KTM), +1:22.205;
7. Alexander Tonkov (RUS, Honda), +1:40.416;
8. Jordi Tixier (FRA, KTM), +1:41.138;
9. Glenn Coldenhoff (NED, KTM), -1 lap(s);
10. Benoit Paturel (FRA, Kawasaki), -1 lap(s);
MX2 Moto2
1. Tommy Searle (GBR, Kawasaki), 40:12.526; ;
2. Jeremy van Horebeek (BEL, KTM), +0:18.574;
3. Dylan Ferrandis (FRA, Kawasaki), +0:27.266;
4. Jake Nicholls (GBR, KTM), +0:29.925;
5. Zachary Osborne (USA, Yamaha), +0:51.319;
6. Christophe Charlier (FRA, Yamaha), +1:05.434;
7. Jeffrey Herlings (NED, KTM), +1:19.931;
8. Jordi Tixier (FRA, KTM), +1:23.237;
9. Jose Butron (ESP, KTM), +1:24.264;
10. Alessandro Lupino (ITA, Husqvarna), +1:34.735;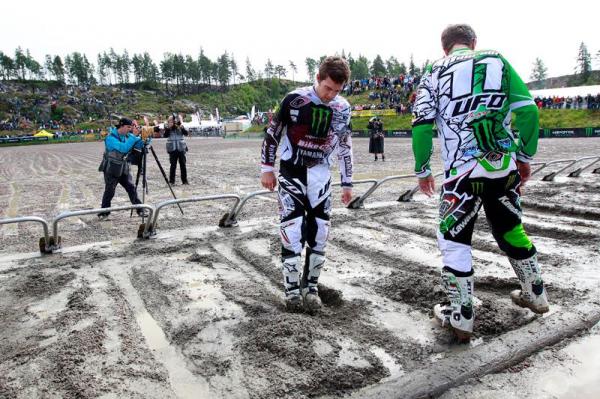 Once again the weather played a big part over the weekend.
Ray Archer photo
MX2 Overall
1. Tommy Searle (GBR, Kawasaki), 47 points;
2. Jeffrey Herlings (NED, KTM), 39 p.;
3. Dylan Ferrandis (FRA, Kawasaki), 38 p.;
4. Jake Nicholls (GBR, KTM), 33 p.;
5. Zachary Osborne (USA, Yamaha), 32 p.;
6. Jordi Tixier (FRA, KTM), 26 p.;
7. Joel Roelants (BEL, Kawasaki), 25 p.;
8. Jeremy van Horebeek (BEL, KTM), 22 p.;
9. Glenn Coldenhoff (NED, KTM), 21 p.;
10. Jose Butron (ESP, KTM), 18 p.;
MX2 World Championship standings after 9 of 16 rounds
1. Jeffrey Herlings (NED, KTM), 403 points;
2. Tommy Searle (GBR, Kawasaki), 387 p.;
3. Jeremy van Horebeek (BEL, KTM), 330 p.;
4. Joel Roelants (BEL, Kawasaki), 263 p.;
5. Jordi Tixier (FRA, KTM), 243 p.;
6. Jake Nicholls (GBR, KTM), 237 p.;
7. Max Anstie (GBR, Honda), 199 p.;
8. Dylan Ferrandis (FRA, Kawasaki), 177 p.;
9. Jose Butron (ESP, KTM), 168 p.;
10. Alessandro Lupino (ITA, Husqvarna), 163 p.;