By Ryan Cooley/MCGWith the U.S., Japan, New Zealand, Spain, Australia, Norway, and Chili all being represented, the X Games 2012 Moto X Freestyle Final was truly an international affair inside Los Angeles' STAPLES Center on Thursday night. The world's top FMX riders train year round for a shot at X Games glory, but from the time the top-ten qualifiers hit the course for their very first practice session, it was obvious that one man would shine when the ESPN broadcast went live. After six years of hard work and dedication, not to mention a trick that had yet to be landed in competition, Japan's Taka Higashino threw down a dominant performance en route to X Games gold—the first X Games gold medal ever for a Japanese Moto X athlete.

Taka wasted little time to announce his intentions during his first of two 60-second runs, as he unleashed his ace—a Rock Solid backflip—on his very first hit. After stomping it, Higashino went on to execute a near flawless run, and the result was a 93.33 that would later prove to be good for gold.

We caught up with Taka on the arena floor just moments after earning the medal, and rattled off a few quick questions before losing him to the media masses. Here's what the still-in-shock, extremely friendly Japanese FMX icon had to say about his performance…
R
acer X: You scored a bronze in Best Trick back in 2010, but this Freestyle gold medal has been a longtime coming. How does it feel to finally be on top?
Taka Higashino: I feels so great. This is so good! I can't believe this has just happened. I don't really know… I try hard every day, and always wish to be competing for gold, but for some reason this year was different. Everything just clicked.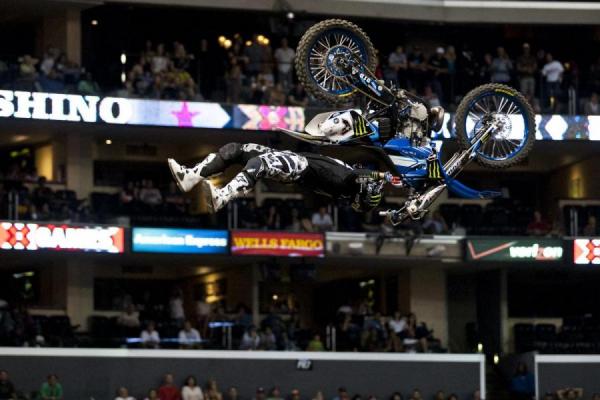 Taka Higashino finally scored a gold medal in Moto X Freestyle.
Garth Milan photo
You debuted a huge new trick as a part of your run that certainly helped your cause, but the rest of your routine was solid, as well. Can you pinpoint why you were able to come in and be so dominant this year?
I honestly don't know why tonight. I work really hard to be ready for this every year, but you just never know how your run will compare to the other guys. I knew the Rock Solid flip would be good, but I was thinking top-three, if I'm lucky. No way first place. I can't believe this! I hope it's still real when I wake up tomorrow [laughs].

Did you execute your entire run as planned, or were you forced to change things up at any point?
Yeah, I had two different runs planned with different tricks, and I got through them both with no mistakes. I was for sure nervous, but I remembered all my tricks, and stayed pretty smooth. It's good.


It's definitely good. Real good! In fact, your two runs were the two highest scoring of the final. The silver medal actually went to the third highest scoring performance.
That's crazy. I don't even know what to say. These guys are the best in the world. I feel lucky to even compete with them, so it's difficult to understand why it all came together tonight. I'm so happy, and so thankful to all my sponsors who helped me get here.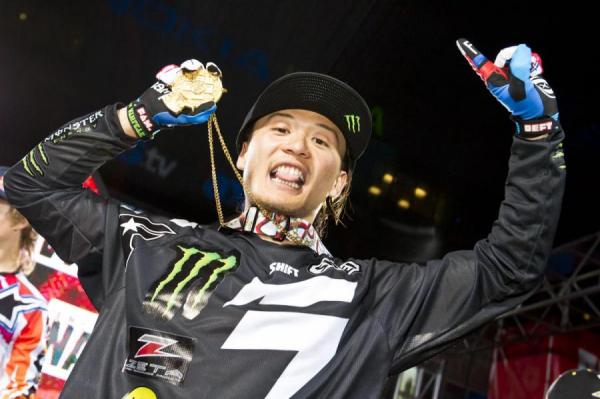 Taka's gold also marked the first ever for a Japanese Moto X athlete.
Garth Milan photo
In the event that run number one didn't go well, did you have any other new tricks up your sleeve to up the ante in run two?
[Laughs] No, no, no… That was all my tricks. I did everything tonight.

You finally got your X Games gold medal, so what do you look forward to next?
This was my last competition. I'm retiring now that I have the gold [laughs]. No, I still look forward to the Best Trick contest tomorrow night, but more than that I look forward to getting married soon. I also get my green card this September, so I'll continue living in the U.S. and riding dirt bikes. It's the best.