Budds Creek Motocross Park
Mechanicsville

,

MD
Budds Creek
Lucas Oil AMA Pro Motocross Championship
Lucas Oil Pro Motocross Championship
Budds Creek - Mechanicsville, Maryland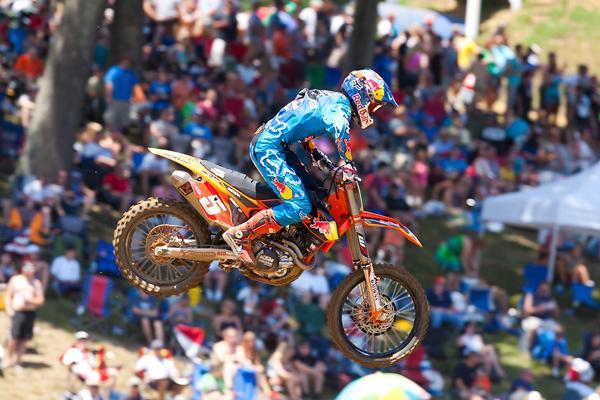 Ryan Dungey went 1-1 for the overall at Budds Creek.
Andrew Fredrickson photo

450 Overall Moto 1:
Ben LaMay
Kevin Rookstool
Evgeny Mikhaylov
Josh Clark
Heath Harrison
Ronnie Stewart
Derek Anderson
Tyler Bright
Josh Greco
Dalton Carlson
Cole Martinez
Cole Thompson
Jake Loberg
Cameron Stone
Dakota Kessler
Robbie Marshall
Jacob Morrison
Travis Sewell
Robert Lind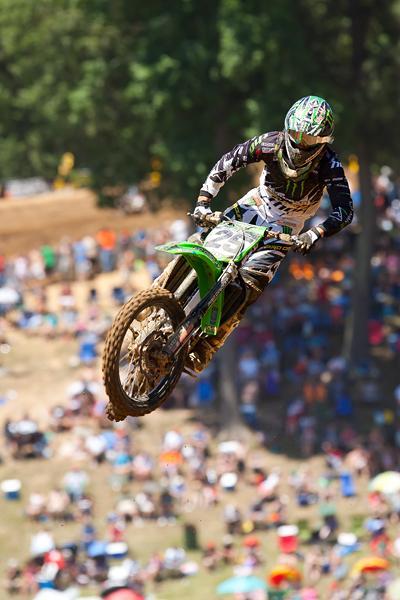 Broc Tickle finished a career-high second overall at Budds Creek.
Andrew Fredrickson photo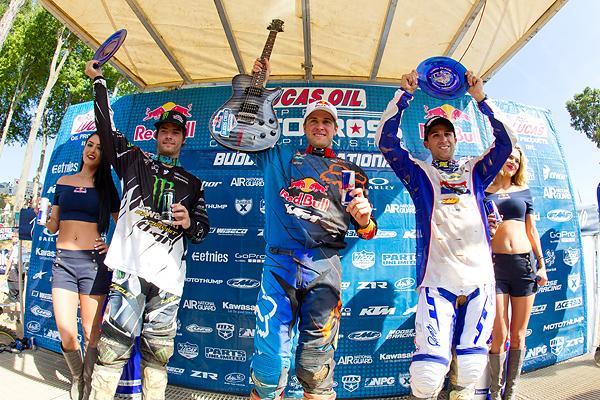 Mike Alessi (right) would round out the 450 podium.
Garth Milan photo

250 Overall Results:
Blake Baggett 2-1 Kaw
Ken Roczen 3-2 KTM
Justin Barcia 1-5 Hon
Eli Tomac 5-3 Hon
Marvin Musquin 4-4 KTM
Jason Anderson 7-6 Suz
Wil Hahn 6-7 Hon
Jake Canada 13-8 Hon
Travis Baker 12-10 Hon
Phil Nicoletti 14-9 Hon
Jessy Nelson 10-13 Hon
Blake Wharton 9-18 Suz
Gareth Swanepoel 17-12 Yam
Ivan Tedesco 8-36 Kaw
Alex Martin 16-14 Hon
Malcolm Stewart 40-11 KTM
Kyle Cunningham 11-34 Yam
Hunter Hewitt 25-15 Suz
Dakota Tedder 15-24 Kaw
Killy Rusk 22-16 Hon
Matt Moss 36-17 KTM
Kyle Peters 20-19 Yam
Ryan Zimmer 18-22 Hon
Zack Freeberg 19-21 KTM
Tevin Tapia 28-20 KTM
AJ Catanzaro 21-23 KTM
Lowell Spangler 24-26 KTM
Steve Roman 29-27 Yam
Sean Hackley Jr. 23-35 KTM
Gannon Audette 31-28 KTM
Luke Vonlinger 27-33 Hon
Cody Robbins 32-29 Hon
Cody Lackore 30-31 Kaw
Jacob Hayes 39-25 KTM
Mike McDade 26-38 Hon
Ozzy Barbaree 34-32 Suz
Levi Kilbarger 37-30 Hon
Mitchell Dougherty 35-37 Hon
Myles Tedder 33-39 Kaw
Joey Peters 38-40 Yam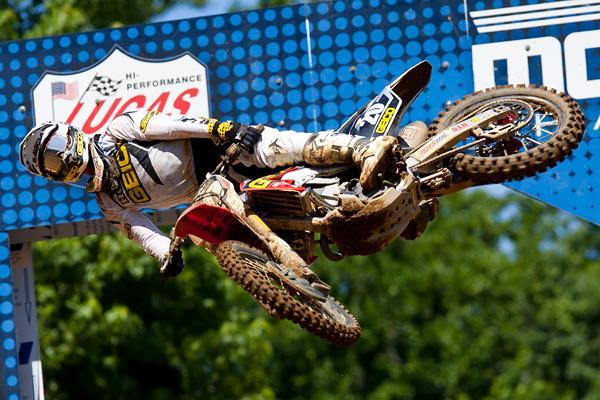 Justin Barcia would win the first moto at Budds Creek en route to a third place overall finish
Andrew Fredrickson photo
250 Moto 1 Overall:
Jessy Nelson
Jake Canada
Ryan Zimmer
Zack Freeburg
Kyle Peters
AJ Catanzaro
Sean Hackley Jr
Lowell Spangler
Mike McDade
Luke Vonlinger
Steve Roman
Cody Lackore
Cody Robbins
Ozzy Barbaree
Michael Dougherty
Matt Moss
Levi Kilbarger
Joey Peters
Jacob Hayes
250 Overall Moto 2:

Jake Canada
Jessy Nelson
Matt Moss
Kyle Peters
Zack Freeberg
Ryan Zimmer
AJ Catanzaro
Jacob Hayes
Lowell Spangler
Steve Roman
Cody Robbins
Levi Kilbarger
Cody Lackore
Ozzy Barbaree
Luke Vonlinger
Sean Hackley Jr
Michael Dougherty
Mike McDade
Joey Peters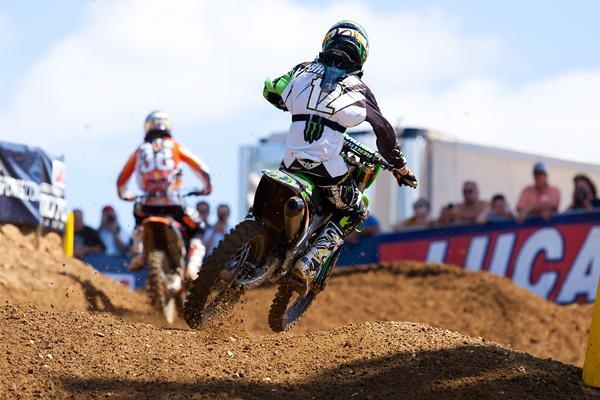 Blake Baggett would capture the overall thanks to a second moto win.
Andrew Fredrickson photo

250 Points Standings
Blake Baggett 222pts. Kaw
Justin Barcia 209pts. Hon
Eli Tomac 200pts. Hon
Ken Roczen 200pts. KTM
Marvin Musquin 153pts. KTM
Wil Hahn 130pts. Hon
Jason Anderson 106pts. Suz
Blake Wharton 102pts. Suz
Ivan Tedesco 99pts. Kaw
Kyle Cunningham 96pts. Yam
Jake Canada 95pts. Hon
Jessy Nelson 88pts. Hon
Travis Baker 82pts. Hon
Gareth Swanepoel 74pts. Yam
Alex Martin 55pts. Hon
Malcolm Stewart 48pts. KTM
Kyle Peters 45pts. Yam
Martin Davalos 40pts. Suz
Hunter Hewitt 36pts. Suz
Phil Nicoletti 22pts. Hon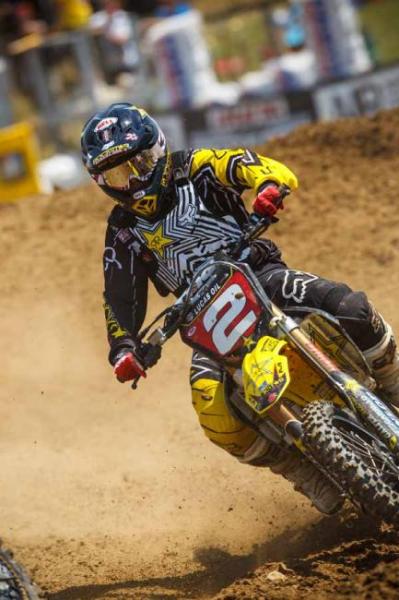 Jessica Patterson continues to lead the WMX class.
Simon Cudby photo
FIM World Motocross Championship
Grand Prix of Belgium

MX1 Overall
1. Antonio Cairoli KTM
2. Clement Desalle Suz
3.
Christophe Pourcel
Kaw
4. Kevin Strijbos KTM
5. Gautier Paulin Kaw
6. Ken de Dycker KTM
7. Tanel Leok Suz
8. Xavier Boog Kaw
9. Sebatien Pourcel Kaw
10. David Philippaerts Yam
11. Evgeny Bobryshev Hon
12. Anthony Boissiere TM
13. Shaun Simpson Yam
14. Davide Guarneri KTM
15. Rui Goncalves Hon
MX1 Points Standings

Antonio Cairoli 345pts. KTM

Clement Desalle 298pts. Suz
Christophe Pourcel 292pts. Kaw
Gautier Paulin 289pts. Kaw
Ken de Dycker 237pts. KTM
David Phillippaerts 212pts. Yam
Xavier Boog 211pts. Kaw
Kevin Strijbos 207pts. KTM

Rui Goncalves 169pts. Hon
Tanel Leok 168pts. Suz
Evgeny Bobryshev 137pts. Hon

Shaun Simpson 125pts. Yam
Jonathan Barragan 118pts. Hon

Mattis Karro 112pts. KTM
Sebastien Pourcel 108pts. Kaw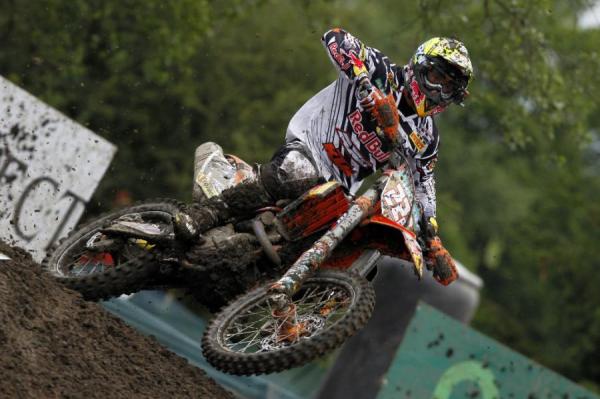 Antonio Cairoli would extend his points lead with the overall win in Belgium.Ray Archer/KTMImages photo

MX2 Overall
1.
Tommy Searle
Kaw
2. Jeffery Herlings KTM
3. Jeremy van Horebeek KTM
4. Joel Roelants Kaw
5. Arnaud Tonus Yam
6. Jordi Tixier KTM
7. Jake Nicholls KTM
8. Jose Butron KTM
9. Alessandro Lupino Husq
10. Mel Pocock Yam
11. Nikolaj Larsen Suz
12. Glenn Coldenhoff KTM
13. Romain Febvre KTM
14. Dylan Ferrandis Kaw
15. Valentin Guillod KTM
MX2 Points Standings

Jeffery Herlings 364pts. KTM
Tommy Searle 340pts. Kaw
Jeremy van Horebeek 308pts. KTM
Joel Roelants 238pts. Kaw
Jordi Tixier 217pts. KTM
Jake Nicholls 204pts. KTM
Max Anstie 191pts. Hon
Alessandro Lupino 152pts. Husq
Jose Burton 150pts. KTM
Dylan Ferrandis 139pts. Kaw

Harri Kullas 132pts. Suz
Petar Petrov 118pts. Suz
Christopher Charlier 106pts. Yam
Glenn Coldenhoof
103pts KTM
Nikolaj Larsen 92pts. Suz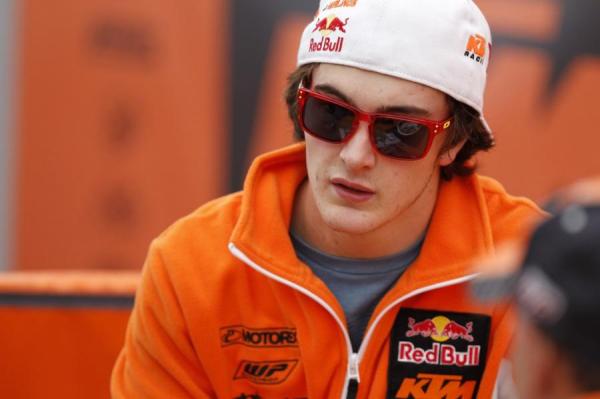 Jeffery Herlings would finish second behind Tommy Searle but continues to lead the MX2 points standings.

Ray Archer/KTMImages photo

Can-Am GNCC Championship
XC1 Points Standings

Paul Whibley 177pts Yam
Kailub Russell 172pts KTM
Charlie Mullins 129pts KTM
Rory Mead 126pts KTM
Thad DuVall 115pts Hon
Jordan Ashburn 103pts Yam
Garrett Edmisten 93pts Kaw
Chris Batch 92pts BET

Cory Buttrick 77pts KTM
Nathan Kanney 76pts Hon
Paul Whibley leads the XC1 Class.
Ken Hill//GNCCRacing.com photo
XC2 Points Standings
Steward Baylor 161pts KTM
Jason Thomas 143pts HUSQ
Jesse Robinson 132pts HUSQ
Andrew Delong 123pts. HSQ
Jedediah Haines 119pts YAM
Brad Bakken 109pts YAM
AJ Stewart 79pts. Yam
Cody Gragg 74pts. Yam
Scott Grills 70pts. Hon
Michael McGinnis 66pts. KTM

Zach Nolan 59pts. KTM
Monster Energy Canadian Nationals
Round 3 - Wildrose, Calgary

2. Matt Goerke 1-2 Kaw
3. Colton Facciotti 3-3 KTM
4. Tyler Medaglia 4-5 Hon
5. Dusty Klatt 6-4 KTM
6. Tyler Villopoto 5-6 Kaw
7. Jason Burke 11-7 Hon
8. George DeGraaf 12-8 Kaw

9. Brock Hoyer 10-11 Kaw
10. Gavin Gracyk 9-12 Kaw
11. Shanwn Robinson 8-14 Yam
12. Jared Stock 18-10 Yam
13. Shawn Maffenbeier 7-38 Yam
14. Todd Sewelll 14-16 Yam
15. Tyler Rayner 30-13 Kaw

MX1 Points Standings
Matt Goerke 147pts. Kaw
Bobby Kiniry 125pts. Yam
Tyler Medaglia 106pts. Hon
Colton Facciotti 106pts. KTM
Tyler Villopoto 90pts. Kaw
Dusty Klatt 88pts. KTM

Gavin Gracyk 72pts. Kaw
Morgan Burger 60pts. Kaw
Borck Hoyer 60pts. Kaw
Jason Burke 56pts. Hon

MX2 Overall
1. Teddy Maier 1-1 Kaw
2. Jeremy Medaglia 2-2 KTM
3. Brad Nauditt 4-4 Hon
4. Spencer Knowles 8-3 Yam
5. Jared Allison 5-7 Yam
6. Parker Allison 7-8 Yam
7. Ross Johnson 12-6 Suz
8. Richard Grey 9-10 Yam
9. Keylan Meston 11-9 Hon

10. Kyle Beaton 3-28 Kaw
11. David Gassin 10-15 Hon
12. Cody Woodworth 17-11 Yam
13. Trae Franklin 18-13 Hon
14. Zach Deiana 14-17 Suz
15. Matthew Davenport 22-12 Hon

MX2 Points Standings
Teddy Maier 139pts. Kaw
Jeremy Medaglia 122pts. KTM
Kyle Beaton 93pts. Kaw
Jared Allison 92pts. Yam

Brad Nauditt 89pts. Hon
Ross Johnson 78pts. Suz
Parker Allison 76pts. Yam
Topher Ingalls 73pts. Hon

Spencer Knowles 70pts. Yam
Dylan Kaelin 62pts. Yam


Expert Points Standings
Taddy Blazusiak 51pts. KTM
Colton Haaker 41pts. Kaw
Taylor Robert 41pts. Kaw
Kevin Rookstool 33pts. Husq
Cody Weeb 32pts. Beta
Cory Graffunder 32pts. KTM
Mike Brown 31pts. KTM
Justin Soule 25pts. Kaw
Destry Abbott 22pts. Kaw
Gary Sutherlin 21pts. Kaw

Taddy Blazusiak is the new points leader
.
Drew Ruiz photo
Monster Energy MX Nationals Austrailan Nationals

Pro Open MX1 Points Standings

Josh Coppins 301pts. Yam
Todd Waters 280pts. Suz
Brad Anderson 274pts. Hon
Lawson Bopping 255pts. Yam
Tye Simmonds 234pts. Hon
Cody Cooper 232pts. Suz
Jay Marmont 207pts. Kaw
Jake Moss 171pts. Hon

Daniel McCoy 164pts. Suz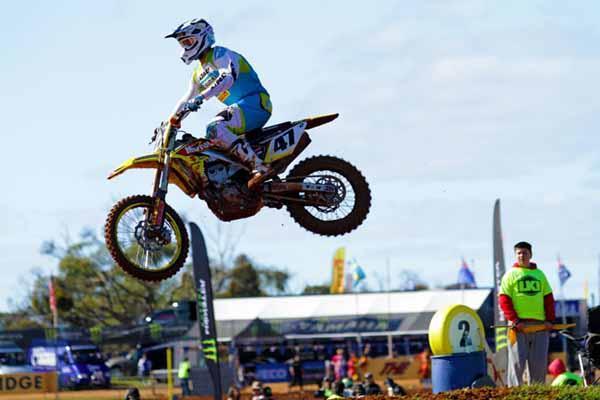 Todd Waters sits second in the MX1 class.
Simon Makker/MotoOnline.com.au photo
Pro Lites MX2 Points Standings
Luke Styke 306pts. Yam
Ford Dale 274pts. Hon
Cheyne Boyd 258pts. Hon
Josh Cahcia 258pts. KTM
Kade Mosig 233pts. Kaw
Kirk Gibbs 229pts. Yam
Adam Monea 215pts. Suz
Justin McDonald 192pts. Hon
Lewis Woods 173pts. Suz
Errol Willis 168pts. Suz