Budds Creek Motocross Park
Mechanicsville

,

MD
Budds Creek
Lucas Oil AMA Pro Motocross Championship
Ivan Tedesco is one of the biggest names in AMA Motocross history to drop down a class long after becoming a champion. But it's certainly within the bounds of the rulebook. Outdoors, the 250 class counts the same as the 450 class in that both are "National Championship" divisions in AMA Pro Racing; in Supercross, the Lites class (formerly 125s) is a Regional class. But Tedesco is not alone. Here are some famous stories of big-name riders dropping back into the small-bores.
14. DAMON BRADSHAW: Believe it or not, the Beast for the East dropped down for one unfortunate attempt at a comeback early in this millenium, riding a Factory Connection CR125 at the Daytona Supercross. It was a bad idea, and Damon did not qualify. When asked about it on a Racer X Podcast, Bradshaw said that he didn't know what he was thinking and he didn't want to talk about it.
13. JIMMY WEINERT: The Jammer, a former AMA Supercross and 500cc National Motocross Champion, dropped down to a 125 for the summer of 1977 for Team Kawasaki. He ended up doing okay, with a high finish of third overall, behind Yamaha's Bob Hannah and Broc Glover, at Midland, Michigan.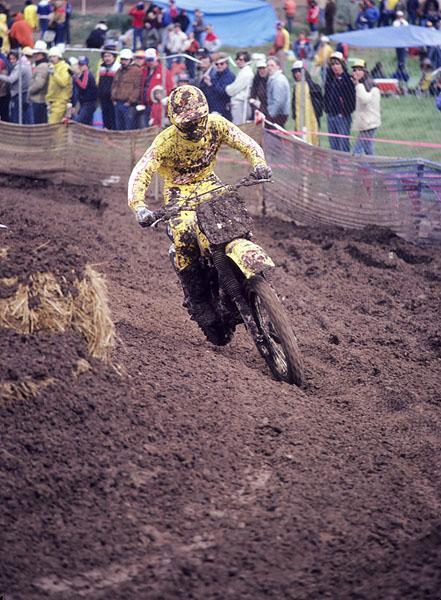 In 1982 Yamaha dropped Bob Hannah down to the 125 class after he missed the previous year with an injury.
Photo: Dick Miller Archives
12. BOB HANNAH: In 1982, after returning from a year off due to a broken leg suffered in a water-skiing accident, Yamaha dropped the Hurricane himself down to the 125 class. It did not go well, and within a year Hannah was gone -- and riding a Honda, back up in the 250 class where he belonged. Hannah ended up sixth in the '82 125 Nationals riding the #4 YZ125. How did it do at each round? That's what The Vault is for, check it out!
11. PAUL MALIN: Fans in America know Paul Malin as the voice of MX-Life.TV, or the fast man on the 125 who beat Jeff Emig at the '94 Motocross of Nations in Switzerland. But before that incredible MXdN ride on the 125, the British rider was known as a big-bike rider, racing factory Kawasakis in the 500cc Grand Prix tour.
10. HARRY EVERTS: The father of Stefan Everts, Harry was already a 250cc World Champion when Suzuki asked him to drop down to the 125 class in 1979. What followed were three consecutive 125cc World Championships. His son Stefan would later drop down just for fun in 2003 while on his way to the MX1 world title, winning BOTH classes every time he tried it during the GP's one-moto era.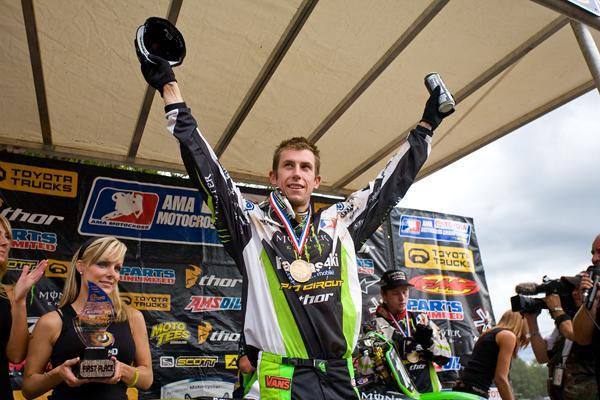 When Ben Townley came to America he dropped down to the 250 class.
Photo: Andrew Fredrickson
9. GEORGES JOBE: After winning world titles in both the 500 and 250 classes, the elegant Belgian rider decided to make a bold attempt to add a 125cc world title too. It didn't work out, as he failed to win the '88 title, and besides that Eric Geboers beat him to the punch, becoming the first man to sweep all three world titles after he added the '88 500cc world title.
8. RYAN HUGHES: After seemingly calling it quits on his career following a big crash while shaking down Honda CRF450, Ryan Hughes came back in the summer of 2003 on a KTM 125 and promptly battled it out with Grant Langston and Mike Brown for the outdoor title. But he never got to complete the task, as the last round of the series--Kenworthy's in Ohio--was postponed once due to a flood, then cancelled all together due to another flood.
7. BEN TOWNLEY: Remember, Ben Townley almost won the 2005 FIM MX1 world title on a KTM. If not for Stefan Everts, he would have been champ. But when Townley came to America he was put on a 250F for Pro-Circuit Kawasaki. He would end up winning the 2007 East Region Lites title and a few nationals on the smaller bike. Had he stayed in Europe, well, who knows?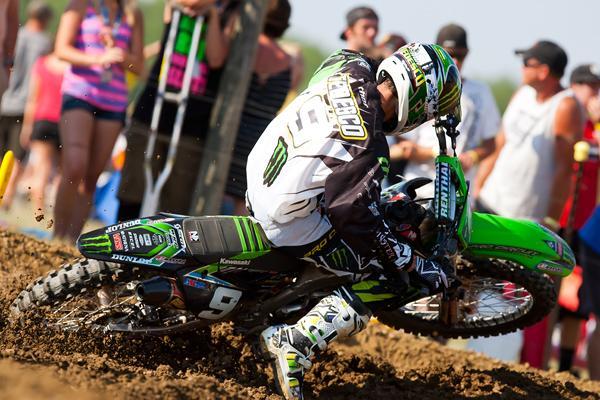 Ivan Tedesco is the latest champion to drop down a class.
Photo: Andrew Fredrickson
6. TEAM SUZUKI IN THE EARLY 90's: When the AMA nationals switched from separate 125, 250 and 500 series to twelve 125 rounds and six rounds on a 250 and six on a 500, the factory Suzuki team was left with a choice of letting their highly paid riders sit out the 500 series (as Suzuki did not make a 500) or drop them down to the 125s for the last six races. And drop them down they did as riders like Johnny O'Mara, Larry Ward and Mike Larocco rode the second half of the series in 125s. LaRocco and Ward, especially, did major damage in the class and were often in the mix for podiums.
5. ALEX PUZAR: The very fast Italian known as "Crazy Horse" won the 1990 250 world title but struggled in the following years to repeat. So in 1995, after his peak years seemed to be behind him, Puzar dropped down to a 125 and ended up beating his countryman Alessio Chioidi for the Grand Prix title. But don't cry for Chico -- he would go out and earn three 125 world titles on his own!
4. HEIKKI MIKKOLA: The Flyin' Finn beat Roger DeCoster for the 1975 FIM 500cc World Championship, stopping The Man's title streak at three in a row. But then Mikkola had a bad year in '75 on his Husqvarna and DeCoster reclaimed his crown. Mikkola was then asked to take a year and ride the 250 class, as Husky was bringing out a new model. He obliged them, and ended up beating the Russian legend Gennady Moisseev for the '76 250cc world title.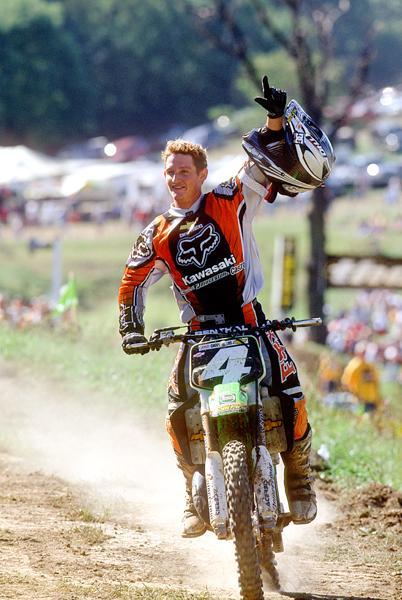 The GOAT himself even dropped down once.
Photo: Hal Kennedy
3. RICKY CARMICHAEL: Even the GOAT dropped down once, but only once. He wanted to break Mark Barnett's record of 25 wins in the 125 Nationals, and since he had already clinched the '01 250cc outdoor title, he decided to go for the record at Steel City on a KX125 (his last-ever race on a Kawasaki, as it turned out). What followed was a strange day in which RC crashed early in the first moto and only managed third, but then in the second moto, with the title in the balance between RC's pal Mike Brown and KTM's Grant Langston, Grant's wheel collapsed towards the end of the last moto. Brown, who won the first moto, was riding in second, well behind Carmichael. Knowing that the title was his and the record meant a lot to RC, Brown slowed down, let Branden Jesseman by, and gifted the overall to Carmichael. Here's the results from that strange day, which you can find in The Vault.
2. MIKE HEALEY: After vying for the 1991 and '92 FIM 250cc World Championship, Mike Healey found himself back in the states as a privateer for the last two 125 Nationals at Steel City and Budds Creek. He was working out of a mini-van, with limited support from Jeff Cernic of Cernic's Racing, and riding a beat-up RM125. Nevertheless, Healey won the second-moto at Steel City over a murderers' row of AMA talent, including future champs Jeff Emig, Doug Henry, Mike LaRocco, Steve Lamson, Jeremy McGrath, Mike Brown and more.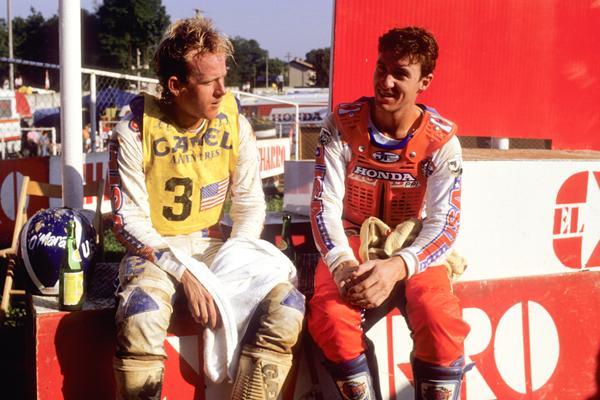 Johnny O'Mara dropped down for the Motocross of Nations in 1986.
Photo: Racer X Archives
1. JOHNNY O'MARA: Maybe the single most jaw-dropping performance ever on a 125 came when Johnny O'Mara dropped down to the tiddler for the '86 Motocross of Nations at Maggiora, Italy. O'Mara was put on the 125 because Honda teammates David Bailey (500) and Rick Johnson (250) had already claimed the big bikes for the race, and O'Mara was being dismissed from the squad anyway. So he swallowed his pride, got back on a bike he had not ridden since the '84 season, and absolutely destroyed everyone but Bailey and RJ in both motos.