High Point Raceway
Mt. Morris

,

PA
High Point
Lucas Oil AMA Pro Motocross Championship
Okay, we all know what we're dealing with here: Lucas Oil Pro Motocross' 250 class is going balls-out bonkers crazy with wild motos, comebacks, last-lap battles and unpredictable racing. The 450 class is, well, its Ryan Dungey methodically stomping out any and all such heroics. With James Stewart (and Ryan Villopoto, Chad Reed and Trey Canard) out we're not seeing anyone with the speed to challenge The Dunge outright. That alone makes the 450 class a big departure from what we're seeing in the 250s, which is enjoying a perfect storm of even/determined/prepared competition, even with its own defending champion out (just stop and imagine how good these races could be if Dean Wilson was still out there. Think about that. Wow!). But, there's more to the difference between these classes than simple talent parity—it's just that this season has been built around the greatest strengths and weaknesses of each class.
Take Dungey, the 450 points leader. Not only is Dungey hitting the dominate button, he's doing it with his own personal style, which is to not worry about style at all. The very core of his program is built around eliminating the craziness we see in the 250 class—no crashes, no comebacks, just methodical performances week in and week out. The plan is to get a top five start (never last, never down in turn one, but rarely as spectacular as a holeshot, either). Then, don't go crazy and risk it all early. No need to pass riders in bunches, or jump over anyone's head with a crazy line. Just go a little bit faster each lap, and make some clean passes. And don't take those passes down to the last lap, either, that would be too risky. Try to make that move halfway through and then motor away. Just win, rinse and repeat.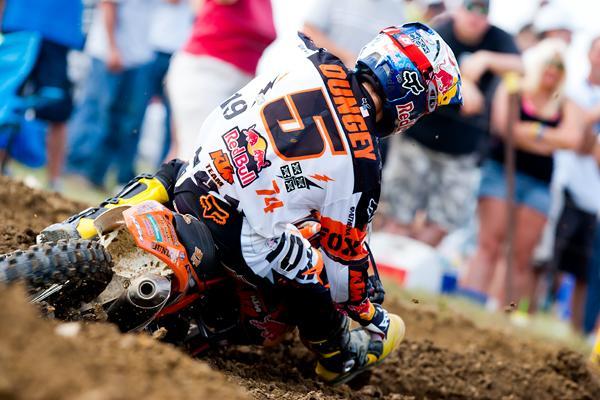 Ryan Dungey is in a class of his own at the moment.
Andrew Fredrickson photo
Heck, even when Dungey does have something crazy going on, the craziness is quickly dampened like a wet blanket. Otherwise, it could interfere with the goal of winning. Last year, Dungey not only had two episodes of bad luck that cost him big motocross points, but it happened while he was also setting himself to leave Suzuki, the only brand he has ever raced for. If this happened to almost anyone else on earth, you'd have seen a tiny fracture in the foundation. Maybe a small, nearly imperceptible comment about the team that the fans and media could blow up under a microscope.
Nope. Dungey lost the title due to bad luck, then left Suzuki and moved to KTM and yet somehow never, ever uttered a single bad word. Why would he? Not only does such talk not seem to be in Dungey's nature, but he also knows it could distract from the goal of winning. Had he leaked any frustration at Southwick, it could have been perceived as a weakness, and at that point, there were still four motos in which to battle Ryan Villopoto for a championship. He needed to keep his focus forward and make sure the Kawasaki people knew he and his Suzuki team were still ready to come out swinging, as a team, in the last four motos. For the sake of winning, the drama was cast aside.
Now, Dungey is on an all-new bike and a team that has never experienced this kind of success (in this class in the U.S.) before. Considering that, these are spectacular results, but yet it seems spectacularly unspectacular under Dungey. While he's actually doing something quite amazing—turning a brand that had never even won a premiere-class races into a would-be champion, in one year, as the only rider on the team in that class—it just seems so normal. See, Dungey could go out there and blow up this accomplishment, and talk about how hard this is. But then, that would increase the perceived degree of difficulty. You would rather have the competition thinking this is the 2010 Dungey, again, the one who won nine of 12 races, then remind everyone that this bike is unproven, and maybe there are still some flaws yet to be uncovered.
He is just doing what he always does, only now in a different color. But he is not alone in his class.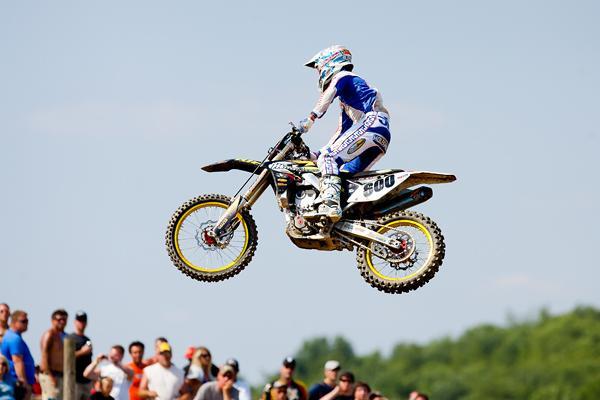 With James Stewart possibly on the sidelines for an undetermined amount of time, will Mike Alessi be able to challenge Dungey?
Andrew Fredrickson photo
Let's not forget that while the 450 class is the modern-day replacement for the 250 (two-stroke) class, these are really open-class bikes. Go back and watch an old 500 National on YouTube and you'll see how those bikes are ridden—with care and respect. Yeah, the 450 thumpers aren't the detonating, fire-breathing, tire spinning vibrating beasts the 500s were, but power is power, and you're never going to hear someone say "he was wringing that bike's neck" in describing that class. The riders ride hard, but riding over the edge is rarely rewarded—it's usually not even faster. The 250s? The dude who pushes the hardest seems to win, and that's why the key buzzword in that class early on has been "intensity."
Chances are, once you've moved to the 450 division, you've been through the wars before and come away with the battle scars. At best, you've won some titles, at worst, you've been through some injuries, and many of the riders have been through both. They know that living for the moment and going for the kill in every turn and every moto doesn't really work.
This doesn't apply in the 250 class. While there is some level of championship experience there via Ken Roczen and Marvin Musquin's MX2 titles, and Justin Barcia and Eli Tomac winning Supercross Lites crowns, these riders are very much just getting started with their professional careers. In the 450 class, you rarely see a surprise performance—the riders are who they are and usually log similar performances each week. In the 250s, you get a lot more mystery. Roczen logged his worst moto of the season in the first High Point moto, but then followed it with his best moto of the season in moto two! This is also the class where Eli Tomac has put together two incredible, soul-crushing rides for overall wins, but sandwiched that around two good, but not spectacular, days. When I asked Eli what was different in Colorado compared to Freestone and High Point, he said, "I don't know. I guess I was just on with my riding."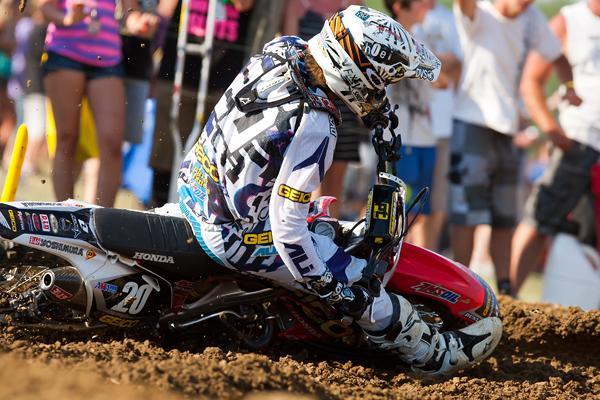 GEICO Honda's Justin Barcia and Eli Tomac both won motos at High Point and have won three of four overalls in the 250 class.
Andrew Fredrickson photo
It's also the class where Blake Baggett leads the points. Baggett's here today/gone tomorrow speed was the mystery of 2011, and while he has been much more consistent this year, it's too early to know if the problem is solved—and remember, when we asked Blake last year what changed between his amazing first half of the season and his mediocre second half, he said, "I have no idea."
Surely, Eli and Blake know more than they're letting on, but, at the same time, it shows that this is a class where riders still haven't perfected the recipe for success. As a reference, for anyone thinking that Roczen is "struggling" since he hasn't won one of the first four races, think about how many races Wilson had won at this point last year. Think about Wilson walking away from RedBud in frustration, beaten straight up by Baggett. Then he rallied back when he figured something out, it all clicked, and he won the title in a romp.
In the 250 class, surprises can spring up at any time. The riders feed off of that kind of thing—in the first 250 moto of the season, Baggett was trailing Roczen and Barcia late in the race, and dropped the hammer. He passed them both and won in spectacular fashion. In High Point's second moto, he was in the same spot and tried to do the same thing. Instead of winning, though, he crashed not once, not twice, but three times! Not great, but, Baggett's going to keep running that play and hope that it works out more often than not. Same for Tomac. He could have settled for a decent finish at High Point, or thrown all caution to the wind, gone for it, charged, and put together an unbelievable performance. He chose option two, and it paid off huge in terms of points, confidence and momentum.
Yes, in the 250 class, the riders feed off of surprises. In the 450s, the points leader knows it's in his best interest to keep eating the same meal every week.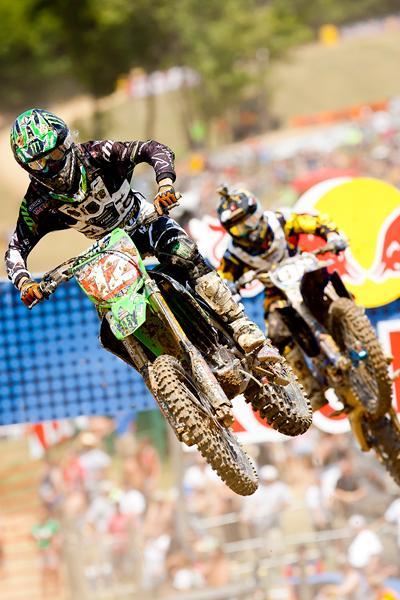 But it's Blake Baggett that still holds the points lead.
Andrew Fredrickson photo