Thunder Valley Motocross Park
Lakewood

,

CO
Thunder Valley
Lucas Oil AMA Pro Motocross Championship
Welcome to Racerhead, coming to you from my living room, by way of the Asterisk Mobile Medics. As I mentioned last week, I have been having some issues with my left knee, a problem once repaired long ago but now back with a vengeance. After consulting Doc Bodnar at Hangtown, and then getting an A+ tape-wrap from Eddie Casillas to make it through Texas, it was time to get some real work done on it—especially after roaming the infield the past few weeks. So I am home this week, which means I get to watch on TV and online like the rest of the world!
The Toyota Thunder Valley National from Lakewood, CO, airs tomorrow at 3:00 p.m. ET (noon out west) on FUEL TV, featuring the first two motos live—you can also tune in via live the streaming coverage on www.allisports.com. The second 450 moto will also be live, beginning at 5:00 p.m. ET on NBC Sports Network. Only the second 250 moto will not get the live TV treatment; it airs at midnight on NBC Sports Network. All four motos will be archived and shown in their entirety on www.allisports.com.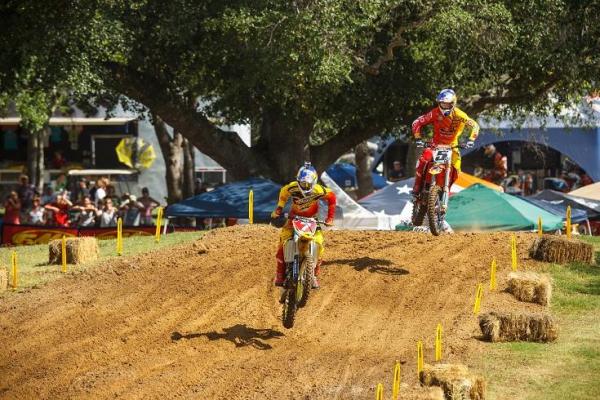 The James Stewart-Ryan Dungey battle moves on to Colorado
Simon Cudby photo

Let's start at the top. We all know just how intense the 450 battle was between James Stewart and Ryan Dungey last week, and you can expect no less in Colorado this weekend. Thunder Valley was the site of the 2010 Motocross of Nations, where Dungey, then riding a Suzuki, really put it to Tony Cairoli and the GP boys, proving (again) that Team USA was still #1. Dungey returns to the site of one of his greatest wins, this time in need of a victory more than ever—he's got to stop Stewart, now fourteen points up, before Stewart gets a full moto's worth of points in between them.
I spoke to James on the phone last night for a little while and he was in very good spirits. He's enjoying his return to the outdoors and he appreciates all of the cheers and kind words he's been getting from the fans, as well as the solid competition he's getting from Dungey. We also talked a lot about the tracks, the weekend setup and what it's like working with the gang at Yoshimura Suzuki. Needless to say, he's pretty happy about everything right now.
Here's an overhead look from Michael Mamula of the Thunder Valley track:
But it's the 250 class where MXoN experience may count most. This is the one and only track on the Lucas Oil Pro Motocross Championship schedule on which Ken Roczen has race experience. The German teenager won here in '10 in the MX2 class, so he knows this track well and it suits his style. He has yet to win a moto, but he's been as consistent as anyone—except for points leader Blake Baggett. The Red Bull KTM rider has finished third in each of the first two rounds, which is very good by most measures.
But here's an interesting take on what's going on with Roczen, via "MX Geoff" Meyer in Europe. He and a lot of other folks over there (and here, for the matter) probably thought Ken would have an easier time of it, based on the outcome of the last two MXoNs, for the most part.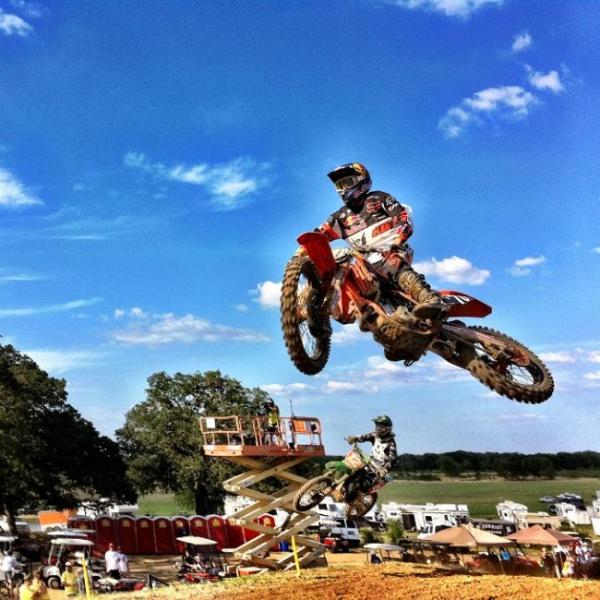 The German kid has mounting pressure on him from his followers on the other side of the Atlantic
DC photo
"I can see Roczen winning and winning soon, maybe this weekend in Colorado, or when the series heads East and the circuits remind him of his European days," wrote Geoff on MXLarge.com. "Once he gets that first victory under his belt, then I see him doing the same in 2012 as he did in 2011 and that is building on that win and taking home a number one plate.
"The last two MXoN performances by Roczen (run in USA and Europe) was no mirage, this kid is the fastest and most consistent MX2/Lites rider in the World."
You can see how the pressure on Roczen gets ratcheted up each race that he doesn't win, but I think he's being smart and safe. There's a long way to go and a lot to learn, though I agree with Geoff, maybe this weekend in Colorado.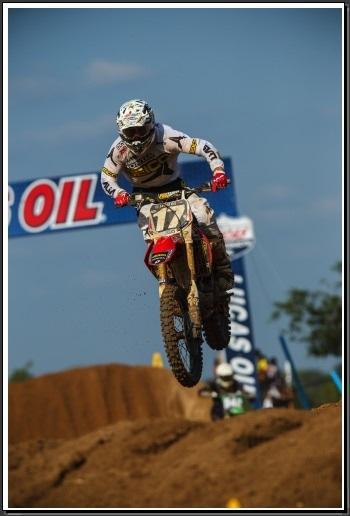 Eli Tomac will be the hometown favorite in the 250 class this weekend
Simon Cudby photo
Eli Tomac is coming home for this round. After sweeping both motos last week in Texas, he's back in the shadows of the Rocky Mountains. The GEICO Honda rider has been helping out with PR all this week, and he even got up before dawn today to do a piece with the local NBC affiliate's morning program.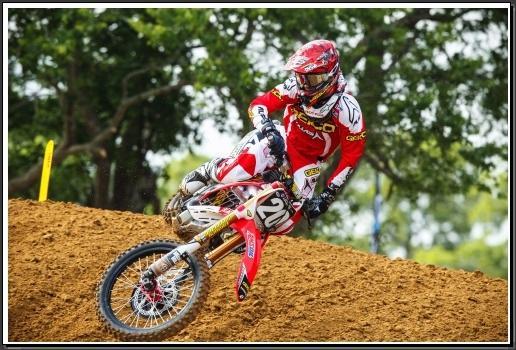 Is it Justin Barcia's turn to get a moto win?
Simon Cudby photo

And don't leave out Justin Barcia, Tomac's teammate. Like Tomac at Hangtown, he got caught up in a big first-turn crash at Freestone to start the second moto. He put on a furious charge to come up through the pack, and salvaged good points. Like the red-plate holder, Baggett, has proved, the ability to come through the pack is a must if you want to be a title contender in the 250 class.
Matty Fran was in Freestone shooting for Racer X Films, and he pulled together an excellent compilation video of the whole event. He got some added help from Vincent Blair, one of the very fast Blair brothers from NorCal. Vincent actually composed the soundtrack specifically for this video from scratch! Check it out.
Last weekend a new GNCC debuted in West Virginia -- the birthplace of the Can-Am Grand National Cross Country Series, going back to the 1975 Blackwater 100 in Davis, WV -- and it was called the Mountaineer GNCC. Brandon Bolling of Vurbmoto.com was there to witness the action and he pulled together this very cool video featuring the music of Florence & the Machine.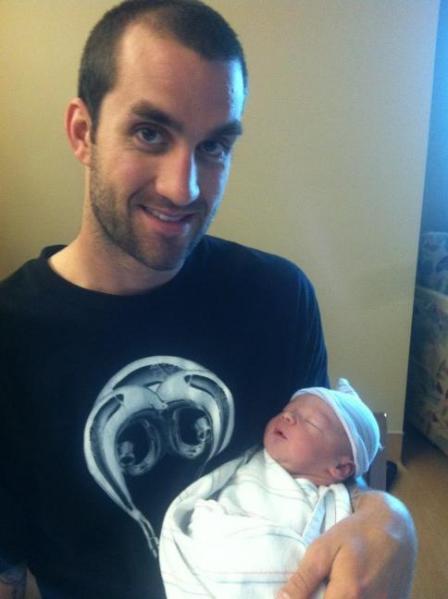 Congratulations to Davi Millsaps and his wife Brittney on the birth of their first child, Dane Duke Millsaps

The GPs pick back up in France at St. Jean D'Angely, the site of Team USA wins at the 2000 and 2011 Motocross of Nations (though when the race is actually in France, maybe we should revert to Motocross des Nations...) The teams and athletes must be glad to be back from the debacle that was Mexico, and the mud-fest that was Brazil a fortnight ago. In both cases, the elements were unfortunate breaks for good people. Sebastien Tortelli put his heart and soul into making the race in Mexico work, only to be sabotaged by elements beyond his control. And from what my friend Adam Wheeler says about the facility in Brazil, it was extraordinary, with a lot of heart and soul as well, only to be hit by a monsoon—the polar opposite of the dry conditions in Mexico. We may get to see Beta Carrero soon enough, as it sounds like it's going to be the site of an MXoN very soon.
Back to France. Here's some photos of the St. Jean D'Angely course, courtesy of Lebig USA. KTM riders Tony Cairoli and Jeffrey Herlings currently lead their respective classes, and Herlings looked very good here last September in the MXoN—on a big bike to boot! They will be challenged by Kawasakis, specifically Christophe Pourcel in MX1 and Tommy Searle in MX2.
And speaking of Pourcel, Racer X Online began running his new blog, and I have never heard or read the enigmatic Pourcel open up so much about his life and his future plans. He talks about living both in Marseilles, in the south of France, as well as Florida, near Ryan Villopoto and Grant Langston. He also leaves the door open for a possible return to the U.S. circuit next year: "At this current time I feel ready to return to ride and work in the U.S. but then also ready to stay and do another year of MX1; it depends on where the best situation lies," Pourcel wrote.
You can read #377's full blog right here.
You can watch Pourcel battle with Cairoli and the rest of the MX1 pack, plus another Herlings/Searle tilt, on www.mx-life.tv on Sunday, beginning at 6:00 a.m. on the East Coast (they start at noon on the western coast of France). There is a fee, or you can buy a rest-of-the-season pass for a lower rate-per-race.
There's another Frenchman here trying to get himself a national win, and if he succeeds, Marvin Musquin will join Pourcel, Sebastien Tortelli, David Vuillemin, Stephane Roncada, Mickael Pichon and of course Jean-Michel Bayle on the list of French riders who have won here. (And Vuillemin will be in Colorado this weekend, I helped him sort a pass from the hospital.) The Red Bull KTM-backed Musquin is still working his way back from a hand injury and was fast, but not fit, in Texas. He could be very good in Colorado, though he did terrible here at the '10 MXoN due to bike problems in both motos.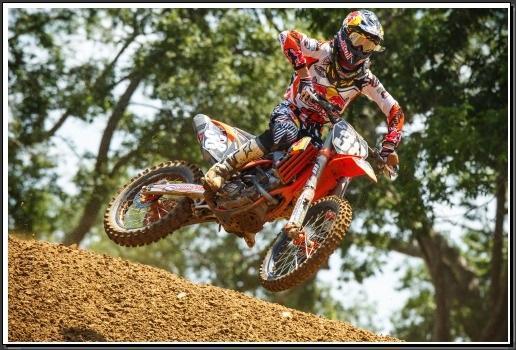 Marvin Musquin is hoping to turn his outdoor tour around at Thunder Valley
Simon Cudby photo
Musquin was out at Glen Helen earlier this week for some practice, along with Jake Weimer, WMX star Tarah Gieger, the new holeshot-hero Jessy Nelson, the veteran Billy Laninovich and his TLD Honda teammate Christian Craig, Star/Valli Racing's Gareth Swanepoel and more. Simon Cudby was there too, and he made this cool film for your viewing pleasure:
Having a knee injury sucks, but it's really not a bad one—just an old one that decided to rear its ugly head again. The best part is that my very good friend is an orthopedic surgeon and he was able to help me out. The worst part is that I am missing the Unadilla Rewind race that's going on all weekend. This brand new event features vintage racing and vet classes on the classic Unadilla track, and it's bringing out all kinds of past heroes of 'Dilla, including Barry Higgins, Gunnar Lindstrom, Gary Jones, Donnie "Holeshot" Hansen, Guy Cooper and even Ronnie "Dogger" Lechien! I have a feeling the Rewind race will be the next big summer date on the vet moto calendar.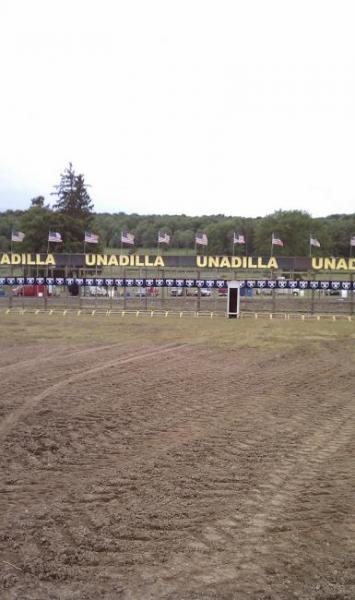 The Unadilla Rewind race this weekend will see 'Dilla go old-school and retro!
Nick McCabe photo
Okay, here's Ping...
I'm headed to Denver this weekend for The Thunder Valley National and there are some questions I'm hoping to get some answers on. The top three or four spots in the opening rounds haven't been a big surprise but there are some riders who haven't had the start they would have liked. For instance, what in the world is going on with Justin Brayton? After being on the podium several times indoors, he is struggling to make points outside. He has pressure to perform since he is on a factory bike and has a one-year deal with Honda.
Jimmy Albertson is another guy who is not off to the start he wanted. Jimmy is a bullet outdoors but he needs to get a start and stay off the ground for that to show. I also thought Kyle Regal would be more of a player, especially last weekend in Texas. He excels when it gets hot and rough so maybe he hasn't hit his stride yet. And what happened to Georgia Lindsay? Is she the latest to be ravaged by injury? (Editor's Note: It's a work visa thing, and she should be on the job come High Point.)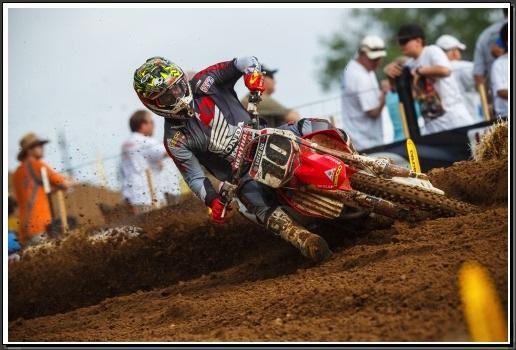 What's going on with Justin Brayton?
Simon Cudby photo
On the other side of things, did anyone expect Nico Izzi to be this good? It's great to see him turn things around and really establish himself as a top guy again. If he keeps this up, his future looks good. He almost made the podium in the first moto at Freestone, but then crashed hard the second time out on the Star/Valli Racing Yamaha.
And what about Jessy Nelson? He ran just outside the top ten at Hangtown, where he also had some crashes. Last weekend he pulled both holeshots, led for four laps and then finished inside the top ten in both motos for seventh overall. And he might have even set a record for the best result with one thumb. Keep an eye on this kid, he's #136.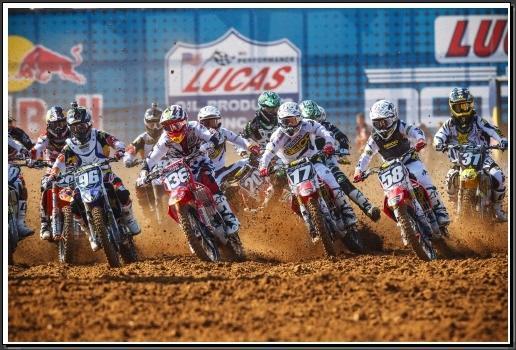 Troy Lee Designs Honda rookie Jessy Nelson has been the biggest surprise so far this summer
Simon Cudby photo
I'll be hanging out at the Braaap Bar setup on vendor row if you want to come and say hello or try one of the new formulas. This is the home race for the Fort Collins-based  nutrition bar company. There are some very big things happening for them right now so stayed tuned for that news soon.
I'm also going to do a couple mountain bike rides while I'm in town so if any of you locals have a suggestion, let's hear it. Email me at ping@racerxonline.com or find me on Twitter, @davidpingree. If you are in town this weekend you can also join us at Sun Enterprises tonight. There is a huge autograph signing going on and we will be there with the Racer X film crew.
And now over to Steve Matthes...
Round three is tomorrow and it's not possible for the nationals to get any more exciting, is it? We've got a great 250 series shaping up, with no clear favorite yet, and the 450 class, well, that thing is just bonkers. Stewart and Dungey have played the chess match game for three straight motos. It's going to be another test for Stewart this weekend on another track that Dungey rides very well. Actually, are there any tracks that Dungey doesn't ride well? Maybe Hangtown, and perhaps Budds Creek, but really, he's just a machine.
It's weird that for as close as the two riders have been, Stewart already holds a fourteen-point lead in the title chase. And with just three points being the difference between placing first and second, that's five straight moto wins that Dungey would need to get into the lead. That's a lot!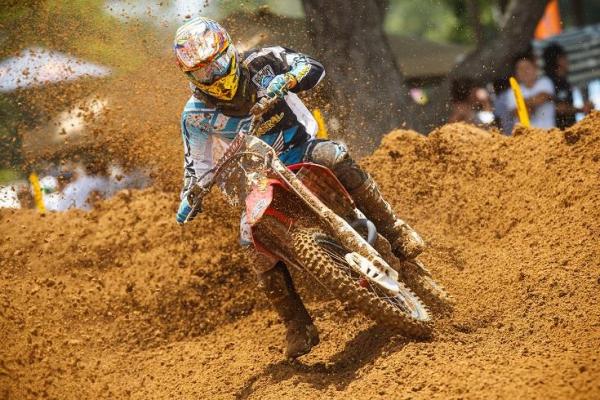 Andrew Short will also be back on familiar ground (and dirt) this weekend in Colorado
Simon Cudby photo
As always, Andrew Short will be good at Thunder Valley. It's his home track and he's always done well. And what about Josh Grant, who straight up beat Dungey there a couple of years ago? With Grant's slow but steady improvement this season, maybe he'll accelerate that improvement at Lakewood. I'd also look for Brett Metcalfe to rebound from a track that he typically doesn't do well at (Freestone) and be much better this weekend. And also look for Jake Weimer, who rode great in the first moto to get a third last weekend, and actually won a 250 National here a couple years ago. He'll be making his first visit to the track on a 450. And of course MotoConcepts' Mike Alessi has podiumed two races in a row and will be strong this weekend as well. Maybe this is the weekend that Jason Thomas busts out and grabs a win?  Yeah, I know.
In the 250s, well, both Tomac and Baggett have check marks next to their names in the, "amazing race" category, so maybe it's time for Kenny Roczen to make a big splash. And what about Justin Barcia? We've yet to see his, "Wow!" ride after two races, but you know he's got it in him.
Here's another look at points leader Blake Baggett at The Freestone National, where he had to come from behind to bring down 2-2 moto finishes—often using the "high" road over his competitors' heads!
I had an interesting talk with Grant Langston this past Monday evening on the Pulpmx Show about Les Smith riding the Dungey-replica KTM 450 outdoors. The team is experiencing some clutch problems with the bike and there are just not a lot of parts available for it yet. When I asked him what KTM team manager Roger DeCoster has told him in regards to helping him, GL indicated that they don't really have the answer either. It made me think about how great of a job the KTM factory guys have done with Ryan's bike. There's got to be some real teething problems going on during the week and so far, it's been great for the orange guys.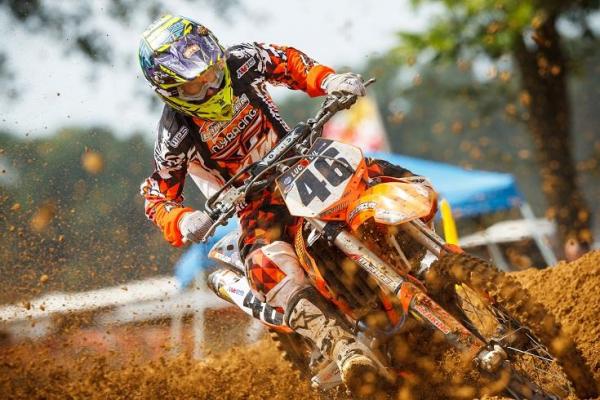 The Langston-Witt Motorsports KTM of Les Smith is having some clutch problems that have proven to be tough to solve
Simon Cudby photo
If you missed any of the first two rounds of Lucas Oil Motocross, all of the motos are up on the Alli Sports' archive for your viewing pleasure. Have a look here before tomorrow's Toyota Thunder Valley National.
If you're looking for something to do on Sunday after Lakewood, it's the opening round of the 2012 CMRC Canadian Nationals in British Columbia. Riders like Matt Goerke, Bobby Kiniry, Tyler Villopoto and Teddy Maier are all going to line up against the best that the Canadians have. My picks for the titles up there this year? Colton Facciotti and Teddy Maier in the 250s. You can follow Directmotocross.com for updates and @directmx on Twitter for live updates on Sunday.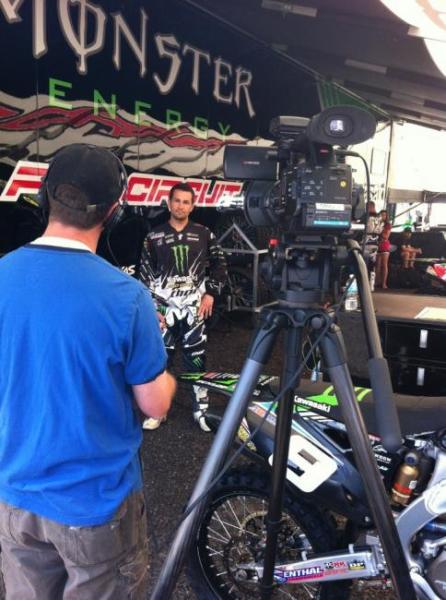 Ivan Tedesco did some TV work in the run-up to the Toyota Thunder Valley National
Courtney Zollinger photo
Thanks for checking out the PulpMx Show on Monday nights, we're doing great and really getting some awesome feedback from it. We even had a hobo on this week and he got a news story on TV because the show's director is a fan of the PulpMX Show. Kenny Watson and I host it and you should listen, you really don't know what is going to happen next. I say that truthfully because I'm one of the hosts and I don't even know, Watson has walked out before the end of the last two shows!
Okay, here are some words from Colorado via Jason Weigandt...
It's a beautiful day here in Lakewood, and more great weather is expected tomorrow. While the altitude usually grabs the attention at this event, hot weather used to be a big factor too, and that's why they used to run this race at night. The early days of this event presented a trifecta of heat, altitude and new four-strokes, which sent fuel boiling and bikes blubbering. I remember one year, I think '06, presented awesome racing just because of that, as it seemed like each rider in the 450 class could literally only charge for a few laps before their bike started acting up. It definitely made for some interesting racing.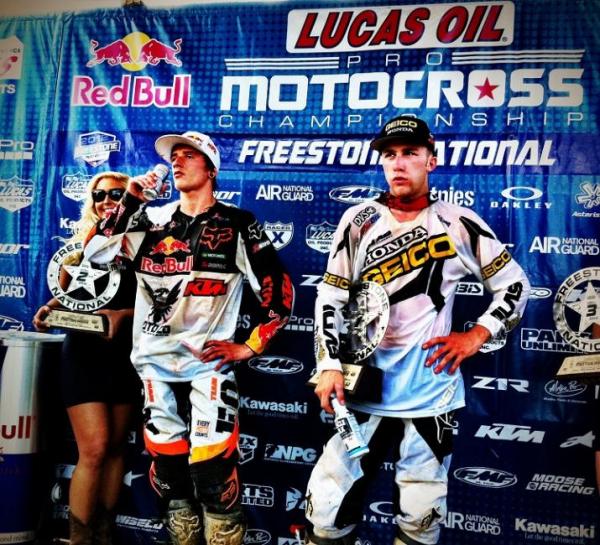 Will one of these two top the podium at Thunder Valley?
Simon Cudby photo
Teams have a much better handle on the fuel boiling deal now, and years of testing and tuning at this altitude have helped, too. One team, though, seems to hold a big upper hand at this event, and that's what has set the 250 class into a collision course for tomorrow.

Three different team/rider combinations have reason to think this race will be theirs. First, Pro Circuit has won every 250 class race ever held here, dating back to '05. They are 7-0, and while PC is pretty strong everywhere, seven straight wins indicates they've got something figured out here. Plus, last year's winner for them was Blake Baggett, so he knows how to go fast here.

But, Eli Tomac is a Colorado native and he's coming off a super impressive performance last weekend. Then you have Ken Roczen finally getting to race a U.S. motocross track he has seen before. Mix up Pro Circuit's win streak, Tomac's fitness at elevation and Roczen's familiarity with the track, and you've got one heck of a battle brewing!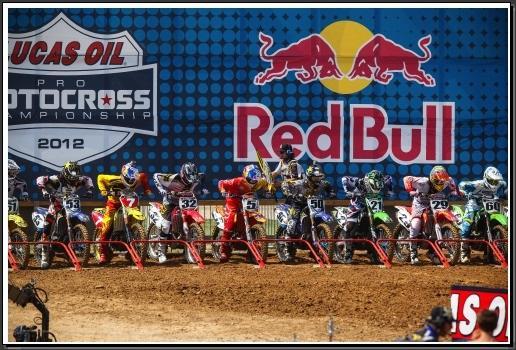 Simon Cudby photo
I saw Langston-Witt Motorsports'
Les Smith
on my flight today. Les broke through in his amateur days when he was semi-adopted by Jeannie Carmichael, and got to ride and train at the RC farm. This summer, he's back down there, and has spent the last few weeks riding and training with both Ricky and Jeannie barking at him, and
Ryan Dungey
riding there, too. With Ricky getting back on the bike quite a bit nowadays, there's lots of activity down at the farm, although Les admits it's a whole lot more work than it is fun!
It's going to be a big weekend for us on the TV front, with three straight hours of live coverage via FUEL TV (first two motos of the day, 450 and 250 moto 1s) and then switching right over to NBC Sports Network for the second 450 moto. The second 250 moto comes on a little later at night on NBC Sports Network. It all starts at 3:00 p.m. ET, should be fun to get that much live moto on the air. Enjoy it.
Okay, some miscellaneous notes to close out the day...
Fans of Ryan Morais will be happy to hear that the Star Valli Yamaha Rockstar rider underwent the final procedure this week in what has been a series of surgeries necessary to repair the damage his jaw sustained in his horrible crash at the L.A. Supercross that also involved Trey Canard. In addition to the damage to his jaw, Morais suffered several fractured vertebrae, a collapsed lung, a concussion and broken ribs in the wreck. As his wife Tweeted yesterday, along with the photo below, Morais has come a long way in the last four months!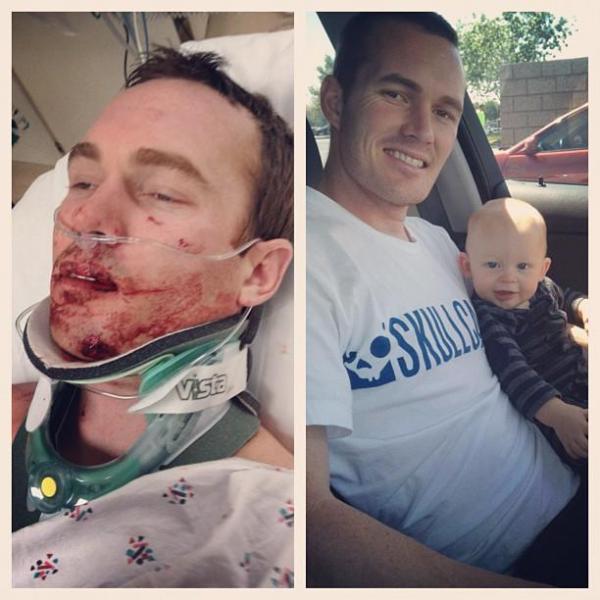 Morais, then and now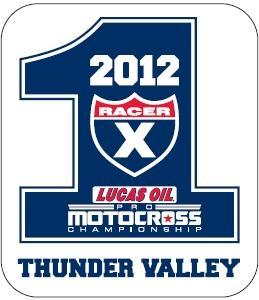 Don't forget to stop by the Racer X booth to pick up the collectible Thunder Valley 2012 sticker
Wish you could spend the whole day in the pro pits at Thunder Valley?  You can with the Racer X all-day pit pass! You will have access to the pits from 9-5, five hours longer than the regular pit pass, plus you'll get a one year subscription to Racer X, for $40.
Need more than one pit pass? No problem! We can send a multiple year subscription to one address, or you can give it as a gift to a friend.
Don't miss out - only 300 all-day passes will be sold. Visit the Racer X booth on vendor row.
If you already have a pit pass you can still subscribe to Racer X at Thunder Valley - we're giving away a Racer X/Motosport camping chair, $10 gift card to Motosport.com and 13 issues of Racer X for only $20! We're also selling various Racer X Brand items - tees, koozies, umbrellas etc if you're looking for some new RX threads.
And are you heading to High Point? Spend the day in the pro pits with the Racer X all-day pit pass, available now online, right here.
There are only 300 of these passes, and this is the only way for you to get into the pro pits past noon. Spend 5 more hours in the pits! For $40 you get 12 issues of Racer X plus an all-day pit pass, good from 9 a.m. - 5 p.m. You can get the subscription for yourself or send it as a gift when you fill out the subscription information on the order page. If you need to buy more than one pass you can get a multi-year subscription to the same address.
Apparently American riders are not the only ones who face issues with their personal riding / training grounds. Check out this story about Valentino Rossi and some of the issues he is facing from his neighbors in Tavulla, Italy.
There's a new name on the Vital MX forum doing some interesting stuff, summed up by the name: MotoWeatherman.
Our colleague over in Europe, Adam Wheeler, released edition 31 of OTOR earlier this week. The issue includes an in-depth piece with GP MX2 rider Tommy Searle as well as some news from Freestone. Click the image below to read the entire issue.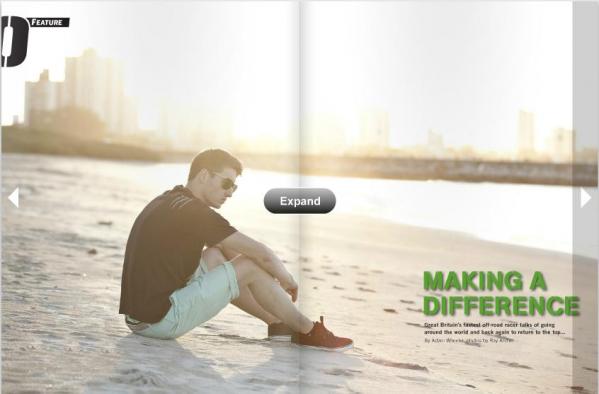 Earlier this week we received this personal message from Kim McGrath as she continues her battle with leukemia. It's a heart-wrenching letter that will make you want to do exactly what you should do: Go sign up with BeTheMatch.org and get yourself tested as a possible bone marrow donor.
That's it for Racerhead this week... Thanks for stopping by, see you at the races.