Thunder Valley Motocross Park
Lakewood

,

CO
Thunder Valley
Lucas Oil AMA Pro Motocross Championship
This week, This Week in Yamaha History covers one of the most famous races ever—the1982 250 National final-round showdown at Castle Rock, Colorado.
Colorado hosted the eighth and final round of the series, with Team Honda's Donnie Hansen looking to back up his AMA Supercross Championship with the motocross crown. But young Yamaha men Ricky Johnson and Broc Glover were right there with him, and RJ appeared to have the title on lock. Although he was riding a modified production Yamaha against Hansen's works Honda, Johnson, a second-year pro, was establishing himself as a force. He held the points lead heading into the race and needed to just cruise through the day to lock the crown.
Instead, he went after Hansen and tried to win the race, and ended up blowing up his front wheel and DNFing the first moto.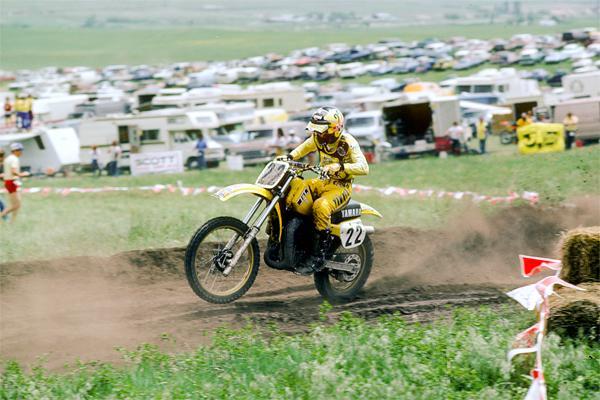 Rick Johnson went for the win, instead of the points, in Colorado, and it cost him.
Racer X Archives
Meanwhile, Glover and Hansen went at it for the moto win, and Hansen just edged him, which was enough to put him into the points lead. In moto two, Glover came back to win, giving him a 2-1 for the overall. Johnson did all he could to pressure Hansen into a mistake and get those points back, but, Hansen, a vet of the Motocross des Nations, didn't crack. He won the title with 300 points to Johnson's 297 and Glover's 294.
Hansen won the title, Glover won the race, and Johnson learned a lesson that would pay off later—to the tune of seven AMA National titles, including the 1984 250 National Championship on his Yamaha.
Last year, Steve Matthes asked Glover for his take on the race, and the Golden Boy explained it.
"I was really quick at (the final round) Castle Rock that day and I remember that in the first moto, really late, I made a pass on Hansen and I was leading. I went through a rut and as I was accelerating out, the rut grabbed the shifter and popped it into neutral. By the time I got my foot back down there and shifted my bike, Hansen got back by me."
Glover continues, "He won the moto by mere feet and cost me the win. The next moto I ended up winning and won the overall with a 2-1. The whole thing was with that pass in the first moto, Donnie got three points and I obviously lost the three points. If you look at the standings, if I had won the moto that would have given all three of us a tie with 297 points. I wouldn't have won it because I didn't have the most moto wins, but it still would have been great. It was one of those could-have, would-have things. I think if I hadn't hit neutral, Ricky would have won the title."