Freestone Raceway
Wortham

,

TX
Freestone Raceway
Lucas Oil AMA Pro Motocross Championship
It's playoff time for two big pro sports right now (note: I just found out something interesting: There's a sport called hockey. And there's a team in that sport from New Jersey!? Wow. Who knew?). If you're a sports fan, you know how agonizing the playoffs can be. Every game, every possession, can swing things in a new direction. You can read into every scenario and see how it trends toward impending doom, or shines light toward future success. So while the games end with a definitive winner, your feelings (and emotions) are never that secure.
For example, each series begins with two games for the home court (or "ice) team. Even if the home team wins both games, they will quickly point out that they have not "won anything" yet because they have merely protected the home court. But the road team also knows if they lose that third game at home, they're down 3-0 and facing elimination. There's a tipping point in there somewhere, and it's precarious. Each team is scratching for momentum, for confidence, for an edge. And so are the fans.
After the first two rounds of Lucas Oil Pro Motocross, we're in a similar spot. So far only three riders have even won motos, but several more riders can leave the first two races feeling like they're in position to win a title. Every scenario, as always, can have multiple interpretations, and only after the final event will we know who really held the advantage.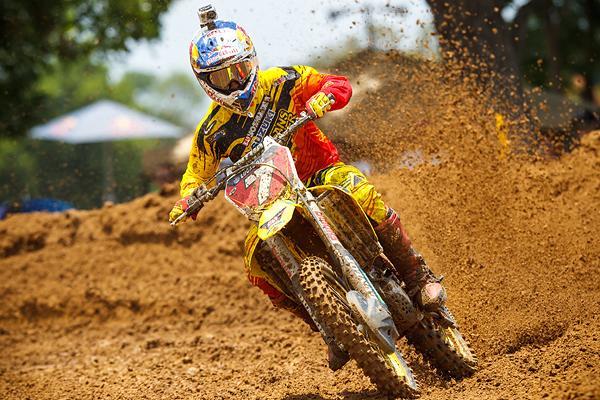 After a perfect 4-0 start to the season, Stewart holds a 14-point lead over Ryan Dungey in the championship.
Simon Cudby photo
First, the 450 class. Any pre-season speculation is over, and we now know for sure that James Stewart and Ryan Dungey are on their game. Their new bikes are capable, and they are healthy and fit. They are also much faster than anyone else (you may doubt my "The Big 2" column from two weeks ago, but note that Dungey and Stewart's average lap times in both Freestone motos were quicker than any other 450 riders fastest time on any one lap). There simply isn't anyone in the field who is going to take 'em both down straight up. Now, onto the next stage, trying to figure out which one of these two will win the title (and, please, humor me and just pretend neither rider gets hurt. This supercross season showed us that anything can happen, but I want to save the "Could the universe be setting up Mike Alessi for the greatest twist of fate ever?" column for a few more weeks).
For Stewart, obviously all is well. You've got two wins, so this is a win-win where you have actually won, in comparison to his time JGR, which was described as "a win-win even though we didn't win." And Stewart is still adjusting to his new bike, so he'll only get better. He also points out that
Hangtown
and
Freestone
are not his best tracks, whereas Dungey rides on rails at
Freestone
. And yet, Stewart won 'em both.
But those are just stats. Winning races hasn't been a problem for James the last few years, but consistency has been an issue. As such, the way he won at Hangtown and Freestone made a bigger statement. He has hardly put a wheel wrong through four motos. I caught a quick front-end tuck at Hangtown, a mild (for Stew) swap in the whoops at Freestone and one little error on the last lap of the first moto when things were already in check. Nothing even close to a crash. He has looked calm and in control the whole way. Win or crash? How about just winning?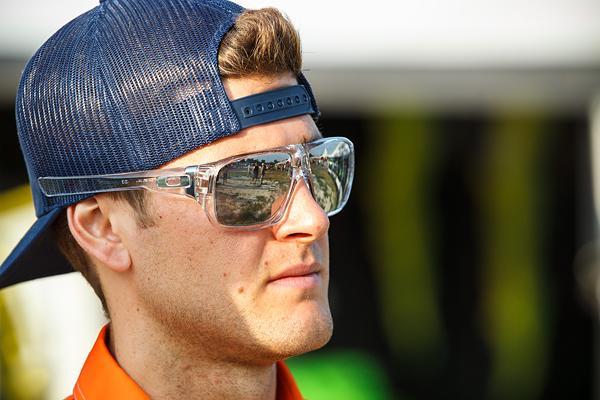 Dungey gave Stewart fits at Freestone but was unable to make a pass stick.
Simon Cudby photo
When Ricky Carmichael had to go up against Stewart's ridiculous speed, he developed a strategy of putting pressure on instead of trying to get away. Sprinting away from James isn't possible, so RC never tried. He just hung on, tried to stay close, and hoped all of that pressure would force James into a mistake. Sometimes it worked, sometimes it didn't. But that was his best strategy.
Ryan Dungey is now doing the same thing, trying to make Stewart crash or bobble under pressure. But Stewart is proving impervious. He rides as if Dungey wasn't there, even when he is. Like, right there. For Stewart, no one doubted his speed coming into the season. The potential issues included adjusting to the new machine, getting his fitness and general moto mojo back after so much time away from motocross, and dealing with the pressure from the uber-trained Dungey. He has passed every one of those tests with flying colors. Things look good because his traditional strength, speed, is still there, and his weaknesses, inconsistency, is not. What's not to like?
This should all point to Stewart domination, but then again, Dungey has proven something very critical, as well. We all knew Dunge would be strong and consistent, but now he has shown he is fast enough to race with James. Dungey has developed into one of the most solid, consistent racers ever, so if you couple that with the speed to run with the leader, well, what's not to like?
So, the fast guy has proven consistent, and the consistent guy has proven fast. Both riders seem to have realistic paths toward the title.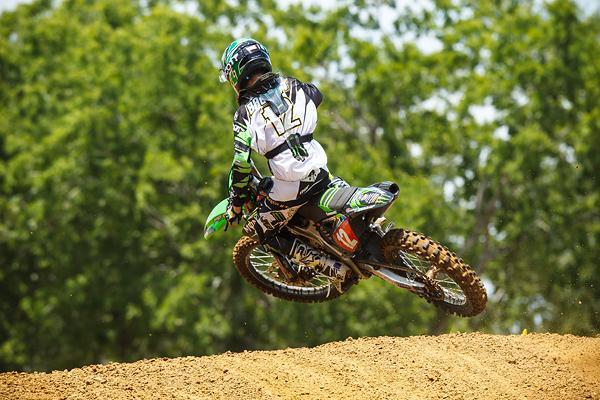 Blake Baggett is a clear-cut title contender in the 250 class...
Simon Cudby
Similar scenarios are breaking out in the 250 class. Line up Blake Baggett, Justin Barcia and Ken Roczen, and you're supposed to see wild speed and wild riding. But all three are proving consistent, first.
I personally don't understand why people set such unreachable expectations for Roczen. Folks fire up the "what's wrong with Roczen" stuff if he doesn't win every race he enters. Listen, he's only 18, and he's doing fine. In supercross, Barcia was a relative veteran compared to him. Roczen got beat, but he did okay. Hey, he was way, way, way better in supercross than Blake Baggett, for example, and Baggett had raced and won more supercross races coming into this season than Roczen.
Here outdoors, Kenny is riding smart and learning the ropes. Has he gone 1-1 and shown everyone he's the new sheriff? No, but you can clearly see him taking what he can get. When Baggett rolled up on him in moto one at Freestone, he just maintained his pace and let Blake go. Even though he hasn't won, the first two rounds have been a victory. He was expected to struggle in the American heat and humidity, but he left the Texas race feeling fine—the weather wasn't too bad, and he didn't overexert himself. Now he's set up for a strong summer instead of struggling to recover. Plus, he's still learning the tracks, the schedule, the travel and everything else in the U.S. Give him a few more weeks of learning, and he could start winning the way so many people expect him too. And then he could take the title.
For Baggett, we all know he has speed to burn…on the right day. Last year he couldn't handle the "win your championships on your bad days" part. Only at Washougal, where he was merely okay, but not spectacular, did he win last year. At Freestone, he turned bad into good. He had bad starts, rode great but not unbelievable, took second instead of trying to break land-speed records with wins, and scored 25 more points than he did at this race last year. With his 2011 speed intact and newfound consistency, you could easily see Blake winning the title.
Compared to his supercross success, Barcia has been an outdoor disaster on 250s the last two seasons. He has still only won one overall outdoors. The strange thing about Barcia is, the Bam Bam scrubbing and revving rep makes him seem like a win or crash kind of guy, but in reality he has had more days where he just wasn't a factor than he has had days where he was way faster than everyone and crashed it away. This year, we're clearly seeing an improved version. Barcia has become the best starter in the 250 class, but he was stripped of that weapon in Texas. He was 19th on the first lap in moto one, and 18th on lap one of moto two. Would he be fast enough? Would he ride so hard that he would crash again?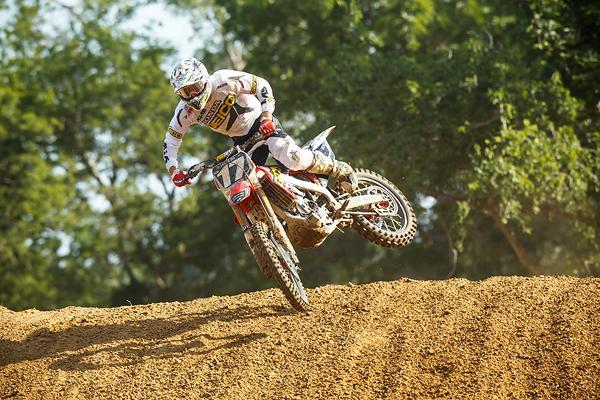 As is GEICO Honda's Eli Tomac.
Simon Cudby photo
Nope. Two very impressive charges netted 4-5 scores and keep Barcia right in it. He was a factor on a bad day, and he will get wins at some point, too. Like Roczen, he's keeping himself close in points until that day comes.
Finally, we have the return of Eli Tomac. After ET blitzed the moto field so early in his career, and then ripped up supercross almost immediately, you just knew he had the goods to win some more. The fact that it had not happened was one of the biggest mysteries going. Now that mystery is over. Tomac was every bit as impressive in Texas as Baggett was at Hangtown, it just didn't seem as spectacular because he didn't (have to) make last-lap passes to win. But the dude was on it. ON IT. All along, everyone has known Tomac has the tools to win this 250 Motocross Championship, he just needed to get it all straight and start using them. It looks like he's starting to do that—and that makes him a definite threat to win this title, just like a bunch of other guys.
Yes, three winners, but more riders than that have won.