Freestone Raceway
Wortham

,

TX
Freestone Raceway
Lucas Oil AMA Pro Motocross Championship
Interviews via Steve Matthes, Jason Weigandt and the post-race press conference
Ryan Dungey, Red Bull KTM, 2-2 for second overall in 450 Class
Both motos, we got off to good starts, and both motos were about the same. Sitting behind James [Stewart], I was trying to make a pass happen maybe more than I should have, but I was trying to make it happen both times. It just didn't happen, it didn't come together from that perspective. But I feel like we made good progress after Hangtown and made more progress today with suspension. I like it, things are feeling really good, but we just came up a little shy in both motos. Everybody knows he's a tough competitor, and that's good for the sport to have good racing like that. But it's never good to be sitting behind a guy for that long, it makes it tougher, physically, I think, and you're eating roost the whole time. But I think it's good for us to push each other, I just need to make the passes quicker.
James is making passes on you early in the races, and in the first moto he did it on the first lap when the track was watered. How tough is it to make moves like that when the track is just groomed, water is down, and things like that?
Yeah it was watered pretty good, it was a little greasy, so you don't want to over ride it. And they flattened some areas out, you thought it would be dry underneath but instead, it was mushy, there were just big piles. As the moto went on, the track got better. The track formed up good, it was a rough one. But the corners didn't rut up like they usually do. That was kind of weird. But I think they did a great job with track maintennce, and the track was fun.
Which sections were you quicker than him, and which sections did he have an edge on you?
It was kind of cat and mouse chasing each other the whole time. I think he was a little bit better around by the start, that sweeper, and I thought maybe I was better in the back, around that sweeper. But being right behind a guy, it's tough. When he would pull away a bit it was actually easier because I could ride my own lines. Around the whole track we were pretty much even in a lot of spots.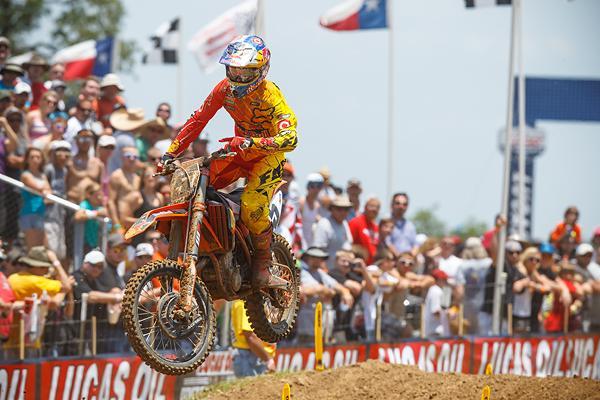 "I think it's good for us to push each other, I just need to make the passes quicker." - Ryan Dungey
Simon Cudby photo
Mike Alessi, MotoConcepts, 5-3 for third overall in 450 Class
Unfortunately my mechanic was just a little late getting down to the line in the first moto, so I lost my gate pick. I had to line up on the very, very outside. I salvaged it and came out around tenth, worked up to fifth. By the time I got to fifth, past Josh Grant, the leaders were too far gone, so I just tried to save some energy because I knew the second moto would be hotter and definitely rougher.
Second moto I got a better start, me and Dungey got together in the second turn. I don't know who got the holeshot. I tried to stay with those guys for a couple of laps, but they were riding really, really good. So I salvaged a third and got another podium. It feels good to get two podiums in a row because at this time last year, I wasn't even racing after getting knocked out at Hangtown.
Blake Baggett, Monster Energy Pro Circuit Kawasaki, 2-2 for second overall in 250 Class
A 1-1 would have been awesome, but to get 2-2 when my starts weren't that good, I'm pretty pumped. I'm leaving here with the red plate, and last year that was a challenge I wasn't able to overcome. I came here with the red plate and I lost it, and I never saw it again. I just want to hold onto that thing for another 10 rounds.
What possessed you to do that jump [into the 12-pack]?
I don't know! I don't know if I saw anyone jump it in practice. It seemed feasible to do it all day, but then we looked at it during the site lap. [Ivan] Tedesco and I were talking about it in the trailer, and he said he's on the older side and didn't need to jump that. I told him he should just follow me and jump it! But It was super rutted and the face was all kickered out, so I didn't even plan on jumping it at all during the first moto, but on the second lap, I just sent it, and, I don't know, I just kept doing it. Second moto, I don't think it would have been pretty.
Ken Roczen, Red Bull KTM, 3-4 for third overall in 250 Class
Racer X: First race at Texas and a pretty good day for you overall.
Ken Roczen: Yeah, I didn't know what to expect with the heat and everything. I heard people say that this wasn't even the hottest. For me, it was definitely hot. This is the first time for me in these conditions since Loretta Lynns in 2008, so it's definitely another experience. The first moto was good. I got a good start. I just rode my own pace. Eli [Tomac] and Blake [Baggett] put on a good pace and I just kind of sat there and finished in third place. Then in the second moto, I recovered real good and had a bad start, kind of, and even went down trying to pass [Jason] Anderson. But I came up there good and took me a while to get going again after the crash. I was kind of out of rhythm. But another time on the podium, which is great.  We're right there. Me and the team, we have some work to do.
As far as the bike?
Yeah, me and the bike. I'm staying at Shorty's house, so I'll just try and get used to the heat and all that. It's less traveling than when I stay in California, so I hope it will be good. Then we're going to Thunder Valley now. I have some good memories from 2010. I know the soil, kind of. I know what to expect, so it helps me a lot.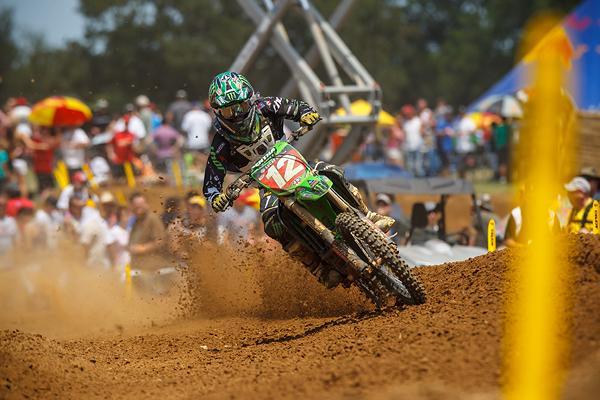 "I'm leaving here with the red plate, and last year that was a challenge I wasn't able to overcome." - Blake Baggett
Simon Cudby photo
Ashley Fiolek, Honda, 2-1 for first overall in WMX Class
We heard you had food poisioning? How are you now?
I'm good, I'm feeling better than I did last night. I'm just trying to drink a lot of water. It was a good day for me to get the win.
People were joking that maybe you should get food poisoining every week if you get the overall win!
Yeah!
What's going to take to get this red plate back?
JP [Jessica Patterson] rode really well, I always have fun battling with her. And Meghan Rutledge rode well, too. I'm going to try my best and have some fun at Colorado, I always like that track.
Jessica Patterson, Rockstar Suzuki, 1-2 for second overall in WMX Class
Overall it was okay, I'm just pumped that I left here without anything crazy happening. Texas hasn't been great to me. The first moto I felt awesome and rode good lines, I pretty much got away in that one. Second moto, I got the lead but made a little mistake, I just put the front end down and slid out. I knew I at least had to come through, on the last lap I knew I would have to make a pass somewhere (on Rutledge, for second) because I wanted as many points as possible, so I just went for it. They told me that last lap was my fastest lap, so then they were like, "See, you should have went faster the whole race and maybe you would do better!" [Laughs]
I think it's good that Meghan is up there and mixing it up. It was a little tricky here today, I figured out where I could make the pass and I went for it.
Meghan Rutledge, Kawasaki, 3-3 for third overall in WMX Class
I was stoked with my moto win last week and to get on the podium this week, I can't ask for more. At the end of last year I was just watching those girls battling on TV! So to come out here and be racing with them is awesome! It's definitely different coming over here and trying to figure out the layout of the tracks and things like that.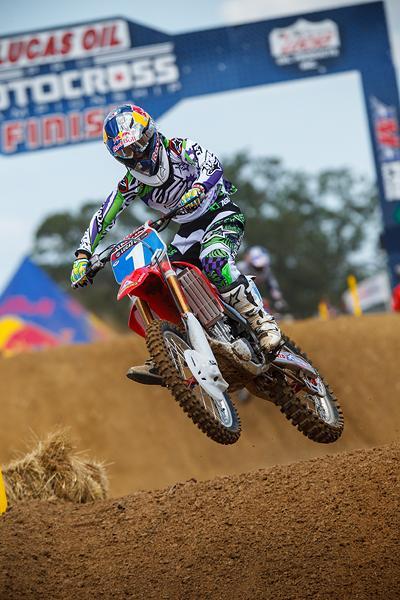 "I'm going to try my best and have some fun at Colorado, I always like that track." - Ashley Fiolek
Simon Cudby photo
Justin Brayton, Team Honda Muscle Milk, 14-14 for thirteenth overall in 450 Class
Racer X: Frustrating start to the outdoors. I was looking at your lap times, though, and in the second moto you put in some of your best near the end, so that's something to hang your hat on.
Justin Brayton: Yeah, for sure. I was looking forward to this weekend. But just had a bad start in the first moto. The track was really greasy the first lap. I went off the track and was buried and ended up coming up to fourteenth. Then second moto, I had a decent start, at least something to work with, right around tenth. I came over a little rise and the guy in front of me had knocked out a hay bale and I landed on the hay bale and flipped over the bars. So, second moto, I was 38th or 40th and that was it. I did what I could to come through the pack.
Frustrating start for you. What's the reason? What's going on? What're you working on?
It's a really frustrating start. Laying on the ground in the second moto, I'm like "really?" It just blows my mind. Part of it's me. That wouldn't happen if I started top five or got the holeshot, so I've got to work on my starts and keep positive, that's the main thing.  You can really get down on yourself after having a start like I had. But I have a feeling in a couple rounds, no one will remember the first couple. So I just need to get up there and get the starts. I know I can run the speed, I just need to start up there. Pretty easy, really.
Fitness seems to be okay, that doesn't seem to be a problem. Is it bike setup maybe a little bit?
We're definitely still working on the setup. I was so focused on the supercross season at the end and I couldn't test when I was supposed to because of my leg during supercross. They've got Reed's settings from last year, Short's been on the bike a long time. They've got awesome settings, so I don't think that's the issue at all. I think I got a text from you this week saying it looked like I was riding a supercross track with the braking bumps and that's totally true. At Hangtown, I just wasn't comfortable coming into the turns wide open and letting the bike dance. I'm so used to supercross, I guess, where I tried jumping 'em.
Bobby Kiniry: Rockstar Valli/Star Yamaha, 17-11 for twelfth overall in 450 Class
Racer X: What did you think of your day? Just outside the top ten in the second moto.
Bobby Kiniry: Yeah, it was a little frustrating in the first moto. I went down in the first turn, but picked myself up, got my Rockstar Yamaha back up to seventeenth. At least salvaged some points. Then second moto, got a better start, I was about tenth or twelfth and went backwards, actually. Chose some bad lines, changed those up about halfway and I pushed my way back up to tenth. [Brett] Metcalfe, unfortunately, did get me at the two card because nobody passed me at the end and my lap times stayed the same the whole moto. I put everything I had into passing him back, I almost got him back, but he ultimately beat me and pushed me out of that top ten where I wanted to be. I'm eleventh in points right now, which is exciting. But I do have to go back to Canada next week, so I'm sure I'll lose a few spots there, but I'll be back and RedBud and have a strong showing there and be well within that top ten.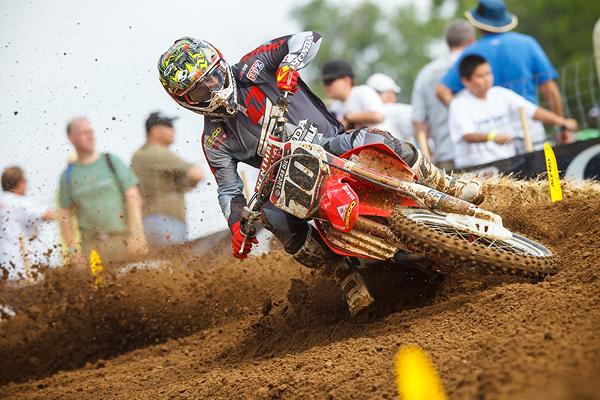 "It's a really frustrating start. Laying on the ground in the second moto, I'm like "really?" It just blows my mind." - Justin Brayton
Simon Cudby photo
Jake Weimer, Monster Energy Kawasaki, 3-6 for fourth overall in 450 Class
Racer X: Great first moto, but maybe even a better second moto, as you came from 34th or maybe 28th to sixth.
Jake Weimer: The first moto was good. I started toward the front, only had to pass a couple guys. Finished up third, so first career 450 moto podium. That was good. Then felt good coming into the second moto. I had a pretty good start. Just tight first turn. I tagged somebody and just couldn't hold myself up and fell. Then it was pick it up and go from there. So, I mean, had you asked me in the first turn 'Would you be happy if you could get up to sixth?' I probably would have said yeah. I mean, overall I'm happy because I'm moving in the right direction. So that's a positive. I mean, obviously it's a bummer to sit here and think what if. Nevertheless, I'm happy that I'm making progress and riding well and healthy. So you take it and move on.
It wasn't as hot as it's been in the past, but it's still pretty damn hot and still kind of rough. So your fitness really showed there late in the moto when you caught a couple guys that maybe you couldn't have had you not been in better shape.
Yeah, like you said, it wasn't as hot here as maybe it has been in the past couple of years, but it was still hot and tough. The track gets rough here, so still a tough race. For sure, the fitness paid off. I made a few passes that maybe I wouldn't have.
Andrew Short, Chaparral Honda, 10-5 for sixth overall in 450 Class
Racer X: Probably didn't go the way you wanted it to. Good ride in the second moto, though.
Andrew Short: Not my best Freestone and my first moto was pretty good. I just had a really poor start and the result didn't reflect it. I went 10-5, so fifth in the second moto and I felt like I was decent, but not excellent. So not my starts that I'm typically accustomed to getting.
Yeah, what happened?
First moto, I wheelied really bad, initially. I just dumped it. I had to dump into the clutch too much and I got worked by James [Stewart] and maybe [Ryan] Sipes was on the inside of me. Second moto, I just missed my shift a little bit. I was a little late. But I still came out really good.
Do you think a little bit of your first moto charge to tenth maybe caught the effect of it a little bit in the second moto with Josh Grant?
I felt like I recovered really well. This is the coolest I've ever been in Texas, in terms of the heat. I think that played to my favor. I just got hot in the second moto. I wasn't winded or tired, I was just melting. I know what my body feels like and what happens when I do that. So I tried to manage it the best I could.
Just back it down and take the fifth place.
Yeah, try to be smooth and keep the intensity down. It seems like when you start forcing it and your brain goes, pretty soon your feet are hanging off and you're making big mistakes. So try and stay smooth.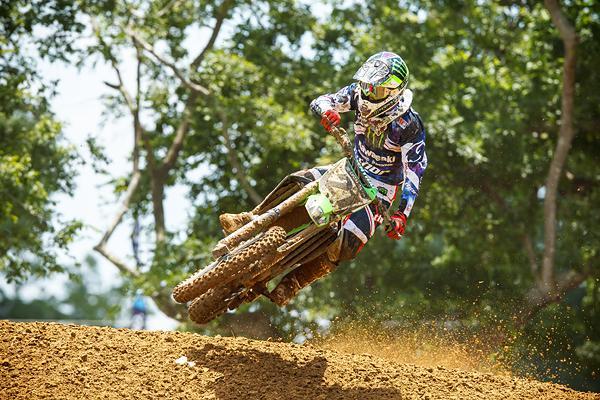 "I mean, had you asked me in the first turn 'Would you be happy if you could get up to sixth?' I probably would have said yeah." - Jake Weimer
Simon Cudby photo
Derek Anderson, Kawasaki, 22-9 for seventeenth overall in 450 Class
The first moto was a little difficult, I pulled all of my tearoffs on the first lap. Second moto, I changed some things, and sat in the pool for a little while to cool down. I got a good rest, and then just went in, put my head down and charged.
Are you happy with your performances so far? I think at Hangtown a lot of people were like, "Who is this guy?"
Considering I did not race all last year, and I only raced one local race before Hangtown, I'm happy. I'd like to improve my qualifying and get in a better fast practice time, but right now I can't complain with my results.
First time here?
It's actually my second time here, I raced the whole series in 2010, and this was the only one I didn't qualify for. So to come back two years later, qualify and then finish ninth in pretty good.