Hangtown Motocross Classic
Rancho Cordova

,

CA
Hangtown Motocross Classic
Lucas Oil AMA Pro Motocross Championship
Interviews via Steve Matthes, Jason Weigandt, Aaron Hansel and the post-race press conference
Justin Barcia, GEICO Honda, 2nd in 250 Class (3-2)
I was pretty happy with today, actually. This is my best first race, and it's my last year on Lites, and I've had a tough time the last two years outdoors. I felt pretty strong today, and I'm pretty pumped because I feel like I have more to give. I think I've grown up as a rider a little bit, and working with Jeff Stanton has been huge on that part, I think physically and mentally I'm way stronger than I have been. I was pumped on the bike today, I had two huge holeshots. I had some good competition all day, and I had to really charge hard. I think I showed my team I have what it takes to charge hard to the end. The last two years I maybe let them down a little.
Ken Roczen, Red Bull KTM, 3rd in 250 Class (2-3)
I thought it was awesome, it was great to just have the feeling. It was my first National, I didn't know the system, I didn't know anything, and I thought it was pretty decent for my first race. The first moto, I got passed on the last lap a few corners before the finish, so I'm not happy about that, but I just have to learn, moto by moto. I got two good starts, second moto I had a little tip over that I am not happy with. But for my first National, I was on the podium and I am happy with that.
Describe the differences between racing the GPs in Europe and racing over here. Did you feel like you got acclimated to the differences over here?
Yeah, you know everyone knows in Europe they go slow at the beginning and go really fast at the end. But also, you have to see that the GPs are five minutes longer, and that's a big difference, too. But I think on this track, definitely with how rough it was, that 30 plus two laps was enough.
What did you think when Baggett came almost out of nowhere in the first moto?
I saw him at the beginning, then I saw him pushing and getting closer and closer. I didn't rush or anything, I was just trying to ride my own race and not make mistakes. I think I was kind of sandbagging on the second-to-last lap, I went a little bit too slow. The last lap, he came really close, and I chose to go to the inside, and I hadn't taken that line the whole race, and it was definitely slower because it was rougher.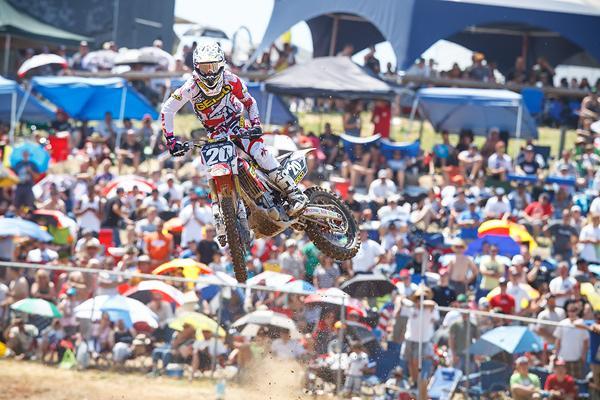 "I think I've grown up as a rider a little bit, and working with Jeff Stanton has been huge on that part." - Justin Barcia
Simon Cudby photo
Jessica Patterson, Rockstar Suzuki, 1st in WMX Class (2-2)
In the first moto I passed for the lead pretty early and got passed back and just really wasn't feeling it that moto. I was going through a few things that I really wanted to change. For the second moto I talked with the guys and switched it up a little bit, and the second moto felt way better. I got a second place start and passed into the lead and started to check out a little bit. I was feeling really good, then all of a sudden I just made a stupid little mistake. The track was really tricky, and the ruts were just weird. But it was good, I crashed, got back up, got to second, and got the overall, so I really can't complain. It wasn't exactly what I would really want, but I'm leaving here with the points lead and the red plate. I'm just looking forward to next weekend and turning it around and maybe getting that 1-1.
Ashley Fiolek, American Honda, 2nd in WMX Class (1-5)
Today was pretty good, the first moto went pretty well for me, I got the holeshot and rode well. The second moto, the track was a little rougher, but not too bad, and I crashed there after the step up. I just tried to get my first race jitters out of the way. The other girls rode awesome. It's not a bad way to start the season, I'm just happy to leave here healthy.
Tarah Geiger, Lucas Oil Troy Lee Designs Honda, 3rd in WMX Class (3-3)

Last year you were making big progress at the end of the year, but this year you started out right in there. Do you feel you're ahead of where you were at this time a year ago?
Definitely. I'm just riding better and more consistent, I just couldn't put it together today. I had my chance, I just didn't seize the opportunity. It seems like everyone is going for it a bit more, but it's probably going to be the same girls up there every week. But the Australian girl, she was definitely on it today. I tried everything I could to pass her in the second moto, but it just seemed like a lot of my lines weren't working. A lot of times I would get stuck behind her in a corner and lose a bunch of time. Then when Jessica went down, I knew I had to make it work, but I just couldn't find lines that were working.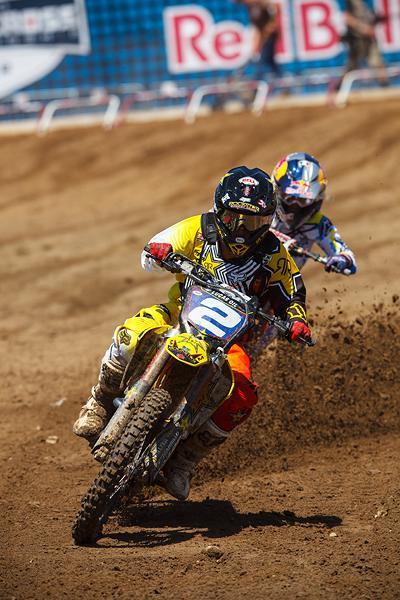 "It wasn't exactly what I would really want, but I'm leaving here with the points lead and the red plate." - Jessica Patterson
Simon Cudby photo
Andrew Short, Chaparral Honda, 4th in 450 Class (5-4)
I think the magic was back with the starts, but the second one was a little dodgy, but I think that was on me, because on the parade lap I screwed up my routine. But all in all it was pretty good, I usually struggle on this track but I felt like my bike setup was the best it's ever been. I had some fun and it felt good to be up front again.
Brett Metcalfe, Yoshimura Suzuki, 5th in 450 Class (4-5)
It was a bummer getting passed like that on the last lap, but we all got the same points and points are what it's all about for this championship. I'm feeling good now, those last few supercrosses I was getting beat up.
Did you see him coming at the end?
Yeah I saw him coming. It felt like I had good speed in both motos but I wasn't as strong as I needed to be at the end, and I think some of that came from those rough few weeks in supercross. First moto I got a good start, and the track was really overwatered, you had to be patient and wait for the track to come around a little bit. I felt good and came up to second, but I didn't finish the moto strong enough.
Blake Wharton, Rockstar Suzuki, 12th in 250 Class (16-6)
Today was my first race since 2010, and this is one of the roughest tracks we'll race on. The first moto, I had some problems, but the second moto was much better. I got a sixth so I can build on that. We're going to Texas so I'm sure it's going to be super hot, and rough, and all of the things we deal with every week. Its' going to be the same stuff, but I hope that getting back into it after a long time off, it will get easier. But outdoors is always hard—it's hard, there's no other way to describe it.
Tommy Hahn, Honda Muscle Milk, 14th in 450 Class (8-27)
It went awesome. First moto was awesome, I got a good start, and second moto, same thing, had a good start, but I crashed on the second lap. I had a rock come out and hit my front tire, and I couldn't get to my bike because so many people were going by. But I've already blown it off, I'm okay with it, I'm going to rebound next week. I feel like I rode awesome, I just made one mistake and it cost me huge.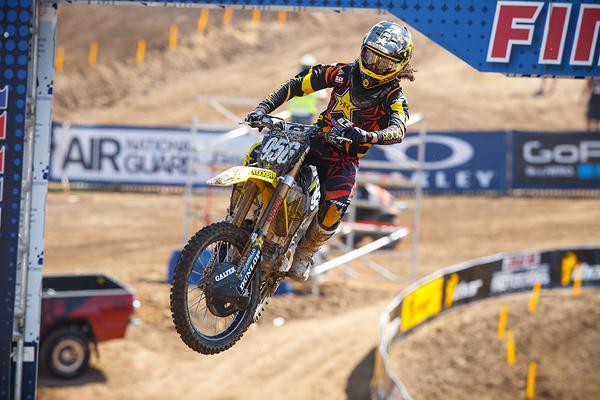 "Today was my first race since 2010, and this is one of the roughest tracks we'll race on." - Blake Wharton
Simon Cudby photo
Ivan Tedesco, Monster Energy Pro Circuit Kawasaki, 4th in 250 Class (6-5)
I'm happy. I didn't know what to expect. I haven't ridden that bike in a few years and hadn't ridden outdoors in a few years. I knew my fitness wasn't 100 percent yet, so I just tried to ride in my comfort zone and not get into the redline. That gave me a fourth today.
Why the comeback?
For me to race next year, I feel like this is something I have to do. For me to race next year, and just sit on the couch all summer, I feel like I'll be behind the ball.
Any surprises?
It's always harder than you remember…it always is! If I could get my fitness a little better and my speed a little better, we'll see where we are.
Davi Millsaps, JGR Toyota Yamaha, 7th in 450 Class (2-14)
For most people that don't know, I popped my elbow out when I crashed in the second moto. Second lap. I was pretty far back and came back to 14th. My elbow is pretty much stuck in one spot right now, but we're going to go home and work on it. I felt strong in the first moto, I felt good in the second moto, too, it just didn't work out. I just went off in these ruts and the bike went the opposite way. It yanked my elbow out, but it went back in. I really don't enjoy Hangtown, but I seem to do well here. I think just the way the ruts and bumps form up, it's kind of technical and that seems to work for me.