Hangtown Motocross Classic
Rancho Cordova

,

CA
Hangtown Motocross Classic
Lucas Oil AMA Pro Motocross Championship
This year's TV package from the Lucas Oil Pro Motocross Championship is actually very similar to last year, just with a change with one TV network.
As before, every first moto will air live in two places—FUEL TV on your television, and Allisports.com if you want to watch online. The online coverage is FREE, too. That's EVERY first 250 and 450 moto live all summer long on FUEL TV and Allisports.com
Last year, the second motos generally aired on SPEED, this year they switch to NBC Sports Network, which was formerly called Versus. If you haven't heard of NBC Sports Network, that's because the Versus name change only started in January—click around your cable and dish and you'll see you probably have this channel, you just knew it by a different name.
The second motos generally air just a few hours after the motos take place at the track—this weekend they begin at 9:30 p.m. pacific/12:30 a.m. eastern.
The regular NBC network—not the NBC Sports Network cable channel—will also air a few live motos later in the summer.
On an international level, Lucas Oil Motocross will be simulcast throughout the globe, with over 24 hours of live racing showcased on SPEED Australia, ESPN Brazil, and ESPN Latin America. This will bring the most prestigious championship on the planet to over 40 million homes across those continents.
Additionally, 15 hours of post-produced highlight shows will be distributed to Extreme Sports Channel in Europe and the Middle East, Germany's SPORT1, South Africa's SuperSport, along with SPEED Australia, ESPN Brazil, and ESPN Latin America. This will expand the reach of the Nationals to over 65 million homes.
For more information about dates and times of these broadcasts, contact local satellite or cable providers.
TV Schedule
450/250 Moto 1
Saturday May 19 4:00PM EST - FUEL TV
Saturday May 19 4:00PM EST - Allisports.com
450/250 Moto 2
Sunday May 20 12:30AM EST - NBC Sports Network
Repeat Broadcast
Monday May 21 3:00PM EST - NBC Sports Network
Highlight Series
Wednesday May 23 12:00AM EST - NBC Sports Network
Live Timing and Scoring
Click HERE
Injury Report
Click HERE
Hangtown Pre-Entry List
Click HERE
Hangtown Notes Package
Click HERE
Follow Racer X
Twitter - @racerxonline
Click to enlarge Race Day Schedule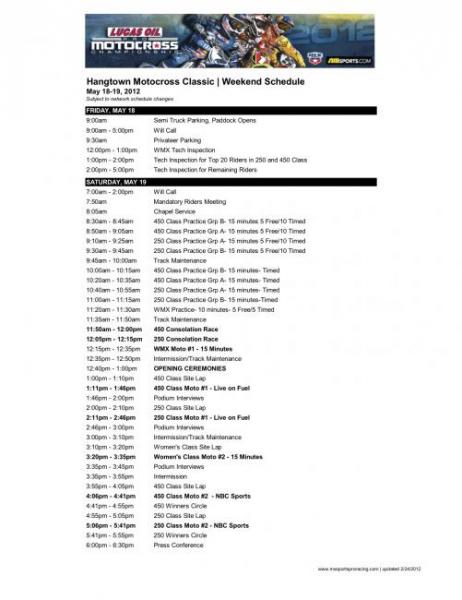 Hangtown Animated Track Map - Dynamic Cam