Hangtown Motocross Classic
Rancho Cordova

,

CA
Hangtown Motocross Classic
Lucas Oil AMA Pro Motocross Championship
Marvin Musquin - Broken Metacarpal
Comment: Musquin injured his hand, the same one he broke at Freestone last year, in a heat race crash in Salt Lake City. After racing in Las Vegas, Musquin underwent surgery to have a plate and screws installed in his hand and is planning on racing at the FMF Hangtown Motocross Classic.
Darryn Durham - Dislocated Shoulder and Torn Labrum
Comment: Durham injured his shoulder practicing and will not be racing at Hangtown, and right now his team says he "definitely won't be back for a few rounds."
Matt Moss - Calcium Deposits
Comment: Moss had to have some calcium deposits surgically removed from his side, and will be sitting Hangtown out. The procedure carries a short recovery time, so expect Moss to return sooner than later.
Michael Byrne - Broken nose and C-6 in Neck
Comment: Byrne is healed up and will make his return to racing this weekend at Hangtown.
Jarred Browne - Nerve Damage
Comment: Browne had surgery this week to repair a pinched nerve in his elbow that had been causing his hand to go numb since New Orleans. Browne expects to be back racing by either Budds Creek or RedBud.
Christian Craig - Wrist Problems
Comment: Craig sat out most of the Western Regional Supercross Lites rounds after opting to have surgery to fix lagging problems stemming from a broken wrist he suffered last year at Southwick. Craig was finally cleared to ride earlier this week and is planning on returning at RedBud.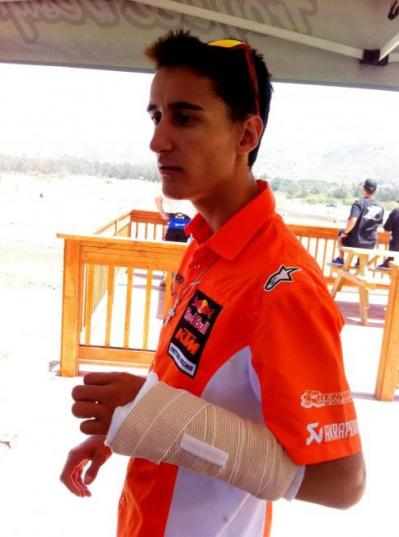 Musquin underwent surgery to have a plate and screws installed in his hand, but will be racing at Hangtown.
DC photo
Ryan Sipes - Cracked Hand
Comment: Sipes rebroke his hand in SLC when Jason Anderson ran into the back of him on the start of the parade lap. Sipes has a plate and screws in his hand, and will be racing at Hangtown.
Nick Paluzzi - Fractured Scapula
Comment: Paluzzi is hoping his injury will only keep him off the bike for two weeks.
Cole Seely - Ruptured Kidney, Lacerated Liver and Whiplash
Comment: Seely crashed hard in SLC and while there is not an exact timetable on his return, he is expected to miss most of the Nationals.
Travis Baker - Concussion
Comment: Baker suffered a concussion in SLC, causing him to miss Las Vegas. Baker is feeling better and will be racing at Hangtown.
Ryan Villopoto - Knee Injury
Comment: Villopoto will sit the remainder of 2012 out after suffering a torn ACL in Seattle.
Dean Wilson - Injured Shoulder
Comment: Dean Wilson crashed after coming together with Eli Tomac in Seattle, causing his shoulder to temporarily pop out of socket. The following week in SLC, Wilson crashed and further aggravated the injury and pulled out of the race. Wilson is scheduled to race at Hangtown.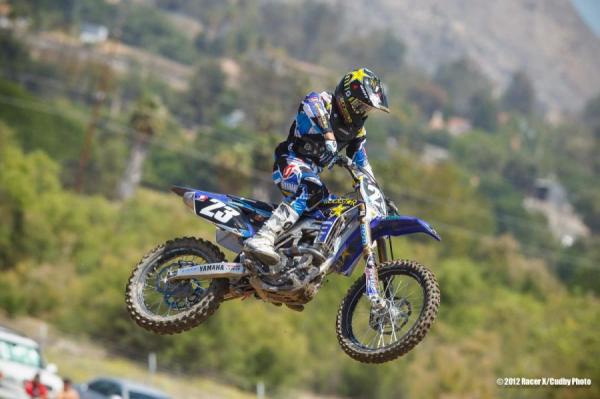 Swanepoel is still not 100 percent after knee surgery, but will be racing the season opener at Hangtown.
Simon Cudby photo
Gareth Swanepoel - Knee Injury
Comment: Swanepoel had surgery to fix an issue with the patellar tendon in his right knee and ended up picking up an infection, which kept him off the bike longer than expected. Swanepoel will be racing at Hangtown, but will not be at 100 percent, and says he will be racing to limit the points damage.
Jeff Alessi - Sprained Wrist and Broken Toe
Comment: Alessi suffered a crash in his heat race in Seattle that put him out of action for the remainder of the supercross season. Alessi plans on returning in time for the outdoor season.
Bryce Vallee - Lacerated Liver and Kidney, Two Broken Femurs, Three Pelvic Fractures, Shattered Left Elbow with Radial Nerve Damage, Fractured Collarbone and Multiple Fractures in Lower Spine.
Comment: Vallee suffered a horrible crash while leading a race at Pala Raceway. After being landed on  multiple times, he was airlifted to Palomar Hospital and underwent two surgeries, with rods inserted in both femurs and three plates and 33 screws used to repair the left elbow. After spending 25 days in the hospital Vallee was released. Currently, there is no timetable as to when Bryce will be fully healed. Donations for medical expenses can be made at www.brycevalleemx.com.
Auston Albers - Spiral Fractures in Fibula, Chipped Tibula, and Torn Ankle Ligaments
Comment: Albers cross-rutted in practice in SLC and landed wrong on his left ankle. Albers underwent surgery and is hoping to be ready for the Monster Energy Cup.
Ben Townley - Dislocated Hip and Broken Bone
Comment: Townley, who was intending on racing The Nationals for TwoTwo Motorsports/Bel-Ray, underwent surgery for a femoral head-associated acetabular rim fracture. Although Townley is expected to make a full recovery, he will not be back on the bike for the outdoor season.
Frankie Lettieri - Torn Labrum
Comment: Lettieri underwent surgery and is hoping to be back on the bike by the end of the outdoor season.
Nick Wey – Hematoma
Comment: A big crash in Indianapolis left Nick Wey with a hematoma and three tears in his adductor and low abdominal muscles. Wey made his return in New Orleans, despite still having pain. Although the injury has prevented Wey from putting much time into his outdoor prep, he will be racing at Hangtown.
Josh Hill - Broken Elbow
Comment: Josh Hill was scheduled to return to racing in Houston, but a broken radial head in his elbow changed his plans. Hill is not expected to enter any races before the end of the year.
PJ Larsen - Foot and Knee Injury
Comment: In Toronto, Larsen went down hard during practice in a rhythm section, sustaining injuries to his knee and foot. It is unlikely that Larsen will return to racing in 2012.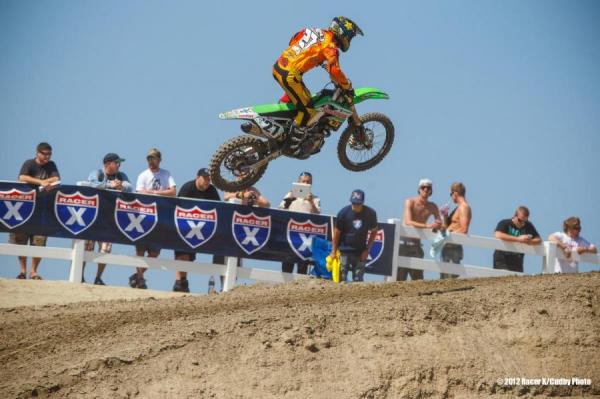 Injuries have prevented Wey from putting in much time outdoor testing.
Simon Cudby photo
Kyle Partridge - Cut Foot, Broken Toe and Broken C3 and C4 Vertebrae
Comment: Partridge had a run-in with the over/under bridge during practice in St. Louis, which resulted in several injuries. Partridge, who has full movement of his limbs, underwent surgery to stabilize his neck. Partridge is not expected to return to racing in 2012.
Jimmy Decotis - Torn ACL
Comment: Just when it seemed that Jimmy D would be able to return to racing after suffering multiple fractures in his feet, he crashed while practicing and tore his ACL. The injury effectively takes Decotis out of action for the rest of the year.
Chad Reed - Broken Tibia and Fibula, Broken Ribs, Broken T6 Vertebrae and a Torn ACL
Comment: The injuries that Reed sustained in Dallas will likely keep him out of competition until 2013.
Austin Stroupe - Cracked Collarbone
Comment: Stroupe had a big crash in Dallas, and was forced to undergo surgery for an injured collarbone. Stroupe is expected to miss Hangtown.
Tyla Rattray
Comment: Rattray suffered a concussion and a fractured C-7 vertebrae in his heat race in Oakland. He was finally cleared to ride three weeks ago, and is currently preparing to ride a Factory Kawasaki 450 outdoors.
Ryan Morais - Broken Jaw, Several Fractured Vertebrae, Collapsed Lung, Concussion and Broken Ribs
Comment: Morais recently had all of the metal removed from his mouth, but is still unsure when he will be able to get back on the bike, as he is still dealing with the effects of the crash. Those wishing to donate to Morais' recovery fund can click here. Donations can also be made through Road 2 Recovery.
Trey Canard - Injured Back
Comment: After a terrible crash in Los Angeles, Canard was released from the hospital on January 29 and was able to return home. Canard hopes to begin therapy in the next few weeks, and plans on making his return to racing in 2013.
Gannon Audette - Wrist
Comment: Audette suffered a broken wrist in practice at the East Region season opener in Dallas. Audette has been cleared to ride, but will miss Hangtown.
Know of an injury we've missed? Email our man Aaron Hansel, aaron@racerxonline.com, and he'll handle it.