FIM World Motocross Championship
Grand Prix of Mexico

MX1 Overall
1. Antonio Cairoli KTM 1-3
2. Clement Desalle Suz 2-2
3. David Phillippaerts Yam 10-1
4. Ken de Dycker KTM 3-5
5. Tanel Leok Suz 6-6
6. Xavier Boog Kaw 8-7
7. Kevin Strijbos KTM 5-10
8. Jonathan Barragan Hon 7-9
9. Rui Goncalves Hon 9-8
10. Christophe Pourcel Kaw 16-4
11. Dean Ferris Kaw 12-12
12. Mattis Karro KTM 11-13
13. Gautier Paulin Kaw 4-DNS
14. Sebastien Pourcel Kaw 13-14
15. Santu Tiainen Kaw 14-15
16. Davide Guarneri KTM DNF-11
17. Rodolfo Fernandez Yam 17-18
18. Raynear Mejia Kaw 20-16
19. Martin Garcia KTM 15-DNF
20. Samir Rodriguez Yam DNF-17
MX2 Overall
1. Jeffery Herlings KTM 1-1
2. Tommy Searle Kaw 2-2
3. Jeremy van Horebeek KTM 3-3
4. Joel Roelants Kaw 6-4
5. Christophe Charlier 7-5 Yam
6. Jordi Tixier KTM 5-8
7. Jake Nicholls KTM 10-6
8.  Max Anstie Hon 8-9
9. Glen Coldenhoff KTM 15-7
10. Alessandro Lupino Husq 11-11
11. Dylan Ferrandis Kaw 4-DNF
12. Nikolaj Larsen Suz 12-13
13. Petar Petrov Suz 16-12
14. Valentin Guillod KTM 14-14
15. Jose Burton KTM 9-DNF
16. Harri Kullas Suz 21-10
17. Jetro Salazar KTM 17-15
18. Luis Ruelas Kaw 18-16
19. Julien Lieber Hon 13-DNF
20. Alvaro Aguilar KTM 19-17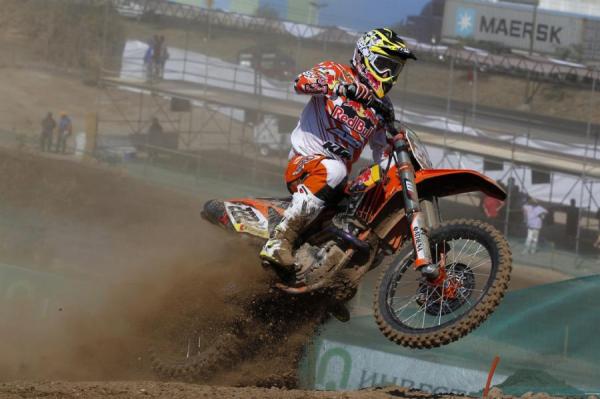 Cairoli used a first moto win to take the overall in Mexico.
Ray Archer/KTMImages photo
MX1 Points Standings

Antonio Cairoli 178pts. KTM

Clement Desalle 149pts. Suz
Gautier Paulin 134pts. Kaw
Ken de Dycker 131pts. KTM
Christophe Pourcel 129pts. Kaw
David Phillippaerts 105pts. Yam
Kevin Strijbos 103pts. KTM
Xavier Boog 99pts. Kaw

Tanel Leok 92pts. Suz
Rui Goncalves 79pts. Hon
Evgeny Bobryshev 69pts. Hon
Jonathan Barragan 59pts. Hon
Shaun Simpson 58pts. Yam

Steven Frossard 40pts. Yam
Davide Guarneri 36pts. KTM

Mattis Karro 53pts. KTM
Davide Guarneri 46pts. KTM
MX2 Points Standings

Jeffery Herlings 194pts. KTM
Jeremy van Horebeek 154pts. KTM
Tommy Searle 153pts. Kaw
Joel Roelants 118pts. Kaw
Jordi Tixier 107pts. KTM
Max Anstie 105pts. Hon
Jake Nicholls 95pts. KTM
Dylan Ferrandis 91pts. Kaw

Alessandro Lupino 80pts. Husq
Harri Kullas 76pts. Suz

Michael Leib 61pts Yam
Jose Burton 60pts. KTM
Petar Petrov 57pts. Suz

Christopher Charlier 55pts. Yam
Alexander Tonkov 55pts.Hon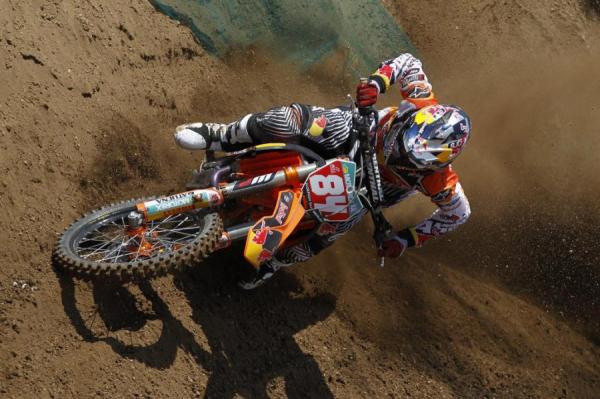 Herlings dominated in Mexico, going 1-1 for the overall.
Ray Archer/KTMImages photo

Can-Am GNCC Championship
Limestone 100 - Springville, IN
XC1 Overall
1. Kailub Russell KTM
2. Paul Whibley Yam
3. Jordan Ashburn Yam
4. Thad DuVall Hon
5. Chris Bach Yam
6. Rory Mead KTM
7. Takeshi Koikeda KTM
8. Garrett Edmisten Kaw
9. Jess Groemm KTM
10. Steven Squire Yam
11. Charlie Mullins KTM
12. Nick Fahringer HSB
13. Jimmy Jarrett Hon
14. Nathan Kanney Hon
XC2 Overall
1. Andrew Delong HSQ
2. Jason Thomas KTM
3. Jedediah Haines Yam
4. Brad Bakken Yam
5. Scott Grills Hon
6. Cody Gragg Yam
7. Michael McGinnis KTM
8. Ricky Mair Yam
9. Zach Nolan KTM
10. Steward Baylor Jr. KTM
11. AJ Stewart Yam
12. Lucas Statom Yam
13. Mat Herrington KTM
14. Larry Silvia KTM
15. Jesse Robinson HSB
Paul Whibley is now tied with Kailub Russell in the XC1 class.
Ken Hill//GNCCRacing.com photo
XC1 Points Standings

Kailub Russell 147pts KTM
Paul Whibley 147pts Yam
Charlie Mullins 121pts KTM
Rory Mead 105pts KTM
Thad DuVall 97pts Hon
Jordan Ashburn 89pts Yam
Chris Batch 79pts BET

Garrett Edmisten 78pts Kaw
Cory Buttrick 77pts KTM
Nathan Kanney 65pts Hon
XC2 Points Standings
Steward Baylor 161pts KTM
Jason Thomas 118pts HUSQ
Jesse Robinson 111pts HUSA
Jedediah Haines 101pts YAM
Brad Bakken 97pts YAM
Andrew Delong 93pts. HSQ

Cody Gragg 65pts. Yam
Scott Grills 64pts. Hon
AJ Stewart 63pts. Yam
Michael McGinnis 52pts. KTM

Zach Nolan 46pts. KTM
Monster Energy MX Nationals Austrailan Nationals
Round 4 - Wanneroo, AUS

Pro Open MX1 Overall
1. Josh Coppins Yam
2. Lawson Bopping Yam
3. Todd Waters Suz
4. Brad Anderson Hon
5. Cody Copper Suz
6. Tye Simmonds Hon
7. Daniel McCoy Suz
8. Yam Marmont Kaw
9. Mike Philips Hon
10. Gordon Crockard Kaw
11. Dean Porter Suz
12. Calle Aspegren Hon
13. Dylan Peterson Kaw
14. Beau Ralston Yam
15. Luke Davis
Pro Lites MX2 Overall
1. Luke Styke Yam
2. Cheyne Boyd Hon
3. Adam Monea Suz
4. Kade Mosig Kaw
5. Josh Cachia KTM
6. Lewis Woods Suz
7. Ford Dale Hon
8. Scott Columb Suz
9. Luke Arbon Yam
10. Kirk Gibbs Yam
11. Justin McDonald Hon
12. Brock Winston KTM
13. David Birch Hon
14. Nick Murray Suz
15. Errol Willis Suz
Pro Open MX1 Points Standings

Josh Coppins 253pts. Yam
Brad Anderson 211pts. Hon
Todd Waters 208pts. Suz
Lawson Bopping 203pts. Yam
Cody Cooper 183pts. Suz
Tye Simmonds 178pts. Hon
Jay Marmont 177pts. Kaw
Jake Moss 157pts. Hon

Daniel McCoy 125pts. Suz
Pro Lites MX2 Points Standings
Luke Styke 260pts. Yam
Ford Dale 221pts. Hon
Kirk Gibbs 199pts. Yam
Cheyne Boyd 198pts. Hon
Josh Cahcia 195pts. KTM
Kade Mosig 194pts. Kaw
Adam Monea 190pts. Suz
Justin McDonald 143pts. Hon
Lewis Woods 134pts. Suz
Errol Willis 115pts. Suz
Overall
1. Todd Potter (USA)
2. Thomas Pagès (FRA)
3. Wes Agee (USA)
4. Javier Villegas (CHL)
5. Eigo Sato (JAP)
6. Rob Adelberg (AUS)
7. Levi Sherwood (NZL)
8. Dany Torres (ESP)
9. Maikel Melero (ESP)
10. Nick Dunne (USA)
11. Martin Koren (CZE).