Contributor Gary Vazquez is hanging out at this weekend's FIM GP of Mexico, and caught up with event co-promoter (and multi-time World GP Champion) Sebastian Tortelli to get the vibe on this weekend's race. He also snapped a few pictures as the track is coming together. Check it out here, and stay posted to Racer X Online for results and the GP Race Report once the event is complete.
By Gary Vazquez:
Racer X: Hello Sebastien, what brings you to Guadalajara?
Sebastian Tortelli: What brings me here? The Grand Prix of Mexico! I've been working with Nicolas the past three years for this race and this weekend is the big day, that's what we have been working for.
How are the preparations coming along for the weekend?
The preparations are going good, you can see a lot of tents and things that are not usually here.  I think now we have the best track in Mexico by far, I've been to a few races here but have never seen anything like this here, we truly have a World Championship track with all the GP riders here.  It's amazing what the changes were from last December when they had a Mexican Championship race here, you can't do any better than this!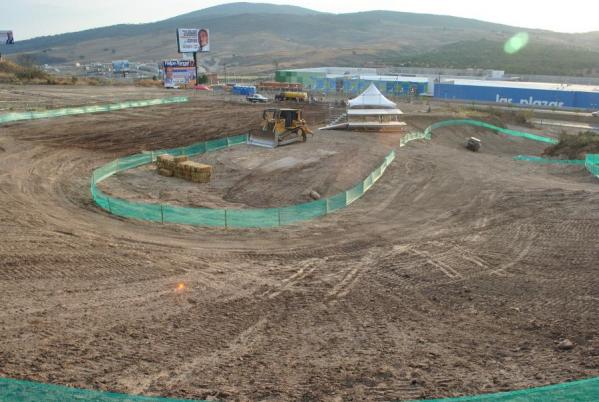 Gary Vazquez photos
What are your attendance expectations for the weekend?
I know Nicolas has done quite a lot of TV and radio coverage that should bring a lot of people.  I know the biggest motor race here in Mexico is the World Rally Championship so this GP is the second race after that.  I know it's new in Mexico to have this kind of event and there isn't a lot of main stream media coverage, they've had world championship races in the past but it was a long, long time ago and a couple World Enduro Championship events in recent years but that is different, it's not the same as this.
I know the first year will be hard because not a lot of people know about it but I know Megacable (cable provider) did an agreement with Youthstream to televise the GP here in Mexico, make it stronger and hopefully they can make it grow for the coming years.  We would love to have 30,000 fans in attendance over the weekend but we'll see how it goes.
Looking at this beautiful track, do you ever feel like getting back on the bike?
I did!  I rode it this morning, got a chance to ride the track and it was very cool!
Good luck with the event and thanks for the interview.
Thank you, it will be good and I'm sure the Mexican fans will see a great race.