Sam Boyd Stadium
Las Vegas

,

NV
Las Vegas
Monster Energy AMA Supercross Championship
With titles wrapped up in all three divisions, this year's Monster Energy Supercross finale was going to be hard pressed to live up to Las Vegas-level hype. And yet somehow, the night delivered just enough drama to keep things interesting. While the results were predictable, the battles that delivered those results were pretty darned fun to watch.
It started with twin 15-lap East and West main events instead of the typical 6-lap heat races. The GEICO Honda team had already clinched both titles with Justin Barcia in the east and Eli Tomac in the west, and the two champs used Vegas as a reminder of how they earned those titles. In the East main, Barcia grabbed yet another of his seemingly-patented holeshots and looked to check out early. Meanwhile Ken Roczen put his Red Bull KTM around Blake Baggett's Monster Energy Pro Circuit Kawasaki on the first lap and tried his best to match up to Barcia's lap times. Barcia was able to inch away, until he made a pair of big mistakes and had to double two triple jumps, allowing Roczen to close the gap. The crowd braced for a showdown, but Barcia was able to settle down, pull it back out, and ice the win. Roczen and Baggett took second and third.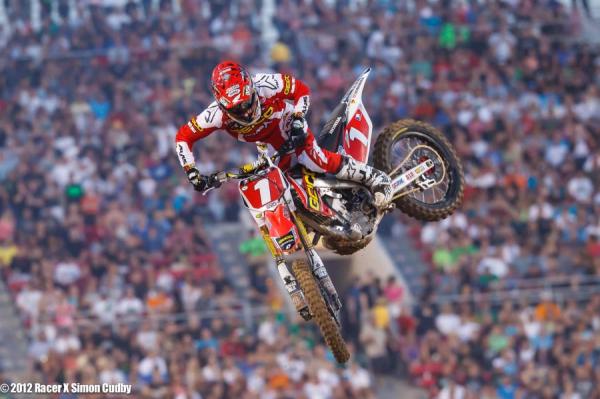 Barcia sported the regular #1 plate for the East Main, with the 1E coming later in the Shooutout.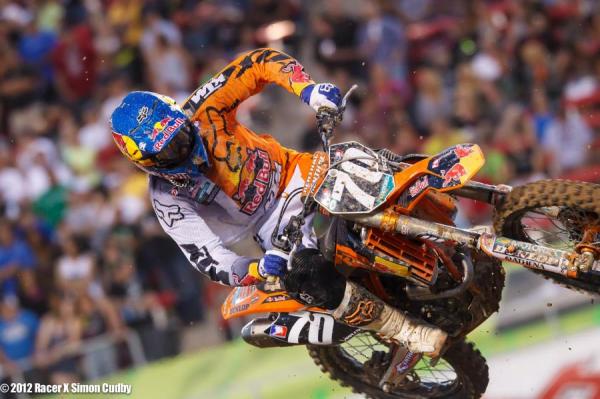 When Barcia bobbled while leading the East main, Roczen made a run at him, but couldn't make a move.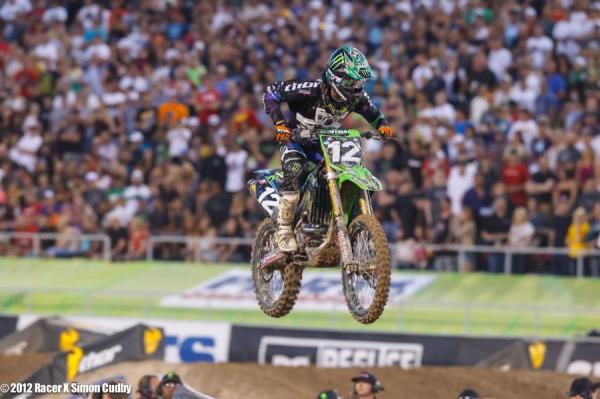 Roczen passed Baggett on the first lap, leaving Blake in a lonely third.
Cudby photos
Lites East Main Event Results
1. J. Barcia
2. K. Roczen
3. B. Baggett
4. M. Stewart
5. B. Wharton
6. K. Cunningham
7. H. Hewitt
8. J. Canada
9. M. Lemoine
10. K. Peters
11. J. Bogle
12. A. Catanzaro
13. L. Smith
14. A. Politelli
15. Z. Freeburg
16. M. Akaydin
17. S. Sewell
18. J. Pauk
19. D. Tedder
20. S. Rife

Eastern Regional Supercross Lites Class Season Standings
1.    Justin Barcia, Ochlocknee, Ga., Honda – 210
2.    Ken Roczen, Murrieta, Calif., KTM – 165
3.    Blake Wharton, Pilot Point, Texas, Suzuki – 158
4.    Blake Baggett, Grand Terrace, Calif., Kawasaki – 148
5.    Darryn Durham, Butler, Pa., Kawasaki – 143
6.    Jake Canada, Sun City, Calif., Honda – 131
7.    Justin Bogle, Cushing, Okla., Honda – 117
8.    Kyle Cunningham, Aledo, Texas, Yamaha – 85
9.    Matthew Lemoine, Collinsville, Texas, Kawasaki – 78
10.    Alex Martin, Millville, Minn., Honda – 77
Out West, Tomac grabbed a holeshot as well, and quickly gapped early pursuers Jason Anderson and Martin Davalos, both mounted on Rockstar Suzukis. Meanwhile, Monster Energy Pro Circuit Kawaskai's Dean Wilson got into last year's East/West Shootout winner, Ryan Sipes, on the first lap, putting Sipes down. Sipes' crash then collected new TLD replacement Billy Laninovich. Wilson was on the charge after a bad start, passing Red Bull KTM's Marvin Musquin for fourth, then getting both Suzuki riders to take over second. Davalos and Anderson swapped spots a few times, then later Musquin made a move on Anderson, which Anderson paid back by pushing the Frenchman off the track.
Wilson, riding with a bad shoulder, couldn't make a run on Tomac, who had already built a big lead. Seemingly out of nowhere, Tomac's teammate Wil Hahn rallied to third late in the race.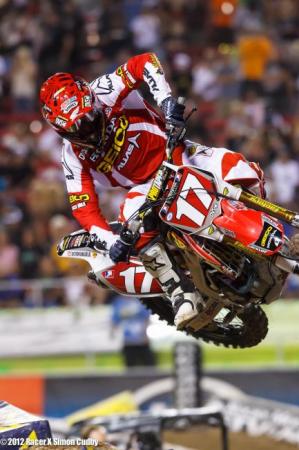 Tomac matched Barcia's East effort by leading every lap in the West Main.

Bad starts did in Wilson (15) and Hahn (58), but they charged for the full 15 laps and ended up on the podium.
Cudby photos
West Main Event
1. E. Tomac
2. D. Wilson
3. W. Hahn
4. M. Davalos
5. J. Anderson
6. M. Musquin
7. M. Moss
8. R. Sipes
9. S. Champion
10. L. Powell
11. C. Plouffe
12. R. Smith
13. J. Greco
14. C. Martinez
15. P. Tilford
16. M. Alcorn
17. M. Tedder
18. B. Hudson
19. K. Rusk
20. B. Laninovich
Final Western Regional Supercross Lites Class Season Standings
1.    Eli Tomac, Cortez, Colo., Honda, 184
2.    Dean Wilson, Menifee, Calif., Kawasaki, 154
3.    Marvin Musquin, Murrieta, Calif., KTM, 142
4.    Cole Seely, Murrieta, Calif., Honda, 119
5.    Jason Anderson, Edgewood, N.M., Suzuki, 111
6.    Matt Moss, Murrieta, Calif., KTM, 106
7.    Ryan Sipes, Ekron, Ky., Yamaha, 96
8.    Martin Davalos, Cairo, Georgia, Suzuki, 89
9.    Billy Laninovich, Riverside, Calif., Honda, 85
10.    Nico Izzi, Menifee, Calif., Yamaha, 78
Those East and West mains also served as qualifiers for the Dave Coombs East/West Shootout, and favorites such as Justin Bogle didn't make the cut. But Bogle rallied back to win the Last Chance Qualifier and set the stage for the 10-lap shootout.
And that one lived up to its billing. Barcia pulled yet another holeshot, with Davalos and Tomac right behind. While many hoped to see Tomac pull a quick pass on Davalos to challenge Barcia, instead, Davalos was the one doing the moving, making a superb pass on Barcia in the massive Monster Alley sweeper to take over the lead! Tomac and fourth-place Roczen closed in, as well, making for a four-rider battle for the lead. Barcia regrouped, and when Davalos made a mistake, Bam Bam 1E shot back into the top spot with Tomac following him through. The battle was on, as Tomac had a few good lines and was able to get to Barcia's rear wheel. Then, Barcia bobbled in the whoops, which seemed to open the door for Tomac, until Tomac bobbled a moment later in the same exact spot!
The twin #1 shod Hondas continued to mirror each other around the track all the way to the end, with Barcia hanging on for a close victory.
Davalos took a solid third, with Roczen and his teammate Musquin rounding out the top five. Wilson got off to another rough start, and then went off the track on the first lap. He would finish 11th.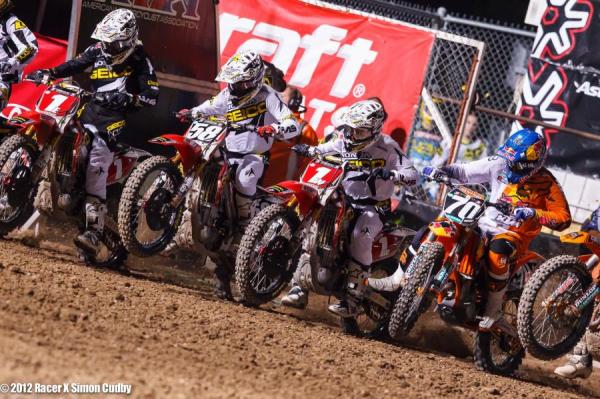 Only the white/black gear combo served to tell the difference between Tomac (white) and Barcia in the Shootout. Unless you could see the tiny W and E on their plates.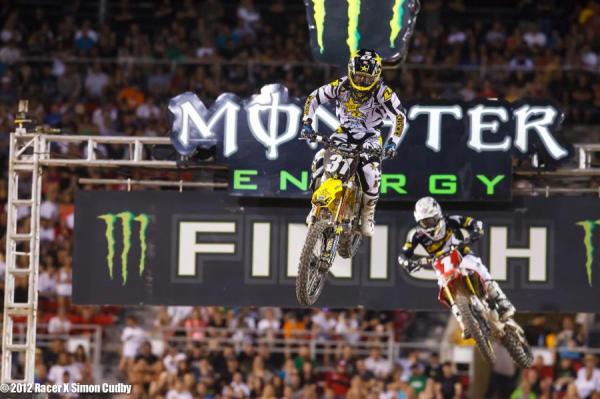 Shocker of the night? Martin Davalos started second and made a slick move on the inside of Barcia to take the lead!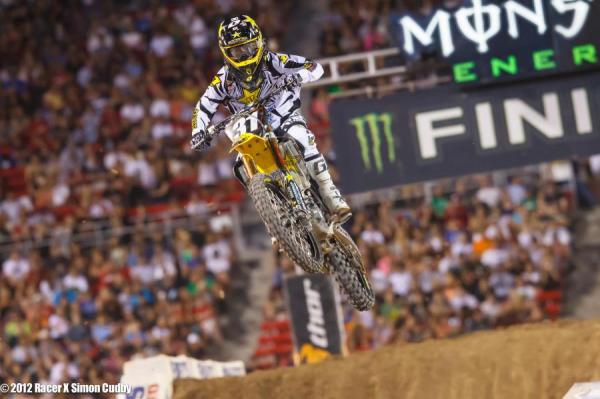 Had Davalos hung on to win his first-ever SX race in the shootout, it would have been a Vegas-level upset. But he bobbled, and the two champs blew past him.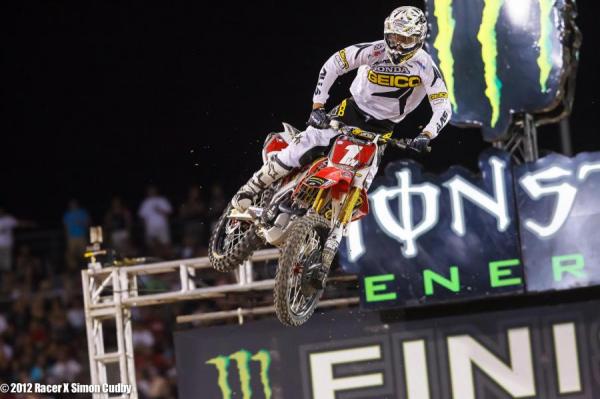 Tomac charged hard down the stretch and caught Barcia, but never got quite close enough to go for the pass.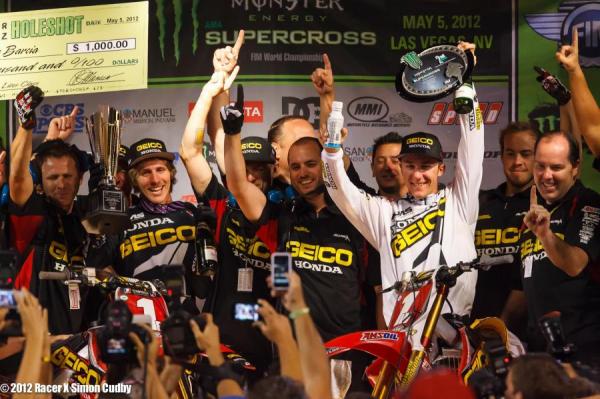 It was GEICO/Factory Connection Honda's night, for sure.
Dave Coombs Memorial East/West Shootout Results
1. J. Barcia
2. E. Tomac
3. M. Davalos
4. K. Roczen
5. M. Musquin
6. W. Hahn
7. R. Sipes
8. M. Stewart
9. B. Wharton
10. M. Moss
11. D. Wilson
12. B. Baggett
13. J. Bogle
14. K. Cunningham
15. M. Lemoine
16. B. Laninovich
17. J. Canada
18. H. Hewitt
19. J. Anderson
20. S. Champion
With so much focus on the Lites class, the Supercross Class nearly took a back seat for attention. While Monster Energy Kawasaki's Ryan Villopoto already had the title wrapped—and would also sit out the race with a torn ACL—second in the final standings was still up for grabs between JGR Toyota Yamaha's Davi Millsaps, Honda Muscle Milk's Justin Brayton and Red Bull KTM's Ryan Dungey.
Millsaps and Brayton staked their claim to that spot by winning their heat races, while Dungey seemed to struggle at times through the whoops both in practice and his heat race, where he finished second to Millsaps. But in the main, Dungey proved a gamer once again. MotoConcepts' Mike Alessi grabbed the main event holeshot, but Dungey started second and shot right by him for the lead on lap one. From there, the race for the win was over, because no one was catching Dungey.
But a wild battle broke out behind him, and Yoshimura Suzuki's Brett Metcalfe, Alessi and Monster Energy Kawaski's Jake Weimer were all in it. Millsaps continued his recent run of strong riding and rolled up on the battle, too. He started poorly but moved up quickly, from outside the top ten around the first turn, to seventh on the first lap, and soon he had caught the Metty/Alessi/Weimer battle.
First, Weimer and Metcalfe battled for third and fourth behind Alessi, until Metcalfe got by Alessi. Moments later, Millsaps passed Weimer for fourth and they almost collided in a rhythm section. Millsaps completed the pass, but then went off the track in the next corner! Weimer then focused on getting Alessi and repassing Metcalfe, to put him into second.
Brayton had a bad start, but started coming through traffic with DNA Energy/JWR Kawasaki's Josh Grant tucked in behind him. They both got around Alessi, and then Brayton's charge eventually brought him up to the Millsaps/Weimer/Metcalfe. Millsaps moved to third and pressed Weimer hard. He made yet another pass on Weimer, but Weimer tucked underneath to get him back, and then they touched wheels in mid air over a tabletop!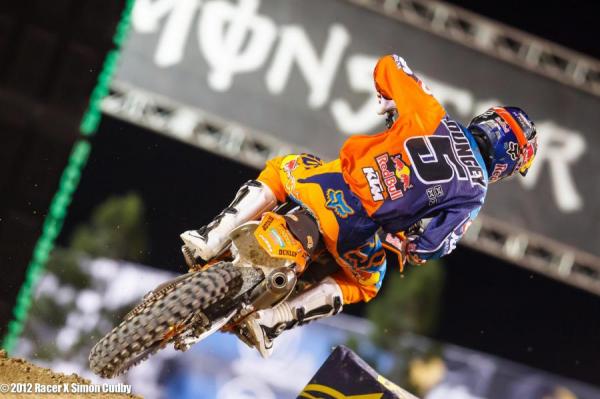 Mike Alessi holeshot the race, but Dungey was by in lap one. This, we get to run the classic "This is all the competition got to see of Ryan Dungey in the main event" caption here.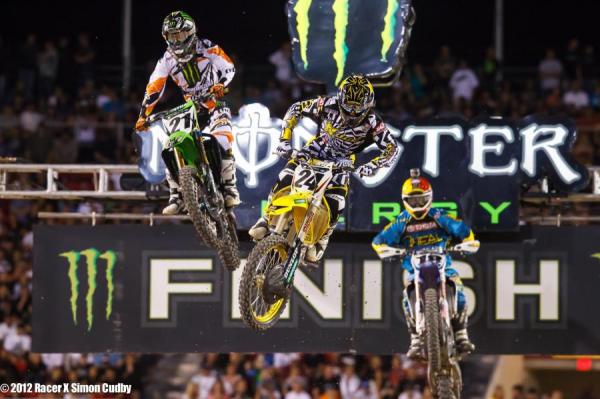 This is the crazy battle that broke out for second between Metty, Weimer and Millsaps. Had this been the battle for the lead (and with Dungey pulling away you could have thought it was), this would have gone down as one of the best supercross races in a long time.
Cudby photos
Finally at the halfway mark, Millsaps made a pass stick on Weimer for good. Late in the race, Brayton caught Weimer and made the pass to take over third. He couldn't catch Millsaps, though, and that allowed Millsaps to hang on to second in the final standings.
Brayton ended up tied with Dungey in the standings for third, but Dungey won the tie-breaker by virtue of his four main event wins. And the fourth one, tonight in Vegas, was a no-doubter, as he dominated the event for the entire 20 laps.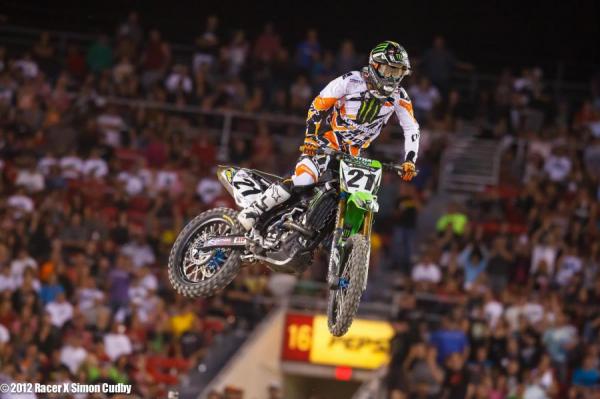 Weimer got around Alessi and Metcalfe and held off Millsaps for a bit to maintain second. But he struggled through the second half of the race, and Millsaps and Brayton got by him.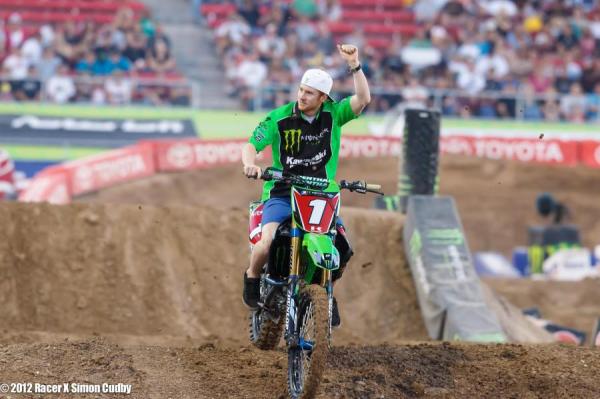 Ryan Villopoto came to race! No wait, he just rode out in opening ceremonies, post-ACL surgery.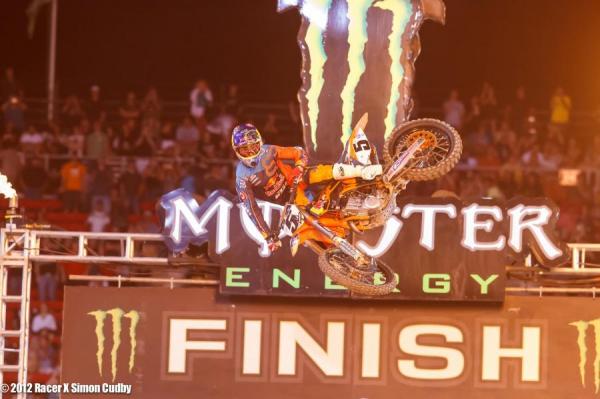 Dungey ends the year with two-straight wins, four total, and wins the tie breaker with Brayton for third in the standings.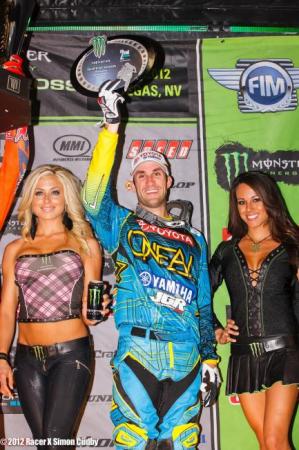 Millsaps rode well all night to take "best of the rest" behind Dungey, as well as secure second in the final standings.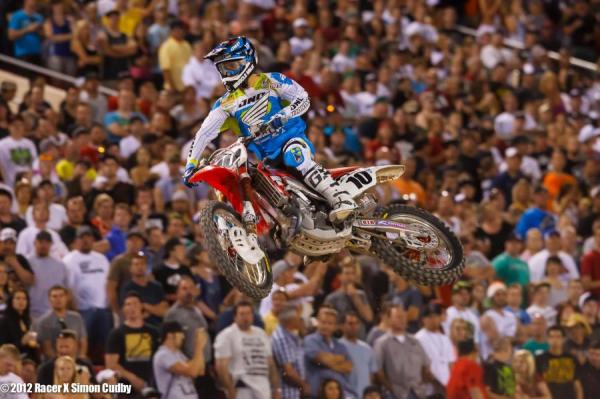 Brayton won his heat thanks to a good start, but blew the start in the main. He rode hard and rallied back to third.
Cudby photos
Main Event
1. R. Dungey
2. D. Millsaps
3. J. Brayton
4. J. Weimer
5. J. Grant
6. N. Izzi
7. M. Alessi
8. W. Peick
9. A. Short
10. N. Wey
11. B. Tickle
12. J. Sipes
13. C. Blose
14. G. Faith
15. T. Bowers
16. J. Thomas
17. R. Clark
18. B. Metcalfe
19. M. Goerke
20. K. Regal

Supercross Class Final Season Standings
1. Ryan Villopoto, Poulsbo, Wash., Kawasaki, 323
2. Davi Millsaps, Murrieta, Calif., Yamaha, 266
3. Ryan Dungey, Belle Plaine, Minn., KTM, 257
4. Justin Brayton, Fort Dodge, Iowa, Honda, 257
5. Jake Weimer, Rupert, Idaho, Kawasaki, 229
6. Mike Alessi, Hilliard, Fla., Suzuki, 206
7. James Stewart, Haines City, Fla., Yamaha, 178
8. Brett Metcalfe, Lake Elsinore, Calif., Suzuki, 177
9. Broc Tickle, Holly, Mich., Kawasaki, 171
10. Kevin Windham, Centreville, Miss., Honda, 166