Sam Boyd Stadium
Las Vegas

,

NV
Las Vegas
Monster Energy AMA Supercross Championship
By Chase Stallo and Aaron Hansel
The Lites Schedule
We'll keep this short and simple. Here's how the schedule will breakdown on Saturday night for the Lites classes: After opening ceremonies, each coast will line up for their final main event of the season. This is normally when we'd see six-lap Lites heat races, but on this night, they're full 15-lap main events. The top-nine from each main will transfer directly to the Dave Coombs Sr. East/West Shootout, while the other 22 riders (11 from each coast) will go to the LCQ. Just like any other Lites race the top-two from the LCQ will transfer to the Shootout, where 20 riders will compete in the 10-lap East/West Shootout. Got it? Good.
East Vs. West
All three championships may already be wrapped up, but there is still one big title up for grabs in the Dave Coombs Sr. East/West Shootout. It's the only chance for fans to see the top guns of the West Coast go head-to-head on a supercross track with the rippers from the East, and the results can get pretty wild. Did you know that an East or West Champion usually doesn't win this race? Last year Ryan Sipes won it. You know how it is in Vegas—bet on the wild cards.
Tickled
Broc Tickle has been showing some real progression lately, and he kept the ball rolling in SLC by taking sixth, his best result of the season. But it wasn't just the main where Tickle was fast, as he qualified fourth fastest, was one of only four 450 riders to log practice lap times under 48 seconds, and finished third in his heat race. Will Tickle be able to use his momentum to crack into the top five in Las Vegas?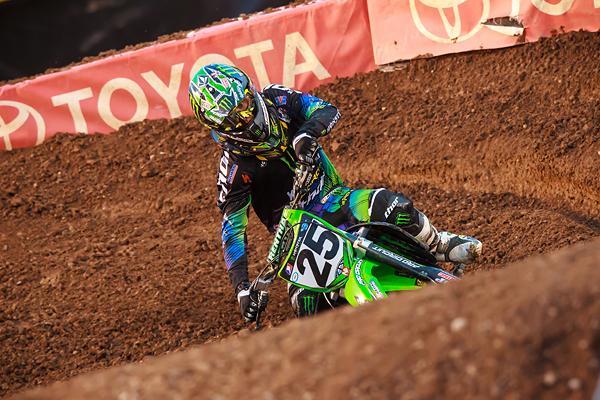 Can Tickle capture his first top five of the season in Vegas?
Simon Cudb photo
Round Watering Hole
The season finale offers an opportunity to get out and have some fun in one of the nation's greatest and most notorious party cities. The unofficial hangout? The Circle Bar at the Hard Rock. If you're in the area, it's worth stopping in and having a beverage. Where else will you have the chance to try out your new pickup line on Miss Supercross Dianna Dahlgren, give the JGR boys your secrets on bike setup, or get told to hang yourself by Dodge Motorsports/Hart and Huntington Team Manager Kenny Watson? The tour is also holding its annual Awards Ceremony at the Hard Rock on Sunday night. So go watch the red carpet like you're part of the paparazzi!
Fantasy League Alert
Looking for a sleeper this weekend to give your fantasy league ranking a boost? Consider Chris Blose. Although he has spent the majority of the season injured, this will be Blose's third race back, and the hard, dry and slick Vegas dirt is not unlike the soil of his hometown of Phoenix. Last year, Blose logged the best finish of his season in Sam Boyd Stadium by taking fourth. Expect him to be gunning for yet another season high this weekend. Another rider with a great past in Vegas is Kyle Cunningham, who took fourth on a 450 here in 2010 and a podium in the West Lites finale last year.
Intramural Rivalries
East-versus-West isn't the only cool aspect of the Dave Coombs Sr. Memorial East/West Shootout. There's also the intra-squad SX rivalries that will only play out on the race track. Is the fastest Lites SX rider on the GEICO Honda team #1E Justin Barcia or #1W Eli Tomac? And you just know all of Europe will be watching to see where Red Bull KTM's former world champ Marvin Musquin is faster than his teammate, reigning world champ Ken Roczen! You've got Baggett versus Wilson under the PC tent. Add up the rest of the teams' under-the-tent battles and it could be an interesting conclusion to the Lites SX season....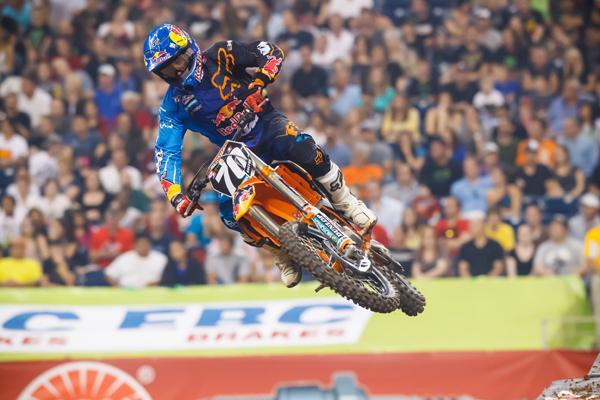 Roczen and the rest of the East Coast boys will go head-to-head with the West in Sin City.
Simon Cudby photo
Party Like a Rockstar
Salt Lake City marked a coming out party for Rockstar Energy Racing Suzuki. Jason Anderson finally showed the fluid, aggressive style that made him a hot commodity coming out of the amateur ranks en route to his first career podium. On the other end of the spectrum, veteran Martin Davalos was finally able to put the pieces of the puzzle together and capture his first podium of the year. Can the Rockstar boys ride the wave of momentum and continue the podium party in Sin City?
Bridesmaid Battle
Last year, Las Vegas was aptly coined "Championship Week" as all three titles were still up for grabs heading into Sin City. With Tomac clinching last week in Salt Lake City all three titles have been decided this year—Ryan Villopoto and Justin Barcia previously clinched their respective classes. But there is still plenty on the line heading into Vegas, as second place in all three classes is still there for the taking. Davi Millsaps holds a seven-point lead over Justin Brayton in the Supercross class, with Ryan Dungey still in the mix, sitting twelve points back of Millsaps. Dean Wilson's 19th last weekend let Marvin Musquin slither his way back into the chase for second. Musquin enters Vegas five points back of the battered Wilson. The Lites East Region will also provide a knockdown fight for second. Darryn Durham and Ken Roczen entered Vegas tied for second, but with Durham sidelined with a should injury, the battle has dwindled to two. Blake Wharton sits a mere one point back of Roczen and with bonus money still up for grabs, don't be surprised to see some aggressive riding from all the contenders on Saturday night.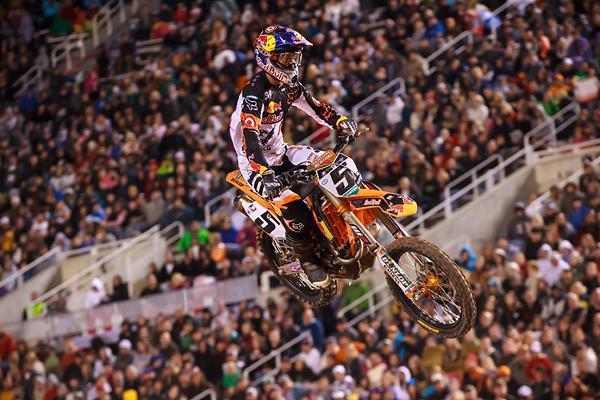 Can Dungey make it back-to-back wins in Las Vegas?
Simon Cudby photo
Bruised and Battered
As Dean Wilson lay on the hard Salt Lake City dirt, clutching at his already tender shoulder, many thought that his 2012 season had come to an end. Speculation was running ramped that Wilson may miss a majority, if not all, of the Nationals as well. But late yesterday, word came down from Kawasaki that Wilson would indeed be lining up for Vegas. A major surprise, to say the least. Either Wilson took some magic healing water that revives soccer players from the dead or he is one tough SOB. The question now remains; can Wilson fight through the pain to hold on for second in points or will his shoulder injury be too much to overcome?
Wide Shut Racing
With so much talent on the sidelines, and Ryan Dungey returning from a fresh injury, the racing was supposed to be wide open last week in Salt Lake City. But Dungey missed the memo, however, as his performance in Utah showed the same type of on-another-level speed as he had against a Villopoto-less field in 2010. To make matters even more soul-crushing for the competition, Dungey was able to take the W even after crashing when Jake Weimer took him high and into a Tuff Block. Will Dungey shut 'em down again this weekend at the Finale?