Seattle, WA
Seattle
Monster Energy AMA Supercross Championship
There's always been something special about the Seattle Supercross. For a time it was one of only two stops on the circuit that had a double header, and because of the time of year we're there, the dirt that is trucked in is usually wet and well, grungy (no word on whether or not it smells like teen spirit). The track provides as much of a challenge to racers as their competition; it gets rutted up, mushy and makes clearing multiple jumps in one leap pretty tough.
Seattle is a race that delivers the unexpected. From hometown rider Larry Ward pulling a couple of very unexpected wins, to Rick Johnson collecting seven career victories, to Ron Lechien taking three of his eight career wins,  you just never know what you're going to see in Seattle. After the Kingdome was demolished and while the open-air stadium was being built, there was a time when the series didn't even go to Seattle. Maybe Paul Allen just didn't like dirt bikes or something for a few years? Anyway, a supercross series that doesn't go to Seattle isn't a supercross series that I want to be a part of. The Emerald City always provides excitement, sometimes without even trying.
I think the less said about the track the better, as there were so many inside to inside corners, I thought we were in a county fair race in Sioux Falls, South Dakota. With the no-berms-allowed-on-the-outside-edges-of-the-stadium-floor policy in effect (in order to prevent riders from launching into the stands), there just wasn't much the guys could do out there. Props to the Dirt Wurx crew for making what could have been a sloppy racing surface into a very primo track, but the design? Yeah, uh, not so much.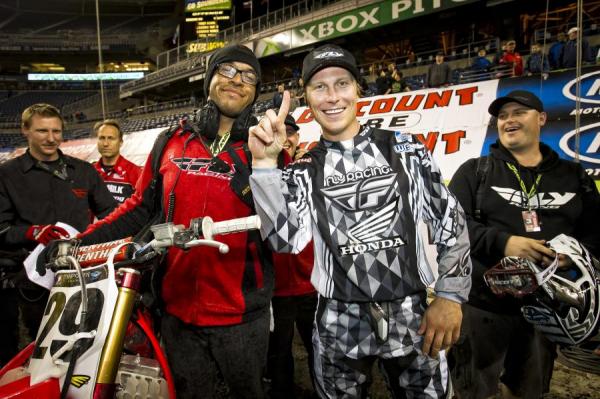 Short (right) celebrates his first career SX win with his practice mechanic Brandon Anderson (left).
Garth Milan photo
Remember what I was saying earlier about surprises being made in Seattle? Well, we saw history being made again in as Larry Ward came out of the stands and pulled off the win on a 99 RM250! Not really, but wouldn't that have been awesome? Almost as good as Andrew Short pulling off one of the more exciting wins that I can remember in the series. Not because of the actual race, although his battle with Ken Roczen was pretty sweet, but because Short's a favorite of many in the pits and had never won one of these things before. And in Seattle, he did it. He won the whole shooting match. Great ride and what a night for Andrew and his team.
It's an impressive win, especially considering that Supercross.com pulled out of its title sponsorship of the Larry Brooks and Jeremy McGrath-owned team shortly after San Diego. Although Short was genuinely hurt for a little while, he was ready to race a few weeks ago but the team was in flux trying to figure things out. When I asked Brooks about what happened, he replied with a, "They stopped paying," which I guess is what it boils down to with a sponsor. Either you pay or you don't right? Thankfully, Brooks and MC got another title sponsor and the team will be back on track and hitting the races with your new supercross winner Andrew Short!
Little bit of a weird deal when Short's regular mechanic, Mark Valcore, who you might remember as working for Ryan Dungey for a few years, actually wasn't there to work on the #29 Honda. He wasn't able to make it for one reason or another and Short's practice-bike mechanic, Brandon Anderson, took up the wrenches in Seattle. And Brandon got the win, which had to have been pretty sweet for him. Some people work years, and years, and years, and years, as a mechanic and never win an AMA supercross race. I'm just saying.
And what about Ken Roczen who finished second? Roczen moved up into the 450 class from the East Coast 250 series on the KTM 350,  and could have won the thing. He was that good and that close. Roczen hasn't had the series he wanted to on the east side, but with his performance in Seattle, he showed that despite those other rides, a great big sausage link of talent lurks in the German.
I've been super hard on the KTM 350 because, well, it just isn't a viable bike for racing professional motocross and supercross in my opinion. And that's based on a super hard formula I've come up with to determine that it's 100cc's short of the other bikes it races against. I know, please stop with the accolades for me in figuring that out. And you know what, Roczen made the pass on Short and maybe, just maybe, would have been able to keep the lead had he been able to squeeze a bit more power out of his 350, but as it was Short slipped by. Ken rode awesome, it's awesome for KTM and awesome for the 350, but his result doesn't deter me from thinking that anyone who rides that bike will soon turn into a frustrated ball of Jello and want to hang themselves for trying to race week in and week out with 450s.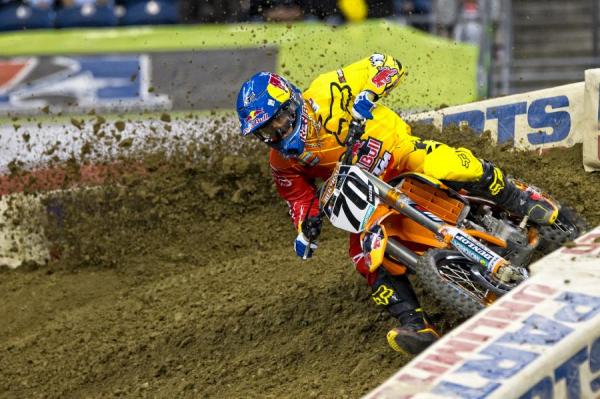 Roczen put the KTM 350 on the box for the first time ever in Seattle.
Garth Milan photo
Roger DeCoster and Pit Beirer's theory is that the 350 can work for riders who are moving up from the 250 class because you have to have that mentality of momentum, aggression and hyperactivity. Maybe they're right, but the flow and lines on a track that the 450s do, don't lend themselves to maintaining momentum on a bike.
We went this far without talking about pre-race heavy favorite Ryan Villopoto, you know, the winner of the 2012 supercross title. That's because RV DNF'd his hometown race when he crashed early in the race. It was a pretty innocent crash and nothing that any of us haven't done in our riding careers, but it was at the right angle with the right pressure, and, poof went the knee. We all know the results by now, Villopoto is out for the rest of 2012 with a knee injury and that's a real shame. He had won three titles in a row and was looking good for a fourth. Its just the way our sport is right now, none of these guys can stay healthy and on the bike for extended periods of time. Are we in a crisis and need to radically change to make something better, or is this just one of those years? I'm not sure right now but I've long thought that the 450s are too much and have taken away some of the excitement of supercross.
None of this matters to RV right now. He's out for the season and joins Chad Reed, Trey Canard, Ryan Morais and others, on the sidelines for the year. And of course, Ryan Dungey was injured for a while, James Stewart has a bad hand and at this point half the field is battling some sort of injury with only two rounds left in the supercross season. The good news is there's a one-week break after Las Vegas and the 12-round outdoor series starts up, which is tougher and infinitely more grueling on a rider than supercross. Good luck guys!
Ryan Sipes snuck in and won the 250 race in a time when everyone was focusing on the Eli Tomac/Dean Wilson championship battle. Sipes just grabbed the holeshot and rode away from everyone! His ninth place qualifying time was not indicative of what was to come, but Sipes showed that he can indeed be a winner. He's long been one of the "if" guys in the class: if he can avoid injury, if he can stay on two wheels, if the sun and moon aligns-that sort of stuff.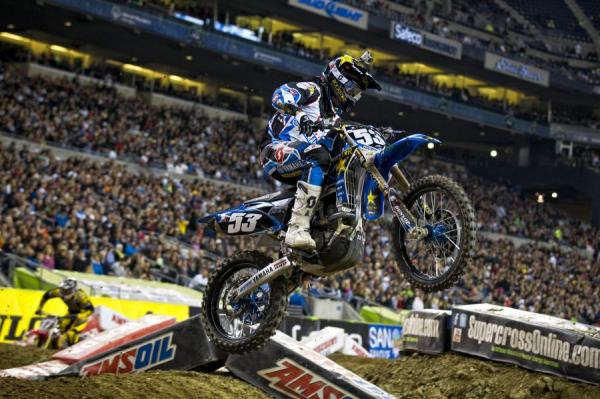 Sipes came back from injury to grab his first win since the East/West Shootout last year.
Garth Milan photo
We know Sipes is fast. He's always been fast, and when he won his first career supercross last year in Indianapolis, the feeling in the pits was much like it was when Short won this weekend. A good guy gets rewarded and it's good to see. In my opinion, I've long thought Sipes should be in the big class just for a change of scenery. Because of his injuries and inconsistency, it just came to me that maybe the 250 just isn't his bike. Maybe on a 450 he smoothes out and has time to think about things more while out on the track and maybe, just maybe it's the class for him. A few years back he rode for MotoConcepts Yamaha in motocross and was a top ten and sometimes top five guy.
Anyway, he'll be riding a 450 this summer for the Star/Valli Yamaha team and again, I'm calling him as the sleeper in that class. Ryan's got serious talent, works hard and just has to stay on two wheels and great things can happen. If I see him in the 250 supercross class in 2013, I'm going to go and light his bike on fire so he can't ride it. Stamp that.
Let's have a look at the results from Seattle.
Western Regional Supercross Lites Overall
1. Ryan Sipes Yam
2. Marvin Musquin KTM - Marvin rode great in coming from the back and he had the fastest time in practice both times out. I'm telling you, his 450 experience on the East Coast helped him out.
3. Eli Tomac Hon
4. Cole Seely Hon - Seely was sort of bummed after the race but he rode a solid, steady race and was charging hard for most of the main event. Sometimes you get the Chipotle, and sometimes the Chipotle gets you.
5. Wil Hahn Hon - Wilbur made his return to his proper class after missing most of the year with injury. He's been on the factory Honda with the 450s, and the 250 class requires a little bit different mindset. Still, a top five is nothing to be ashamed about.
6. Jason Anderson Suz - Anderson rode well and I think next year he is going to be a podium guy. Just watch.
7. Dean Wilson Kaw
8. Billy Laninovich Hon - Bad Billy Lano was back this week doing what Bad Billy does as a privateer. Putting it into the top ten just about every week.
9. Travis Baker Hon
10. Vince Friese Hon
11. Scott Champion Hon
12. Kyle Beaton Kaw - Canada's great white hope, eh? Beaton did well and looked to me to be a shoe-in for a top ten. Then I started watching other people and I'm not sure what happened. Whatever it was, I blame his mechanic, Pat O'Connor.
13. Killy Rusk Hon
14. Martin Davalos Suz - I don't know what happened to Martin Davalos and I don't think Martin Davalos even knows what happened to Martin Davalos.
15. Topher Ingalls Hon
16. Beau Hudson Kaw
17. Matt Moss KTM - Moss crashed out and feared it was a broken wrist but I guess X-rays turned out negative, which is a good thing.
18. Erik Meusling Hon
19. Preston Tilford Hon
20. Myles Tedder Kaw - Another Tedder in his first ever main event! Run for the hills, it's a Tedder invasion!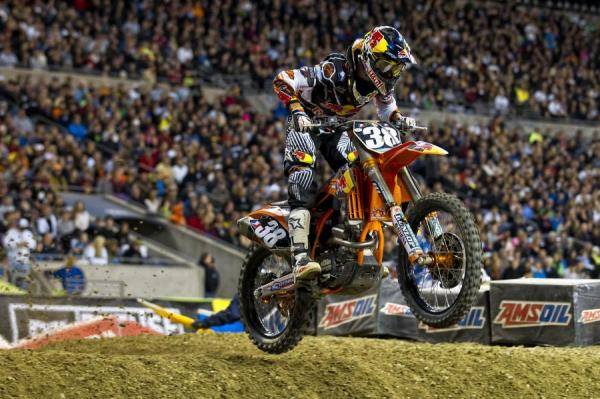 Musquin rode to a solid second behind Sipes.
Garth Milan photo
Supercross Overall
1. Andrew Short Hon
2. Ken Roczen KTM
3. Jake Weimer Kaw - Weimer and Brayton were right there at the finish. Weimer said that Brayton started pushing pretty hard with about four laps to go and he realized that he had better pick it up. Luckily for his pocketbook, he did and got the last spot on the box.
4. Justin Brayton Hon - Guess what Brayton told me after the race? That he started pushing it with four laps to go, so Weimer's story made sense. Anyway, if the main event was five laps longer, the top four guys would have had a great race. Then again, if I was 200 pounds lighter I could wear my riding gear from 1985.
5. Davi Millsaps Yam - I never noticed Davi out there that much to be honest, but a fifth is fine. He was definitely the leader coming into the race of, "If it's a sloppy, muddy mess, I got Millsaps for the win," department.
6. Ryan Dungey KTM - Dungey came back after missing a bunch of races with an injury and seemed right at home. Of course, it's Ryan Dungey, what did you expect? He tipped over in the main when his front wheel made contact with Justin Brayton's rear wheel but in the end, Dungey should be the favorite to win the next two races.
7. Mike Alessi Suz - Quiet night for the 800 after his near-podium at New Orleans. He's got to be having trouble staying focused on supercross, seeing as how his true love, the outdoors, are coming up.
8. Broc Tickle Kaw
9. Weston Peick Yam - This just in, Weston Peick is for real. He doesn't show a ton of flash and dash out there, but at the end of the night he's in the top ten.
10. Nick Wey Kaw - Wey's got some back issues he's been dealing with that have hampered him. He told me after the race that he's tired of getting tenth.
11. Kyle Chisholm Kaw - Chisholm is battling some tendonitis in his arm that prevents him from doing much riding. And as I wrote above, there's no rest for these guys.
12. Robby Kiniry Yam - Kiniry went down on the first lap with Josh Grant, so a twelfth is pretty good, all things considered.
13. Justin Sipes Kaw
14. Chris Blose Kaw - Blose's first race back, and after being gone so long, I forgot all about him. A fourteenth is fine for Blose and he'll be better at the next two races.
15. Matt Goerke Suz - Matt deserves some serious props for even racing, never mind making the main event. Georke crashed in New Orleans and it looks like the cops from the Rodney King incident recreated their famous beat down on Georke. He's so black and blue from the crash, it was amazing he raced. See folks, this is the stuff that no one in the stands sees. It's what the fifteenth place guy goes through just so he can race. Seriously, major props to Goerke.
16. Tyler Bowers Kaw - Not even the fill-in guys at H&H can stay out of trouble.
17. Kyle Regal Kaw - See above.
18. Josh Grant Kaw - Bummer for Grant as a crash broke his bike and he wasn't able to use the momentum from last week's second place to get him back into the mix.
19. Ryan Villopoto Kaw
20. Brett Metcalfe Suz - I called it last week, Metty will podium before the year is over. Stamp that.
Thanks for reading, we had to shorten things up a bit this week because, well I'm lazy. Email me at matthes@racerxonline.com if you want to share your thoughts with me.