Californian Michael Leib went from a stage of career resurrection as a supercross privateer this winter to a factory Monster Energy Yamaha Grand Prix rider as a temporary solution to the team's injury crisis. After two resolute attempts at the FIM series in 2010 and 2011 Leib was trying to make a go of things back home and some promising results in the West Region Lites when the transatlantic call came through. The 20 year old didn't have to think long about opening the suitcase once more and grabbed a promising 12th position at the Grand Prix of Bulgaria last weekend despite only riding Zach Osborne's Yamaha for the first time in the opening practice session of the meeting.
Racer X: Mike, a different continent, different team, bike and style of motocross. What are your feelings after taking it all on here in Bulgaria?
Michael Leib: Honestly? I feel like I have been through hell! It was tougher than I expected. I flew over to England on Wednesday, jumped on a plane again on Friday and didn't get on the bike until Saturday morning. I kinda struggled to get used to it because the ergonomics and the chassis is a hell of a lot different to what I'm used to on the Honda but I adapted pretty well by the second session for the pre-qualification. I didn't ride very good until about half way through the qualifying race and then made the fastest lap in warm-up, so at least I won something! I started in the wrong gear for the first moto and that was stupid on my part. I got going about ten or fifteen minutes through and rode really well, pretty good anyway for just having climbed on a Yamaha. In the second race I didn't have anything left in the tank because all I've been doing is riding and testing for supercross. Anyway, I got my feet wet and now we'll head off to Italy. I'm super-stoked that Steve Dixon [Team Manager] and Monster Energy Yamaha gave me the chance to come out here and race and hopefully we'll put on a good show in Fermo.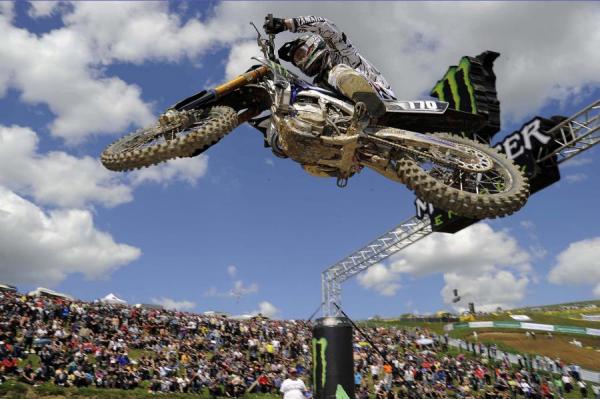 Leib finished 12th in his 2012 GP debut.
Yamaha photo
What did it feel like jumping on Zach's bike?
A huge difference. The engine is super-strong but we struggled with the suspension so we will be testing a bit with that next week. Honestly though it is a really cool opportunity to jump on a plane and come and do a few GPs. My plan is to leave this European chapter with a different mindset. It is not hard to work out that my last two years here in Europe were difficult.
It was obviously a big thing to drop what you were doing and come out here. Do you think those two years you had in Europe make it a bit easier than it would for say another rider in the U.S.?
I think doing those two years, and in the ways I struggled while I was here, made me not want to get on that airplane but I'm a guy that likes a challenge and I saw something in this chance to come back. Not to prove something to anybody else because I don't really care about that and I already made a couple of decent results in supercross to show I was a little bit out of control of the situation in GPs for the previous two years. I wanted another shot at Europe and maybe even things will work out here, I don't know. I don't like leaving things unturned. I felt like the last two years was out of my hands and I couldn't do what I wanted to do. Supercross has become really expensive for me and I couldn't really afford it. The only tie that I had was with JT Racing and they were fully supportive of me coming out here so a big thanks to them for agreeing to that.
Where do you stand on possibly extending your stay?
Plan A is to do the outdoors. Plan B could be better or worse, you never know. If something happens here then I'll jump on it but a lot of things would have to be right for me to stay. I wasn't happy living in Europe for the last two years so there are a few things I would really need and want to be able to do that. I'm open. I'm spending my own money racing back home anyway!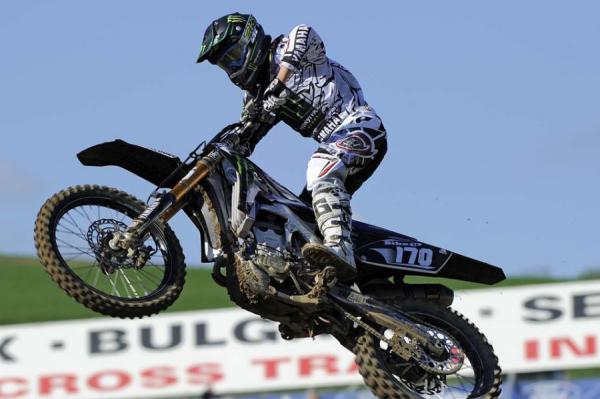 Leib is scheduled to race this weekend in Italy and then return to the states for the Lucas Oil Motocross Championship.
Yamaha photo
The last two years might have left you with a bitter taste but to be back in this paddock, series and atmosphere is it a cool thing to do?
Yeah. Dude, a day that you can get on a plane, travel the world and race a dirt-bike and not pay out of pocket for it…how can you turn that down?! I had missed two supercross' because I took a while to get back into it for the first one and had a wreck at San Diego so I was out of the points and something like thirteenth before Seattle. I had a good chance thanks to Steve Dixon and wanted to go for it.