Qwest Field
Seattle

,

WA
Seattle
Monster Energy AMA Supercross Championship
Just when you thought the 2012 Monster Energy Supercross Championship had run out of drama and excitement, it produces a wild main event at Century Link Field in Seattle, Washington, with a pair of veteran, hard-working riders pulling off upset wins.
The craziness started almost immediately in the SX main event. What was supposed to a be a dream ride for home-state boy Ryan Villopoto quickly turned into a nightmare when the Monster Energy Kawasaki rider crashed on the first lap of the race and had to crawl off the track in pain. He had gotten a bad start and tried to make a move down the inside of Davi Millsaps when he lost the front end and buckled his left knee. He also took a handlebar to the gut.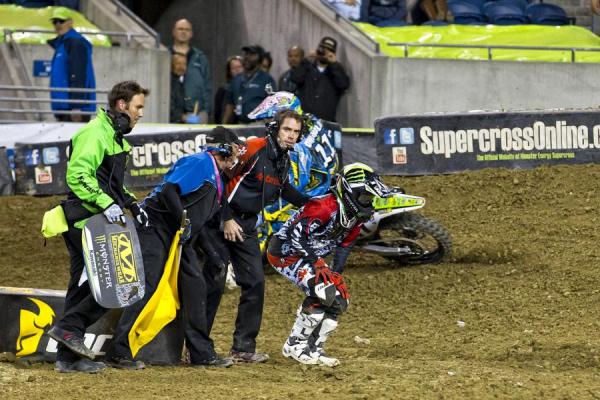 Kawasaki Racing Manager Reid Nordin said that although Villopoto dropped out of the race, he is okay.
Photo by Garth Milan
"Ryan didn't get such a good start," said Nordin. "He was charging through the pack and lost the front end and ended up getting a handle bar to the gut, which knocked the wind out of him, and he got a stinger when the foot peg came down on him. He's really bummed out and upset with himself with what happened. He really wanted to do well for the fans here."
Meanwhile, Andrew Short pulled the start on his L&Mc Racing Honda and soon came under pressure from Red Bull KTM's Ken Roczen, Monster Energy Kawasaki's Jake Weimer, Honda Muscle Milk's Justin Brayton and Red Bull KTM's Ryan Dungey. Short and Roczen began to pull away and turned the battle for the lead into a private duel, and they went back and forth for a few laps, swapping the lead and getting the big crowd cheering. Roczen was pulling out a tough triple jump while taking off from a dragon's back, but by the halfway point, Short settled down and started pulling away from the 350-mounted Roczen, and then extended it further with some smooth moves in lapped traffic.
Roczen tried to mount up one last run, but he cased the triple hard and tightened up.
Earlier, Dungey had tried making a move on Brayton for fourth, but he bumped Brayton's rear wheel with his front and crashed when they tangled in a corner. Brayton kept the heat on Weimer for third, and then late in the race they began to close on both Roczen and Short. Short did what he needed to do, though, staying consistent on a rutted, gnarly track and hanging on for a very popular first-career SX win.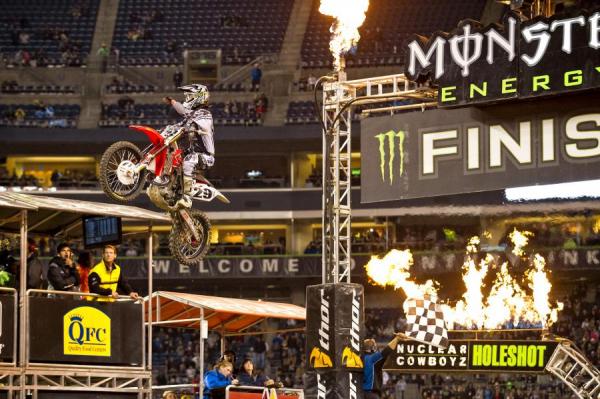 Short gets his first ever SX class win.
Photo by Garth Milan
"It's an unreal feeling," said Short. "I don't even know what to say or what to do. I'm getting old! After awhile you start looking back to the races you could have won but let slip away and wonder if you're ever going to get one. I had to dig down deep. That's what it came down to. My wife is always telling me sometimes you just have to grab yourself by the balls and make it happen, and that's what I did!"
Roczen was second ahead of Weimer, Brayton and JGR/Toyota Yamaha's Davi Millsaps. Dungey recovered for sixth in his first race back from breaking his collarbone. MotoConcepts' Mike Alessi logged the fastest lap time in qualifying practice but finished seventh, Monster Energy Pro Circuit Kawasaki's Broc Tickle was eighth, and Rockstar Valli-Star Yamaha's Weston Peick ninth. Motosport.com/Foremost Insurance/TiLube Kawasaki's Nick Wey rounded out the top ten.
The sparks were expected to fly in a Lites West battle, and they did when Monster Energy Pro Circuit Kawasaki's Dean Wilson and GEICO Honda's Eli Tomac collided, literally, several times in a pitched battle for the points lead. Ahead of them, Star-Valli Rockstar Yamaha's Ryan Sipes held the race lead after grabbing the holeshot. Tomac sat in second, but Wilson made a pass on him. Then Tomac set Wilson up and retook second, but Wilson responded with a hard pass and some contact that sent Tomac off of the track. Tomac got back on the track quickly, still sitting in third behind Wilson. When he saw an opening a few laps later, he went for the kill and bumped Wilson on the inside across the starting stretch. Wilson went down.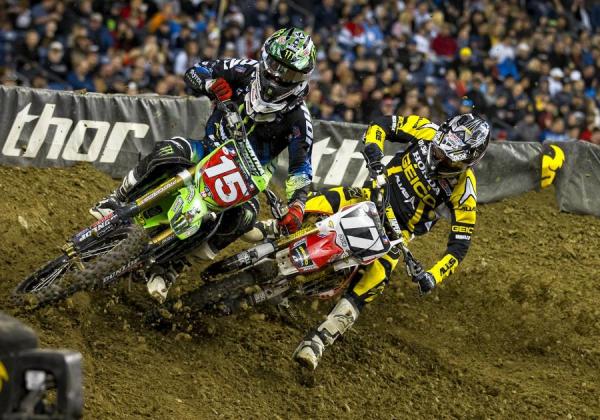 Wilson and Tomac put on a show for the ages with back and forth passes.
Photo by Garth Milan
While Sipes continued to log smooth laps up front, the collision hurt both Wilson and Tomac. Wilson got up in sixth but dislocated his shoulder in the crash. He struggled to hang on, but gritted through the pain and finished seventh. Tomac also lost his pace due to a broken shifter, which left him stuck in third gear and slipping his clutch to keep from stalling. Finally he jammed the shifter into second, which saved the clutch but slowed him. As he lost time, he fell into a huge battle for third between Lucas Oil Troy Lee Designs Honda's Cole Seely, Red Bull KTM's Marvin Musquin and GEICO Honda's Wil Hahn.
Musquin had won his heat and ran the fastest laps in both practice sessions. He blew the start in the main, but he rode strong to get past Hahn and Seely, and then sneak past Tomac for second on the final lap.
Sipes rode a smooth, steady pace to log his first win of the season. Considering he was in his first race back from wrist and shoulder surgery, and how badly he struggled with crashes and injuries throughout the first half of the West Lites season, it was a huge win for Sipes.
Tomac's third and Wilson's seventh gives Tomac a four-point lead in the West standings, but Wilson is now dealing with a shoulder injury.
That left the final order was Sipes, Musquin, Tomac, Seely, Hahn, and Jason Anderson, with Wilson in seventh, Billy Laninovich eighth, and Travis Baker and Vince Friese rounding out the top ten.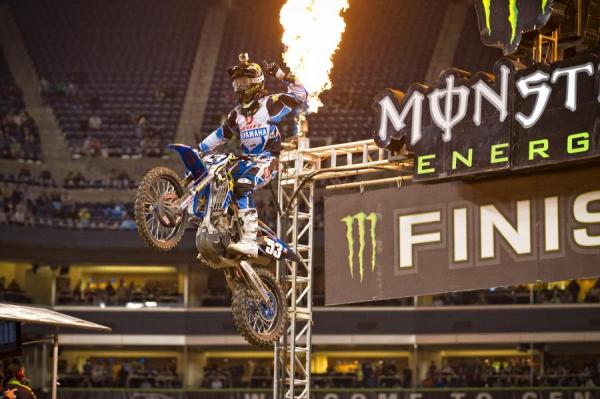 A big win for Sipes in his first race back.
Photo by Garth Milan
SX Main Event Results
1. A. Short
2. K. Roczen
3. J. Weimer
4. J. Brayton
5. D. Millsaps
6. R. Dungey
7. M. Alessi
8. B. Tickle
9. W. Peick
10. N. Wey
11. K. Chisholm
12. R. Kiniry
13. J. Sipes
14. C. Blose
15. M. Goerke
16. T. Bowers
17. K. Regal
18. J. Grant
19. R. Villopoto
20. B. Metcalfe
Heat 1
1. R. Villopoto
2. K. Roczen
3. J. Brayton
4. A. Short
5. B. Metcalfe
6. B. Tickle
7. J. Grant
8. T. Bowers
9. C. Blose
10. N. Paluzzi
11. J. Albertson
12. B. Ripple
13. G. Crater
14. S. Wennerstrom
15. A. Ray
16. N. Wey
17. G. Faith
18. A. Albers
19. J. Alessi
20. R. Noftz
Heat 2
1. R. Dungey
2. J. Weimer
3. D. Millsaps
4. K. Chisholm
5. M. Alessi
6. K. Regal
7. R. Kiniry
8. M. Goerke
9. J. Sipes
10. W. Peick
11. T. Tapia
12. C. Gilmore
13. M. Horban
14. C. Siebler
15. P. Mull
16. A. Enticknap
17. R. Clark
18. N. Izzi
19. C. Howell
20. J. Thomas
LCQ
1. W. Peick
2. N. Wey
3. N. Izzi
4. N. Paluzzi
5. J. Albertson
6. B. Ripple
7. R. Clark
8. G. Crater
9. G. Faith
10. J. Thomas
11. M. Horban
12. C. Gilmore
13. T. Tapia
14. P. Mull
15. C. Siebler
16. S. Wennerstrom
17. A. Enticknap
18. C. Howell
19. R. Noftz
20. A. Ray
21. A. Albers
22. J. Alessi
Lites Main Event Results
1. R. Sipes
2. M. Musquin
3. E. Tomac
4. C. Seely
5. W. Hahn
6. J. Anderson
7. D. Wilson
8. B. Laninovich
9. T. Baker
10. V. Friese
11. S. Champion
12. K. Beaton
13. K. Rusk
14. M. Davalos
15. T. Ingalls
16. B. Hudson
17. M. Moss
18. E. Meusling
19. P. Tilford
20. M. Tedder
Heat 1
1. D. Wilson
2. M. Davalos
3. M. Moss
4. E. Tomac
5. V. Friese
6. T. Baker
7. B. Hudson
8. E. Meusling
9. P. Tilford
10. K. Rusk
11. T. Bright
12. J. Greco
13. R. Rangel
14. S. Rhinehart
15. C. Gores
16. C. Plouffe
Heat 2
1. M. Musquin
2. W. Hahn
3. C. Seely
4. J. Anderson
5. R. Sipes
6. B. Laninovich
7. K. Beaton
8. T. Ingalls
9. M. Tedder
10. R. Smith
11. D. Schmoke
12. C. Jurin
13. B. Rangel
14. B. Gillespie
15. B. Nauditt
16. R. Abrigo
17. S. Champion
LCQ
1. S. Champion
2. K. Rusk
3. C. Plouffe
4. J. Greco
5. R. Abrigo
6. R. Smith
7. D. Schmoke
8. B. Nauditt
9. C. Jurin
10. B. Rangel
11. S. Rhinehart
12. B. Gillespie
13. R. Rangel
14. T. Bright
15. C. Gores
SX Standings:
1. Ryan Villopoto, Poulsbo, Wash., Kawasaki, 323
2. Davi Millsaps, Murrieta, Calif., Yamaha, 222
3. Justin Brayton, Murrieta, Calif., Honda, 219
4. Ryan Dungey, Belle Plaine, Minn., KTM, 207
5. Jake Weimer, Rupert, Idaho, Kawasaki, 191
6. James Stewart, Haines City, Fla., Yamaha, 178
7. Mike Alessi, Hilliard, Fla., Suzuki, 176
8. Brett Metcalfe, Lake Elsinore, Calif., Suzuki, 173
9. Kevin Windham, Centreville, Miss., Honda, 166
10. Broc Tickle, Holly, Mich., Kawasaki, 146
Western Regional Supercross Lites Class Season Standings
1. Eli Tomac, Cortez, Colo., Honda, 134
2. Dean Wilson, Menifee, Calif., Kawasaki, 130
3. Cole Seely, Murrieta, Calif., Honda, 119
4. Marvin Musquin, Murrieta, Calif., KTM, 111
5. Ryan Sipes, Ekron, Ky., Yamaha, 78
6. Nico Izzi, Menifee, Calif., Yamaha, 78
7. Matt Moss, Murrieta, Calif., KTM, 77
8. Travis Baker, Temecula, Calif., Honda, 75
9. Jason Anderson, Edgewood, N.M., Suzuki, 73
10. Billy Laninovich, Riverside, Calif., Honda, 70