Before we knew the 2012 season would become one littered with injuries, Trey Canard and Ryan Morias went out early after a vicious crash at the Los Angeles SX. We spoke with Morias in Racerhead last week, but haven't spoken to Canard about his recovery lately. We rang up the Honda Muscle Milk man to see how things are going.
Racer X: You said you're flying today? You doing some moving and shaking?
Trey Canard: No, not really! I'm just headed to California for a few days to see the surgeon who worked on my back, and visit some people out here. Just get a change of scenery. It's just good to get out of the house, and I haven't seen my surgeon since a few weeks after the surgery.
Is the surgeon part of the actual recovery, or do you transition into a different set of doctors for that?
Some people have different opinions, but to me he's a huge part of this, because he's the one who actually saw all the damage in there. When they say you broke you back, it doesn't mean you snapped your spine in half. It can mean many things, and in my case, tissue damage was the biggest problem. He's the one who saw that, while my doctor at home basically got handed the case to watch. He'll prescribe my physical therapy when that gets going, but I'd also like to see my surgeon and see his take on how it's progressing.
That's key right there—not in physical therapy yet?
Yeah, I thought I would start that at eight weeks, but they let me out of the back shell after eight weeks, and basically there was so much atrophy that just walking around has become like therapy. They didn't want to put too much on me at one time, especially since the back is such a sensitive injury. Hopefully I can start in the next few weeks.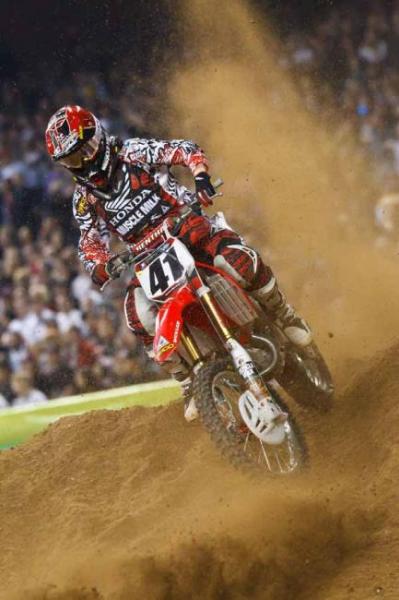 Canard hopes to make a return to racing in 2013.
Simon Cudby photo
We can officially say Trey Canard has come out of his shell!
[Laughs] Yes! I have come out of my shell! I've actually been out for a few weeks, but I had to get some additional surgeries on some other things, too.
A crash this big can be very scary, but it seems like you've taken the approach that you were lucky—it could have been worse.
Yes, I consider myself fortunate. I had never seen the crash in slo-mo until Houston, when they showed a clip of the crash with Ryan and I, and I was just in shock. I rewound it and watched it in super slow mo. It's crazy. It made me super thankful to be alive, let alone have the chance to ride again.
Well, I think that's the first thing everyone wonders about with an injury this big. Did you ever think you might not want to come back, even if you could?
There was a time, right when I was in the ambulance, that I thought I was done. They said, "We think you broke your back." When you hear that, you don't think you'll ever be back to normal again. Then after surgery, I was really sedated, and I think I told Jimmy [Albertson] that I didn't think I would ever be able to race again. But, since I've been all there, ever since I've come out of that drugged up state, I've never thought that. I have such a huge passion for this, this is what I want to do. When I think about it, that crash could have happened for so many years in supercross, and it never really has, or hasn't happened very often. I think this can become a really good story for a lot of people if I can come out of this in a good way. Basically right now I already feel normal, it's just a matter of more bone and tissue healing.
And all of that has gone okay?
I haven't talked to anyone who has said, "Yeah, this part isn't good." Everyone is 100 percent on board with being able to make a 100 percent recovery. Usually, you have skeptics, even with my femur I had people saying I wouldn't walk again properly, let alone race. I haven't had that happen this time, so there hasn't been that doubt, and I also haven't ever let myself feel that way.
I would like to ask you what you think of the racing this year, but unfortunately the injuries have been the story. I wish we had more to talk about than crashes and injuries!
Yeah! The Lites class has been good, though. On the East, I was excited to see [Blake] Wharton get a win, and the West has been crazy. The 450s, there was so much hype after last year getting called "The Greatest Season Ever" or whatever they called it. I think it built so much anticipation, that all of the riders where getting antsy, "I've got to get better. I've got to go faster. I've got to push myself harder." And maybe that's what led to some of the issues. Of course, it's hard to really know what is causing all of the injuries, but that's my opinion.
Some will try to point at tracks or bikes or something, but you don't see any difference there from last year?
No. If anything, the bikes are better. If anything, I think there was so much anticipation, and then when certain guys got hurt, it created more hope for others. And Ryan Dungey got hurt, which is unthought of! It's been a crazy year, so I think you just write it off as that, a crazy year, and move forward.
But I do want to say I'm pumped for [Ryan] Villopoto. He's had his fair share of adversity through the years so I'm pumped to see him having the kind of season he is having.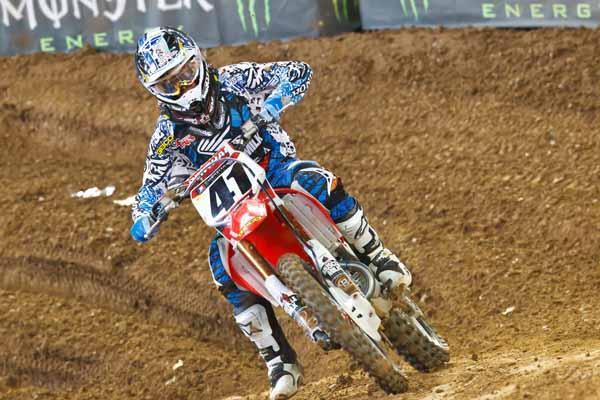 If everything goes according to planned, Canard will begin riding in August.
Simon Cudby photo
Do you have any idea when you might get back on a bike?
I'm hoping somewhere around August. It's a weird deal because with the spine fusion, they inject a bone graft in and kind of putty it up. That graft doesn't turn into bone for like six months. So really when those things turn into bone, I'll have pretty much free reign. In the meantime, it's a matter of getting my back really strong so I'll have good support. I hope to be riding by July, August or September, it's hard to say because you don't know how your body is going to react. But I think that's good timing, I'll be able to get some good outdoor practicing in and have the full off-season t prepare for supercross.
We've seen quite a few riders, lately, at your level, take a lot of time off, usually from injuries, and they can come back to their old level. You've been riding a bike your whole life so it doesn't appear like you loose the skills that quickly. Do you almost see this as a chance to rebuild yourself?
I think yes, with this injury more so than any others. With the past injuries, I was always trying to heal up fast. With that femur injury, I was trying to heal up so I could make it to some outdoors. Then I broke it again, and the clock started ticking to get ready for supercross—I only had eight weeks, and that's not a lot of time to get ready. Then with the collarbone, I ended up having only a week and a half to get ready for my first supercross. I never had a chance to revaluate. With this one, I get a chance to reflect a little bit, and if I am back by the end of summer, I'll have five or six months to really get ready for supercross. So yeah, there's a huge positive there, so I have to work on it that way. And this is a contract year for me, and I think we all want to have that workout the way we all kind of want it to. As long as I can keep working hard and keep a positive outlook, I think the good things will come.
This sport can be pretty gnarly at times. But it sounds like you still love it as much as ever.
Yes, absolutely. You know, you're a human being, so there have been parts of this that I definitely thought sucked, or did things that weren't fun. But I enjoy racing and riding way more than I hate being hurt. I think there are way too many good times ahead to dwell too much on this. So I'm just going to keep a positive outlook and keep moving forward. There's still that part of me that wants to fight for it.