Monster Energy Kawasaki's Ryan Villopoto just became the fourth rider to ever win back-to-back AMA SX titles, which is darned impressive. And who is to say he can't continue that streak next year? And what about going for two-straight in the Nationals this summer? We could be witnessing the start of something big.
In honor of that, we're digging through the past and listing the best title win-streaks ever. How far up the ladder can RV eventually go?
Broc Glover/Mark Barnett/Ryan Villopoto: These boys all won three-straight in the AMA 125 MX or Lites class. Glover won in 1977, 1978 and 1979. He then went for four-straight, but ran into the next big star of the small-bore class, Barnett, who finally broke through in 1980. Barnett followed with the 1981 and 1982 125 National titles. Johnny O'Mara finally ended Barnett's streak in 1983. RV already gets on this list thanks to three-straight Lites MX titles from 2006—2008. Villo has yet to lose an AMA National MX title in a year in which he made the full season!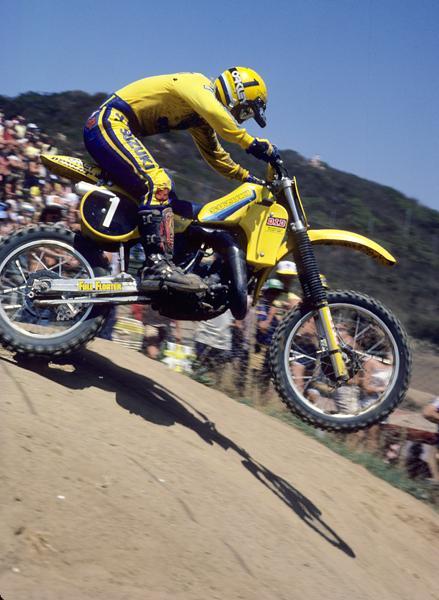 Mark Barnett won three-straight 125 National titles in the '80s.
Photo: Dick Miller Archives
Gaston Rahier/Harry Everts: The late Rahier won the 125 World GP Crown from 75-77, and Everts won three-straight from 79-81. What's funny is that now many know Harry simply as Stefan Everts' dad! And while we're on the subject of streaks, Rahier and Everts were part of a 10-year streak of Suzuki 125 GP Championships.
Tony Distefano: Pennsylvania's Tony D is the Rocky Balboa of motocross, taking a similar tough-guy status to three-straight 250 National Championships in 1975, 1976 and 1977. He did it all on Suzukis, and his Tony D Suzuki riding school became a fixture for the brand for decades.
Gary Jones: The record books say Jones won the first three AMA 250 National Motocross Championships (1972, 1973, 1974 on three different brands!) but many consider him a four-time champ. The actual AMA National Motocross tour didn't begin until '72, but in 1971, Jones was the Top American in the Inter-Am Series for 250cc bikes. Yes, Top American was a real award back in the early days of the sport, and by winning it, Jones became the de-facto AMA National Champ. So, consider it four-straight.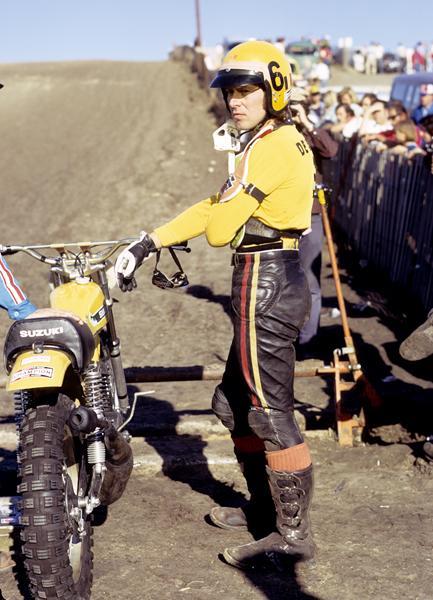 Ever wondered why they called DeCoster The Man? Now you know.
Photo: Dick Miller Archives
Roger DeCoster: Why do they call him The Man? Three-straight 500 World GP titles in 1971, '72 and '73 back when the 500 GPs were the unquestioned top level of the sport.
Antonio Cairoli: This one is still going, with AC222 winning three-straight MX1 GP titles, and starting his quest for a fourth in a few days. This streak could be really, really impressive before it ends.
Joel Robert: Robert won an amazing five-straight 250 World GP titles from 1968-1972, a few on CZs and a few on Suzukis. He and DeCoster formed one heck of a Belgian/Suzuki tandem in their prime.
Bob Hannah: The Hurricane dominated American racing in a way no one had ever done before, with three-straight AMA Supercross Championships from 1977-1979. And he did it all in spectacular fashion. To put that all in perspective, it took eleven years for another rider to even win back-to-back SX titles (Jeff Stanton in 1989 and 1990). In fact, the three-in-a-row deal in supercross seemed unapproachable. Until….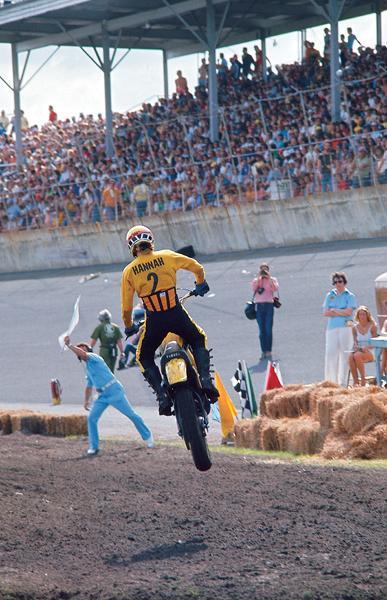 The Hurricane dominated American racing during the late '70s.
Photo: Racer X Archives
Jeremy McGrath: MC had two ridiculous SX title streaks—four-straight from 1993-1996 and then three more from 1998-2000. Only a rough year with Suzuki in 1997, where he lost the crown to Jeff Emig by a handful of points, prevented MC from winning an astonishing eight-straight SX titles.
Stefan Everts: The record books say Everts won four-straight MX1 GP Championships (2003-2006), but that's only because the class wasn't called MX1 until 2003. He also won the 500 GP title in 2001 and 2002, so he really went for six-straight!
Ricky Carmichael: RC's outdoor streak is so long we're not even sure how to categorize it! His three-straight 125 National Championships match the all-time best streaks in that class, but then he immediately followed it with seven-straight in the big-bike class. No one else has ever won five-straight titles in any AMA class, let alone seven! Add in those three 125 crowns, and Carmichael went a ridiculous 10-0 during his career outdoors. GOAT!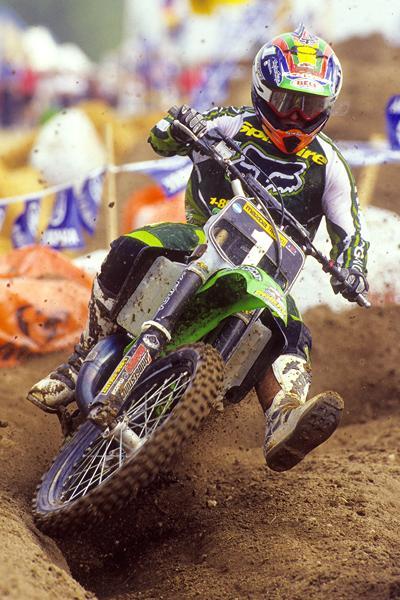 The GOAT! That is all.
Simon Cudby photo