Reliant Stadium
Houston

,

TX
Houston
Monster Energy AMA Supercross Championship
For a moment tonight, we got to see the "expect the unexpected" and "anything can happen in racing" mantras come to life. In Houston, Texas' round of the Monster Energy Supercross Championship, GEICO Honda's
Justin Barcia
looked to have the Lites race sewn up with a big lead on the last lap. But Barcia tangled with lapped rider Lance Vincent while going around him, and both riders hit the ground. Red Bull KTM's
Ken Roczen
inherited the lead for his first win of the season, while Barcia recovered for second ahead of Monster Energy Pro Circuit Kawasaki's
Blake Baggett
.
With that kind of potential drama, maybe there was a chance of something unexpected in the SX Class. And with a championship potentially hanging in the balance, such drama could make for big headlines. But Monster Energy Kawasaki's Ryan Villopoto said to that, "Not a chance." He battled down the start straight and got past JGR Toyota/Yamaha's Davi Millsaps for the lead in the first few corners. From there, he slowly moved out from Millsaps to get to his eighth win of the season.
Meanwhile, Villopoto's championship also became secure when James Stewart got a terrible start, then crashed out when he overjumped a tabletop in a rhythm section and went over the bars. It was a hard crash, and Stewart retired from the race after that. From there, Villopoto only had to hold off Millsaps to win the title, and he did. Villopoto dropped his bike after the finish of the race and pumped his fists. He becomes just the fifth rider to ever win back-to-back AMA SX Titles, wrapping it up an incredible four races in advance.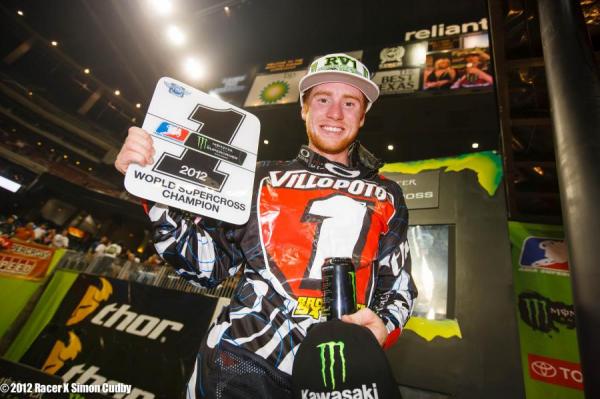 Ryan Villopoto wrapped up his second straight Monster Energy Suprcross title in Houston.
Simon Cudby photo
Millsaps and Villopoto's teammate Jake Weimer rounded out the podium. Millsaps rode strong to earn his third podium in four races, and takes over third in the series from his teammate Stewart, and moves within a single point of the injured Ryan Dungey for second. Weimer was happy to rebound after a bunch of tough races, including missing a main event two weeks ago at Indy, and missing a podium last weekend in Toronto when he got jacked up by a lapper and then later made a mistake and sailed off the track. This time Weimer rode steady, holding the third spot for most of the race.
MotoConcept's Mike Alessi rode well, also, getting fourth, with fifth going to Honda Muscle Milk's Justin Brayton. Brayton's recent run of podium finishes ended due to a mediocre start, and by the main event the track had become pretty tough to pass on. There was little action in either the Lites or SX mains.
But earlier in the show, the crowd was excited as it looked like fan favorite Kevin Windham might have been able to make a run for the win, as he posted the fastest times in both practice sessions. Windham then had a fantastic battle with Stewart for the win in the second heat. On the last lap, while running second, Windham scrubbed to hard over a triple and landed short, launching him over the bars. He was out of racing for the night. Team reports say he hurt his thumb and shoulder, but x-rays came back negative. Windham flew back home and will visit his doctors this week to determine his status.
Outside of the top five, Bobby Kiniry logged a superb performance to take sixth, with Monster Energy Pro Circuit Kawasaki's Broc Tickle seventh. Nico Izzi, Weston Peick and Josh Grant rounded out the top ten.
The Lites race began with Barcia's typical holeshot, but Roczen started right behind and gave him an early challenge, passing for the top spot on the first lap. Barcia quickly responded to get the lead back. Much of the Lites race was determined by a tough rhythm section, where riders could go triple-triple-on to a tabletop, but only if their timing was perfect (this was the same section that claimed Stewart). Barcia handled it the most consistently and was able to move out, while Roczen came under fire from the rejuvenated Blake Baggett. Baggett looked inspired and went after Roczen, but couldn't find a way around. The late in the race Baggett made a few mistakes and couldn't jump the rhythm lane, allowing Roczen to get the lead. It looked like the German was set to get second until Barcia tangled with Vincent on the last lap, and Roczen cruised past for his first win of the season.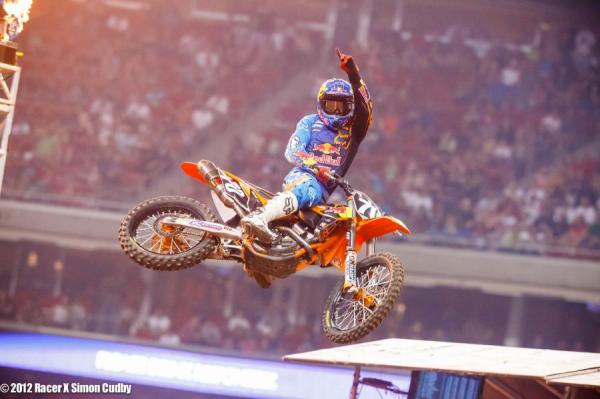 Ken Roczen celebrates his first win of 2012.
Simon Cudby photo
Barcia got back up for second, but then the emotions of losing the race in such a bizarre fashion got to him. He rode back around to Vincent, who was laying on the track still, and roosted him. He also even roosted Roczen! On the podium, Barcia appeared overcome with emotion as well.
But the night was better for any of the Lites podium dwellers than some other favorites, such as Darryn Durham, Justin Bogle and Malcolm Stewart, who were all part of a big first-turn pileup. The east riders race in two weeks at New Orleans then wrap up their championship in May at the Las Vegas finals.
Villopoto won't have to wait until then to celebrate. He is rapidly building his place in the history of the sport, racking up race wins and titles at a rate few in the sport have produced. In motorsports, anything can happen, but right now it seems like the only thing that does happen is Villopoto piling up more wins and titles.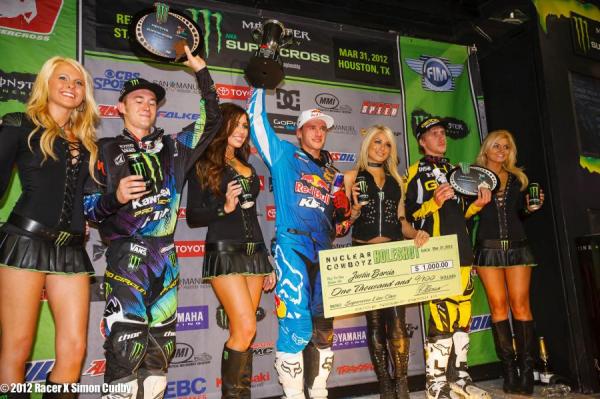 Baggett (left) and Barcia (right) joined Roczen (middle) on the Lites podium.
Simon Cudby photo
Results:
SX Main Event
1. R. Villopoto
2. D. Millsaps
3. J. Weimer
4. M. Alessi
5. J. Brayton
6. R. Kiniry
7. B. Tickle
8. N. Izzi
9. W. Peick
10. J. Grant
11. K. Chisholm
12. B. Metcalfe
13. W. Hahn
14. K. Regal
15. M. Goerke
16. J. Alessi
17. P. Mull
18. D. Blair
19. J. Hansen
20. J. Stewart
Supercross Class Season Standings
Ryan Villopoto, Poulsbo, Wash., Kawasaki – 296
Ryan Dungey, Belle Plaine, Minn., KTM – 192
Davi Millsaps, Murrieta, Calif., Yamaha – 191
Justin Brayton, Murrieta, Calif., Honda – 181
James Stewart, Haines City, Fla., Yamaha – 178
Jake Weimer, Rupert, Idaho, Kawasaki – 170
Kevin Windham, Centreville, Miss., Honda – 166
Brett Metcalfe, Lake Elsinore, Calif., Suzuki – 154
Mike Alessi, Hilliard, Fla., Suzuki – 154
Chad Reed, Dade City, Fla., Honda – 128
Main Event
1. K. Roczen
2. J. Barcia
3. B. Baggett
4. B. Wharton
5. P. Nicoletti
6. A. Martin
7. J. Canada
8. J. Bogle
9. K. Cunningham
10. M. Lemoine
11. K. Peters
12. A. Politelli
13. L. Smith
14. S. Sewell
15. T. Weeck
16. M. Stewart
17. D. Durham
18. Z. Freeberg
19.  D. Herrlein
20. L. Vincent
Eastern Regional Supercross Lites Class Season Standings
Justin Barcia, Ochlocknee, Ga., Honda – 167
Blake Wharton, Pilot Point, Texas, Suzuki – 135
Ken Roczen, Murrieta, Calif., KTM – 127
Darryn Durham, Butler, Pa., Kawasaki – 118
Blake Baggett, Grand Terrace, Calif., Kawasaki – 106
Jake Canada, Sun City, Calif., Honda – 104
Justin Bogle, Cushing, Okla., Honda – 87
Alex Martin, Millville, Minn., Honda – 65
Matthew Lemoine, Collinsville, Texas, Kawasaki – 57
Malcolm Stewart, Haines City, Fla., KTM – 55