Reliant Stadium
Houston

,

TX
Houston
Monster Energy AMA Supercross Championship
Opportunity is knocking for
Kevin Windham
in the Monster Energy Supercross Championship, and the 34-year-old is trying his best to answer the call.
Houston is K-Dub country. New Orleans may be the home state race, but Houston is darned close to his local roots, too. And Windham always seems to surge through the second half of the year, the perfect time to do so in a season like this, when so many top riders are out. And so, the opportunity to grab another win is here. And he's going for it.
Windham topped both qualifying sessions today by a slim margin over Ryan Villopoto, and then threw in two different transfer jumps in practice for opening ceremonies. He's feeling it, but can he make it happen all the way through 20 laps in the main event?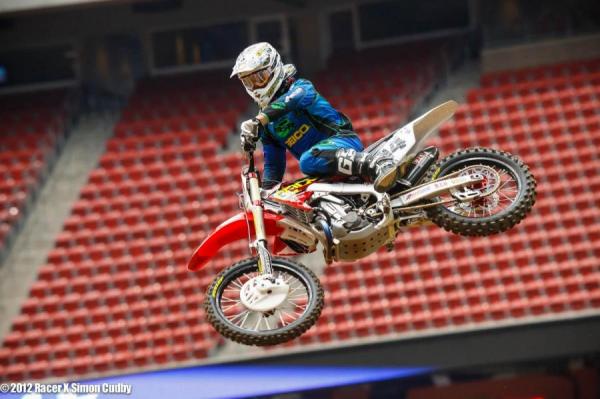 Those stands will be filled with K-Dub lovers tonight.
Cudby photo
Villopoto will clearly be on it as well, but he and Windham look to be on another level, speed-wise, from everyone else. Windham's final session lap time was a 46.16, while Villopoto was right behind with a 46.19.
James Stewart is back in action this weekend, but riding with a sore hand. He was third in the final practice session, with a 46.89. Stewart needs to try racing tonight, despite the injury, to prevent Villopoto from wrapping up the championship. If RV wins and Stewart finishes in third, the title will go on to New Orleans in two weeks. If RV wins and Stewart gets fourth or worse, Villopoto clinches tonight.
On to the Lites class. Blake Baggett is usually not a fast gun in practice—even in the races he wins, he's usually not near the top of the lap charts in qualifying. But today, Baggett topped both sessions. When the day began, he said he "changed something" during the week, and said he'll talk more about it when the race is over. So far, whatever he changed is working. His 46.9 topped Justin Barcia's 47.43 and Darryn Durham's 47.46. Ken Roczen (47.8) and Texas-based Matt Lemoine (48.1) rounded out the top five.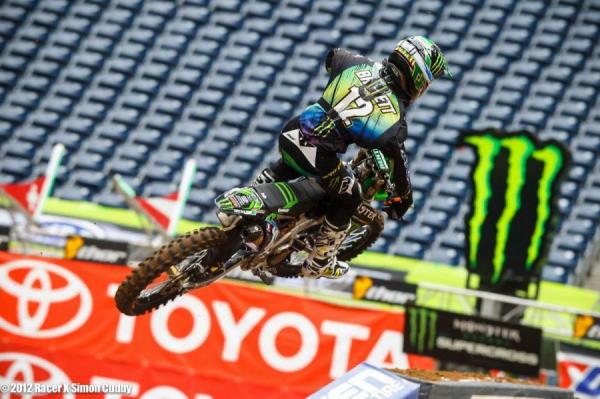 Blake Baggett is looking to rebound this weekend.
Cudby photo
The track looked pretty simple at first, without any big rhythms or big whoops to separate the riders. However, as the field started pushing their lap times, things changed. First, a few riders started to triple-triple-on-to-table-off, which is tricky but also much faster than just doubling through. Then Windham figured out how to triple out of the first turn in the first session (there's a four pack of jumps there). By the second session, a ton of 450-mounted riders were doing it, to the point where Windham started wheel-tapping the third jump and catching the back side of the fourth jump. This gave him incredible speed heading into the first whoop section.
A bunch of others than figured out that technique. Is there anything left to separate the field? Will the back rhythm section and the triple-wheel-tap out of turn one even be jumpable through the main events tonight? That could tell the story.
Right now, Windham wants that story to have a happy ending.
SX Qualifying
1 14 Kevin Windham Honda CRF450 46.145
2 1 Ryan Villopoto Kawasaki KX450F 46.196
3 7 James Stewart Yamaha YZ450F 46.897
4 10 Justin Brayton Honda CRF450 47.103
5 18 David Millsaps Yamaha YZ450F 47.230
6 50 Nico Izzi Yamaha YZ450F 47.278
7 21 Jake Weimer Kawasaki KX450F 47.513
8 11 Kyle Chisholm Kawasaki KX450F 47.543
9 800 Mike Alessi Suzuki RM-Z450 47.828
10 25 Broc Tickle Kawasaki KX450F 47.842
11 24 Brett Metcalfe Suzuki RM-Z450 47.875
12 81 Robert Kiniry Yamaha YZ450F 48.114
13 58 Wil Hahn Honda CRF450 48.161
14 617 Gavin Faith Honda CRF450 48.420
15 87 Matthew Goerke Suzuki RM-Z450 48.479
16 48 Jimmy Albertson Suzuki RM-Z450 48.715
17 82 Justin Sipes Kawasaki KX450F 48.957
18 33 Joshua Grant Kawasaki KX450F 49.020
19 54 Weston Peick Kawasaki KX450F 49.025
20 100 Joshua Hansen Kawasaki KX450F 49.068
Lites Class:
1 12 Blake Baggett Kawasaki KX250F 46.944
2 1 Justin Barcia Honda CRF250 47.431
3 35 Darryn Durham Kawasaki KX250F 47.469
4 70 Ken Roczen KTM 250 SX-F 47.883
5 60 Matthew Lemoine Kawasaki KX250F 48.180
6 57 Jake Canada Honda CRF250 48.365
7 37 Malcolm Stewart KTM 250 SX-F 48.458
8 74 Tyler Bowers Kawasaki KX250F 48.524
9 93 A Catanzaro KTM 250 SX-F 48.525
10 30 Alex Martin Honda CRF250 48.824