Reliant Stadium
Houston

,

TX
Houston
Monster Energy AMA Supercross Championship
Welcome to another week of Racerhead. The long journey that is Monster Energy AMA Supercross has one more night to go before they finally get a little break for the Easter weekend. I'm sure the riders and mechanics and all the people who work in the paddock or on the series itself are more than ready for some go-home time and a weekend off. At the same time, even with the attrition-through-injury that we've seen, this championship has been great to watch live on SPEED, and they are filling the stadiums more than ever before. (Tomorrow's race will air at noon (Eastern) on Sunday on CBS' next-day coverage, while the Lites race will air at 1 p.m. on SPEED.)
Take last weekend's Toronto race, for instance. Five or six years ago, when
Ricky Carmichael
was still out there battling
James Stewart
and
Chad Reed
, they didn't have much of a crowd. Last Saturday night the bottom half of the massive dome was packed, even though none of those three guys were there, nor were
Ryan Dungey
,
Trey Canard
,
Andrew Short
.... The series has been wildly successful, even while other sports like NASCAR and NCAA basketball have seen a marked drop in attendance the past two months.
Tomorrow night in Houston's beautiful Reliant Stadium, expect another huge crowd as Monster Energy Kawasaki's Ryan Villopoto aims to keep marching toward this title. In fact, if Villopoto wins tomorrow night, James Stewart, back from his injury according to his tweets, has to finish on the podium to keep his title hopes alive. If he doesn't, Villopoto will clinch the 2012 Monster Energy AMA Supercross crown! RV is 94 points ahead of Stewart as it stands, with only New Orleans, Seattle, Salt Lake City, and Las Vegas left (and we're hearing Vegas is already completely sold out).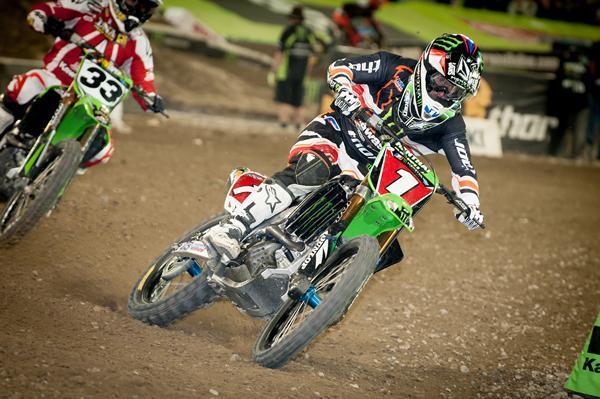 Ryan Villopoto could very well clinch the championship tomorrow night.
James Lissimore photo
Ryan Dungey
is actually second and only 75 points down, but he's out with that cracked collarbone and will also be eliminated tomorrow night with with an RV win. We're still not sure when he will return, but when he does start riding, he will likely focus as much on outdoor testing for his Red Bull KTM as however many SX races are left.
And speaking of outdoors, here's a public service announcement that Jeff Canfield asked me to relay: If you're planning on racing the series, please make sure you get your IMPACT testing completed, because while it's only voluntary right now for supercross, it's mandatory this summer for Lucas Oil Motocross. The guys at the AMA rig or the Asterisk Mobile Medical Unit will gladly help you with any information or instruction on where to get the IMPACT testing completed. It takes about twenty minutes, and it's absolutely essential.
While Villopoto has been crushing it lately, it's been nice to see guys like Muscle Milk Honda's Justin Brayton and JGR Yamaha's Davi Millsaps and of course GEICO Honda's Kevin Windham running toward the front and keeping things interesting. Like a lot of people, I think Brayton will get a win before this series is over. I also think he will be formidable outdoors. (And he will have a new teammate in Tommy Hahn, who, as Matthes reported last week, will ride for Trey Canard on Team Honda, which is made all the more interesting due to the fact that his little brother Wil is the replacement rider for Trey Canard right now.) It will also be cool to see someone like Brett Metcalfe or Mike Alessi or Jake Weimer get a good start and battle with the rest up front.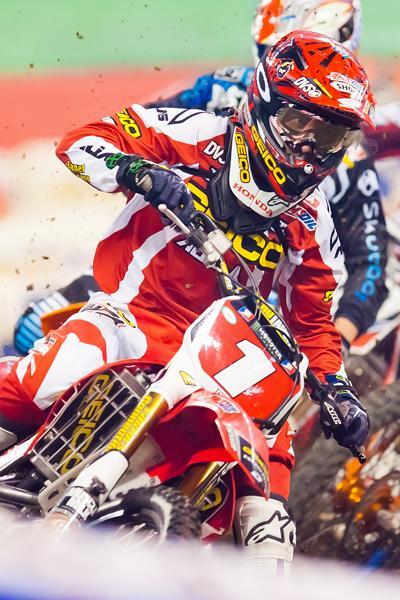 Justin Barcia has another title and possibly his first Team USA appearance in his future.
Andrew Fredrickson photo
In the Lites class, GEICO Honda's Justin Barcia has won all but one main event, and it just so happens that this event is in the home state of the one guy who's beaten him: Rockstar Energy's Blake Wharton. And then there are the guys I really thought would have a win by now, like Pro Circuit's Blake Baggett and Darryn Durham and KTM riders Ken Roczen and Malcolm Stewart. Barcia is just riding with a lot of confidence, and he's pretty damn fast.
This week we passed the 500,000 mark on our Facebook page, and we're all really excited about it. Thanks to everyone who "likes" us over there! We've got some fun plans for stuff to do on our page, so we're really going to try to make you glad you've connected with us there. Now to get over the 50,000-follower hump on Twitter....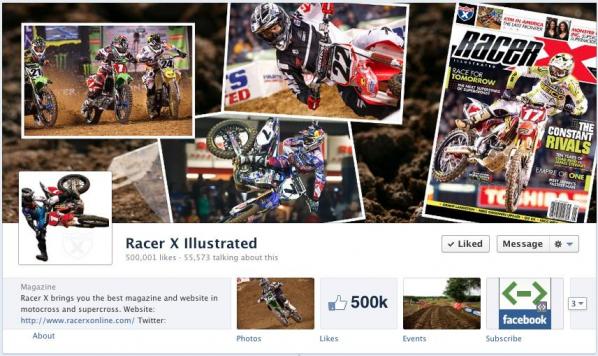 The Racer X Facebook page passed 500,000 followers yesterday.
While we're talking about social networks, if you're on Instagram, you might want to follow us:
@racerxonline
. We're having a lot of fun there too.
Here's a contest for the designer in you: Want to become part of Lucas Oil Motocross and Racer X history? Your original design could be featured as the 2012 National Sticker that we hand out every round of the Nationals at the Racer X Booth. Submit your unique designs on the American Motocross or Racer X Illustrated Facebook pages by clicking on the Racer X Sticker Design App. By winning, not only will your friends be way impressed, you will become the motocross sticker genius of the year! Good luck, and start getting your ideas together. Deadline for submissions is April 9.
Finally, we're doing a very short survey about video on Racer X Online, and if you haven't filled it out yet, we hope you'll take a minute to do so. We're basically asking you what you want to see more of, so your feedback will really help us improve our site. There's also a place to leave comments relating to video, and we'll read every comment made. Take the survey here.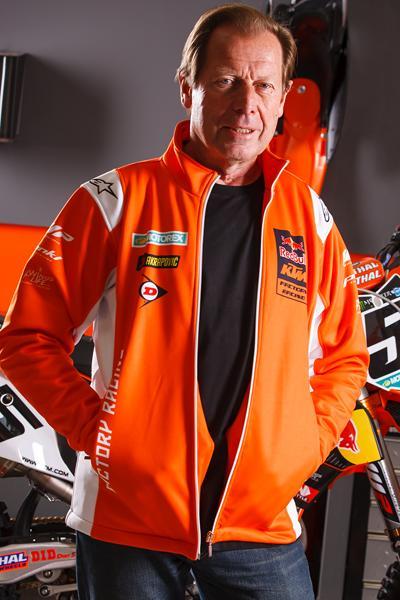 The Man is already thinking about The Team.
Simon Cudby photo
Switching gears, Roger DeCoster was on DMXS Radio this week, discussing not only Dungey, Roczen, and
Marvin Musquin
, but also Team USA. Roger mentioned that he's already spoken to the Ryans, Villopoto and Dungey, about riding 450s, and that
Justin Barcia
is really the only Lites rider on his radar for now, though he will wait until much later in the summer to make a final decision. That will give guys like Baggett, last year's MX2 rider,
Eli Tomac
and others try to knock Bam Bam off the top of The Man's list. DeCoster also told DMXS that wants to head over to Belgium early and do a liittle bit of sand riding in Belgium (where the race will be held) and next door in the Netherlands, which has some deep sand tracks. Why?
Check out this video
of Lommel last year and you will understand!
Personally, I think Barcia should be at the top of the list right now, based as much on how well he's doing in supercross as how fast he goes in the sand—he's always done well at Southwick, and he lives in the Deep South, where there's lots of sand! But that could all change if one of the other younger Americans gets up and starts streaking this summer.
And what about James Stewart? He will certainly be in the conversation if he's healthy and racing this summer. DeCoster and his assistant team manager, Mitch Payton, will pick the team that has the best chance of winning, period.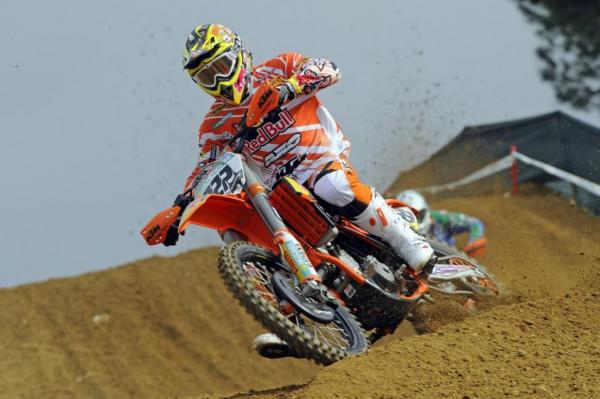 Steve Matthes spoke to reigning MX1 world champ Tony Cairoli this week.
KTM Images photo
Also, with the GPs coming up next week—the first race is on April 9, which is a Monday but a national holiday in the Netherlands—make sure you visit www.mx-life.tv to order your viewing package to watch all of the events, live online. And if you want to hear from the odds-on favorite to win another world title, check out Steve Matthes' podcast with KTM's Tony Cairoli right here.
Still waiting to hear how Zach Osborne will be and when he will be ready to go after his big crash last week in England. That said, the cat's out of the bag on where he will ride in 2013: GEICO Honda and a return to the States. But first he's going to have to dig out of a deep hole if he's going to become the first American to win an FIM World Motocross Championship in almost twenty years.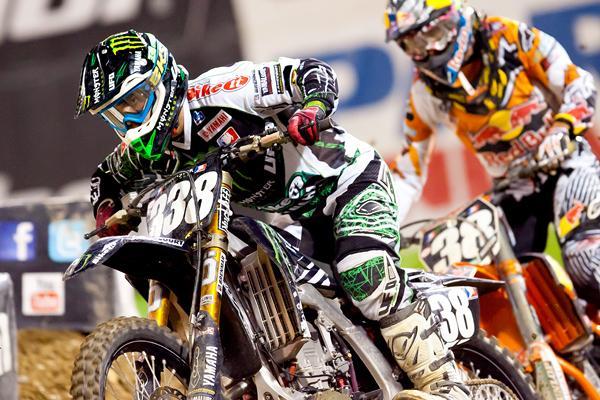 Zach Osborne is on the mend and his appearance at the Grand Prix opener is still a question mark.
Andrew Fredrickson photo
Also, the WMX just got a lot more interesting as Jessica Patterson has been signed by Rockstar Energy Racing Suzuki for the summer. Jessica is a multi-time champion, and the back-and-forth between her and Ashley Fiolek practically every year has been great to watch.
Okay, I have to get going—I am headed south for yet another look at a motocross facility. Let me turn this over to
Steve Matthes
right here:
On to Houston this weekend and the beautiful Reliant Stadium, which is definitely an upgrade from the old Astrodome. At the same time, the legendary Astrodome had its charms, like multicolored seats and super-dark lighting. The dirt in the old dome was super tacky and as well, and every year the designers would do something different (one year it was a split lane in the whoops!) and always incorporate a giant tabletop/mound of dirt. Reliant Stadium is a football-only facility, and some riders (like Chad Reed) prefer these layouts as opposed to the baseball-only parks like Anaheim (which Zach Osborne prefers). A reader named Jim did some comparisons of lap times from the different types of stadiums and came up with this:
Venue             Winner         Winner Ave Lap Time       Winner Total Race time
Anaheim 1       Villopoto                  103.9                                 21:19
Phoenix            Dungy                     53.2                                  17:44
Los Angeles     Reed                       56.2                                  18:45
Oakland           Stewart                    54.7                                  18:14
Anaheim 2        Villopoto                  57.2                                  19:05
San Diego        Villopoto                  46.8                                  15:37
Dallas               Villopoto                  48.7                                  16:14
Atlanta              Dungy                     51.8                                   17:16
St. Louis           Villopoto                  51.9                                   17:18
Indy                   Villopoto                  52.7                                   17:30

Thanks for that, Jim, and as we can all see, there really isn't much difference between the two.
Also, big thanks to James Stewart for coming out this weekend in Houston. No, really, thank you, James! The only bummer is now his teammate Davi Millsaps loses the super-trick tank shroud combo that JGR has been running on Stewie's bike.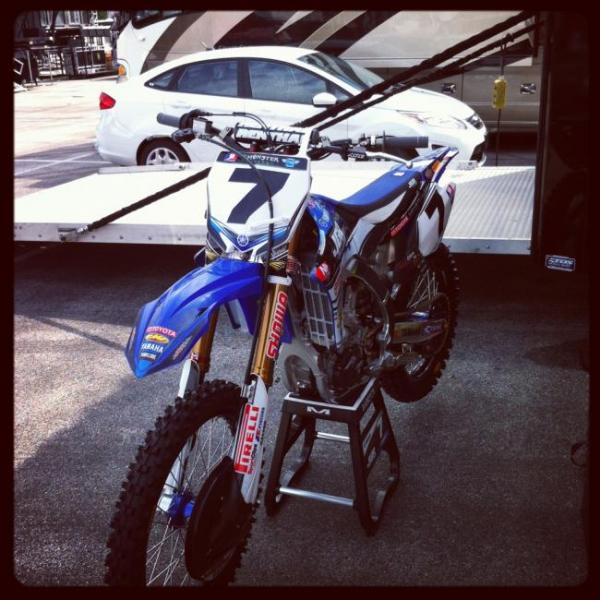 James Stewart will be back this Saturday night.
Weege photo
A lot of times, as a media guy, you really only hear from riders and teams when you criticize them for something. In other words, it's usually just bad if some guy at the track wants to find you. That's why it was refreshing this week to get an email from privateer Gavin Faith's dad, Tracy, who was just sending a note to say thanks for giving his son some props, which I have been doing here on Racer X and on the PulpMX Show. Faith's been very solid on the 450 East side after filling in on GEICO for the 250 West Region. He looks at home right away with the vets and it's not rocket science to see that Gavin's got a bright future. But anyways, nice to see someone appreciate the positive.
On the PulpMX Show presented by BTOSports.com, we are nothing if not givers. The latest plan we have is auctioning off a trip to Salt Lake City and Seattle Supercrosses where you will be treated like a VIP—a VIP of working, that is! The winner will get to hang out behind the scenes with the Hart & Huntington team and even travel with the driver in the truck in between races.
After Salt Lake City, the winner will sit in on a taping of a PulpMX Show and then the magical ten-day SX SuperFan contest will be over. All proceeds from the auction will go to downed H&H rider Kyle Partridge as he recovers from a crash that has knocked him out for the year.Check out the auction here.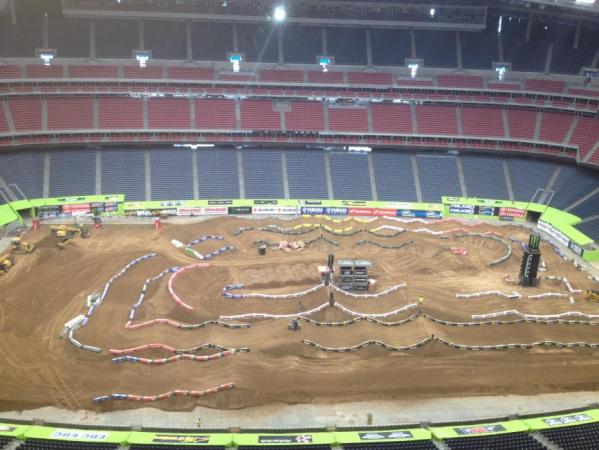 Here's an early look at Houston.
Weege photo
Still in the giving spirit, there's a group of elite super fans of the Pulpmx Show on Twitter called the Circle Jerkies and they often pitch in and give away sponsored products on the show because, well, I'm not sure why. These guys (I do not know their identity) have now decided that they want to support a privateer with some cash and raised over $500 among them to give to a road warrior. And they've selected privateer Mike Horban who's been out there soldiering away each and every weekend. He hasn't made a main yet but hopefully soon. I'm going to try and find Mike this weekend and present him with the much-needed cash.
Here's a recent Simon Cudby film featuring Mike Horban, as well as Kevin Urquhart and Billy Laninovich.
Ryan Villopoto's brother has managed to get himself a ride up in Canada this year for the Leading Edge Kawasaki team in the 450 class. Tyler hasn't always been focused on racing dirt bikes for a living, but he's got some talent and is now going to venture up north and try to make a go of it. Here's an interview with Leading Edge team manager Pat "Macho Man" O'Connor talking about the signing.
Thanks to Priceline, I usually save a lot of money each weekend by naming my own price for hotels and generally staying for 50 percent each weekend. You just don't get to pick where you can stay, just a general area and a star level. Generally speaking, Priceline is awesome and saves me some cash. Except this weekend, I'm in a four-star hotel in downtown Houston that was built in 1911 and when I Googled the name to find out more about it, the word "HAUNTED" came up and there's a crapload of stories about it. Wish me luck this weekend and if you don't see me, it's cause I was sucked into the TV or something and I'm covered in goo.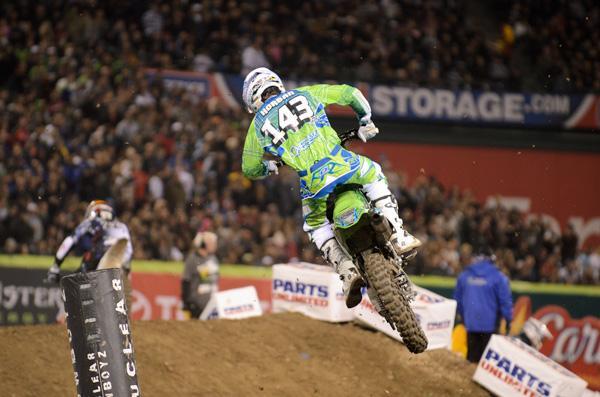 Congrats Mike! From the Circle Jerkies.
James Lissimore photo
Here's
Ping
:
If you live and ride in Southern California, you may want to know that the state is considering several options for an OHV park. One of them is a desolate piece of land east of the Salton Sea. Anyone going that far is going to keep driving to Glamis or Ocotillo Wells. The second area is a section of land we know as the Beaumont Hills. Obviously, the land out in the middle of nowhere is cheaper and easier for the state, and that is what they will do with the money set aside for this OHV park UNLESS they hear from people. If you are one of those folks who gets involved and wants to see Beaumont opened up for public use, click on one of these links and let them know:
Here is the link to the OHV Commissioner's email addresses. It is on the Riverside County Parks site.
These people are appointed by the County Supervisor in their district. The current chairman is Ryan Stendell.The board of Supervisors can be reached here.
I'm off to Boise, Idaho, for the Racer X Inter-Am vintage race. There's a good chance of rain and I can't imagine any other bike I'd rather ride in the mud than a nineteen-seventy-anything Husky with flat, thin footpegs and just enough horsepower to pull the skin off of rice pudding. Wish me luck.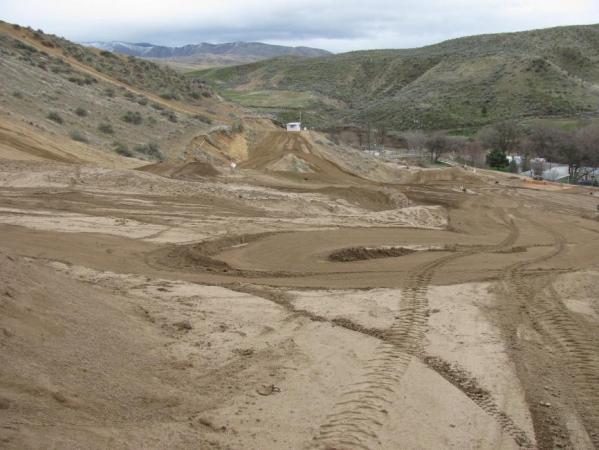 Track prep is underway for the Racer X Inter-Am vintage race in Boise, Idaho this weekend.
And now over to Aaron Hansel:
Have you been wondering how Star Valli Motorsports' Ryan Morais has been doing since breaking his jaw, fracturing several vertebrae, collapsing a lung, breaking a few ribs, and suffering a concussion in L.A. earlier this year? I know I have, which is why I gave him a ring yesterday and got an update on his progress. Despite what sounded like a pretty grueling recovery, Morais sounded happy and optimistic on the phone, and it sounds like the worst of it is finally behind him.
"The first six weeks for me were pretty rough," Morais said. "I definitely wasn't myself. I was knocked out for a while, and I was having some really bad post-concussive syndrome afterwards. I don't remember crashing or being in the hospital or having my surgeries or coming home or anything. I don't remember about two and a half weeks. But I'm past all that, and my head's really good now."
As far as the other injuries are concerned, Morais says that his vertebrae have healed 100 percent and his jaw is coming along nicely after being wired shut for seven and a half weeks. "I lost 18 pounds, but everything with my jaw is going good," Morais explained. "Tomorrow they're taking the bars out of my mouth, so that'll be really good to get all that stuff out of there, and I'll be able to start therapy on my jaw the following week."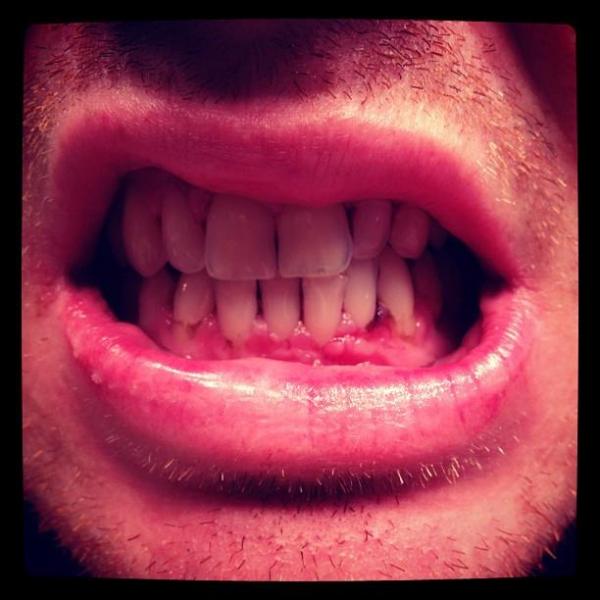 Morais recently got the wires removed from his jaw.
So when can Morais get back on the bike? Right now he's not sure, as he still has an arm issue to figure out, as well as a minor jaw surgery scheduled for today and another one in June to remove a plate. "I have to be careful with my body, because nutrition-wise, everything I need is kind of low just because I couldn't eat normally," Morais said. "I just need to be careful and get my body back to where it needs to be before I really tax it. Everyone will see me back out there as soon as I can, that's for sure!"
In the meantime, Morais has been filling his time by hanging out at the test track and helping his teammates with their riding. "I still want to be a part of the team and help them. I can't go out and get results for them, so I want to help them to try to get results. I've been helping the riders that want help from me, and giving my input as to what I think they need to work on or do differently. I've also been talking to Chad Lanza and Bobby Regan [Star Valli Motorsports' owners] about other things that I think could improve the team. They've been really supportive in helping me to try to stay involved and see a different side of everything. It's been pretty cool."
After seeing the crash in person and watching Morais lie motionless on the floor of Dodger Stadium for so long, it's great to hear that things are going well for him. Those wishing to donate to Morais' recovery fund can click here. Donations can also be made through Road 2 Recovery.
In other news, fans of Jessica Patterson can finally rest easy, as the six-time champ has officially signed a deal for the 2012 Lucas Oil Pro Motocross WMX class, as DC mentioned above. And speaking of female racers, I was surprised (and excited) when a box from Smooth Industries showed up on my doorstep yesterday containing a couple of cool motocross-inspired onesies for my little week-and-a-half-year-old girl. Smooth Industries makes all sorts of cool moto stuff for kids, and I can't wait to throw these little pieces of moto-swag on my future WMX'er once she's large enough to fit into them. Thanks, guys!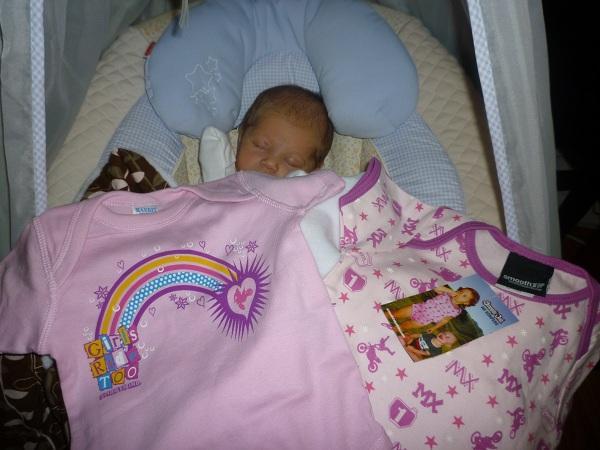 Hansel is a proud new dad!
Now over to some random notes: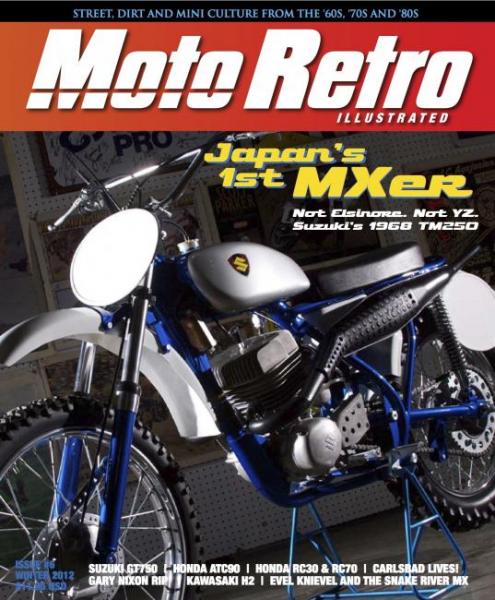 Here's the new cover of our good friend Mitch Boehm's magazine, Moto Retro.
A talented up-and-coming rider named Austen Scroggins suffered a big crash on March 25 at Cahuilla Creek and was airlifted to the hospital, where he was diagnosed with severe head trauma. We send our thoughts and prayers to Austen and his family for a speedy recovery. You can track Austin's status
here
.
Here's a very cool video of the opening day of the Budds Creek/MAMA season down in Maryland, shot and edited by Matt Wozney from MXPTV:
Here's a view motocrossers will appreciate, courtesy of Derek Ellis' Ski-Doo/Jimmy John's sled at the recent Amsoil Championship Snocross Series final in Lake Geneva, Wisconsin. Weather was 80 degrees, slushy conditions made the snow roost pellets (not to be confused with Rupert X.) hit like a hailstorm. Ellis banged his way through to make the podium and wound up second overall on the season in the Pro Lite class. Film courtesy of Barry Braun/X.Celerated.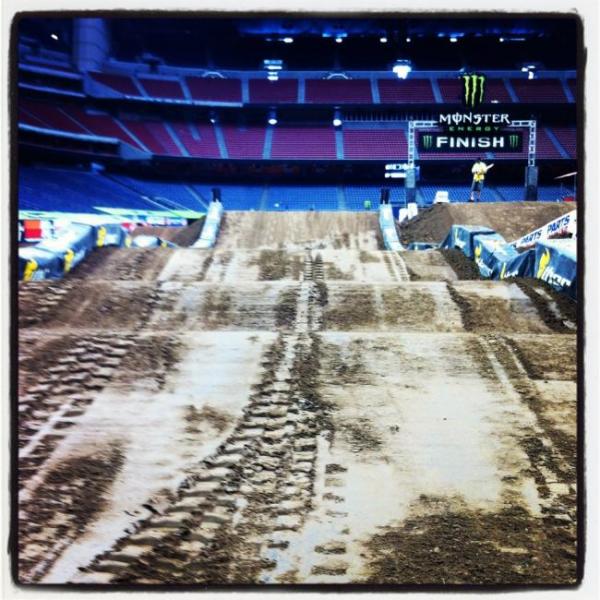 Some whoops work in Houston.
Weege photo

2X Promotions heads south for Round 4 of the Road To Mammoth Qualifiers at the new Lake Elsinore Motorsports Park. The second Southern California round promises beautiful weather and jaw-dropping racing action at the state-of-the-art facility. Bring out the family and enjoy the amazing spectator walkways, picnic areas, and technical racetrack perfect for all ages and skill levels.
Racers will enjoy a full day of practice on Saturday from 9 a.m. to 6 p.m. Trackside camping is available both Friday and Saturday nights. Gates open Sunday at 6 a.m. and practice starts at 8:30. 2X Promotions will hold three more rounds with plenty of chances to qualify. The rescheduled Round 3 at Oatfield on April 6-7, Round 5 at OMC in Idaho on April 14-15, and the Last Chance Qualifier at Pala Raceway, April 28-29.
Thanks for reading Racerhead, see you at the races.