Reliant Stadium
Houston

,

TX
Houston
Monster Energy AMA Supercross Championship
Yamaha has employed many a great racer in their time, but perhaps no rider did as much for the yellow/red and white/blue brand as Broc Glover. The El Cajon, California native started out on a privateer Honda, but once he was picked up by Yamaha in 1977 for their factory team, Glover never rode another brand his entire American career. He raced for Yamaha for a long time, even winning his very last race for the team in 1988 at the L.A. Coliseum. Glover delivered six AMA National outdoor championships to Yamaha along with a couple of Motocross des Nations wins and remains one of the most decorated racers of his era.
Although he never won a supercross title (he came close a couple of times), Glover did win ten AMA Supercrosses. In This Week in Yamaha Supercross History, we're going to focus on Glover's first SX win, which took place at the Houston Astrodome. Houston also happens to be the stop this weekend in the 2012 AMA Supercross series at Reliant Stadium (although the Astrodome still stands right next door).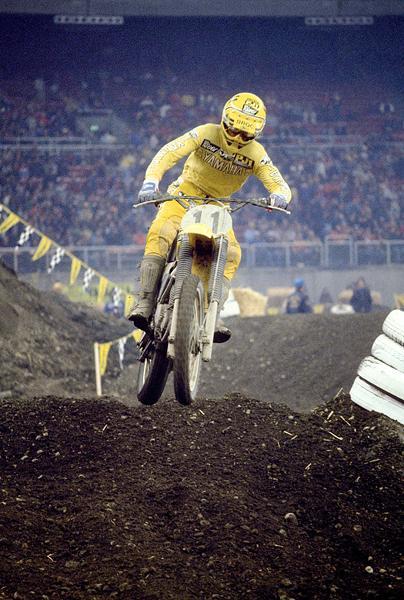 Glover was a staple for Yamaha during the '80s.
Racer X Archives photo
Let's get Glover to tell us how it all went down that night.
I think it was my first year that I rode the whole season in supercross and I believe the race was in March. I'm not sure what round it was but I know it was a doubleheader in the Astrodome and I won on the second night. I always liked the dirt in Houston. It had good traction, was sticky and I always enjoyed going there. The main guys were my teammate Mike Bell, Suzuki's Kent Howerton and Mark Barnett.
Bell, who would go on to win the championship that year, won the first night. I got second the first night behind him and we were sort of the guys that weekend. On the second night, I got the start I needed to, and, pulled away. I don't remember much about it other than it wasn't that hard. It was my first indoor win and was a big deal to me. I think I won four other races that year.
It's weird because I always did good at Houston or at the national which was close by at Rio Bravo. I won my first moto on a Honda at Rio, I won my first overall national for Yamaha there and I won my first supercross at Houston. That year's bike was pretty good and I believe that it was the last year of not having a linkage. The next year we had a linkage up on top of the swingarm. The Yamaha's were good back then, no doubt about it.
I won a lot of races, but you never forget your first one and Houston was it for me.