Reliant Stadium
Houston

,

TX
Houston
Monster Energy AMA Supercross Championship
Tyler Bowers now has two-straight AMA Arenacross titles, but he's beginning to shift his focus back to supercross. His foray back into the Lites division for 2012 could serve as a reminder that Tyler can indeed race the small bikes on the big tracks, all in hopes of possibly securing a supercross ride next year. We talked to Tyler about his supercross experience this year for Between the Motos.
Racer X: Okay Tyler, I know the results maybe haven't been what you wanted so far in SX Lites, but how would you rate your riding as a whole?
Tyler Bowers
: It's been going pretty good, like you said the results might not be what I want, but I'm feeling good. I had some issues to overcome at the beginning of the season, I had some injuries from Arenacross so I couldn't really ride much during the week. I hurt my hip when I had a big crash at Grand Rapids, and I also had ankle and wrist injuries, so I wasn't able to ride much coming into my first race in St. Louis. I felt a little tight there. Then in the main event I crashed in the first turn, and my throttle started sticking, and it's not good to be racing on a supercross track with a stuck throttle! That's why I did the Larry Loop Out under the tunnel. That was pretty embarrassing; they played the replay of me looping out a few times on national TV!
The second race was Daytona, and that was a mud race so anything can happen. Coming into the first turn I went Incredible Hulk on my roll off string and pulled the string right out, so I didn't have any roll offs after the first turn. So of course I couldn't see anything, and I crashed on the first lap. I think I came back to 14th.
The last two races have been better.
Yeah I got a good holeshot in Indy. We did have some problems there, though, my motor let go in the whoops during practice, so we had to go to our other motor, which was the one we used in Daytona. And with all of that mud and water, that motor was pretty beat. I was definitely losing power after the first few laps, it was getting pretty hard to jump some of the jumps! I finished 8th, but I still felt like I was riding better. Again just being able to start practicing again during the week has made a big difference.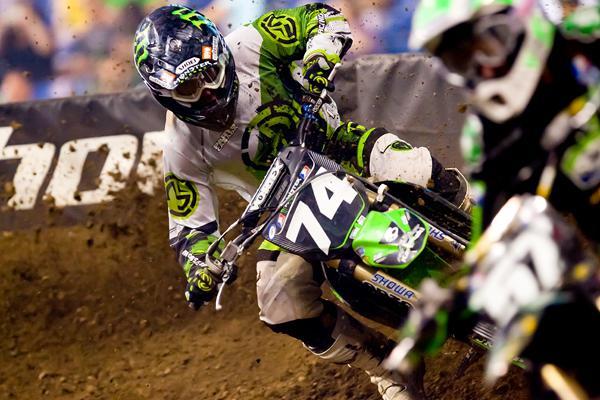 The two-time Arenacross champion is beginning to find his grove in the Lites East Region.
Andrew Fredrickson photo
And Toronto, you were battling for a top five.
I really liked the Toronto track, it was pretty fast, and I like a high-speed track because once I get that 250F moving, I can keep it moving pretty good. I actually got a really good start in Toronto, but I got bumped by a few guys at the beginning. I think I was eighth over the finish on the first lap, but I was about 15th after that, and I had to make some Arenacross style moves to move up! A lot of guys were crashing, there was carnage everywhere, and that's the thing with the Lites class, even if you're having an off-night, sometimes you can get a good finish just by staying up. I was feeling good and I caught up to [Alex] Martin, and I'm not sure, it seems like moving over on people and just shutting them down in rhythm lanes has become the thing to do. [Justin] Barcia did it to [Blake] Wharton in Indy, and [Mike] Alessi did it to [Kevin] Windham. He made a mistake and I got next to him but he moved over on me and we both ended up crashing. So I ended up 14th. I don't know, I'm feeling better and I think we can get a top five before the year is over.
A lot of people were wondering why you rode the Lites class, since you're a big guy.
We rode the Lites bikes in Arenacross this year, so I had a lot of testing and riding time on a 250. I do have a 450 but I haven't raced one in a while, and we all know you can't jump into the 450s if you're not completely ready. Like I said, once I get moving on the 250 I'm okay.
You mentioned putting on some Arenacross moves coming through traffic. But when we've seen you at the supercross races, we haven't seen you ride with that Arenacross style, where guys are always hitting each other.
Yeah, and I don't really like riding that way. I think people misunderstand that. Usually, if I'm running into someone at Arenacross, it's because I got hit first, maybe they don't see that, but you have to poke the bear before he comes after you! And in supercross, I came in two races late, so I'm not in it for points. I'm not going to go in there and knock someone down who is racing the whole Lites East series and racing for points. I have a lot of respect for those guys. I'm not going to get pushed around, but I'm not going to mess with riders who are racing that series.
You obviously have a good thing going in Arencross, but I know you'd like to show what you can do in supercross. Is this also a way to maybe show teams you could ride in the Lites class?
Yeah, I feel like this could be my coming out party in supercross. I know the guys in the Lites class. I've ridden supercross before, but it's a lot different from when I was a 16-year-old kid and now, I'm turning 21 next week. I feel like the Lites class is my generation. Dean Wilson is my age, Blake Baggett is my age, I grew up racing those guys, and I know when I go into a corner what they're going to do. It's a lot different than racing a 450 against guys like Kevin Windham and Chad Reed. I remember watching them racing when I was a kid, and it's pretty crazy to think about being out there battling guys like that! Also, even for Arenacross, I rode supercross during the week, so supercross is actually what I'm used to. I ride at the Kawi track, and when those guys go to Milestone or a place like that, I'll go ride with them. So I know where I stand against them. I know there are going to be some rides available in the Lites class next year since some people will be moving up. Arenacross is great, too, it's my home right now, but I'd love to come back to supercross. Hey, I'm a dirt bike racer, I just want to race.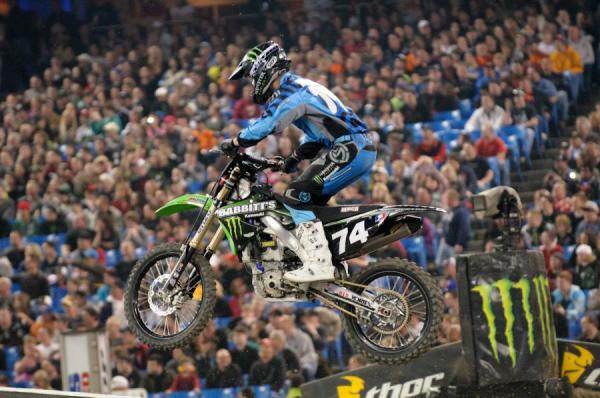 Bowers showed podium speed in Toronto, but a late run in with Alex Martin relegated him to a 14th.
James Lissimore photo
We heard rumors that 450 teams approached you as a replacement rider.
Yeah, we did have some talks with the Hart and Huntington team. When [Kyle] Partridge went down with a broken foot in St. Louis, they were talking to me, and they're a great bunch of guys. I get to ride with them sometimes since they're also with Kawasaki, and having a guy like Ivan Tedesco around, a veteran who knows the sport so well, is a great thing. They're a great team and I feel like they've come a long way again just this year. But, I had worked really hard to put a Lites program together for myself. A lot of people stepped up for me, like Kawasaki and Monster, Babbitt's [Bower's Arenacross team] helps me, all the guys at Moose Racing. We have Tom Morgan engines and the guys at Enzo do a great job with suspension. I had worked hard to build my own program for the Lites, and I didn't want to turn my back on those people at the last minute.
Would you switch to a 450 after Lites East is complete?
Yeah I'd like to for the West races. I have my own 450 at home and I would race it, or I could work with a team. I'd also like to do outdoors. But I would like to ride a 450 outdoors. I can make a 250 work in supercross, but if I go to an outdoor track where it's ripped up really deep, it's see you later! But I think I have the speed and the fitness to do well outdoors on a 450, if a rider were to unfortunately get injured and a team needed a replacement.
Okay, last thing. You're riding better now, so do you think you could get a podium before Lites East is over?
I think I can. I think I could have had a podium in Toronto, I was trying to pass into fourth and I felt like I was really strong, I had a lot of laps left in me. And Houston, I like Houston, they always have good dirt, and I'm hoping the track has two whoop sections because I feel good in the whoops. The next race, New Orleans, is fun, too. So we're aiming to get a top five but I definitely feel like I could get on the podium.