Rogers Centre
Toronto

,

ON
Toronto
Monster Energy AMA Supercross Championship
Kevin Windham, GEICO Honda, 3rd in SX Class
Racer X: Another great race. Coming from the back, grabbing a podium, and considering your rough week and your rough trip here.
Kevin Windham: It always is, no matter what kind of week you have. I've seen that happen with riders where you have the cards stacked against you, a rider's sick, has the flu, whatever it is, and then they make it happen. Tonight felt great. It always does. I know there are a lot of guys out right now, but the guys that are out there are hauling butt and it feels good. Any time I get a podium, I'm happy for the GEICO Honda team, and for all the therapy I got last week. I mean, honestly, I've got to give them a bigger shout out than anyone. As late as Wednesday or Thursday, I was like there is no way I can ride a motorcycle, I could barely even walk. It just finally came around. Here I am. I'm really happy about it.
We do have some injuries, but it's not like you walked it home. You had to chase down Jake Weimer on a track that was really sketchy.
Yeah. It was sketchy and I feel bad for Weimer. He got a tough end with a lapper. It would have been interesting either way. I know he hates to not have that battle there for the last five laps. But, yeah it was tough with [Davi] Millsaps there and everybody else, but I'm happy.
Canadian fans were fairly subdued tonight except for when it came to you. There was no doubt they could find out where you were on the track.
You know what goes into my opening ceremonies and stuff, and I hated not doing a transfer, but I felt like the least little case or tweak to my back and it would have been over. It would have been just stupid of me. But the crowd was amazing. I mean, it felt like it was at my home race. It was kind of quiet, I thought, 'The crowd's not into it.' And then I came out, and it was like, damn.
They were cheering so hard for you, I felt a little bad for RV, to be honest!
It amazes me. I want to try and put it in words, but it's so difficult. That's huge to me. It's such a big part of why I'm here and why I do what I do. I mean, obviously it's great getting a podium and stuff, but I wouldn't want to do it getting booed. The crowds make it for me. It's a lot of fun and I really want everyone to know that.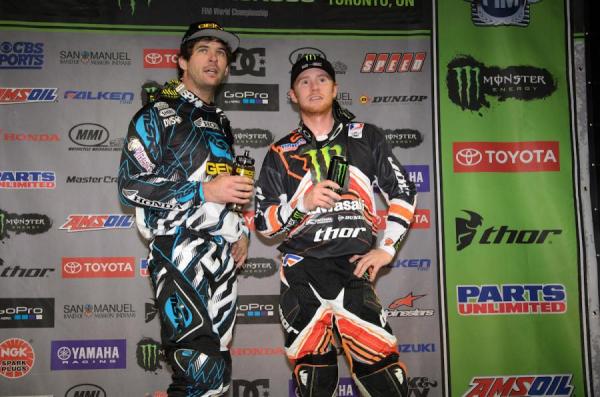 "Tonight felt great. It always does. I know there are a lot of guys out right now, but the guys that are out there are hauling butt and it feels good." - Kevin Windham
James Lissimore photo
Jimmy Albertson, BTOSports.com/BBMX Suzuki, 15th in SX Class
Racer X: How'd it go for you? Saw a crash at one point, I think.
Jimmy Albertson: It wasn't a good main event for me. You know, I haven't raced many main events this year, so when I get into it, it's like I ride good for the first five laps, then I just arm pump like crazy. I just kind of try and survive it once I get out there. I ended up getting fifteenth, which is my best finish this season. It's not anywhere where I want to be. We weren't able to ride all week -- we had bad weather back home. I felt like I wasn't riding nearly as good as I was the last two rounds, but I made the main. So if I could just go back to how I was riding last week in Indy and get inside that main and ride a solid 20 laps, I think I could go out there and make the top ten because I felt awful tonight, but I somehow ended up fifteenth. We'll work on it. So far, this has been such a disappointing season for me. I could look at the up side that I was in the main and I got fifteenth. I mean, it's crappy to look at it like that. I can't get too bummed down on myself. I'm still riding dirt bikes and I'm still healthy.
It's getting to be near the end of the season and everyone's getting beat up and tracks are getting beat up. It's just one of those things where you're playing it out, kind of.
Yeah, exactly, just kind of playing it out. I'm really looking forward to this next week of riding, though. Going back home, putting in some solid days on the bike. I think I'm to the point right now where I'm really not too worried. Like the last two weeks before this, I kind of got screwed out of the mains because I had some stuff happen during the heat races. But I think it's pretty easy for me to get in the main now. So I'm going to make sure I get in the main next weekend and really focus on my 20 laps. I mean, it's not like they ride too fast. You've just got to be consistent. Man, I got pumped up, it was rutted out there and I was just kind of like just surviving the track. It's kind of like you just want to bury your head in the sand out there because it's just like 'God, I know I look like such a good out here.' It's so bad. But you've got to just finish it out. I felt like crap, but I didn't pull off. [Doing that] is more embarrassing in my mind.
Kyle Chisholm, DNA/JWR Kawasaki, 7th in SX Class
Racer X: Solid seventh. [Marvin] Musquin got you late in the race, but still a good night.
Kyle Chisholm: Yeah, it was a good night. Practice was decent. I didn't ride that great in practice. Heat race was really good. I battled up to second. I got by [Jake] Weimer and he got by me again at the end. We kind of battled it out for third. Main event, I got a decent start. I kind of rode in sixth by myself for most of the race. I kind of tightened up a bit, it was my first race where I was up front by myself. Just didn't ride my best there for a few laps and then Musquin got by me there on the last lap. We kind of battled a bit. But it was a good weekend overall. A little disappointed Marvin got me at the end, but it is what it is. Got to keep going on it and work toward next weekend.
How was the track? Did it wear your speed down?
The track was tough. It was like concrete and asphalt and crumbly and rocky, but then it was soft underneath. It was like riding on a spongy concrete road. It was tough. The whoops were pretty bad. It was a tough race. Happy to come out safe, because a lot of guys are going down. I'm good to go for next weekend and it was a positive weekend, so I'll just keep working on it.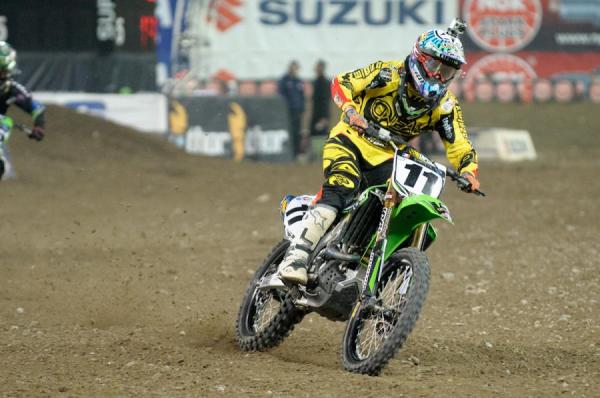 "The track was tough. It was like concrete and asphalt and crumbly and rocky, but then it was soft underneath." - Kyle Chisholm
James Lissimore photo
Marvin Musquin, Red Bull KTM, 6th in SX Class
Racer X: Great ride tonight. You charged hard near the end and you got sixth right on the last lap.
Marvin Musquin: Yes, a good ride, but the first few laps weren't too good, like Indy. But I got a good start. It was safer to be on the inside and I got inside on the first turn, so I was near the top. It was a good ride. It was better after ten laps. I came back to sixth. It's not that bad, but I wish I could finish in the top five and be riding with the guys like [Jake] Weimer or [Davi] Millsaps or [Kevin] Windham. I was struggling a little bit on the whoops and then I started to jump and it was better by the end of the main event.
Everyone I've talked to said the whoops were bad.
The whoops were bad, but the whole track was slippery and rocky and a lot of ruts. It's the same for everybody, but I thought it was dangerous. You have to be smart and focused.
It looks like your fitness is really good. Every race I've seen you on the big bike, it looks like you're strong.
Yeah, I'm working hard and the bike is good. The 350 is good for me. I try my best and my condition is good. Between fifteen and twenty laps, I was good. And then I passed some riders.
So this is it for you [in the SX class]?
Yes.
C'mon. Roger, this is it?
Roger DeCoster: He can ride all of them if he wants to.
Ride the rest of them! Keep it going!
DeCoster: Fourth, seventh, sixth. Not bad, you know?
Right? Keep it going.
Musquin: [Laughs] I don't know!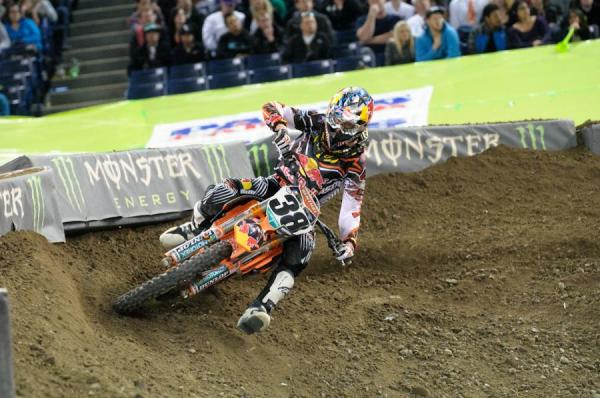 "I was struggling a little bit on the whoops and then I started to jump and it was better by the end of the main event." - Marvin Musquin
James Lissimore photo