2012 GEICO MiniMotoSX Track Map Revealed
Irvine, CA.  (March 20, 2012) – The over-under bridge is one of the coolest obstacles in Supercross and for 2012, the GEICO MiniMotoSX will include just such an obstacle. The track map for the ninth annual MMSX taking place inside the Orleans Arena in Las Vegas on the Sunday following the Monster Energy Supercross finals also reveals a starting gate located outside the arena. This will leave more space on the arena floor for the rest of the track. And instead of watching the action, almost anybody can get out on the track to experience it firsthand.
"We had a great track last year during a one year visit to the South Point Arena so a lot of the racers were concerned about a change back to the traditional Orleans Arena. But we have a great track design that will be extremely exciting for racers and spectators", stated Mike Karsting, VP of Events at Source Interlink. "People forget that we had eight great years at the Orleans with great tracks and this will be the best one yet".
The MiniMotoSX will cap off an amazing weekend of motorcycle racing in Las Vegas as the 2012 GEICO AMA EnduroCross championship will kick off on Friday night, Monster Energy Supercross is on Saturday night and then MiniMotoSX will give everybody a chance to race on Sunday.
You can get MiniMotoSX Tickets here:
http://www.orleansarena.com/event-calendar/mini-moto-2012
Entries forms are available here: 2012 MiniMotoSX Entry Form
You can get EnduroCross Tickets here:
http://www.orleansarena.com/event-calendar/endurocross-2012
Make your plans to stick around in Vegas during the Monster Energy AMA Supercross weekend to get on the track yourself and race for an AMA #1 plate. You can find race entry and event info at www.minimotosx.com. Ticket information: http://www.orleansarena.com/event-calendar/mini-moto-2012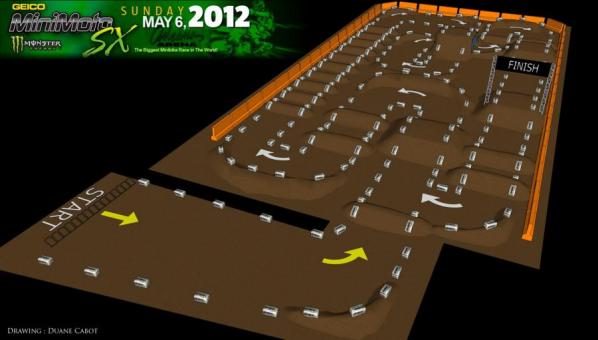 For rules and race information visit www.minimotosx.com or email minimotosx@sorc.com
Source Interlink Media Motorsports:
Encompassing the highly successful GEICO AMA MiniMotoSX fueled by Monster Energy, the GEICO AMA EnduroCross Championship Series presented by Lucas Oil and the AMA EnduroCross Grand Championships, the Source Interlink Media Motorsports brands reach millions of motorcycle enthusiasts with live events, web sites, television and magazine coverage. Visit www.minimotosx.com or www.endurocross.com