Lucas Oil Stadium
Indianapolis

,

IN
Indianapolis
Monster Energy AMA Supercross Championship
We're racing types here, so we focus our Daytona Bike Week attention on competition. There's plenty of it down there, in fact there's probably more motorcycle racing going on in one week at Daytona than most months in any other area. Throughout Florida you'll find Pro and amateur supercross, drag racing, road racing, flat track, a GNCC and an enduro. It's crazy! But the reality is that even all of those races combined are dwarfed by the 500,000 some people cruising around Daytona right now on Harleys and such, and those people are not there for a race. They're on vacation! Do you know what a vacation is? It's the exact opposite of work.
Daytona, then, serves as a reminder of what motorcycle riding is supposed to be: fun. It's a getaway and an escape. It's freedom. I relearned this on Monday night, down on Main Street. I had been down in Daytona for nearly a week, jammed between one race and another. The theme of each event was the monumental effort needed to produce them and compete in them. But as we industry types tried to top each other with "how little sleep did you get?" stories, and racers outdid each other with all-out exhausting efforts, almost half a million motorcyclists were downtown just hanging out. No agendas. No schedules. No effort. Just hanging.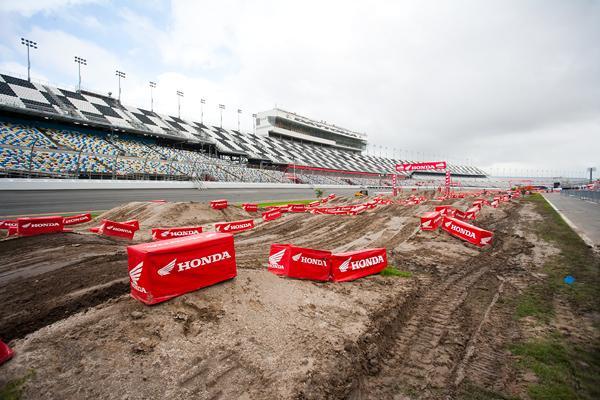 The majestic Daytona International Speedway was busy last weekend.
Photo: Andrew Fredrickson
Meanwhile, I announced and covered the Daytona SX by Honda, the Monster Energy
Ricky Carmichael
Amateur Supercross, and the Moose Racing River Ranch GNCC. There was very little sleep to be had. On Saturday, I stayed up late to finish up interviews and stories of the Daytona SX, and thanks to setting the clocks forward, I slept just two hours before heading back to the track to announce the RC Amateur race all day. It was hard work, but my efforts paled in comparison to the riders. Saturday night's supercross was a mudder, and the Daytona track was, as usual, nasty and rough. Laps were cut, but the lap times were still so long that the main events were significantly longer than a regular supercross. And these dudes were fighting mud and supercross obstacles while still battling each other. Check out that Lites race, for example. Muddy affairs like Daytona usually don't produce last-lap battles for the win, because the riders generally shift into survival mode at some point. But
Blake Baggett
did not, and
Justin Barcia
wouldn't relent, either, so they put on a great race right down to the finish. Third-place
Darryn Durham
didn't have a good start, and he could have wallowed around in fifth while being covered in wet, sandy roost. Nope—DD kept charging and was rewarded with a podium finish.
The SX class wasn't as thrilling, but Ryan Villopoto sure earned his paycheck by coming from last to fifth. Davi Millsaps delivered his first supercross podium in awhile by showing impressive staying power after grabbing the holeshot. And James Stewart's win shows that the whole JGR effort isn't giving up after a rough first half of the season. And although Ryan Dungey wasn't there, plenty were talking about his efforts to finish second with a broken collarbone last weekend. KTM people told me he still wanted to ride Daytona event with a fresh plate in his collarbone. And then Chad Reed showed up, hobbling, but also explaining that he hasn't thought about retirement for one second.
Effort, sacrifice and yes, pain, defined the day.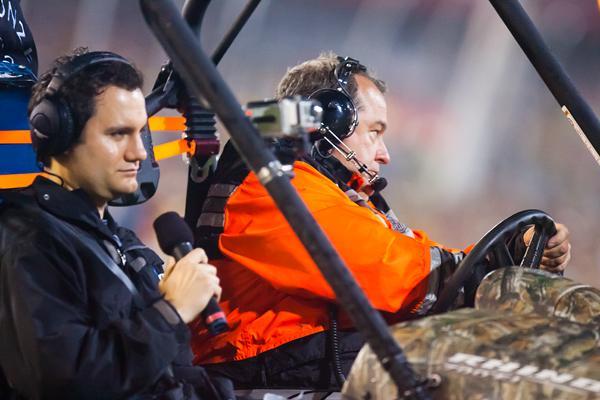 The one, the only, Jason Weigandt announcing at Daytona Supercross.
Photo: Andrew Fredrickson
Then the amateur races rolled out on Sunday morning. Surely there were some riders in the nearly 800-strong RCAmSX field that were there to just have fun on their dirt bikes. Can you find a cooler place to camp out than the Daytona infield? Can you find a cooler place to log some motos than in the Florida sunshine with the Daytona grandstands right over your shoulder? The place is mighty and impressive, and I'm sure some riders were there just for the experience. But we all know that amateur motocross has become much more competitive than that. Today's amateur stars are being faced with a ridiculous schedule of big-name amateur races at this time of year. There's a big one at Freestone in Texas, followed by another big one at Oak Hill in Texas, then the Daytona RCAmSX is jammed in on a weekend followed by a race at Mill Creek in Alabama. That's four big races in three weeks! Try to do 'em all and you're away from work and school (and home) for nearly a month. I doubt many riders tried to do all four races, but there is no doubt that if you're a prospect, you had to make some tough, stressful decisions on how to handle your spring. And then you had to perform under pressure at whatever races you decided to do. Amateur racing is serious business.
Next came the GNCC on Tuesday. Trail riding in perfect weather when it's still technically winter is pure fun—but a GNCC event is a trail race—and you'll be left pounding sand whoops and palmetto roots all day long. The two hour race in the morning is tough, the three-hour afternoon event for pro, A and B classes is plain crazy. Riders were just brutally exhausted and beat by the end. When you see a sweet sand berm or a stretch of sand whoops, it's tempting to just pin it, but at some point, the pinning will have to stop, no matter how fit you are.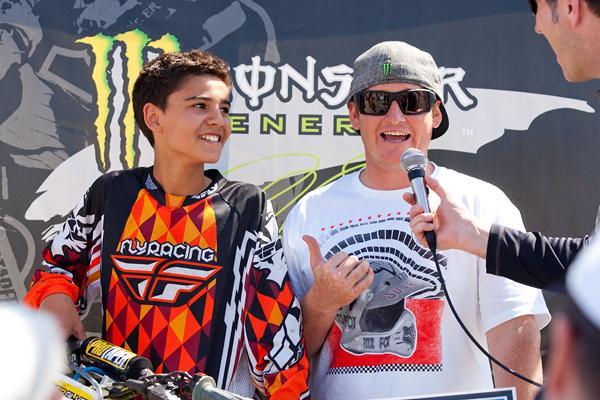 Big-time amateur prospects were out to prove themselves at the Monster Energy Ricky Carmichael Amateur Supercross.
Photo: Andrew Fredrickson
The GNCC saw a bunch of riders bid for the lead until they hit the wall. Florida favorite Garrett Edmisten had plenty of fans cheering when he took the lead—a bunch of people were even wearing Edmisten "Sand Man" t-shirts. But he straight up hit the proverbial wall. Out of energy. He cruised in for tenth in the XC1 pro class. New Zealand's Rory Mead also made a surprise bid for the lead, but also just plain wore out at that pace, settling for a still-impressive third. A bunch of XC2 Lites riders were strong early, like Husqvarna's factory guys Jason Thomas and Glenn Kearney. But they got tired. Ex-motocrosser Jase Lewis was flying and leading early, but he tuckered out, too.
In the end, favorites Charlie Mullins and Paul Whibley were left battling like usual. Whibley held the lead heading into the final section, but Mullins put on one last push to try to get him. After three hours of whoops and roots and heat and sand, they came charging toward the finish nearly together, with Whibley edging ahead for the win by less than a second. Mullins then collapsed at the finish, exhausted. The infamous Dano of DVS was standing there watching and told me, "I looked into Mullins eyes in the last corner and you could see he was just glazed over—but then he was still pinning it trying to get the lead!"
It was that kind of race. That kind of serious business.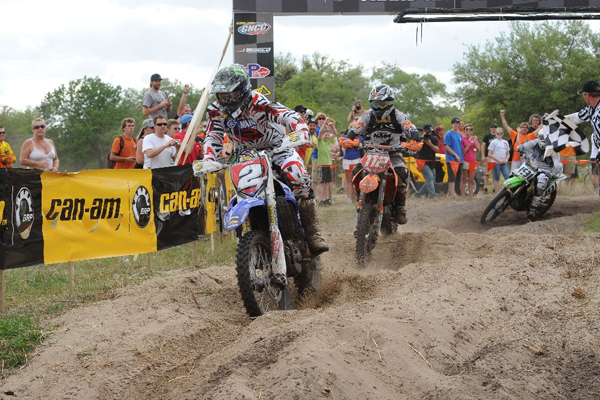 The week ended with a photo finish at the opening round of the GNCC series.
Photo: Ken Hill / GNCC Racing
That's what all of these events have in common. Be it supercross or GNCC or road racing or flat track, at the top level, you're watching motorcycle riders use their bikes as tools to make a living—or with the amateurs, a tool to potentially make one in the future. Then you've got folks like myself who make a living chasing them, and massive lists of sponsors and team people and execs with tons of money invested in all of this.
Such seriousness is the evolution of motorcycle riding. In 1937, what we know now as Bike Week started with the first running of what we now know as the Daytona 200—but back then, the race took place on the beach. Since then, racing and riding have gone in different directions. The 200 races inside the Speedway on sport bikes, while the Harley guys still hang around the beach and Main Street. The racing has become serious business, and it has to be, because racing is now a job for a bunch of people.
Meanwhile, down on Main Street, there is no such pressure. People are just riding motorcycles for fun. After working and working and working all week on the racing side, that seems kind of nice.