Daytona International Speedway
Daytona

,

FL
Daytona
Monster Energy AMA Supercross Championship
Entering Daytona it had been five rounds since James Stewart last won a Monster Energy Supercross race. After winning at Oakland a month ago, few probably expected the two-time champ to go five rounds between wins. Stewart was finally able to stop the bleeding in Daytona with an impressive performance in the murky Daytona waters.
Late last week, I proposed the question in 10 Things to Watch if new faces would brighten the podium at Daytona. Surprisingly we got two, with Davi Millsaps and Kevin Windham gracing the box for the first time in 2012. And let's not forget about a determined Ryan Villopoto charging through the pack to steal back all the championship points he could. Villopoto looked shaky all night, but managed to hold it together long enough.
In the Lites class Justin Barcia finally felt pressure from a hard charging Blake Baggett not once, but twice. Barcia was able to outlast Baggett in a drag race to the finish wrapping up his fourth consecutive win in the process. It was a good night all around for the Monster Energy Pro Circuit Kawasaki team as Darryn Durham picked up his second podium of the year with a late pass on Ken Roczen.
Let's move onto the lap charts to see how it all broke down.
For the first time this season, James Stewart was finally able to break through and claim the "King of the Lap Charts" title, setting a 1:27.558 on lap 3. Stewart may be out of championship contention, although the way this season has played out thus far he still may have a chance, albeit a slim one, but he showed a lot of grit and determination at Daytona. He could have given up on this season a long time ago, but has continuously showed his drive to win and prove he still has "it."
Was anyone really that shocked when Kevin Windham grabbed his first podium at Daytona? K-Dub is once again proving that he belongs near the top of the list of best mud riders of all-time. As soon as the skies opened up and Mother Nature unleashed its fury on Daytona, Windham was a lock for a podium. One of the iconic figures in the sport, it was great to see K-Dub stand on the box again.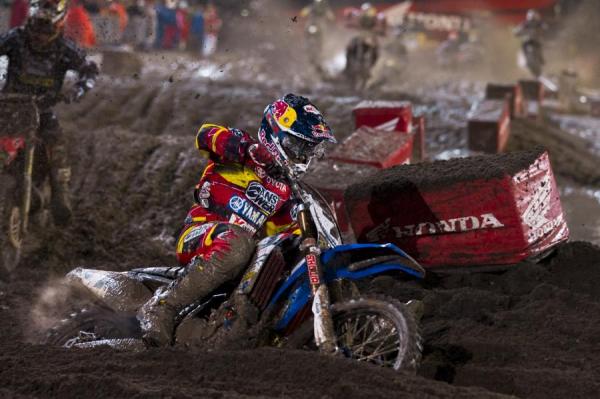 For the first time all season Stewart topped the charts in the Supercross class.
Photo: Garth Milan
AMA Supercross Lites
Blake Baggett and Justin Barcia were throwing down the gauntlet in Daytona—destroying anything and everything that stood in their way. Baggett not only set the fastest lap of the night, besting James Stewart's 1:27.558, but he did it on lap 11 (the Lites class only ran 12 laps due to track conditions). Even more impressive is that Baggett's fastest lap with four seconds and change fastest than third place's Darryn Durham's 1:32.060. But Barcia was throwing down the heat as well—setting his fastest lap, a 1:28.485, on lap 11. To say these two were bringing the ruckus down the stretch would be an understatement.
We have mentioned Jake Canada's impressive beginning to the 2012 season multiple times, but the kid just continues to put down electrifying results. Now it's hard to not include him in podium contender talks. Matching a career best sixth, set just a week ago in St. Louis, at Daytona, Canada now has four top tens thus far in 2012, and is showing no signs of slowing up. Don't be surprised to see this kid on the podium before the season is up.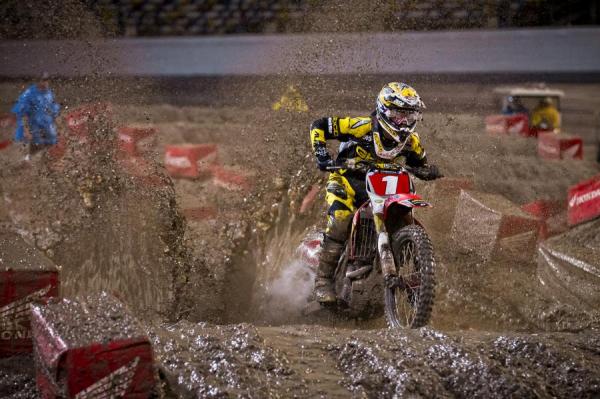 Although Baggett set the fastest lap of the night, Barcia walked away with the win.
Photo: Garth Milan