Daytona International Speedway
Daytona

,

FL
Daytona
Monster Energy AMA Supercross Championship
It is with great sadness that we begin Racerhead with the news of a tragic ending. Phil Alderton died this morning in Dayton, Ohio. He had been in a coma for several days following what appeared to be a stroke, in the wake of a relapse into heavy drug use. Phil had a long and terrible history with alcohol and much harder, more harmful drugs. The damage he did to his life in general and his body directly were obvious to all. Once a promising professional racer, he co-founded Honda of Troy racing out of a bike shop in Ohio, and it grew into an elite racing program that challenged the factories. He called his team "The Fifth Dragon" and helped change the status quo of factory teams competing among only themselves, but it was a demon within him that brought about the demise of the team in recent years, and now himself.
Phil Alderton used to race at Appalachia Lake Park and win big races when I was a little kid. He was one of the first people who advertised in the newspaper I started called The Racing Paper that became the magazine we have today. He was always helpful, and he was always trying to help. Phil was a kind, smart, and sincere man to everyone around him, at least at the races. His life away from motocross? I can't even imagine how traumatic it was, given the stories he would tell me, or that mutual friends like Erik Kehoe, Michael Rigdon, and Rob Healy would relay from time to time. It's a damned shame. No one could save Phil but himself, and he couldn't.
Godspeed, Phil Alderton.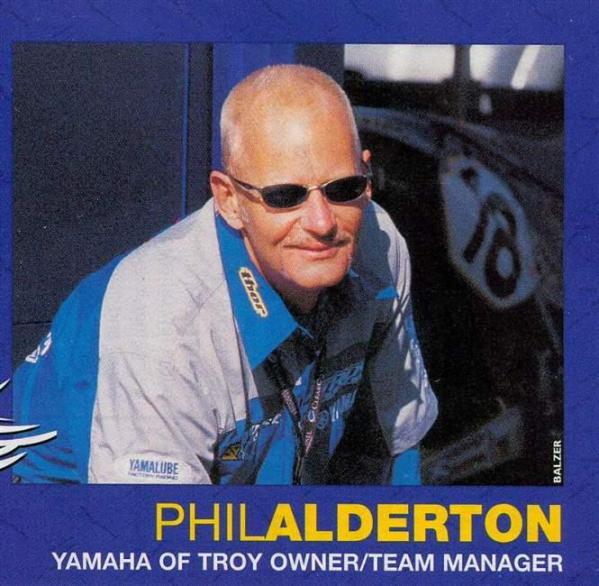 Welcome to Racerhead, coming to you from the Coleslaw Wrestling Capital of the World ... just kidding. It's Bike Week in Daytona, and that means everyone and everything is about motorcycles (and some bikers prefer watching their appetizers tromped on by girls in bikinis). But there's not much of that yet, as supercross now kicks off Bike Week rather than ending it. It's not crowded yet, but by tomorrow, the streets will be busy with bikers galore.
Wow, now Ryan Dungey is out?!!  The press release just went out that the Red Bull KTM rider had shoulder surgery.... Damn. We were literally hitting send on this when word came in; we will have more on this breaking story as it develops.
Tomorrow's Monster Energy Daytona Supercross will air live on SPEED, and it should be spectacular. Then it's two days of amateur racing with the Monster Energy Daytona Amateur Supercross, hosted once again by Ricky Carmichael. RC was in town early, and we got a chance to hang out at the big Cycle Gear Show over at the Hilton on Daytona Beach. Dave Bertram, the man behind Cycle Gear and a former top-shelf off-road racer, pulled together quite an impressive lineup of riders for last night's gig, including Kevin Windham, Justin Brayton, Mike and Jeff Alessi, Malcolm Stewart, Kyle Chisholm, and many more. Even Bevo was there!
While all of this is going on the 2012 Can-Am Grand National Cross Country Series begins on the other side of the state on Tuesday at River Ranch Resort in Lake Wales, Florida. Needless to say it's a busy week for everyone, but Jen Kenyon and crew will be there covering every inch of the event, so be sure to check out GNCCRacing.com for all your off-road news.
There was an epic bench-racing session this week at the Ale House among the non-racers in the group, and it never ceases to amaze me just how much Ricky Carmichael knows about motocross history—his own as well as everyone else's—and the passion he still has for being on a motorcycle and a racetrack. Yes, I asked him if he ever considered a one-race comeback just for kicks, and he just smiled and said, "All the time."
Quick side note: I asked Kyle Chisholm about the clip that popped up from a couple years ago of him on Let's Make a Deal or The Price is Right or whatever it was. He just laughed and said he and his wife did it for fun because she wanted a new car, and when she actually won the new car, he was as shocked as anyone! But yes, he's getting grief about the police outfit, just as Travis Pastrana did after his mom went on the Montel Williams Show and said Travis believed in ghosts!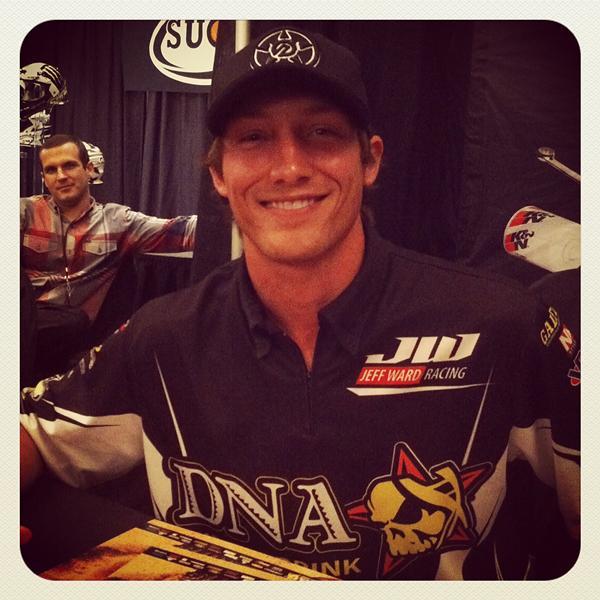 Chisholm left his police outfit at home for the Cycle Gear Show.
Photo: DC
Supercross takes its annual detour to Daytona International Speedway for tomorrow night's one-of-a-kind Daytona Supercross by Honda. It's a race unlike every other on the tour, which is otherwise run with great fanfare and efficiency by Feld Motor Sports. In the past few years, Daytona—the one event that is older than the invention of the sport as we know it at the '72 Los Angeles Coliseum—has gotten a nice makeover by the folks at DIS. And while the track remains a unique challenge, the event itself—the only on the infield of a super speedway—holds up well now against the other sixteen rounds of the tour. It's no longer as long or as rough as rough as it once was, but it's still the roughest, toughest round by far.
I'm also glad the Feld folks get a weekend off. They work their asses off to make this series a well-running, highly entertaining machine. There's no better bang for your family dollars than a Saturday night at the supercross races, and this series so far has delivered on just about every level.
Here's the red-hot Red Arrow doing a lap around the Ricky Carmichael-inspired Daytona Supercross course.
Nonetheless, tomorrow will mark a sad anniversary. My friend James Hanson from Rockstar Energy told me that Ian Trettel was coming out to watch the Daytona Supercross. Ian, of course, was a promising young rider until last year's Daytona race, where he crashed in practice and suffered severe brain trauma. It was touch and go for a while there, but it will always serve as a reminder of just how devastating a concussion can be to a young athlete in any sport. One year later it's obvious that he will never race again, but I think it's wonderful that he will be able to come out and see the race. Ian is a great kid from an awesome family and would have been quite a pleasure to work with over the years. I hope to see him, shake his hand, and wish him well.
It's also a reminder of the importance of the IMPACT Testing that is voluntary for Monster Energy AMA Supercross right now but will become mandatory when the Lucas Oil AMA Motocross tour starts up in May. If you're a pro rider reading Racerhead and you haven't take the test yet, visit the Asterisk Mobile Medics to set up a time soon. The test would not have had any effect on Trettel's crash or recovery, but it's a step forward for the entire sport.
Daytona is one of those expect-the-unexpected races. Over the years we've seen everything from a man winning in a neck brace (Jammin' Jimmy Weinert) to a privateer winning (Ricky Ryan) to a man surrendering the lead on the last lap of an already-shortened race (Chad Reed in the muddy '08 race). Travis Pastrana has thrown it away in the whoops (no surprise), as has Ricky Carmichael (big surprise). RC won his first 250 main event here, but it took all of 21 laps when they missed him with the white flag. And of course James Stewart has pulled off some next-level stuff (like last year), only to throw it away on the smallest of obstacles (ouch). It's a special race for sure.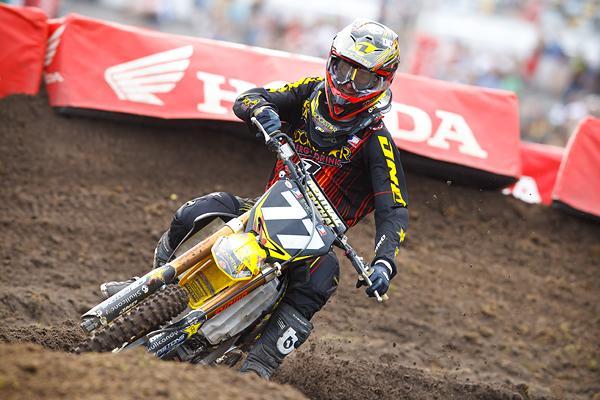 This weekend will mark the one-year anniversary of Ian Trettle's career ending crash. Luckly Ian appears to be on his way to a full recovery.
Photo: Simon Cudby
Earlier this week we came under a little fire—twice. First, my report on a rumor last week about the talk of a possible James Stewart-to-Chad Reed's team for outdoors set off a small tempest, but it was something I heard from a couple of very reliable sources. Even Joe Gibbs Racing team manager Jeremy Albrecht bought it up to my colleague Steve Matthes, who knew nothing about it because I didn't tell him about what I had heard, but it's always fun to hear Matthes squirm a little under questioning. (And I'm sure I'll hear a little myself this afternoon in a team managers' meeting as the outdoors approach.)
That rumor, which Reed himself had a little fun with on his Twitter feed, still hasn't gone away, but as I said last week, I really doubt it will ever happen. I do expect to see #7 get his confidence back and get after the Ryans soon. It's not panic-button time, but he might want to familiarize himself with where exactly the button is. Villopoto won this race last year after Stewart's epic get-off while running away with the win. Like you, I can't wait to see a real battle between the two Ryans and James where they start out all together again.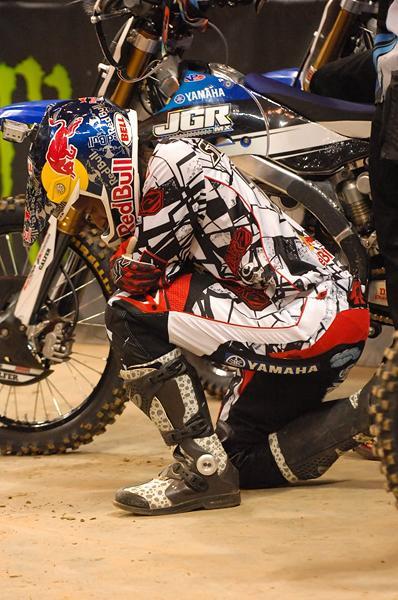 James Stewart gathers his thoughts, or maybe he's praying, but either way, dare we say it's "Tebowesque."
Photo: Carl Stone
A more obscure and silly scandal was the tempest over our Chase Stallo posting a photo of James on the gate last weekend at St. Louis in a kneeling position, which Chase described as James "Tebowing." Based on some of the responses, you would have thought Chase was describing Stewie starring in The Last Temptation of Christ. Here's the thing to remember before you start writing your letters to me: "Tebowing" has entered the public discourse as a modern description of someone praying in public, which is something the wildly popular Denver Broncos QB has been doing since high school. I've seen Windham do it in the pits as well as Dungey, with no firestorm (let alone a brimstone one) coming from the converted. I also saw downhill skiing world champ Lindsey Vonn doing it. I love Tim Tebow's story, and my nephew the high-school quarterback and his teammates do it all the time, so why was it offensive for Stewart to be described as doing it—whether he was or wasn't? This is a case in point of what #7 is up against all the time.
I feel like I don't talk enough about Ryan Villopoto in here because, well, it's hard to say much more than the guy is a winning machine right now. (Earlier this week, Weege wrote his ReduX column about this very topic). While we've seen flashes of brilliance by James, a couple by Ryan Dungey, and, before he was hurt, some real heart by Chad Reed. The series has otherwise been a study in persistence and consistency by the defending Monster Energy AMA Supercross Champion. He's riding faster, stronger and smarter than he was last year, when he swept every major accolade, and he appears poised to do likewise this season. Dungey seems to be getting faster, and Stewart will hopefully pull it all together soon, but with every passing race, RV seems to be getting more and more comfortable with the expectations thrust upon him. Last year at Daytona James may have thrown it away, but RV was in the right place at the right time to pounce on his fellow multi-time champion's ugly error. RV now has five major titles to his name since his rookie year of 2006; Stewart now has the same number after his rookie year of 2002. (Reed, by the way, has a total of three, same as Ryan Dungey.)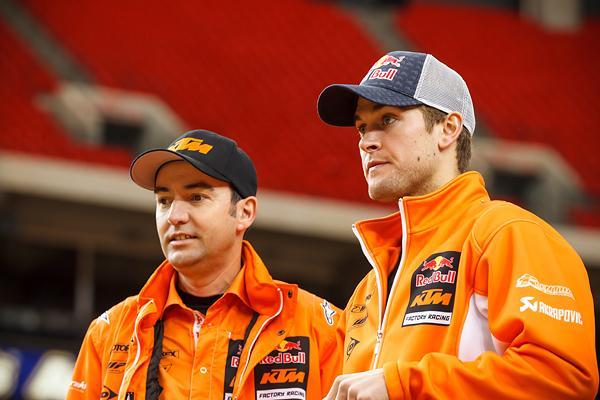 News broke earlier today that Dungey will miss Daytona after undergoing surgery this week to repair a broken collarbone.
Photo: Simon Cudby
Daytona is the longest running "major" professional race in America that has always been at the same location (though the first race was on the other side of what is now Lake George). Yes,
Hangtown
and
Unadilla
and
RedBud
have been running big races since 1970, but they have been different types of races: Trans-AMAs, GPs, outdoor nationals, etc. Daytona is old-school, and while it's undergone many changes over the years—all for the better, in my opinion, including removing the telephone poles that were once the base for the whoops, and making it a night race—it's still the centerpiece of the Monster Energy AMA Supercross tour.
My colleague Jason Weigandt looked back on one famous Daytona SX for this week's Yamaha Supercross History Moment. Check it out.
Okay, I have a meeting with all of the team managers as we start to work out the details in the production of the 2012 Lucas Oil AMA Motocross Championship, so I will need to turn this over to Matthes:
Ah, Daytona, the sun and sand that lies only a few miles away is a teaser for what the riders actually have to deal with when it comes to what may be the prestigious supercross race in our series. The racers all want to win Daytona. It says something with its history of being a challenging race for everyone. It's more supercross-ish than ever nowadays (and under the lights), but it's still drastically different from every other race on the indoor calendar.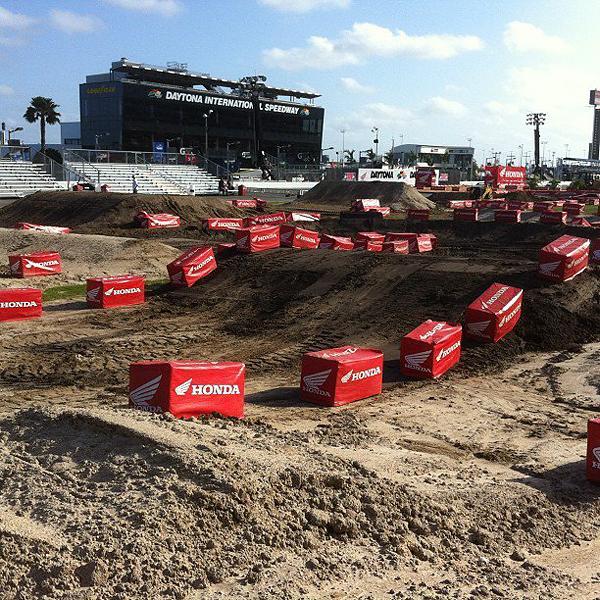 MXSports' Tim Cotter grabbed an early shot of Daytona.
Photo: Tim Cotter
In the old days, when I started being a mechanic, it was a 30-man main event held in the middle of the day, and literally, the top guys would start lapping other riders on lap three or four. Sometimes, the same guys would be lapped two or three times by the time it was over. The roughness of the track would make most jumps not makeable by the end of the race and it was a true test of survival out there.
But having said that, I think I like the moves the speedway has made in moving it to nighttime, getting some real track designers in there with the right equipment to make the jump transitions safe, and Ricky Carmichael has designed a pretty nice track most years. But the old Daytona does have some memories, that's for sure.
I usually take a race or two off during the year, and this year, for the first time since 1995, Daytona drew the short straw. I won't be there to hang out and pester people, but I will be on my couch watching the SPEED TV broadcast.
Some of my favorite Daytona memories include:
- In 2000, you could see that supercross didn't come easy for Kawasaki's Ricky Carmichael and he was learning the ropes of how to slow down to go faster. The series rolled into Daytona (the old Daytona) and with his throttle stops out, RC destroyed them, taking the win rather easily. It was his first career supercross win and what a place to do it at.
- That same year I was working for Kelly Smith at KTM in the 125 class and Travis Pastrana was on another level as well. The Daytona track rewards creativity and improvisation, and the #199 was very good at this. I remember in practice he came by the mechanics' area in a massive wheelie standing up and going third gear wide open. He was having fun and it showed. Game over for everyone else.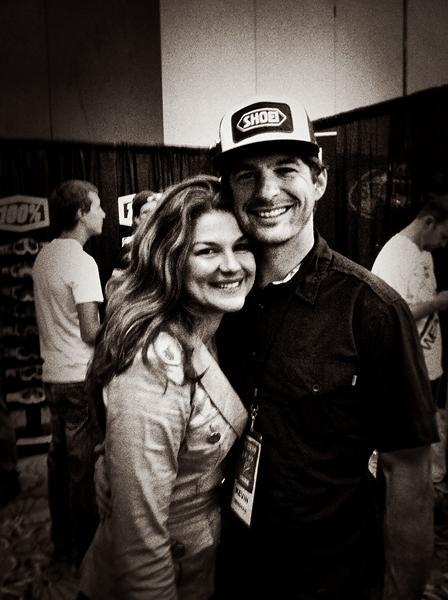 With Dungey out, can Windham grab his first podium of 2012 at Daytona?
Photo: DC
- What about when he came back in 2006 and did a backflip over the finish line and then was going mach five in the whoops before he eventually ate it, yep, in the whoops. Pastrana: the thrill ride that never stops!
- Jeremy McGrath had a few rough Daytonas and people whispering saying he wasn't tough enough to win Daytona. And then MC put his mind to it and won a ton of Daytonas. There was one race (maybe '99?) where he was on a Yamaha and SO SO SO SO far out front it was ridiculous.
- Remember Damon Bradshaw's comeback with the Factory Connection Honda team on a 125? Yeah, me neither. I've tried to wipe that out of my mind.
- My rider Tim Ferry got third in '03 in the mud, and although he wasn't within a minute of second-place Chad Reed or two minutes of RC, it was still a cool achievement as a wrench.
- What about 2005 when Reed, on a bike he wasn't getting along with (the new aluminum framed YZ250), battled Carmichael hard the entire race before RC slid out and went onto the concrete? That was a great race.
You get the idea. Daytona is bad-ass.
Sources close to KTM's Ryan Dungey indicate that he may have gone under the knife this past week to plate a cracked collarbone suffered at St. Louis. What probably happened was his crash before St. Louis did some damage to the collarbone, and racing in St. Louis might have aggravated it to crack a bit so Ryan went in and got it fixed up the best he could. No matter what, Daytona is going to tax him and his collarbone to the limit, and his toughness willhave to rise to the surface this weekend.
[Editor's Note: We have since learned that Dungey has been ruled out for Daytona]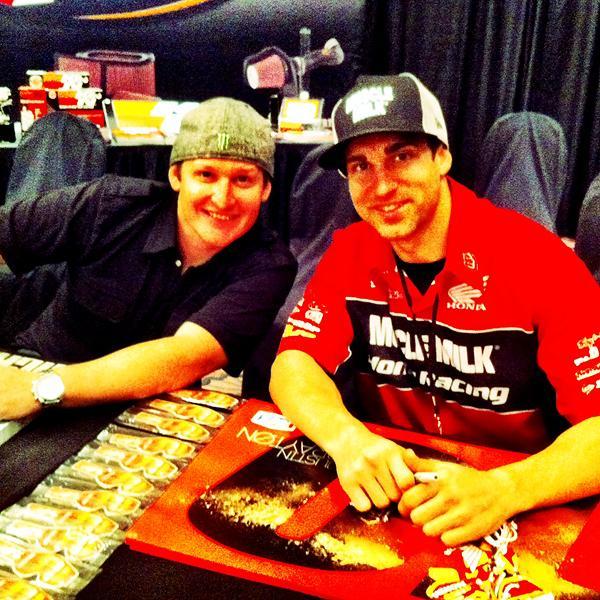 RC and Justin Brayton hanging out at the Cycle Gear Show over at the Hilton on Daytona Beach.
Photo: DC
We may see Josh Grant back this weekend for Jeff Ward Racing, or we may not. "Grant's coming back this week" has been used a few times by people in the pits, but this time I think he's close.
Privateer Ricky Renner is racing a 125 tomorrow at Daytona, and over on VitalMX, any mention of a two-stroke brings all those people out of the back sheds and moms' basements. (Kidding! Sort of!) There's a pool going to reward RR for doing well and it's up to quite a bit of cash. I'm going to chip in $200 if Renner can put it in the main event, but I think I'm pretty safe on this one. Good luck, Ricky, you're gonna need it!
I'm calling a James Stewart win tomorrow night. I know the media isn't supposed to show favoritism or whatever, but leave that to guys that are real media. I'm just some guy who's gotten lucky. Stewart will break out of his slump this weekend at Daytona. I have no inside information on this, just a feeling. Stamp it. And if it doesn't happen, forget I said anything.
My guy Swizcore did a podcast this week over on promototalk.com with everyone's favorite Ewok Warrior, Alex Martin. Check it out here.
Check out Pulpmx.com for stuff. That's all I got, see you next week!
Let's turn this over to
Ping
:
I got some really sad news this week about former Honda of Troy/Yamaha of Troy manager Phil Alderton. Phil has been struggling with drug and alcohol addiction for some time, and after doing a stint in prison it looked like he had things back on track. Phil even jumped in and started managing a race team a couple years ago. But one of the team's old mechanics, and a longtime friend of Phil's, told me that Alderton was taken to the hospital after overdosing and is currently in critical condition. According to Phil's friend, the outlook was bleak, but we're all hoping for the best.
[Editor's Note: We have received word that Phil has indeed passed away. RIP Phil]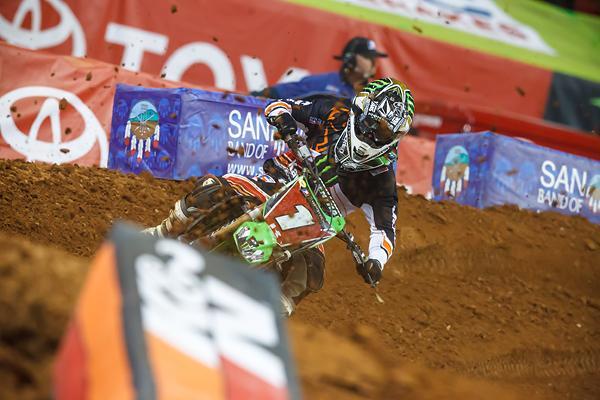 With Dungey ruled out for Daytona, has RV already locked up his second straight Monster Energy Supercross title?
Photo: Simon Cudby

Can you recall another season where we've had this many spinal injuries? Michael Byrne, Ryan Morais, Tyla Rattray, and most recently Kyle Partridge all broke bones in their cervical spines. None of them was wearing neck protection, for those keeping track. Add to that Chad Reed's broken T6 and Trey Canard's lower back injury, and I don't know whether to sell my bike or buy a suit of jousting armor to ride in. Scary stuff.
If you live here in Southern California, check out the new F.A.S.T. pass.
Thanks, Ping. Here's Jason Weigandt:
The Daytona Supercross by Honda is most certainly a different animal compared to any other race on the professional AMA Supercross and Motocross circuit. Some liken it to an outdoor race, but it's not really any closer to a motocross than it is to a supercross. It lies somewhere in between.

How do riders prepare? Today I caught up to two Honda riders that were on hand for a press event at the track today. They both changed up their programs this week. First, rookie pro Justin Bogle prepped for his first Daytona by riding with BTOSports/BBMX's Jimmy Albertson at Trey Canard's house in Oklahoma. They basically made a big track using half of the supercross track and half of the outdoor track to try to replicate Saturday night's test.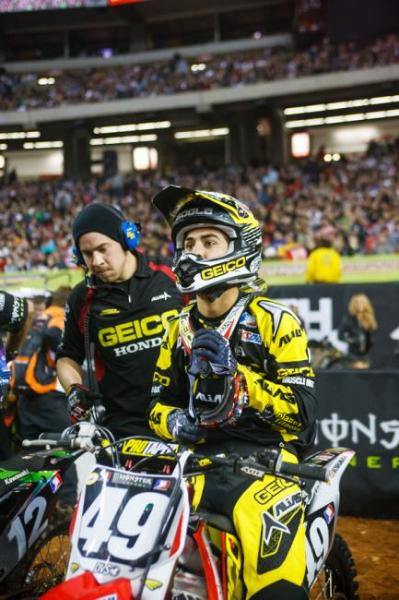 Bogle returned to his roots to train for Daytona.
Photo: Simon Cudby
The best way to prepare would be to build a track similar to Daytona, and Chad Reed has such a course at his place. Obviously Reed is not riding on it this year, but Justin Brayton did head there in hopes of getting in two days on it. Brayton rode Wednesday and learned a bunch, but unfortunately his still-injured leg was too sore for him to ride on Thursday. Still, one full day is still more riding than he has done during the week since his San Diego injury. That's supercross right now--a lot of the riders who aren't out with injury are fighting through an injury.
I'm pumped to say I'll be part of the live announcing team at the track tomorrow night, alongside Larry Naston and Rob Buydos. I first got the Daytona announcing gig in 2008 (the night of the epic mudder) and I can tell you nothing really compares to watching and announcing a race live while standing on the infield of Daytona. I'll be standing right at the fence on the apron of the car track, so if you can push and shove your way to the front, be sure to say high. And say it really loud so my microphone picks it up.
After Saturday night's race, I'll be announcing the Ricky Carmichael Amateur Supercross on Sunday and Monday, and then heading to the opener of the Can-Am Grand National Cross Country Series on Tuesday in Lake Wales' River Ranch. My voice will be smoked by the time it's all over, but I wouldn't have it any other way. Bike Week is pretty much the best darned week of the year!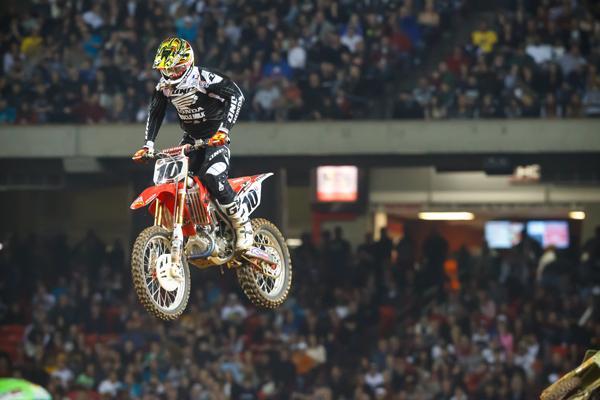 Brayton spent time at Chad Reed's house this week in preparation for Daytona.
Photo: Simon Cudby
Now some news from Hollywood to finish things up:
Last weekend the East Coast Enduro Association (ECEA) kicked off their 2012
 Hare Scrambles season with the Tri County event, which was held deep in the
 woods of the New Jersey Pine Barrens. A surprise entry showed up wearing #811 on his front number plate, and it was none other than New Jersey¹s own 
Jason Lawrence.
The race was held in Port Elizabeth, home territory to the famous
 off-road family named Lafferty. But when the race started, it was all J-Law.
 Lawrence took off and built up a massive early lead and never looked back.
 He won by a convincing margin, finishing in just under two hours.
 Lawrence was riding a Suzuki and wearing Fly gear and had a few friends
 helping him with the pits.
This wasn't the first time J-Law has shown up at one of these local events.
 According to local guy Dave Nash, Lawrence raced another local event last 
fall and was winning until he ran out of gas and left early. But his entry to 
the Tri County event came as a surprise to everyone, and it wasn't known he
 was racing until he was on the line.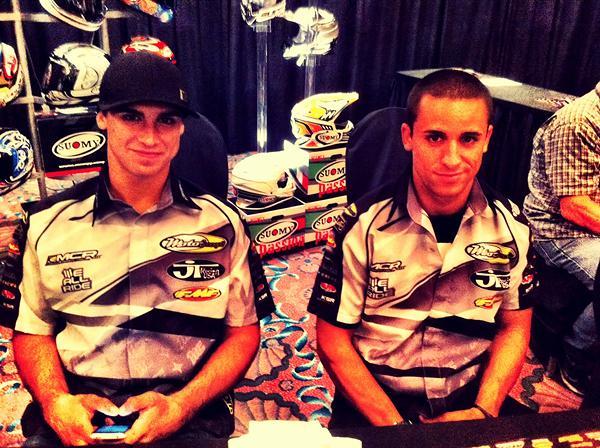 The Alessi's, Jeff and Mike, hanging out at the Cycle Gear Show.
Photo: DC
The second round in the series, called the Stump Jumper, is scheduled to be 
held April 14-15 in Manahawkin, New Jersey. It remains to be seen if
 Lawrence will show up for that event, but organizers are hoping he does. 
J-Law earned $300 for his win at the Tri County Hare Scrambles.
Remember the minicycle hero-turned-Baja legend Mouse Mccoy? Well, he has a
 day job producing movies, and apparently he is very good at it. You might
 have heard of his latest movie, Act of Valor, which is a story
 about the elite Navy SEALs and a covert rescue of a CIA agent. The cool
 thing about the movie is that it uses actual Navy SEALs. Here's the trailer:
We spotted this video from MXAttitude.com of former Lites Champion Christophe Pourcel prepping for the upcoming GP season.
We also liked this cool O'Neal ad in MOTO, the excellent British magazine put out by my friends Adam Duckworth, Ben Johnson, and more. If you're no older than, say, a CD, then you probably have no idea what this is. But for us Vet-class riders, yeah, that's pretty cool.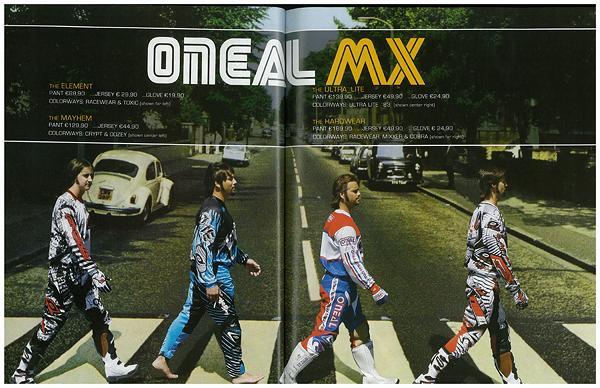 Here's a gem from yesteryear: The 1979 Daytona SX main event, with race analysis from broadcasting legends Dave Despain and Ken Squier, featuring 41 main event competitors, led by Gary Semics, Bob "Hurricane" Hannah, "Jammin'" Jimmy Weinert, and the old Daytona SX layout that went across the pavement a few times!
And
here's footage from
the very first MX held at Daytona, in 1971: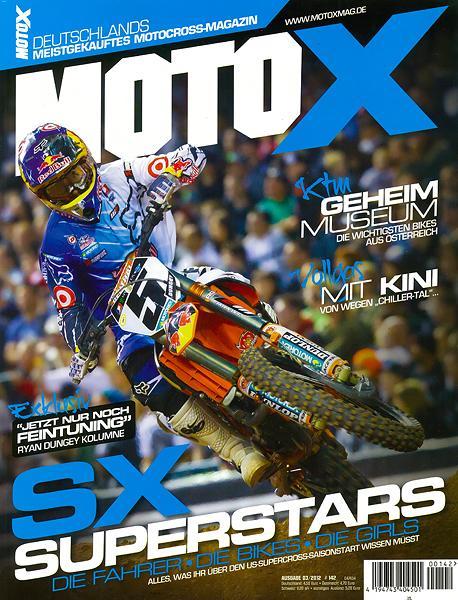 Cool German MOTO mag cover for the Red Bull KTM rider Ryan Dungey.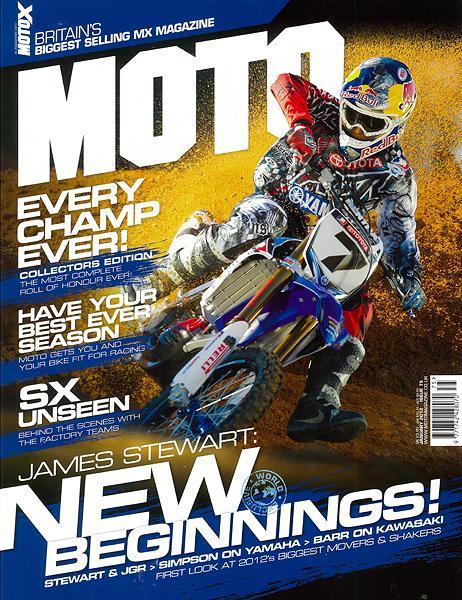 And here's one from England featuring James Stewart.
MX Sports' Tim Cotter spotted this old Kawasaki and a very cool Moto Plate somewhere in the Mountain State last week: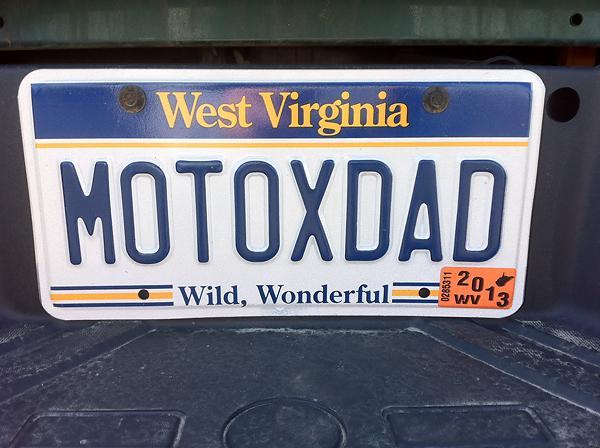 We are still working on the world's largest collection of personalized Moto Plates, hoping to post one every day on the new-and-improved
American Motocross Facebook page
. That's the official page of the Lucas Oil AMA Motocross Championships. If you have a cool motocross-inspired license plate, shoot it with your phone and send it on over:
social@mxsportsproracing.com
The Legends & Heroes of Motocross gang was in St. Louis for the race last weekend, and they honored local greats and former Yamaha factory support riders "Radical" Randy Shekel and Jay Clark. 1972 AMA 500cc Motocross Champion and '82 500cc World Champion Brad Lackey presented the award, Joe Abotte was the "bike boy" and the always-smiling, moto-loving Alex Moroz was on hand as well.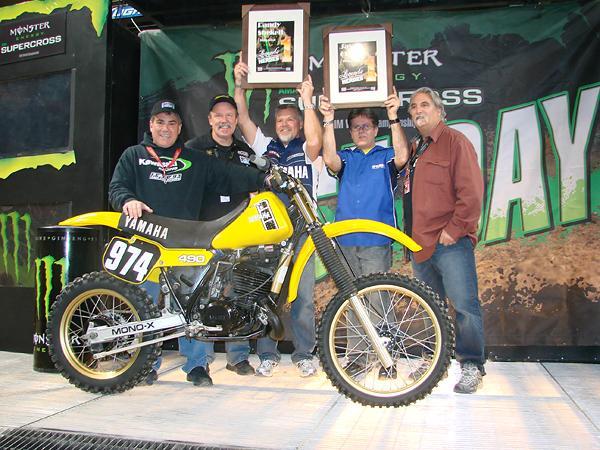 The Legends & Heroes of Motocross occupy the St. Louis podium.
John Gregory, the iconic founder of JT Racing, called to say that he will be attending the 5th Annual Racer X Inter-AM event to be held in Boise on March 31. When John heard that 1981 MXdN champs Danny LaPorte and Chuck Sun would be there and that never before seen video footage of Team USA's shocking victory would be shown at the Video party sponsored by WPS/Fly Racing, he said he wouldn't miss it! For more info on the race go to www.idahovintagemx.com.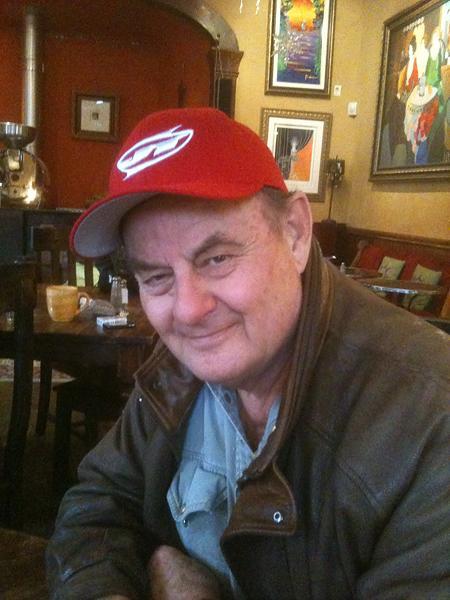 That's it from Daytona. Check out Racer X Online all day tomorrow, as well as our tweets and Instagram pics. It should be a long, fun day at the races!
Thanks for reading Racerhead. See you at the races.