Daytona International Speedway
Daytona

,

FL
Daytona
Monster Energy AMA Supercross Championship
Round nine of the seventeen-race Monster Energy AMA Supercross series in St. Louis promised to be sneaky good, and my spirits were up on the plane as I thought about the Arch City's good dirt, the close points battle, the still fresh Eastern Regional Supercross Lites series, and the crazy fans.
With injuries to Chad Reed, Trey Canard, Justin Brayton (who is still racing but not practicing during the week), Ryan Morais, Austin Stroupe, Andrew Short (who should be back soon), Ivan Tedesco, Josh Hill, Josh Grant and many others, the last thing we needed was an injury to Ryan Dungey. Well, word was that Dungey went down hard while practicing last week and hurt his shoulder. He was forced to wear a brace, and I'm sure he got some shots in it as well.  More on him later but all things considered, I'm impressed with how he rode.
Before we get into that, let's get into the track. Going in, I thought it was pretty cool, but it became obvious early on that there wasn't going to be much passing. When you have six 90-degree corners, you're just not going to get much in the way of passing. The two sections of whoops made me excited, but they broke down quickly and soon became ridiculously easy. And the one rhythm lane that looked great before the night got underway turned out to be pretty easy for the top guys. There just wasn't anything out there to separate the guys and it hurt the racing in my opinion; it was a freight train out there in both main events. At least there was only one triple. One triple is good because it's the easiest obstacle on the track for these guys, and it just doesn't promote good racing. I understand you have to have one at every round, but let's just keep it to one shall we?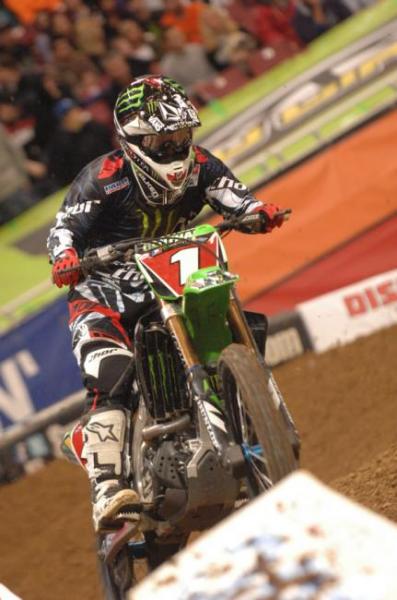 Villopoto captured his fifth win of the season and extended his points lead back to 13 in St. Louis.
Photo: Carl Stone
Ryan Villopoto won his fifth race of the season and got back the three points he lost last weekend to Dungey. Is there anyone out there who doesn't think that it's going to be a three-point swing for most of the remaining races? That is, unless James Stewart can get back into the mix. Anyway, RV grabbed the lead from Davi Millsaps and sped away for the uncontested win.
Villopoto had stretched his lead to eight seconds at one point, but by the end it was only down to a couple over Dungey. It was either a great ride for Dungey, or a too-conservative ride by Villopoto. Afterward RV said that he was marking Dungey, and started trying new lines in an attempt to avoid the concrete that was beginning to show in a few places. I don't know. If it's me, I'm thinking that I don't want my main competitor getting any confidence by running me down late in the race; this sport is so mental at this level. I wouldn't be happy that my rival tracked me down and made it close, but it didn't seem to bother RV. Actually now that I think about it, nothing seems to bother Villopoto.
So despite the shoulder injury, Dungey goes into Daytona knowing that he came from the back and ran RV down. No, he didn't win, and there's a big difference from catching someone to passing someone, but as I said, these guys use these little things to help them out mentally. In other words, it's almost a moral victory for Dungey, and although he doesn't get the points or the money for a win, it was still a great ride considering his injury, and the fact that he was forced to battle through the pack.
Justin Brayton got his second career 450 podium, and unlike that race in Seattle where it was kind of a muddy/rutted cluster, this third-place finish was earned the hard way. Since he crashed hard in San Diego, Brayton's been unable to practice and he's been grinding out some good finishes without being 100 percent. Well, Brayton was finally able to get back on the bike a couple of times this week and it paid off big-time with a great ride. Brayton's season has been up and down with some good finishes, but he's also had some crashes. The much-needed podium in St. Louis was impressive for the Iowa Kid.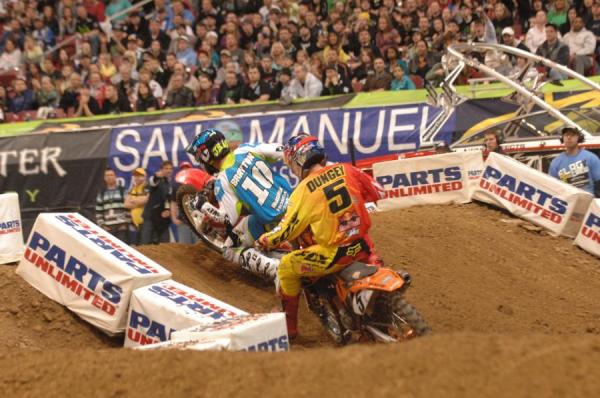 Brayton gave Dungey all he could handle before having to settle for third.
Photo: Carl Stone
BARCIA, BARCIA, BARCIA! Justin Barcia won again with yet another impressive ride, and he looks just like his teammate Eli Tomac (before San Diego, of course) did on the West -- confident, smooth, impressive and seemingly able to put the bike wherever he wants, whenever he wants.
The much awaited battle between Ken Roczen and Bam-Bam looked like it was finally going to happen when both of the projected frontrunners got out together, but in the end, it was like Jaws 2: the expected thrills weren't there. Barcia simply rode away from Kenny in a dazzling display of supercross-prowess. Afterward, Roczen made no excuses but did mention he was battling a cold and didn't feel right all day. He better get that cold figured out real soon or Barcia's going to run away with this thing.
I keep hearing from people that Barcia could be the choice to fill-in on Trey Canard's vacant Factory Honda 450 for the outdoor series, but I haven't heard anything from the Honda or GEICO guys on this, which leads me to believe that it's just pit gossip going around. As I wrote earlier, Barcia would be great this summer on a 450, but in addition to growing older, smarter and more mature, working with Jeff Stanton has really helped Barcia, and I'd like to see him really give this Lites outdoor thing one last kick at the can. He's going to make the jump to a 450 next year, and you know that he knows this is his last chance at a title on a Lites bike. One more summer of him revving the piss out of his bike with Six-Time Stanton helping him out seems perfect for me.
It's funny how sometimes pit rumors go around. Early in the season it was thought by many that James Stewart wasn't winning because he wasn't in shape and I have to admit, I thought this was totally plausible. He did seem to be huffing and puffing a little more after his heat races, and near the end of Anaheim 1, he experienced a crash that some people felt was due to fatigue. But soon after that, he won Oakland in a great ride that saw him pull away from Chad Reed and RV late in the race. At Dodger Stadium, he was going faster than everyone late in the race. And Anaheim 2? Same thing. Dallas? Yep, he was on it at the end of the race. This "theory" that he wasn't in shape wasn't supported by the lap times, and I quickly dropped it early in the season. But now those same rumors are back out there, and they seem to be supported by more and more people in the pits. I wonder if any of these people look at lap times and see that JS7 isn't getting any more tired than Dungey and Villopoto, two guys who are definitely considered to be in shape.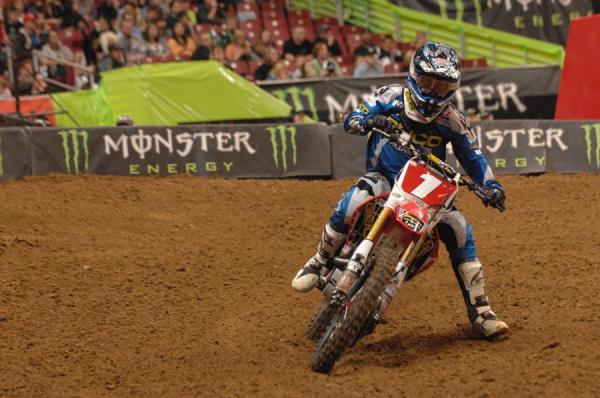 It was a three-peat for Barcia in St. Louis.
Photo: Carl Stone
In this column a couple weeks ago, I listed a few reasons that I felt may be part of the reason that Stewart hasn't been himself this year. I didn't put that he may be out of shape, because the evidence simply doesn't back it up, which is a trend that held true this weekend. In St. Louis, it was a terrible start, a crash in the opening laps and then a roadblock in the form of his teammate Davi Millsaps, who Stewie just could not get around quickly. Had he been able to, I think a last to podium was in the cards for the #7. As it was, like Dungey, he's going to have to take the moral victory of a good ride with him home to Florida.
I was talking to some of the JGR guys during track walk and talking about their front motor mount switch, as well as Stewart going back to the smaller, 49mm forks. I mentioned that in my experience, when you're halfway through a series and are still making these radical changes, it means that you're definitely searching hard for something. They didn't disagree. I remember back when I was at Yamaha, and Reed wasn't getting along with the new aluminum-framed YZ250. He was getting beat by RC, and we, just like the JGR guys are now, were searching. We tried welding plates to the frame, skid plate mounts, fork lugs -- you name it, we tried it. None of it really helped. RC was just better than Reed, and our bike didn't measure up. Here's the thing though, as a team, you cannot, repeat cannot, give up and throw in the towel. It's a slippery slope when the rider sees that the team isn't trying to be part of the solution, and that ends up bad for everyone. So put your head down, work hard, test your balls off and hope that the rider is doing the same off the track so you can come together for a solution.
I've often railed on this in the past and I suppose I'll keep going. After the unseeded Lites guys each had one practice, the dozers came out and groomed the track all perfect for the seeded guys. And this wasn't in the free practices, this was in the qualifying ones. How can you do this when you know that the work you have done will help the seeded guys go faster than the guys before them? It's absurd! If you want to do it before any 450 guys have hit the track for qualifying practice, I'm ok with it, as the track is what it is. But to have it rough and jacked up for the unseeded guys and then prep it all nice for the seeded guys is just cruel and unusual punishment for the unseeded guys, who are already at a disadvantage when they line up against the seeded riders. If you said, "Hey Matthes, it doesn't really matter, it's not like the seeded guys aren't going to get into the fast 40," I'd say you're probably right. But that still doesn't make it right. Leave the track alone for ALL the timed sessions and if you can't, be sure to change it at the right time so it will be fair for everyone.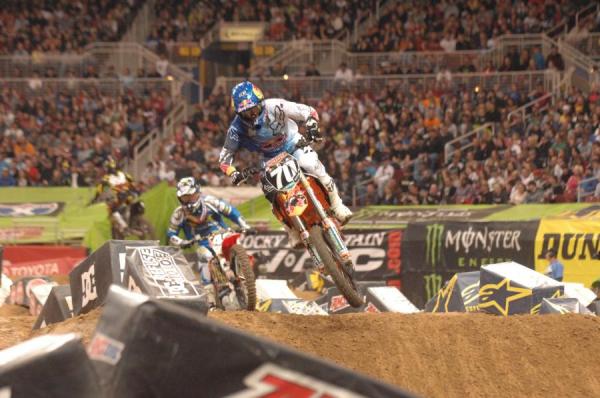 Roczen was unable to make a run at Barcia in St. Louis. Will this trend continue?
Photo: Carl Stone
MotoConcepts' Jake Canada has been a real surprise this year, and he kept it rolling this weekend with a sixth place. Here's what I wrote about Canada in a season preview column:
The MCR boys are going with a couple of solid riders who should, with everything taken care of as far as bikes and support, be able to just focus on working hard and trying to get better. Jake Canada is probably the lead rider on the east side and he's a top ten guy most nights. Canada seems to be getting better each year. He's not going to wow you with raw speed but he seems to on the right track.
What to Watch For: A lot of top tens on the MCR bike and maybe Jake takes that next step up to be a 5-6 guy every weekend now that he's on, in my opinion, the best team he's ever been on.
It's good to see that he's taken advantage of the support he's receiving, and is becoming a serious professional. He's been a real surprise and a bright spot for the MCR team.
Lites East Overall
1. Justin Barcia Hon - We had Dean Wilson on the Pulpmx Show and he said that "Barcia would kill himself to win," and that he just doesn't see anyone else in the class with that attitude. You know what? I don't know about the second part but I definitely agree with the first part.


2. Ken Roczen KTM


3. Blake Wharton Suz- Slash makes the box! Yeah he probably got lucky because Bogle fell on the last lap, but I feel like the moto gods needed to throw Blake some good luck after his first two races.


4. Darryn Durham Kaw


5. Justin Bogle Hon - Oh Bogle! He had a great third place race going until two falls on the last lap did him in. Oh well, he'll figure it out. Kid's got a bright future.


6. Jake Canada Hon


7. Malcolm Stewart KTM - I just thought he'd be better but then again, it's hard to say how much that near-death crash at Atlanta has affected him. Mookie fever is still strong.


8. Kyle Cunningham Yam


9. Blake Baggett Kaw - Baffling ride by the BB Gun. Long conversation after the race with Mitch Payton, Baggett, Baggett's parents and trainer Aldon Baker. They're all trying to figure out what happened to the Blake Baggett from last year. Know what I think? We see him emerge this weekend at Daytona.


10. Alex Martin Hon - The Ewok Warrior is looking to recapture the magic from last year.  St. Louis was his best finish of the year.


11. Matt Lemoine Kaw


12. Hunter Hewitt Suz


13. Cole Thompson Hon - Thompson's last lap in his heat is the stuff legends are made of. He was one spot out of qualifying and then proceeded to triple into a section I believe he hadn't been doing all day, blitzed the whoops, and caught and passed Tyler Bowers in the last turn for the last transfer spot. It was an exciting race! He knocked 1.5 seconds off his previous best time on that final lap of glory. Good stuff.


14. AJ Catanzaro KTM


15. Jeff Gibson Hon - Gibson is back! Jeff's a nice guy and a veteran racer who was racing the Arenacross series until it ended. I just always think of Gibson testing that Cannondale and feel so, so sorry for him.


16. Austin Politelli Hon


17. PJ Larsen KTM


18. Brad Ripple Hon


19. Phil Nicoletti Hon - Filthy Phil had an awesome heat race. He's going fast, and it's too bad for him he hasn't been able to back up that first round fifth place result.


20. Tyler Bowers Kaw - Bowers crashed under the over/under bridge and then just walked off. Weird deal. I know that the Hart & Huntington guys asked him to fill in now that Kyle Partridge is hurt and they were told no, Bowers wants to stay in the 250 class. Ok…..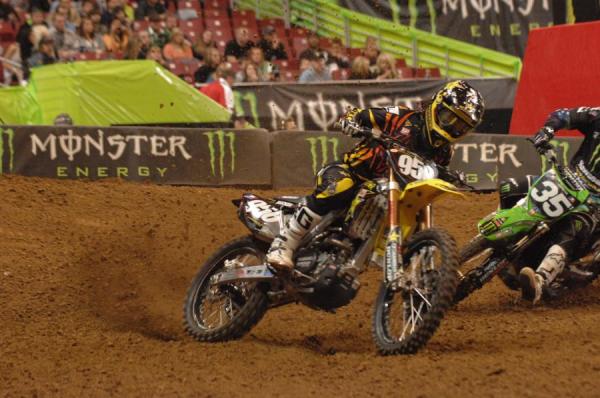 Wharton captured his first podium of 2012 in St. Louis.
Photo: Carl Stone
Supercross Overall

1. Ryan Villopoto Kaw

2. Ryan Dungey KTM

3. Justin Brayton Hon

4. Kevin Windham Hon - At one point I thought KW was going to get third, but in the end, he settled for fourth. Windham did 15 out of 20 laps in the 52-second range. That's either really impressive, or on the flipside, you're thinking he should be pushing harder.

5. James Stewart Yam

6. Davi Millsaps Yam - I've been praising Davi for his riding but this weekend was definitely a case of him riding above his comfort level and paying the price for it later in the race. There were a bunch of guys jammed up behind the #18 and once they got by, they immediately gapped him. He led early, but pushed too hard, got tired (or "tight" which is code word for tired) and dropped back. He definitely could have been on the box with a bit more fitness.

7. Jake Weimer Kaw - Battled with Metcalfe for a while.

8. Brett Metcalfe Suz - Battled with Weimer for a while.

9. Marvin Musquin KTM - I'm not a fan of the 350 and as per its custom, the bike didn't do "Movin' Marvin Marv Attack The Martian Musquin" any favors when he got a terrible start.  Musquin did well to get ninth in the main after rounding the first lap in fifteenth.

10. Nick Wey Kaw - Wey's been better lately, he's starting to beat the guys he should, and sometimes, beat the guys he shouldn't.

11. Broc Tickle Kaw

12. Matt Goerke Suz

13. Mike Alessi Suz - Mike had a good race going until his clutch arm broke on his Suzuki, errr, I mean MCR 450. Definitely a pretty freak thing, I'm not sure how that part could break. He was as high as ninth before dropping back while trying to ride a supercross track with no clutch.

14. Bobby Kiniry Yam - Four straight fourteenth place finishes for Bobby Kiniry. Do with that what you will.

15. Justin Sipes Kaw

16. Kyle Chisholm Kaw - Chiz went down with Albertson and was forced to come from last.

17. Gavin Faith Hon - Isn't the name Gavin Faith a character that should have been in the movie "Days of Thunder?" He could have been the young buck upstart that challenged Cole Trickle. "That Gavin Faith, he's got a set of matched tires!"

18. Jimmy Albertson Suz - Good to see Albertson back in the main event where he belongs. It's too bad he fell on the first lap and was way back.

19. Cole Seely Hon- Seely was again impressive before wadding off the over on the over/under bridge. He's been great in the two races that he's ridden in as fill-in rider for the injured Canard.

20. Josh Hansen Kaw - Hanny twisted his ankle in practice and then stalled his bike in the main event, which from what I understand, further exacerbated his ankle issue.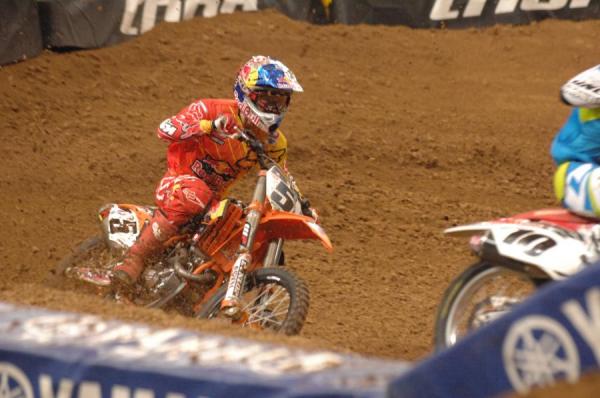 Dungey was impressive late, but was unable to catch Villopoto.
Photo: Carl Stone
If you're looking for a fill-in rider for your star rider that's most likely out for the year, I don't think you can do much better than the BTOSports.com/BBMX team did with Matt Goerke. For one reason or another Matt didn't have a ride to start the year, and even missed the first race so he could wrap up the German SX title (insert sound of JT$ kicking himself in the nuts here). He showed up at the second round on a Kawasaki wearing something called "Sexy Devil" race gear, and then the BBMX guys picked him up to fill in for Michael Byrne, who was going to be out for a while.
Matt jumped on an unfamiliar Suzuki and immediately started running the pace and is now a main event guy. He got a season best twelfth this weekend, and I'd look for big things from him in Florida. I'd say that right now, of all the teams, it's Kiniry or Goerke for "Best Fill-in Guy" award.
Thanks for reading, email me at, matthes@racerxonline.com and we can chat about this race and whether or not Sammy Hagar is a god.