Daytona International Speedway
Daytona

,

FL
Daytona
Monster Energy AMA Supercross Championship
You may know Tracy McGrady best as a player for the Atlanta Hawks, but in addition to being a big NBA star, he's also a fan of motocross. In fact, McGrady even signed his charity, The Tracy McGrady Foundation, up for a one-race sponsorship of Rock River Racing's Ben LaMay and Jarred Browne for Daytona. Unfortunately, Ben LaMay injured himself in St. Louis, but the sponsorship is still moving forward with Browne. When we heard about it, we had to know the details, and we figured our readers would want to know too, which is why we got in touch with T-Mac to talk about his involvement with the Daytona Supercross.
Racer X: Fill us in on the details of your sponsorship of Rock River Racing's Jarred Browne in Daytona.
Tracy McGrady: Well I am sponsoring him for Daytona in my foundation's name. The Tracy McGrady Foundation logo will be on the bike and jersey.
There's a lot of teams out there, how did you get involved with Rock River Powersports?
Someone from Rock River got in touch with someone with my foundation. They had some conversations about what they were doing. Although that's not the thing my foundation supports,  I was interested in it for some reason and thought it'd be cool to help with a racing team. I'm just glad I could help these guys and the race team with this race. I'm wishing them good luck with it.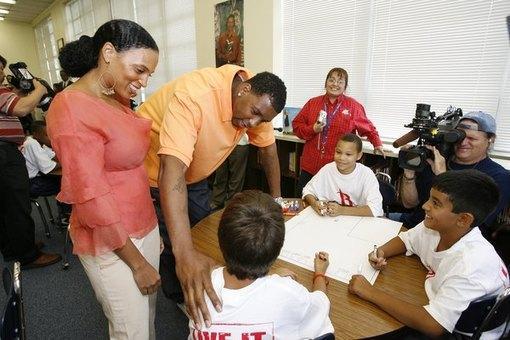 Tracy visiting Houston elementary school students after the Foundation provided a library.
Is this a one-time thing, or are you looking at expanding your involvement with racing in the future?
Well, we'll have to see. I don't have any particular plans, but there's always the possibility. It could be interesting.

How does a big NBA star such as yourself become interested in supercross?
Man, off the court we're doing the same thing everybody else is. Everyone has been sitting there watching the tube and for some reason you find yourself watching something for a while. I think racing in general is pretty interesting. I have friends who are motorcycle guys. Not necessarily motocross bikes, but sport bikes. And some do drag races, too. Well I'm not a big motocross person, but I think it's exciting and interesting to watch, and you've got to love seeing the bikes flying through the air and mud slinging and whatnot. In fact I just learned that Michael Jordan actually has a road racing team, a fan on Twitter was speaking about his team. I can communicate with my fans some through twitter, I'm @Real_T_Mac.

What kind of work does the Tracy McGrady Foundation do?
The Tracy McGrady Foundation enhances the lives of children through education and literacy. The foundation has provided total renovation or construction of libraries and media centers of underprivileged elementary schools, conducted book drives, and contributed to reading programs. Other programs have included holiday dinners for shelters, as well as a documentary on my visit to Darfur. The foundation has been doing this work for over 10 years. I used to have annual celebrity softball games to raise money for the foundation's endeavors in Houston.

After reaching the NBA, I wanted to give back in some way, and forming this foundation was a way I could do this. Education and children's literacy was an area I knew I could make a difference in.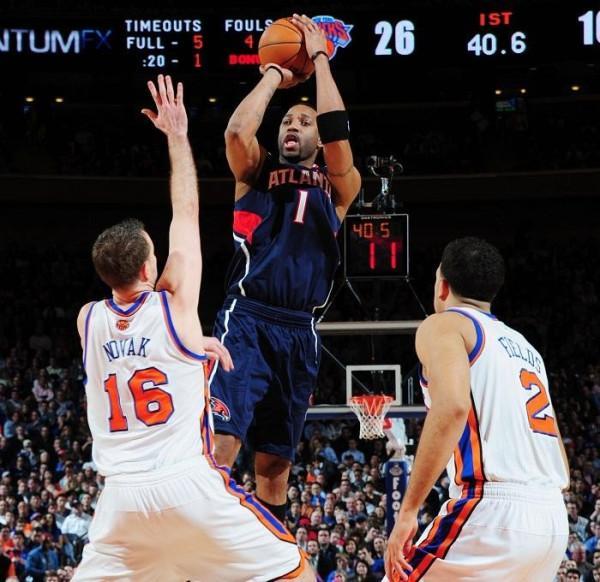 Atlanta Hawks basketball star Tracy McGrady will be helping the Rock River team at Daytona.
How can people that want to help the foundation get involved?
On occasion the foundation will have events where people can volunteer, or businesses can sponsor or donate. More information on the foundation, it's programs, and contributing can be found at www.tracymcgradyfoundation.com

Time to put you in the hot seat with a basketball question. Who is walking away with the title at the end of the season?
Well you know, there are several strong teams out there, it's a bit of an open field really. This is a funny season we are playing in. This short schedule can really affect things. Man, I can't really say who'll be standing in the end. All I can do right now is help the Atlanta Hawks go a s far as we can this season.