Edward Jones Dome
St. Louis

,

MO
St. Louis
Monster Energy AMA Supercross Championship
By Chase Stallo and Jason Weigandt
Heartbreak of the night belongs to Weston Peick. In his debut ride for Rockstar Star/Valli Yamaha, Peick looked to have a spot in the main on lock down during his heat race. But a costly mistake with two corners to go allowed teammate Robby Kiniry and Motosport.com/Ti-Lube/Foresmost Kawasaki's Justin Sipes to capitalize. An inopportune start in the LCQ would cost Peick a spot in the main, as he finished third behind Nick Wey and Gavin Faith.
Although it took a trip to the LCQ, Nick Wey achieved a monumental milestone in St. Louis—making his 150th main event start. Check back later this week as Steve Matthes sits down with Wey talk about his career.
Cole Seely took a wild ride in the main event when he crashed off the top of the over/under bridge. The Honda Muscle Milk fill-in ditched his bike in fear of clipping the tough blocks and endoing over the falls. Instead, he said he came up a few feet short of the landing—on his feet—and drove his knee brace right into his chest. Luckily, Seely was not injured, and will be back for Daytona and Indy.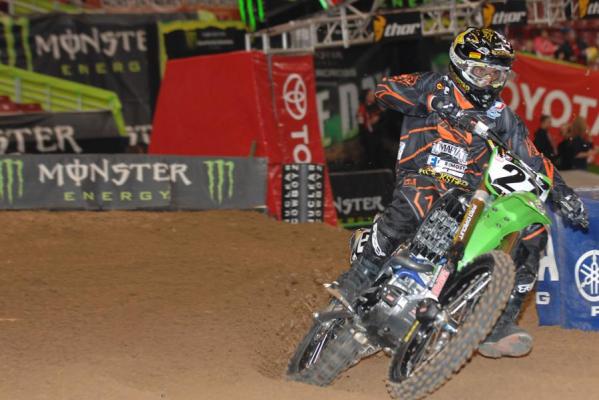 Nick Wey achieved a monumental milestone in St. Louis.
Photo: Carl Stone
After missing three of the last four main events BTOSports.com/Butler Brothers Suzuki's Jimmy Albertson rebounded in his return home with an 18th in St. Louis. The Ozark, MO native has struggled since make three of the first five main events but showed up big in the Show Me State. It was a good night all around for the BTOSports.com/Butler Brothers squad as teammate Matt Goerke earned a season's best 12th in St. Louis.
The already injury-depleted Dodge/Sycuan/Hart and Huntington team suffered yet another setback in St. Louis as Kyle Partridge suffered a gruesome foot injury when he clipped the wall of the over/under bridge. Partridge also broke his C3 and C4 vertebra and underwent surgery yesterday to repair the damage. No timetable has been set on his return.
Yoshimura Suzuki's Brett Metcalfe was pumped to make it past the halfway point of the season, since he hurt his wrist in Atlanta last year and missed the second half of the 2011 tour. He also said his team made big strides with their bike for St. Louis, which is key considering Daytona is coming up. "We had to get it right before that one," he said. "Because if your setup is off there, you're in for a long, rough night."
Red Bull/KTM's Marvin Musquin quietly posted a solid top ten in his Supercross class debut … aboard a 350. Wait, what? That's right, the 350 was back and Musquin looked comfortable and confident on it en route to a ninth.
Musquin's next race comes at Daytona, a track he hasn't seen before. However, his teammate Ken Roczen is hoping for good things in the Lites class at the place this weekend—last year, Roczen rode the 350 in the SX Class at Daytona and finished eighth. "I raced it last year so I know what it's all about," said Roczen of the unique track.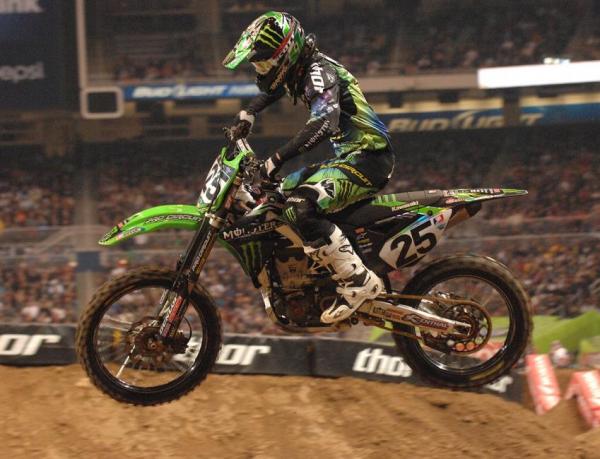 Tickle's frustrations continue during his rookie SX season.
Photo: Carl Stone
Frustration continues for Monster Energy Pro Circuit Kawasaki's Broc Tickle, who finished 11th in the main, but feels he can do much better. "It's just frustrating, because I know, I truly believe, I can do more," said Tickle. "I've always been the guy to never give up, and I've stuck by that and worked my way up in the past. The hard work just isn't paying off right now, so it's frustrating. I'm hoping to have some fun this week riding outdoors for Daytona, and maybe I'll loosen up. I'm riding tight. I'm like a tin can right now."
It was a mixed bag for the Ohlins USA/Langston Motorsports KTM team in St. Louis. AJ Catanzaro made his first main event of the year, finishing a solid 14th, but the same could not be said for teammate Les Smith who had his troubles and fell short of the main for the first time in 2012. Smith crashed in the first turn of his heat race and then crashed again right off the start of the LCQ. Team Manager Grant Langston is hanging back east with his boys for the week to prepare for Daytona.
Also missing the main for the first time in 2012 was Munn Racing KTM's Lance Vincent. He fell outside the top ten in points for the first time all season after failing to make the main event.
MotoConcepts Jake Canada continues to breath fresh air into the team's Lites class effforts. The Sun City, California native capped off a string of three straight top tens with a career best 6th in St. Louis. [Note: Canada had zero top tens in 2011]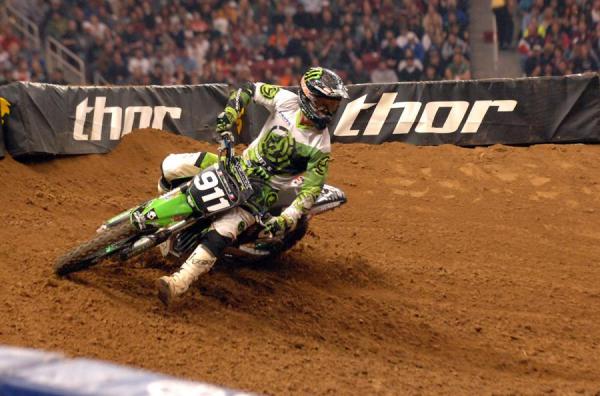 A crash would hinder two-time Arenacross Champion Tyler Bowers night in St. Louis.
Photo: Carl Stone
With the Arenacross series wrapping up last week in Minneapolis, the stars of the arena made their debut in St. Louis. It was a rough night for two-time defending Arenacross Champion Tyler Bowers, who finished tenth in his heat and then had to rally to make the main through the LCQ. But in the main, a hard crash after the over/under bridge would end his night early. Arenacross class runner-up Jeff Gibson had an up and down night as well. Gibson would begin the night inside the top five but faded back to finish 15th. In other Arenacross news: Lites East Champion Michael McDade, Lites West Champion Chad Cook, and veterans Dave Ginolfi and Kevin Markwardt all failed to make the night show.
Privateer Bradley Ripple continued his solid season in St. Louis making his second straight main event, finishing a seasons best 18th.