Edward Jones Dome
St. Louis

,

MO
St. Louis
Monster Energy AMA Supercross Championship
Hello, everyone, and welcome to the Rev Up. Recently I've found myself sitting back with my arms crossed and just thinking for a while. Rather it's in my driveway after work, or just for a moment looking out of my living room window. My mind always races forward, subject to subject, with the accuracy of a dart sans feathers. I guess I'm kind of like one of those battery powered "stompers" they had in the mid 80's. Go like hell until it hits the wall then just turn it around and watch it run hard until something else stops it. Only when the battery ran out did it quit. Recently I've learned to take a moment and clear my thoughts to let things download. "Smell the roses, blow out the candles." Take a deep breath with me right now if you would, then look over at the calender. Now, just relax and let the data catch back up. That's right, it is already March 1 and we're going to be over halfway through the 2012 Monster Energy Supercross series when the flag flies Saturday night.

Who is ready to accept what we've been given thus far? Who's ready to get the shoulders back for more? We have the St. Louis Supercross on our hands this time around. The soft terrafirma of St. Louis has manifested some wild main events. This edition has every right to go nuclear. In regards to "The Gateway to the West" I'll add that in the hierarchy of rabid supercross fans, the Slipknot studied crazies of the Midwest land on the podium. A huge and rowdy crowd will put butts in the bucket, asses in the seats. For some reason big, big things go down in Missouri. Ask Jeff Emig.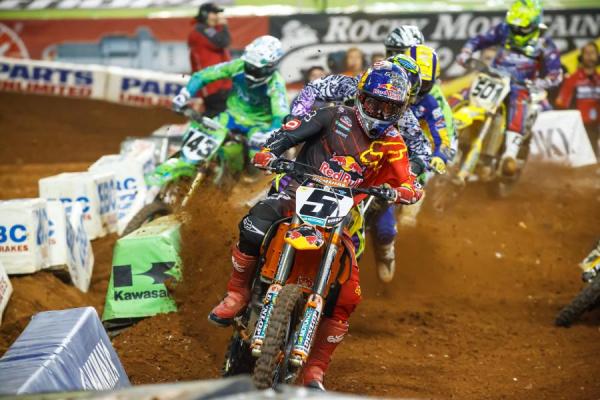 Dungey lead the charge in Atlanta...
Photo: Simon Cudby
It's more than that. The months are already flying off the calender, and old man winter will soon hit the sack. I love the energy March brings along with her. Like that first crisp breath of air when the Fall season lands, we'll all get to feel "cabin fever" in the next 31 days. Hell, it's going to be 73 degrees in North Carolina tomorrow and that notion alone makes me smile grandly.
Although, when I looked down at my calender and it dawned on me that March Madness has arrived, it was kind of a shock. I just kind of thought, "wasn't I just drinking New Years Eve champagne the other day? Wasn't I just sitting in my living room with my arms crossed trying to put down the Anaheim 1 Rev Up?" I've grown to appreciate the scary fact that only as you grow older and more wise are you able to grasp it flying by so.

As I was meditating before attempting to write to you today most of the data came in the form of my supercross debut with my Pops at the St. Louis supercross 1996. We didn't belong to a team and didn't have anyone helping us at the race. Just a Ford van and some extra handlebars. I was fast, but bent up 4 sets of handlebars that night and crashed harder than almost anytime in my career. But we were there and we went for it. For a couple of hicks from Kansas, we really did make it. This race is special to me in a lot of ways. It's special to all of my motocross brothers from the Midwest, including my childhood hero, Jeff Emig. Man, if all of you could have witnessed what I saw him do on 80's back at Wamego, KS. circa '87.  Some of you reading this did.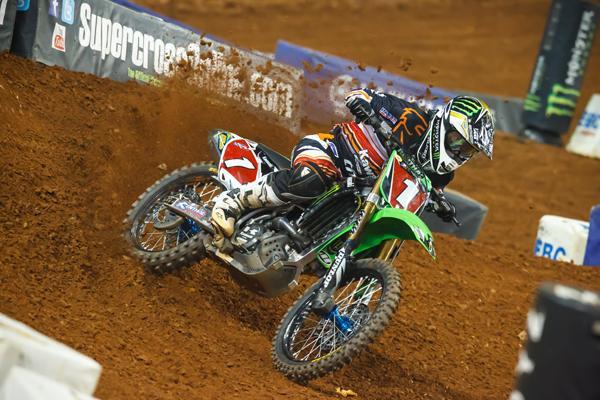 ...but Villopoto and crew are out for revenge in St. Louis.
Photo: Simon Cudby
I'm so proud of this season. We've lost so many to attrition, but we knew this coming in. This is supercross. But, it's more. St. Louis is close to home for me and very special. I've felt what these animals are going to do for us LIVE on SPEED. March Madness is also upon us. A warning of the seasonal change, and a pivotal month in the charge. Get ready for 15, then 20 laps of March Madness.

In closing, I just want to urge all of you to test yourself every day in some form. The winners on this mudball dig deep, and run very, very hard. We can do more than we imagine if we challenge the pace. But, remember to take a moment to appreciate it. Only then will the madness slow down and become a beautiful appreciation. That said, charge, and keep charging.

Thanks for reading, see you next week.