Atlanta, GA
Atlanta
Monster Energy AMA Supercross Championship
The Atlanta Supercross is definitely one of the best races on the schedule each and every year. The Georgia Dome is always packed with fans from all over the country, and it has definitely become one of the "must see" races of the season. And even with the loss of
Chad Reed
in Dallas, the title chase remains close and exciting, and there was no way you were going to have an empty seat in the house.
I know it's hard to believe to Reed's fans, but the series does go on despite the loss of the gifted Australian. The TwoTwo rider is going in for surgery on Thursday for his knee and says he's hoping to make it back for the last few outdoor rounds, and maybe a chance at getting on the Australian MXDN team. If Chad Reed still has all four appendages, you pick him for your team.
I liked the track in Atlanta. I thought it was cool and something out of the 80s video game, Excitebike. It featured couple of dragon's backs with some tabletops in between, and a wall jump immediately followed by a sand section that the guys worked over a bunch to make it rough. It also had a rhythm section with options on the inside and outside that set you up for different jump combos. I timed both options a few times, and either one was basically the same, but it did look different. Overall I thought the originality of it was great. All it was missing were big-ass whoops and an over/under bridge.
Ryan Dungey's been a tick off since his win in Phoenix, and has clearly been the slowest guy of the "big guys." But through attrition, he's been able to take advantage of the other guys' mistakes, and has stayed close to Ryan Villopoto in the points. The whoops were his archenemy in San Diego, and in Dallas and Anaheim 2, has suffered from poor starts. This week, however, The Dunge put it all together and passed early surprise-leader Cole Seely with an aggressive (aggressive for Dungey) pass and ran away for his second win of the year. Dungey was very good on the Atlanta track and put in his fastest lap of the night on the final lap, which is impressive. He was getting caught by RV at one point but he turned it up and successfully held off the points leader.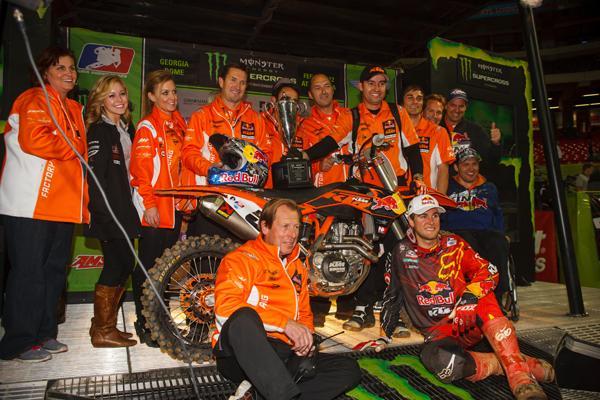 Dungey picked up his second win of the season, and KTM's second career SX class victory, in Atlanta.
Photo: Simon Cudby
At one point, Villopoto was closing in on Dungey, but he fell over in the turn before the wall. Surprisingly, nobody saw it. It wasn't on TV, the announcers didn't talk about it and neither myself nor anyone around me saw it. It happened pretty early (lap eight), but combined with his so-so start, the work required to get up to Dungey, the fall, the work required to reel Dungey back in, and you have a man who ran out of time. But as I said, kudos to Dungey for setting the fastest lap on the last lap. That's cool to see. It was a great ride by the former champ, and he closed the points deficit to ten. Despite RV's seemingly soul-crushing wins, this thing is far from over.
The move east is going to help both Dungey and Villopoto, but I believe Dungey will receive the greater benefit. Both guys are based out of Florida, and they both live out in the middle of nowhere. There's nothing to do but hop on their private tracks and ride, train and repeat. No Southern California bro's bothering you, no places to go, nothing. Just the tranquil sound of crickets, grass blowing and the roar of an engine turning at 13,000 RPM. That equals peace for these dudes.
The AMA just can't win, it seems. A week after Dallas' timing dispute at the finish of the LCQ involving Gavin Faith and Weston Peick (I sided with the AMA on this one), as well as a couple of fines handed out for rough riding (which I don't agree with), we have a controversy in regards to Villopoto jumping a triple when the red light was flashing. In these types of things, I tend to go with my first instinct and my first thought was that for sure Villopoto was going to get penalized for clearly going off the ramp while the red lights flashed for a downed rider. But after the race the AMA ruled that RV didn't have enough time to react to the lights, and there was no fine imposed. Upon landing, Ryan split the rider and his downed machine and was lucky himself to come away without getting hurt.
We've had penalties assessed in the past for this, and generally, the rider is docked five seconds or something like that. This wouldn't have changed the outcome of the race but for the AMA to say that he didn't have time, well I'm not buying that. I spoke with Villopoto on Tuesday about it and he swears he never saw the light flashing, and he thinks that if they're going to use that system, they need to back it up with another flagger and more lights that are clearly visible from the race line. The hot line in the corner before the triple was rolling the last jump on the inside, and then triple. RV says that based on photos he saw after the race, the warning lights were on the outside.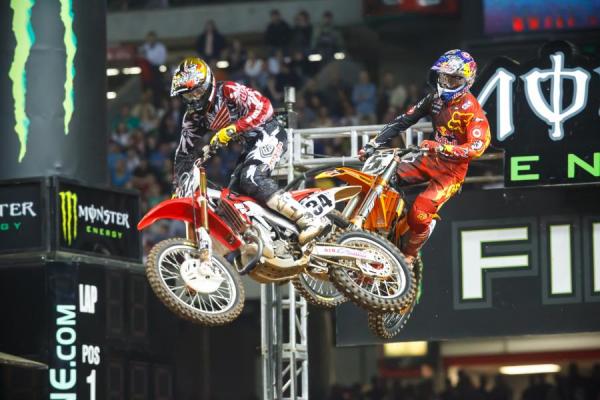 Seely held Dungey at bay for the first seven laps before falling back to sixth.
Photo: Simon Cudby
I'll say this: Even though it probably wouldn't have changed anything in the end, RV got off really lucky to not be penalized. This rule has been there for a while, guys get hit with it every now and then, and all we're asking for (and by "we," I mean the riders, teams and greasy media guys) is some consistency within the AMA. We didn't have it with the Mookie Stewart/Justin Bogle thing and we don't have it now.
The one guy that was affected by Villopoto's tripling was James Stewart, who was in third and was forced to single the triple. He of course lost a ton of time to RV, who he was closing in on a bit. Actually, both RV and James were catching Dungey and we were shaping up to have a good race, but once James rolled the triple he basically gave up. I think he should have kept going because who knows, if that five-second penalty was actually enforced and James had kept his speed up, he might have been bumped up to second.
Speaking of Stewart, I thought this weekend's race was Stewie's best since his win in Oakland all those weeks ago. I'm sure his familiarity with the soil and being close to his home had something to do with it. It looks to me like Stewart went back to the smaller forks this week to get some flex into his bike, and last week in Dallas, he debuted a rubberized front motor mount which, again, is for flex. You can see a shot of it HERE. Clearly, the JGR team is trying new stuff, but if you're at round eight of the supercross series and you're still making radical changes like this, something tells me that something's not working.
In the post-race podcast on Racer X Online, I incorrectly stated that Stewart was no longer working with Johnny O'Mara based on something I heard from a reliable source. I asked Stewart about it and he got back to me confirming that it was news to him, and that he and O'Mara were still together. So apologies to everyone for the confusion.
SEELY, SEELY, SEELY! Wow, what a ride turned in by TLD/Lucas Oil Western Regional Supercross Lites rider turned Factory Honda Muscle Milk 450 pilot. The 805 kid did pretty well in his stint as a fill-in rider with Honda last year, but just like that, he topped all those performances last Saturday night with his ride in the Dirty South. Seely holeshot and led for seven laps, and while everyone kept waiting for the bubble to pop, Seely just kept leading laps. In fact, he was actually putting time on everyone! Sure, he finished sixth and was probably a little winded by the end, but hey, you lead laps against dudes with last names like Stewart, Villopoto and Dungey, you 'da man. Golf claps from this corner.
Interestingly enough, Seely said that when Muscle Milk Honda team manager Erik Kehoe called about filling in for the injured Trey Canard, he actually had to think about it for a night. With Eli Tomac's crash in San Diego, Seely is right back into the mix in the 250 west series, and he didn't want to jeopardize his chances there. I think he's nuts for even thinking about it, because last year when he filled in, he showed up at Seattle and waxed everyone. You cannot beat experience, and getting to experience a works Honda 450 against the best riders in the world is the ultimate, ahem, experience.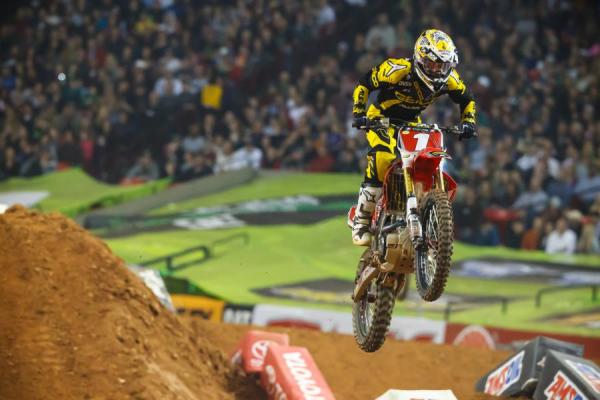 Barcia made it two-for-two in Atlanta.
Photo: Simon Cudby
Justin Barcia won the Lites class, which makes him two-for-two on the season. He looks like he's on point this year, and even though he made a mistake and went down while leading his heat race, he got up and still came close to winning it. He's better than anyone else in the class right now, and I'm waiting for Ken Roczen to step up and battle him. Sure, we saw Barcia and Blake Baggett get together in Atlanta, but Barcia rode away from him. Baggett will for sure get a win before this thing is done but right now, it's Barcia's class.  He seems to still be revving the crap out of his bike but at the same time, he's calmer and not such a spaz out there. Just like I commented about his teammate Tomac, Barcia just seems to be able to do whatever he wants, whenever he wants. His has supreme confidence right now, no doubt.
I caught some flak for my story last week stating that Barcia could've cleaned some dudes out in Dallas, but that he appeared to check up, and I stand by what I wrote. He's not just parking guys out there like he used to. Even in practice he used to ride too aggressively in my opinion. I just don't see that anymore, and he appears to be stepping it up to another level in 2012.
It's interesting to me that no one rider has grabbed the mantle of, "Best of the Rest," as the first rider to consistently grab the spot behind the "big guys." Before Reed got hurt, that spot was fifth. Now it's fourth. My theory is that once you get to the spot where you're beating the rest of the field consistently, then you can work on attacking the top dogs. Here are the guys that have been the "Best of the Rest" through the first eight rounds.
Justin Brayton (Anaheim and Anaheim 2)
Jake Weimer (Phoenix and Dallas)
Brett Metcalfe (L.A. and San Diego)
Andrew Short (Oakland)
Davi Millsaps (Atlanta)
So as you can see, Weimer, Metcalfe and Brayton have been the "Best of the Rest" on multiple occasions. You know we'll see Windham on this list soon, but until one guy can grab this honor and make it his own a little more consistently, I'm afraid we're not going to see anyone run with Stewart, Dungey or Villopoto.

Let's take a look at the results shall we?
Lites East Overall
1. Justin Barcia Hon
2. Blake Baggett Kaw - Baggett is just a tick off of Barcia's pace so far this year.
3. Justin Bogle Hon
4. Blake Wharton Suz - Wharton was good, he's definitely going to make the box this year and maybe, just maybe, win a race.
5. Darryn Durham Kaw
6. Ken Roczen KTM - Roczen hit the gate when his bike crept forward. He said he did not let the clutch out so I say blame the mechanic. That's what always seemed to happen to me!
7. Kyle Cunningham - Very quiet ride by Cunningham, but solid after his first round DNF. It's got to be discouraging for a potential race winner to be caught by Roczen from so far back though.
8. Hunter Hewitt Suz
9. Jake Canada Hon - Canada's doing well on his Honda…errr…MCR250F.
10. Shane Sewell KTM - Nice to see a Sewell brother in the top ten. Life is better when one of the Sewells race.
11. Lance Vincent KTM
12. PJ Larsen KTM
13. Matt Lemoine Kaw - Not sure what happened to Lemoine, but based on his first-round speed, he should be better than this.
14. Les Smith KTM - Five KTMs in the main event, run for the hills!
15. Shawn Rife Hon
16. Levi Kilbarger Hon
17. Daniel Herrlein Hon - I know nothing about this guy. Seriously. Nothing.
18. Angelo Pellegrini Suz - Everyone's favorite Italian now has a done up helmet, but as of yet, still has stock graphics on his shrouds.
19. Austin Politelli Hon
20. Bradley Ripple Hon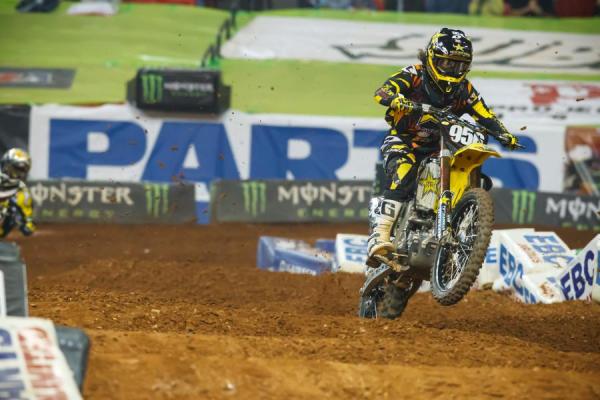 Wharton had another solid ride in Atlanta, finishing fourth.
Photo: Simon Cudby
Supercross Overall
1. Ryan Dungey KTM
2. Ryan Villopoto Kaw
3. James Stewart Yam
4. Davi Millsaps Yam- Great ride for Davi, he always does well at Atlanta in front of family and friends. He's a past winner in Atlanta as well.
5. Justin Brayton Hon - It's got to be tough for Brayton to hang in there despite injuries to his hand and leg that prevent him from practicing during the week.
6. Cole Seely Hon
7. Jake Weimer Kaw
8. Kevin Windham Hon - Windham's got to be getting on the box one of these weeks. Maybe Toronto.
9. Brett Metcalfe Suz
10. Nick Wey Kaw - Wey's been working with former Factory Yamaha rider David Vuillemin and it's showing a bit. He's been better the last few races than he was at the beginning of the year.
11. Kyle Chisholm Kaw - Chiz always seems to find Mike Alessi out there.
12. Mike Alessi Suz - Mike wasn't very happy with Racer X this weekend for something that was in Racerhead, but I hope I smoothed it over. Any time a rider can man up and discuss some negative press with a writer, I commend that. Anyways, Mike told me that he's really trying in supercross this year, more so than any other year of his career. And like everyone else outside of the big guns, he's got moments where you think he's got it, and moments where you think he's unable to step up.
13. Matt Goerke Suz
14. Bobby Kiniry Yam - Kiniry, the LCQ king this year. Every main event he's in, he's made it through the LCQ.
15. Josh Hansen Kaw - Hanny's team manager says that Hansen has been having a problem starting his bike at times, and in the main, he stalled it while running up there and lost a ton of time trying to get his bike fired back up.
16. Broc Tickle Kaw - Tickle had some rear brake problems early in the race and did the best he could.
17. Kyle Partridge Kaw
18. Jeff Alessi Suz - If you want some giggles, check out Jeff's lap times from the main event. I like Jeff, he's a funny kid with some serious talent but he's running twenty seconds off the leaders' times halfway through the race. He says he's working himself into shape, but watching him and realizing it's halfway through the series makes me think he's not caring about getting better. Seriously, he's rolling around out there. He's got eight laps of a heat race in him and that's it, he's pulling the cord. Just kind of bums me out to be honest.
19. Justin Sipes Kaw - Pooh had a rough night.
20. Weston Peick Kaw - As did Peick.
While hanging out in the Honda pits sampling some Macaroni Grill catering with Weege, James Lissimore and John Knowles from SCOTT Goggles, we saw Jeremy McGrath walking by. After exchanging pleasantries with The King, we sat with him for twenty minutes talking shop. He's happy with getting back into the sport in an ownership capacity, and went to Atlanta even though his team wasn't there due to Short's injury. We had a good honest talk about things that I can't talk about, and then he wandered away.
I have always thought that MC was, and is, a class act on and off the track, and you'll never hear me say anything bad about him. I'm not saying he's perfect but when I was a grease-ball privateer mechanic, he didn't have to be cool to me but he still was. He's always had insightful opinions, never got a big head and just gets it. I think he's handling the post-racing part of his career just as well as he handled his racing career, and I guess if I had to sum it up, I heart Jeremy.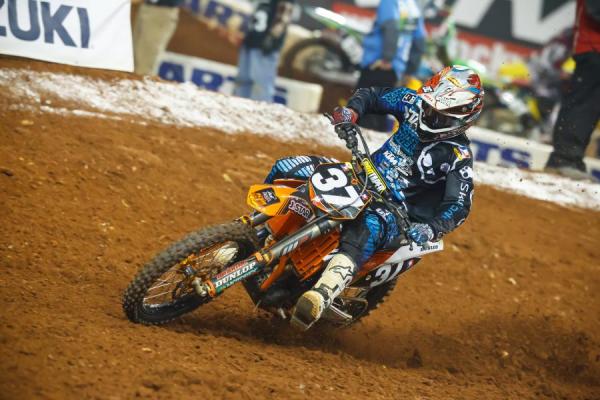 It was a tough night for Mookie and JDR KTM in Atlanta, as a crash and mechanical troubles would cost Stewart a spot in the main.
Photo: Simon Cudby
The BBMX team picked up a new sponsor for their motors and suspension in the off-season in JGR Racing, and so far both sides are feeling each other out a bit. The JGR guys are trying to branch out to other brands to let people know they can do more than just one bike, and the BBMX guys love the attention they get from JGR, as opposed to some other companies that would put a team like BBMX down on the priority list. Jimmy Albertson and Jason Thomas went and tested for two days with the JGR guys, and said they were able to make big improvements to their machines. Neither guy made the main event in Atlanta, but look for them to be better with the improvements.
Bad deal for Malcolm Stewart and the JDR KTM team when Mookie was unable to make the second practice due to bike problems, then crashed while leading his heat. He looked to be done for the night but in a commendable move, he tried to line up for the LCQ. Unfortunately, his bike was unable to make it. That's a tough blow to a potential podium rider and things couldn't have been good underneath that tent after the race. I've been there folks, and it's not good.
Thanks for reading, email me at matthes@racerxonline.com and let me know what you thought of Atlanta.