AT&T Stadium
Arlington

,

TX
Arlington (Dallas)
Monster Energy AMA Supercross Championship
You can't win a title in one night but you can certainly lose it, and that was the story tonight for Monster Energy Supercross in Dallas. The seventh round of the Supercross Championship and opener of the Lites East tour offered up battles, crashes and aggressive riding, and each race had a big impact on the prospective championship chases.
In the SX main event, two riders immediately established themselves as the class of the field—and it was the same two riders that battled last week, Monster Energy Kawasak's Ryan Villopoto and TwoTwo Motorsports Bel-Ray Honda's Chad Reed. The Alessi brothers, Mike and Jeff, actually fought for the holeshot, and Jeff took the award, but Villopoto and Reed shoved past them by the second turn and started pulling away from the field.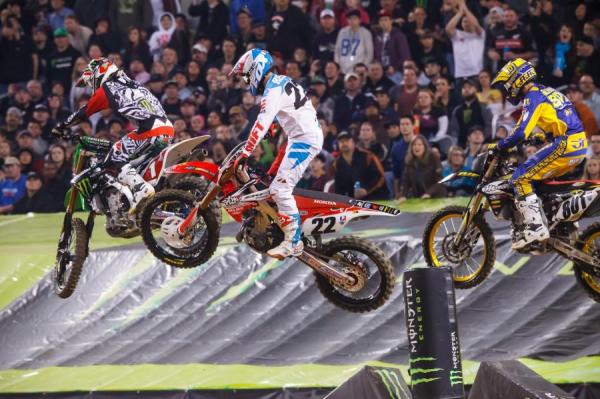 Villopoto (1) and Reed (22) pushed to the front right off the start...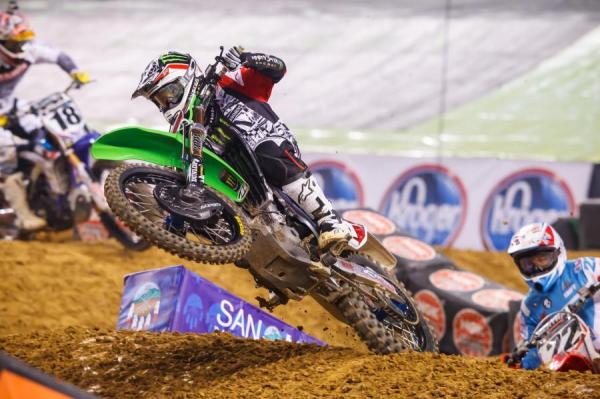 ...and stayed close for the first eight laps.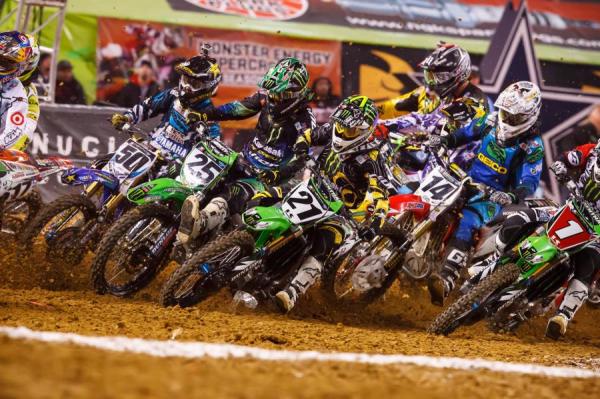 Weimer (21) had a good start and stayed in podium range throughout the night.
Cudby photos
Meanwhile Villopoto's teammate Jake Weimer took over third quickly ahead of Mike Alessi, while Jeff Alessi began to fall back. Red Bull KTM's Ryan Dungey was way back after a bad start, as a big crash off the start in his heat race left him with a terrible gate pick in the main. Worse yet was the night for JGR Toyota Yamaha. James Stewart had a bad start, and when his teammate Davi Millsaps lost the back end in a corner and fell, Stewart had nowhere to go and bumped into the back of him. Stewart then stalled his bike and went back to 19th place, with Millsaps picking it up in 20th. Stewart rallied back to sixth, Millsaps took 15th place.
Up front, Reed was and Villopoto were deadlocked in a battle for the lead. Reed was pressing Villopoto hard, and it looked like a battle to the finish was coming, until Reed crashed super hard in a sand section. He was tripling into the sand and making up ground, but came up short on that triple once, and over the bars he went. It looked like he would at least have a soft landing, but his leg got caught in the bike, and as the bike flipped, it pulled him hard by the leg. Reed didn't get back into the race, and needed help from the Asterisk Medic Crew to walk off of the track. Rumors are swirling of a leg or knee injury for Reed, who tweeted that he's heading to California to find out what is wrong. Regardless of the injury prognosis going forward, Reed looked fast enough to possibly take the win in Dallas, but instead ending up scoring just one championship point with a 20th place finish. One crash had a tremendous impact on the series.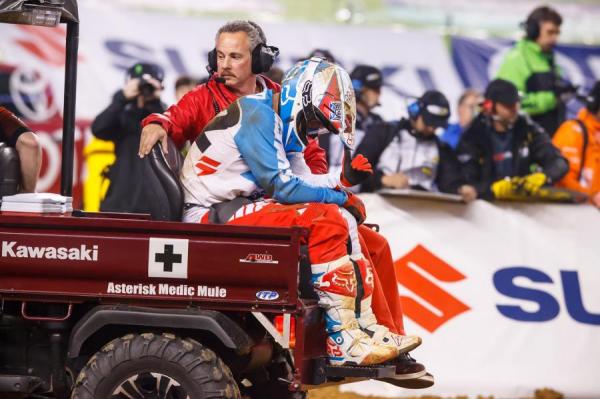 Reed was in pain after a crash and could not rejoin the race.
Cudby photo
From there, Villopoto cruised to an easy win, gaining huge points in the series. Weimer took over second and battled Dungey to the end to try to keep it. With two laps to go, Dungey made a move, but when he checked Weimer up, Weimer went back underneath to get the position back. On the last lap, Dungey stuck to the inside on a triple and stayed inside heading into the next corner, and then made contact with Weimer—a follow up to him running Weimer into the ground last weekend. The pass actually ripped the shifter off of Weimer's bike and left him stuck in first gear, so even though Weimer had a shot at repassing Dungey, he didn't have the drive to make it happen. Dungey took second with Weimer third.
Alessi held on for a solid fourth on his MotoConcepts bike, fighting off pressure from GEICO Honda's Kevin Windham. Then Windham made a bunch of late mistakes and lost spots to Dodge Motorsports/Hart and Huntington's Josh Hansen. Hansen took fifth, and Stewart was sixth. Windham, Yoshimura Suzuki's Brett Metcalfe, Honda Muscle Milk's Justin Brayton and Jeff Ward Racing/DNA's  Kyle Chisholm rounded out the top ten.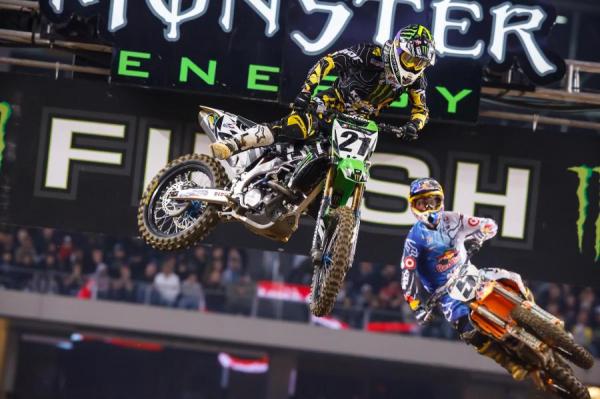 Weimer and Dungey had a huge battle for second that went down to the final lap.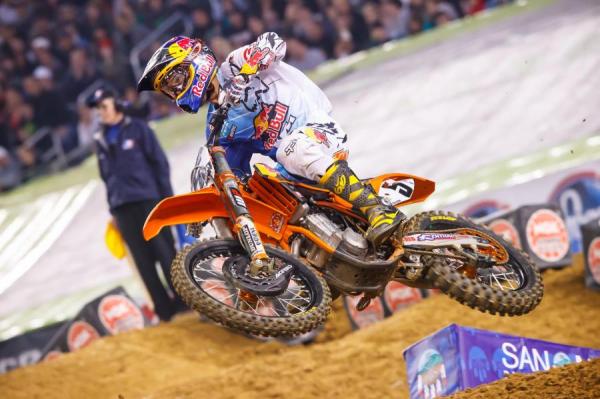 Dungey got the spot and also moved back into second in points.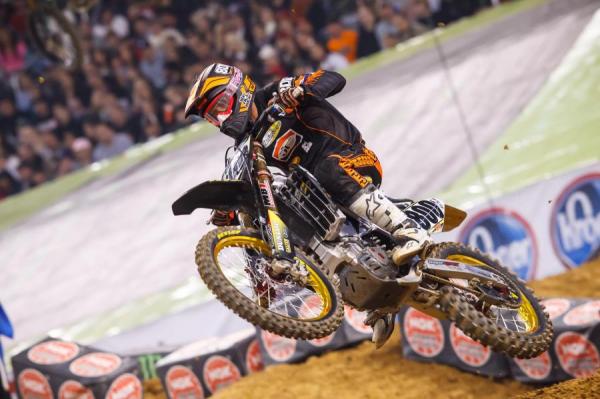 Mike Alessi said he's trying to race supercross this year and not just survive it--his strong riding netted him a fourth.
Cudby photos
Crashes and told the story in the Lites East opener as well. GEICO Honda's defending East Champion Justin Barcia took the win, but he did some battling, getting past his teammate Justin Bogle first before setting his sites on and Monster Energy Pro Circuit Kawasaki's Darryn Durham. They battled a bit, and Barcia made the move down on the inside after the whoops to get the lead. Red Bull KTM's Ken Roczen and J-Star JDR KTM's Malcolm Stewart began rolling up on the group and Roczen got Bogle for third.  Then Stewart put a hard block pass on Bogle, cutting straight across in a bowl berm and putting them both of them on the ground. Stewart got back going quickly, but Bogle lost a ton of spots and finished 14th—he did give Stewart a slap on the helmet before he got away, though.
But other contenders had it worse—like Blake Bagget and Kyle Cunningham who went down off the start and finished way back. You can't win it in one race, but, well, you know the rest.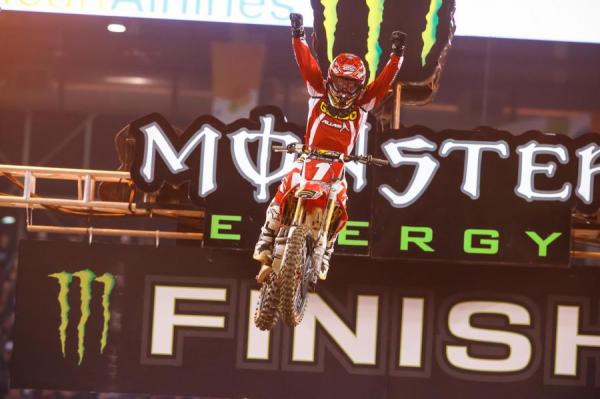 Justin Barcia felt like he rode tight, but he also rode well enough to take a win.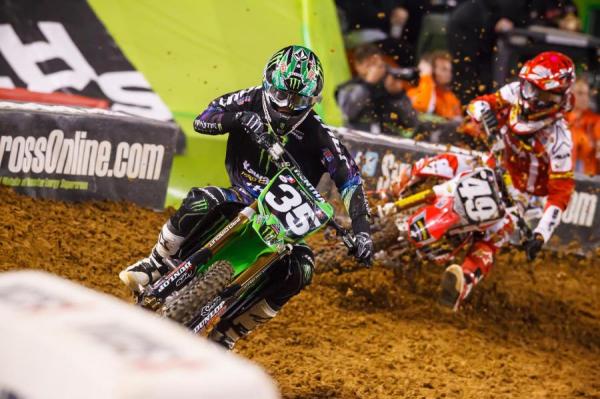 Darryn Durham led early and held tough against attacks from Barcia, Justin Bogle (49) and Roczen. He finished a solid second.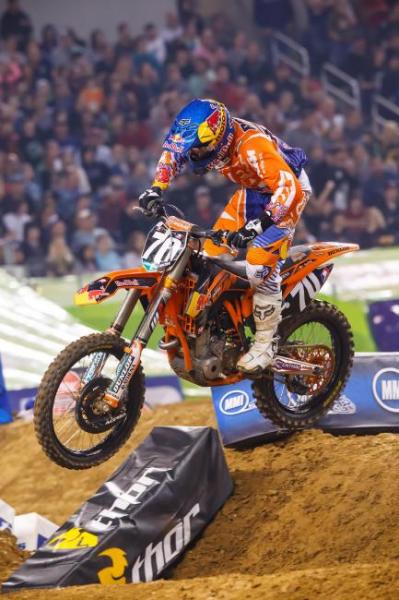 Kenny Roczen started about fifth, rode smart, and came out third.
Cudby photos
Results:
Monster Energy Supercross: Arlington, TX


SX Class
1. R. Villopoto
2. R. Dungey
3. J. Weimer
4. M. Alessi
5. J. Hansen
6. J. Stewart
7. K. Windham
8. B. Metcalfe
9. J. Brayton
10. K. Chisholm
11. B. Tickle
12. N. Wey
13. K. Partridge
14. R. Kiniry
15. D. Millsaps
16. M. Goerke
17. G. Faith
18. N. Izzi
19. J. Alessi
20. C. Reed
Supercross Class Season Standings
1.      Ryan Villopoto, Poulsbo, Wash., Kawasaki – 158
2.      Ryan Dungey, Belle Plaine, Minn., KTM – 145
3.      Chad Reed, Dade City, Fla., Honda – 128
4.      James Stewart, Haines City, Fla., Yamaha – 116
5.      Jake Weimer, Rupert, Idaho, Kawasaki – 92
6.      Kevin Windham, Centreville, Miss., Honda – 92
7.      Brett Metcalfe, Lake Elsinore, Calif., Suzuki – 88
8.      Mike Alessi, Hilliard, Calif., Suzuki – 81
9.      Justin Brayton, Murrieta, Calif., Honda – 80
10.   Josh Hansen, Elbert, Colo., Kawasaki – 80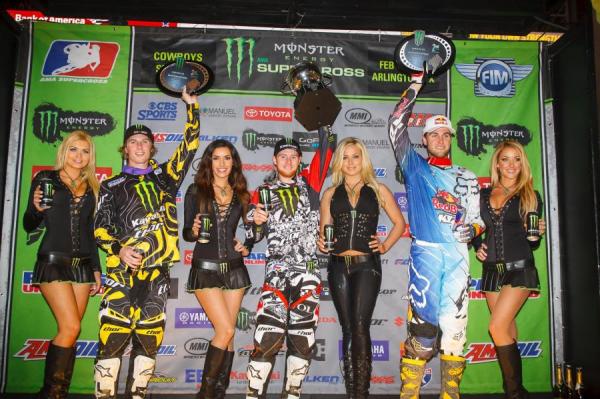 The SX Class podium.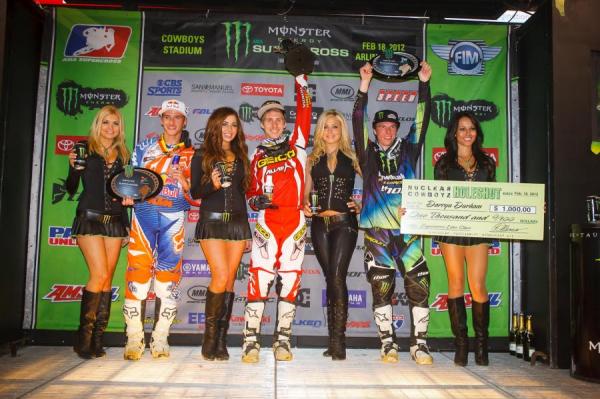 SX Lites East podium.
Cudby photos
SX Lites Class
1. J. Barcia
2. D. Durham
3. K. Roczen
4. B. Wharton
5. P. Nicoletti
6. M. Stewart
7. J. Canada
8. P. Larsen
9. C. Thompson
10. L. Vincent
11. A. Martin
12. H. Hewitt
13. A. Politelli
14. J. Bogle
15. B. Baggett
16. L. Smith
17. A. Pellegrini
18. S. Hackley
19. M. Lemoine
20. K. Cunningham

Eastern Regional Supercross Lites Class Season Standings
1.      Justin Barcia, Ochlocknee, Ga., Honda – 25
2.      Darryn Dunham, Butler, Pa., Kawasaki – 23
3.      Ken Roczen, Murrieta, Ga., KTM – 20
4.      Blake Wharton, Beaumont, Texas, Suzuki – 18
5.      Phillip Nicoletti, Cochecton, N.Y., Honda – 16
6.      Malcolm Stewart, Haines City, Fla., KTM – 15
7.      Jake Canada, Sun City, Calif., Suzuki – 14
8.      PJ Larsen, Murrieta, Calif., KTM – 13
9.      Cole Thompson, Brigden, Ontario, Honda – 12
10.   Lance Vincent, Youngsville, La., KTM – 11