AT&T Stadium
Arlington

,

TX
Arlington (Dallas)
Monster Energy AMA Supercross Championship
Nick Paluzzi has had an eclectic professional career, never staying with one team for more than a season. Coming off of an impressive amateur career, Paluzzi rode two outdoor nationals for JGR Yamaha in 2010 as a replacement for an injured rider, and then rode  for DNA Shred Stix/Star Yamaha for the 2011 supercross season, again as a replacement rider. Then, after Ian Trettel's major crash in Daytona, he was signed as a fill-in rider for the outdoors for Rockstar Suzuki. Now, Paluzzi is racing for Slaton Racing Kawasaki. Within the first six rounds, he's struggled to get into the main, managing to get past the LCQ in Los Angeles and San Diego. We talked to Nick about his top-ten finish in San Diego and the difficulties he's had moving from a factory team to a privateer effort.
Racer X: This weekend you finished tenth, which is your best this season so far. How'd that go?
Nick Paluzzi: Ah, you know it was really good, especially after getting the last spot out of the LCQ. But, like you said, tenth in the main, which is my best this season. I rode all the way outside on the start, but I just kind of rode my own race. I was pretty pumped for the race.
How was the track this weekend?
I really liked the track this weekend. The whoops were a little bit gnarly, but I thought the track flowed really well. It was a lot better than a couple of the other track we've had so far.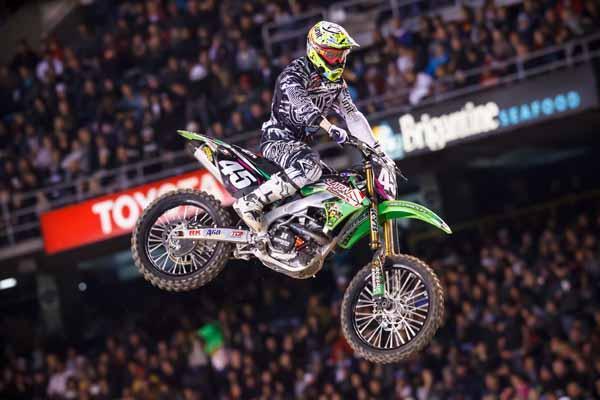 Paluzzi placed inside the top ten for the first time in 2012 at San Diego.
Photo: Simon Cudby
What have you thought of all the other tracks?
To be honest, I wasn't a big fan of Anaheim 1, but they have progressively gotten better. I've liked the last couple. They've been pretty technical and the dirt was slick sometimes, but they were good.
The field got a lot more stacked this year.
Yeah, for sure. There's a lot more competition.
Has it been harder to make the main than it was last year?
Yeah, you know it's definitely been a lot harder for me, coming off from the Star Yamaha team to almost doing my own thing a little bit now. My starts aren't as good as they were. So it's been a little bit of a struggle for me, but I've finally got that worked out with my starts and I ended up with a lot better finish last weekend.
What's your support like this year?
I'm on the Slaton Racing team and I have a lot of my own personal sponsors that help me out a lot and the team helps me out a little bit too. It's a change from the support that I got from Star Yamaha and it's been difficult. But, I mean, this is my best private chance at actual support.
Last year you not only switched teams for outdoors, but you switched bikes as well. What was that like?
It was good. I mean, it wasn't a hard transition going from Star Yamaha to Rockstar Suzuki. They were really nice and made sure that I had the best bike I could have for races. Both teams were great and they both offered a solid team and good support. It was a great opportunity for me to do that.
There's a little bit of a break now. What do you plan to do with your time off?
As of now, I think I'm going to go to a 450 for training, just to get the aggressiveness for the last few rounds. That'll be with my trainer. We'll just work and get as prepared as I can so we'll have two good supercrosses and then move into the outdoors.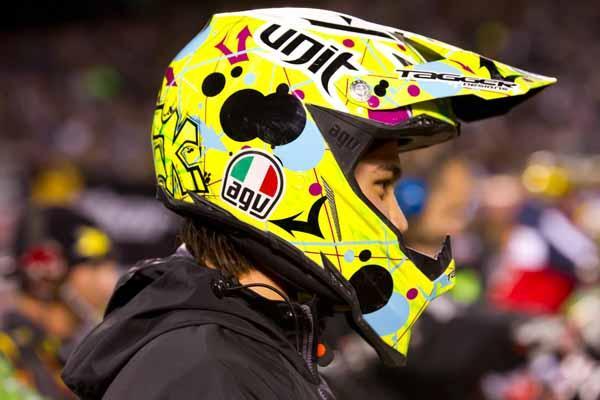 Paluzzi and the rest of the West Region riders are on an eight week break before returning in Seattle.
Photo: Matty Fran
Are you moving to the 450 for outdoors, or are you going to stay on the 250?
Well, as of right now I don't have a ride for the outdoors. I'm looking. It's just kind of open and up in the air. I'm still looking for something, so we'll see what ends up happening.
What are your goals for the remaining few rounds of supercross and for outdoors?
For the rest of supercross, I definitely want to get around that top ten range in the main. Now that my starts are cleared up and stuff, I definitely have what it takes to get to the main and run at the top. Then in the outdoors, I would say about the same. I'd like to run at the top no matter what, but it really depends on if I get a team and what class I end up in.
Anyone you want to give it up to?
Yeah. My family, especially my dad, Bruce and Jon Slaton for the opportunity and all their support, O'Neal, Single Source, PPG, Fusion Graphix, Milestone, Pro Circuit, Alpinestar, Enzo Suspension, Unit Clothing, X-Brand Goggles, Deft Gloves and AGV Helmets.